Are you in search of that one perfect color to redefine your interior space? Well, you might need to look no further. This is a comprehensive Benjamin Moore Baby Fawn OC-15 color review that could potentially end your paint color hunt.
It's a versatile hue that sits quietly in the background: unobtrusive yet compelling enough to complete any room beautifully.
This versatile shade called Baby Fawn OC-15 by Benjamin Moore has gained popularity among homeowners and interior decorators for its unique charm and appeal.
We've all had our fair share of experimenting with paint colors that didn't quite meet expectations on the walls, but with Baby Fawn, you'll surely be amazed at its transformative power.
You don't just have to take our word at face value; read on and discover why this color is a fantastic option for your space.
The Basics of Benjamin Moore Baby Fawn OC-15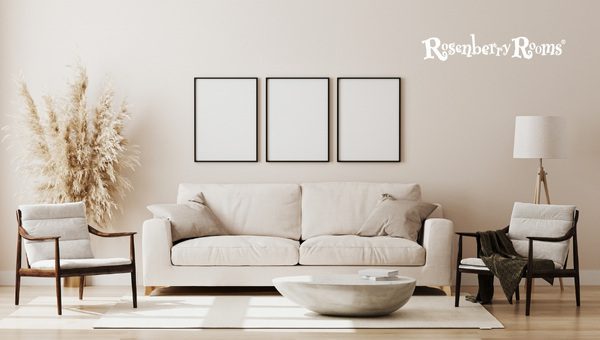 Benjamin Moore's Baby Fawn OC-15, also known as HC-173 and 972, is a charming shade that gracefully bridges the gap between beige and gray.
Tending towards the warm spectrum, this paint color exudes an inviting feel, offering just the right dose of elegance and sophistication.
It has unparalleled versatility and harmonizes with various elements in your space without overpowering them.
With its ideally balanced chroma, Baby Fawn can seamlessly transition from traditional to contemporary settings in residential or commercial environments.
Significance of Light Reflectance Value (LRV)
The LRV, or Light Reflectance Value, of Benjamin Moore Baby Fawn OC-15, is 63.09. This can be interpreted as measuring the amount of light the paint color will reflect when dry.
It falls in the mid-range category of reflectance spectrum, which means it has a moderate ability to reflect light. Benjamin Moore's Baby Fawn OC-15 is a soft, subtle shade with warm undertones.
It balances neutrality and warmth beautifully, making it a versatile choice that complements many interiors and designs.
The LRV rating helps to anticipate how the color would look and feel under various lighting conditions, which could affect its overall appearance aesthetically liveable in your space.
Identifying the Subtle Undertones
Benjamin Moore's Baby Fawn OC-15 has a warm undertone. Warm undertones mean that the color leans toward yellow, orange, and red hues, which can evoke a cozy, inviting feel in a room.
In the case of Baby Fawn OC-15, the consistent warm undertone subtly imbues spaces with an inviting essence and adds depth to the color itself.
Whether it's used for wall paint or accents, this blend of nuance and heat contribute to its charm, helping to create a prevailing sense of warmth and comfort without overwhelming the senses in an interior setting. This makes it ideal for living areas or rooms where you want to promote relaxation.
Also Read About Benjamin Moore Super White OC-152 [Paint Color Review]
Interior and Exterior Applications
The choice of paint color plays a critical role in creating a visually appealing and harmonious living environment.
The distinct charm of Baby Fawn OC-15 lends itself seamlessly to interior and exterior applications, making it an outstanding choice for your decorating needs.
Transforming Interiors with Baby Fawn
Baby Fawn effortlessly graces any room, from your living room to the bedroom, creating an inviting ambiance that feels like home.
Its neutral undertone works wonders in the kitchen with wooden cabinets or white countertops. As a wall color in your dining room, Baby Fawn sets the perfect backdrop for your different accents and styles of paraphernalia.
And don't overlook this serene shade for your home office or study - its uplifting vibe offers you peace while keeping you focused.
Its versatility also extends outdoors. Baby Fawn OC-15 is an elegant canvas for exteriors that allows architectural details to stand out.
Whether it's the entire facade or detailed accents on door trims and window sills, this color handles each role competently while delivering curb appeal.
Enhancing Exteriors Fairly
Regarding exterior application, the universal appeal of Baby Fawn OC-15 shines brightly. Whether you're seeking to revamp the entire house facade, dabbling with a fresher look for the window trims and door frames, or considering an update to your fences or an outdoor deck, this color can effectively uplift your space.
Baby Fawn works great with white trims, accentuating the architectural details of your home. Additionally, it beautifully complements bricks, stones, and various siding materials so that your home stands out in its distinct style.
Its light reflectance value ensures that Baby Fawn OC-15 reflects a good deal of light, helping your exteriors look bright and welcoming in the day while offering a sense of serenity as dusk falls.
Baby Fawn OC-15 is both versatile and eye-catching as an exterior color option. It provides an elegant backdrop for your garden greens and blooming flowers while enhancing your home's curb appeal, making every return to the house feel like a warm embrace.
Warm or Cool: Understanding the Temperature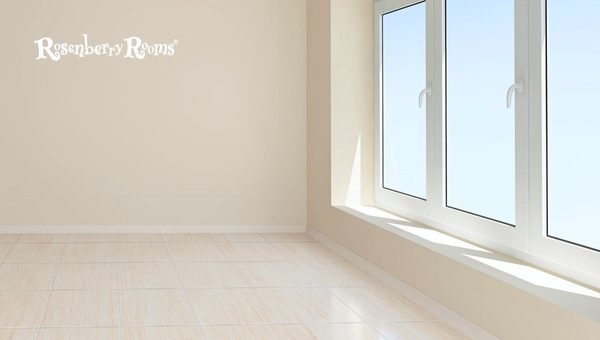 Benjamin Moore's Baby Fawn OC-15 is categorized as a warm paint color. Warm colors are often said to be hues from red through yellow, with browns and tans included; this particular shade falls under the spectrum of warm neutrals.
Regarding interior design and decor, warm paint colors like Baby Fawn OC-15 generate a cozy, welcoming atmosphere in rooms due to their ability to make spaces feel snug and intimate.
This characteristic makes it an excellent choice for large rooms where you want to create a more inviting feel or small spaces that you want to make seem warmer.
The slight yellowish undertone adds depth and complexity to the color, adding just the right warmth without overwhelming the required balance in neutral color schemes.
This attribute of Baby Fawn OC-15 makes it versatile enough to be used in various design styles – from rustic and minimalist to contemporary or traditional.
Importance of Sampling Before Full Application
Before completely committing to Baby Fawn OC-15, seeing how the color interacts with your individual space's lighting and decor is crucial.
Paint swatches can vary drastically from the actual wall color once applied, and consider that your light exposure significantly impacts how the paint may appear on your walls.
Order a sample pot or stick up a large swatch of Baby Fawn in various rooms to see its behavior throughout the day. Remember, paying a little for a sample pot is more affordable than repainting an entire room.
Suitable Trim Colors to Pair with Baby Fawn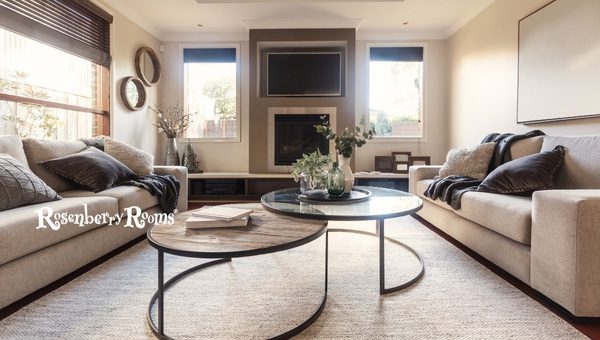 When selecting the perfect trim color to pair with Baby Fawn OC-15, consider options that enhance the shade's warm undertone and beautifully bring out its charm.
Whether you decide on going monochromatic or contrasting these intriguing hues entirely depends on your taste.
Remember that these are just helpful starting points - paint colors are ultimately personal choices reflecting one's unique personality and style preferences.
Regardless of your choice, confident pairing can help create incredible atmospheres within your home.
Explore More: Benjamin Moore White Down OC-131 [Paint Color Review]
Similar Colors for Striking Contrast
One color stands out when considering switching things up a bit - Elmira White HC-84. This color carries versatile undertones and shares Baby Fawn OC-15's warm temperature, making it an attractive option to pair or contrast with Baby Fawn.
Though somewhat creamier and darker than Baby Fawn, Elmira White maintains a delightful balance by emanating a slightly off-white appeal. It also embraces a harmonious blend of yellow undertones that complement the warm palette.
Pairing Elmira White on your moldings or trims against the muted palette of Baby Fawn walls can imbibe your space with a cozy yet sophisticated contrast.
So don't shy away from experimenting, as you never know - the blend of these two might create that "wow" effect in your space!
The Influence of Lighting Directions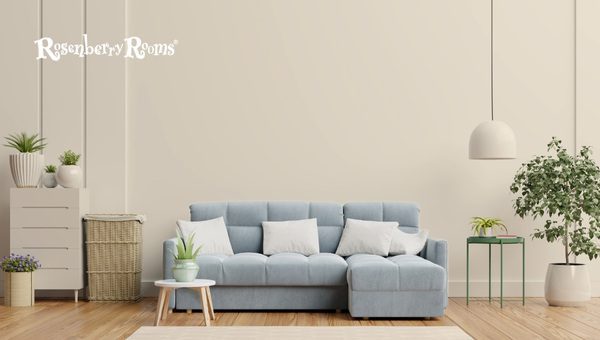 Lighting direction is pivotal in how a paint color appears on your walls. Hues can shift throughout the day, driven by the changing natural light.
Baby Fawn OC-15's true character can be brought out or minimized based on the direction your room is pointed: North, South, East, or West.
Impact of North on OC-15: Rooms facing north feature cooler and harsher light. Here, Baby Fawn's warm undertones are magnified to balance out the coolness, resulting in a cozy and inviting space. The color gains depth and warmth, making it ideal for areas where you seek intimacy or relaxation.
Impact of East on OC-15: In east-facing rooms with gentle morning sunlight, Baby Fawn OC-15 tends to lean towards a beige in the early hours before slowly transitioning into a softer hue as the day progresses. It might even adopt a slightly grey undertone towards the evening.
Impact of West on OC-15: Baby Fawn exudes a slightly more pronounced warm undertone on west-facing walls that soak up the warm evening sun. This hue can create an intimately soothing environment in bedrooms or reading nooks.
Impact of South on OC-15: South-facing spaces that receive ample daylight throughout the day are treated to Baby Fawn's undertones from morning to evening.
Here, it transitions from a neutral beige to a subtle gray, learning more towards its warmer side as daylight wanes.
Light plays an influential role and is something you might want to consider as part of your decision-making process in choosing paint colors like Benjamin Moore's Baby Fawn OC-15.
Read More: Benjamin Moore Pashmina AF-100 [Paint Color Review]
FAQs About Baby Fawn OC-15
Is Baby Fawn OC-15 a good choice for small spaces?
Yes, its light tone and high LRV make it an excellent choice for small spaces as it helps create a sense of openness.
Can I use Baby Fawn OC-15 in a room with low natural light?
Absolutely! Its warm undertones help balance out rooms with lower natural light, making them feel more inviting.
What color furniture complements Baby Fawn OC-15?
Both dark and light-colored furniture can beautifully contrast with Baby Fawn OC-15.
Does Baby Fawn OC-15 go well with wood trim?
Yes, the warmth of this shade pairs beautifully with the natural tones found in wood trims.
Is Benjamin Moore's Baby Fawn OC-15 easy to coordinate with other colors in my home?
Yes, its neutral palette makes integrating various color schemes and design styles easy.
Conclusion
Choosing the right paint color is a crucial part of the process when you're looking to give your space a refreshing makeover.
Benjamin Moore Baby Fawn OC-15, which melts seamlessly with various styles and decors while highlighting architectural features, could be your go-to choice.
It's no surprise that this versatile hue is popular among homeowners and professional decorators alike.
Whether used in interiors or exteriors, this perfectly balanced shade brings warmth and charm to your spaces while echoing an aura of timeless elegance.