Are you looking for that perfect blend of sophistication and tranquility for your interior space? Well, look no further.
In this Benjamin Moore Pashmina AF-100 color review, we will shed light on this versatile shade that could be the just-right palette you didn't know you needed.
Opulent but practical, the Pashmina AF-100 is integral to Benjamin Moore's Affinity Color collection. The unique elegance and tranquil vibe it brings to your home can elevate the aesthetics in ways you've probably never imagined. Read on to learn how to use this incredible classic hue best.
The Basics of Benjamin Moore Pashmina AF-100
Pashmina AF-100 is a part of the Affinity Colors Collection by Benjamin Moore, offering a striking blend of warmth and sublimity.
It presents itself as a medium to dark gray color with an earthy undertone, effortlessly imparting a sense of tranquility.
Being neutral, it works beautifully as an accent wall and primary wall paint. Its charming versatility sets it apart - whether you're after rustic charm or modern allure.
With a Light Reflectance Value (LRV) of 44.2, Pashmina uses just the right amount of light reflection to enhance the depth and richness in your room without being overwhelming.
The Appeal of LRV in Pashmina AF-100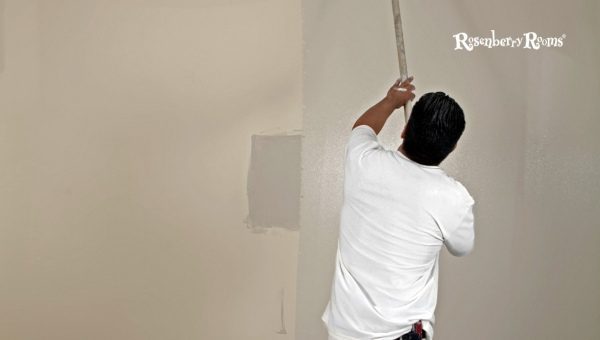 LRV, or Light Reflectance Value, measures how much light a color reflects compared to a white (the highest possible reflection on the LRV scale).
The Pashmina AF-100 from Benjamin Moore has an LRV of 44.2, indicating a mid-range color in light reflectance.
The Pashmina AF-100 is a warm, neutral color that brings a comfortable and cozy vibe to any space it graces. Its earthy undertone helps it blend easily with other colors and materials.
Its reflective capability at 44.2 is considerable enough to keep a room well-lit but also low enough to add depth and sophistication.
This natural tone is elegant and pairs wonderfully with contemporary and traditional interiors. It is typically used in living rooms, bedrooms, dining rooms, or even home offices for its ability to radiate warmth while not overwhelming the space.
Also Read About Benjamin Moore Arctic Shadows 1559 [Can Appear Smoky Blue?]
Warm vs. Cool: The Temperature of Pashmina AF-100
Pashmina AF-100 from Benjamin Moore is a highly versatile paint choice that perfectly balances warm and cool tones.
This soothing, neutral shade exudes warmth without overpowering and gives off a cool, serene vibe while remaining inviting.
Pashmina's warm undertones help create a cozy, welcoming atmosphere in living rooms, bedrooms, and dining areas.
The hints of gray in its color composition lend it the chameleon-like ability to change with varying light conditions and offer a cooler ambiance.
On the other hand, its touches of taupe subtly remind us of earthy clay or natural linen, giving Pashmina AF-100 enough warmth to work well with woods and natural fabrics, adding a comforting, organic feel while avoiding starkness associated with cooler grays.
Great for interior and exterior use, the Pashmina AF-100 adapts well to various color palettes - it brightens up when paired with darker shades and provides depth when contrasted against lighter hues. Its balance between warm and cool makes it an ideal neutral base for any design plan.
Where Can Pashmina AF-100 be Used in the House?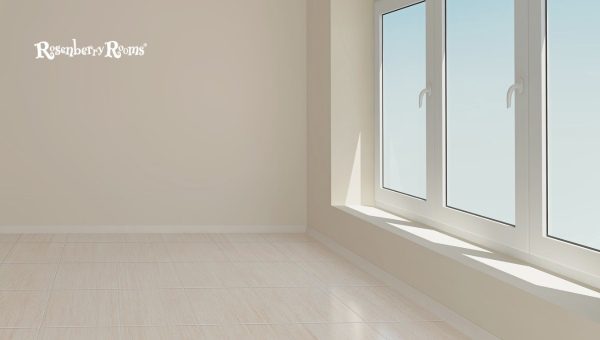 Versatility is one of this shade's super-powers. Its neutrality and elegance make it a perfect fit for any room, creating a cozy ambiance. Here's a rundown of where you can splash some Pashmina AF-100 magic:
Living Room: The Benjamin Moore Pashmina works well in living rooms because it can add depth without consuming the room's light. Pair it with furniture in contrasting hues or play with textures to achieve an urban, contemporary vibe.
Bedroom: It is ideal for bedrooms as it scales nicely with different lighting conditions—creating a peaceful retreat during the day and an intimate cocoon for those quiet evenings.
Dining Room: Bring an enveloping warmth to your dining area by painting your walls Pashmina AF-100. Add vibrant paintings or soft textiles that offer just the right contrast, enhancing its earthly charisma.
Home Office: Want a calm workspace? Choose Pashmina and pair it with white trims or bookshelves.
Hallway/ Entryway: Brighten up your hallway or entryway with this neutral shade— exuding grace and sophistication right from your entrance.
Kitchen (as an accent wall): Add drama by incorporating this shade as an accent wall in your cooking area, assuring you stay on trend without overpowering other elements present.
Bathroom (for a warm, cozy feel): If blissful tranquility is what you're after, saturate your bathroom in this hue—it can handle moisture and still look stunning!
Your ceiling could also do well with a touch of Pashmina AF-100—especially in rooms with high ceilings and surplus natural light.
Elevate Your Exterior with Pashmina AF-100
The exterior is one of the most overlooked areas while designing your home. The perfect exterior hue can instantly uplift your home's curb appeal and overall aesthetic. That's where Benjamin Moore Pashmina AF-100 comes into play.
Pashmina offers an understated chic factor to a property's exterior by blending warmth and sophistication. This versatile shade provides an excellent backdrop for various architectural styles, from traditional to modern.
Siding: Pashmina works splendidly as a siding color. It blends seamlessly with landscapes while offering a perfect balance of warmth and serenity.
Trim: Using Pashmina for the trim accompanying crisp white sidings gives your exterior a stylish flair.
Front Door: A Pashmina-painted front door exudes warmth, akin to opening your doors to comfort whenever you return home.
Shutters: Shutters adorned in this color dramatically enhance the structure's appeal, allowing the windows to pop beautifully.
One of the best ways to appreciate Pashmina AF-100 is against the background of natural light. How it morphs subtly with changing lighting conditions allows for a beautiful depth in your outdoor spaces.
Consider Benjamin Moore's Pashmina AF-100 for your exteriors for that fulfilled yet calm ambiance you've all wanted.
The Undertones of Pashmina AF-100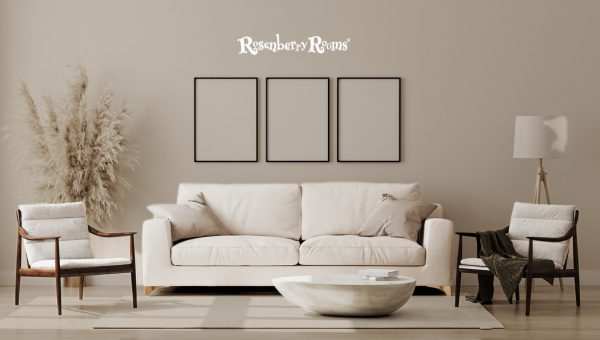 Pashmina AF-100 has passive green undertones that subtly emerge depending on the surrounding lighting and elements.
These undertones give it an earthy depth, giving the spaces an added layer of character. They make Pashmina AF-100 versatile enough to work in different rooms, whether in the kitchen, bedroom, or living area.
Despite its passive green undertone, Pashmina AF-100 maintains a neutral appearance, making it a favorite among homeowners and interior designers. It gives off a warm ambiance that can make any room feel cozy and inviting.
Pashmina AF-100's slight green undertone adds an organic element to its overall look, appealing to those who prefer soft yet sophisticated color schemes for their homes.
The balance between neutrality and unique undertones makes this shade versatile and suitable for various spaces and design styles.
Why Sampling is Essential for Painting with Pashmina AF-100
No matter how promising a color looks online or in-store, it's crucial to sample before fully committing to a paint color like Pashmina AF-100.
Different lighting conditions and existing decor can drastically alter the color of your walls. By sampling, you can observe the paint in various light situations and see how it reacts with your surroundings.
Remember that it often takes at least two coats to truly represent the color on your wall. Therefore, as you sample Pashmina AF-100, apply two coats on each sample spot.
Observing both at different times of the day offers invaluable insights into how this potential candidate performs under different conditions.
Matching Colors With Benjamin Moore Pashmina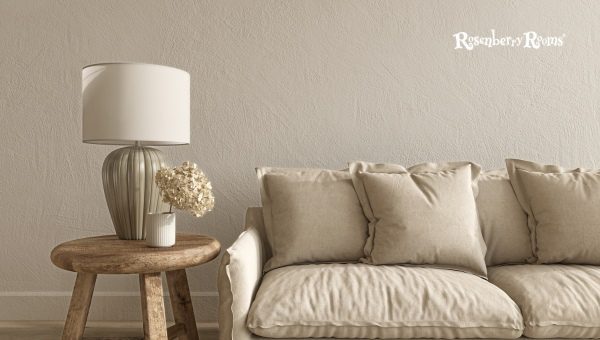 The beauty of Benjamin Moore Pashmina AF-100 is its ability to blend seamlessly with a host of other colors.
The goal is to create a versatile palette that complements your space and personal style rather than overwhelm it. Let's discuss some hues that can truly complement the elegant Pashmina.
Benjamin Moore Deep in Thought AF-30: A stunning shade carrying a taupe-gray undertone, this color brings out the earthiness in Pashmina, creating an amazingly rich and cohesive appearance when used together.
Benjamin Moore Cinder AF-705: Being another beautiful gray, Cinder brings out the best in Pashmina by amplifying its neutrality while providing an elegant contrast. The pairing can help create a monochromatic scheme with depth and personality.
Benjamin Moore White Dove OC-17: A soft white with a hint of gray. It perfectly balances the earthy undertones of Pashmina, maintaining lightness while adding a sophisticated touch to your overall décor.
Benjamin Moore Providence Blue 1636: Dare to add a punch of color? Then go ahead with Providence Blue, which brings warmth and adds an unexpected twist by breaking the monotony.
Proper planning and experimentation are key when deciding on matching colors. Be mindful of light sources and materials in your space, as these factors can significantly impact how colors appear when combined.
Holding swatches against each other under different lighting conditions can avoid unpleasant surprises later.
Explore More: Benjamin Moore Cedar Key 982 / OC-16 [Warm Or Cool: Review]
The Impact of Lighting and Cardinal Directions on Pashmina AF-100
One of the most fascinating aspects of playing with paint is understanding how light and the cardinal directions influence a color.
Consider the area you're painting and its exposure to natural light throughout the day, as this will substantially affect how Pashmina AF-100 comes across in your space.
North
With North-facing rooms, you're dealing with cooler and relatively indirect light. This means that Pashmina's warm undertones will be more pronounced to counterbalance the lack of warm sunlight—they'll present an inviting, cozy appeal.
Don't worry - it won't lose its distinct sophistication! This can be a perfect choice for living rooms or dens where you'd love a calm, unwinding environment enriched by Pashmina's earthy demeanor.
South
South-facing rooms are blessed with abundant natural light throughout the day, enhancing Pashmina AF-100's liveliness.
You might see it lean towards its gray aspect in strong daylight. However, as the sun intensifies during midday, expect this shade to exhibit a touch more warmth.
It's particularly suited for bedrooms or reading corners where you want to create an uplifting yet relaxed ambiance.
East
Considering East-facing rooms that welcome the first rays of the morning sun? Here's where things get interesting.
Early morning light can sometimes cast a cool blue tint on Pashmina – but don't fret! The inherent warmth in this shade beautifully offsets this for a balanced look.
West
As for west-facing areas - these bookings get considerable sunlight through heavy parts of the afternoon and early evening.
This exposure often leads to dynamic color shifts in your paint throughout these hours. The natural hues of sunlight can make Pashmina appear warmer during sunset—allowing it to project an enchanting coziness in spaces like bedrooms or dining areas.
Lighting plays an undeniable role as your color can morph from cooler hues during various times to warm-toned under others, quite regulated by both artificial and natural lighting conditions.
Always consider conducting firsthand tests under different lighting scenarios using swatches — seeing exactly how your selected paint dances with light throughout the day will offer boundless help during decision-making.
Creating test patches with Benjamin Moore paints becomes crucial when tackling complex colors like Pashmina AF — ensuring your final result perfectly aligns with your initial vision.
The Similar Shades: Closest Colors to Pashmina AF-100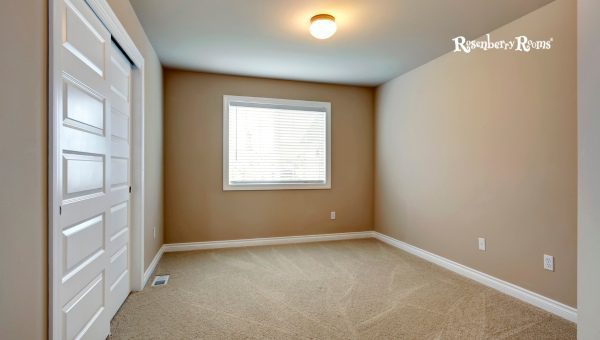 Exploring similar shades to Pashmina AF-100 expands your options and allows you to find the perfect balance that resonates with your envisioned ambiance.
While maintaining their charm, these similar hues can complement Pashmina AF-100 to create a harmonious color scheme in your home.
Here are a few Benjamin Moore colors that closely resemble and perfectly accentuate the unique charm of Pashmina AF-100:
Each of these Benjamin Moore colors carries its unique essence, making them potential candidates for various combinations depending on the style and ambiance you aim for in your home.
Experimenting with different swatches alongside the Pashmina AF-100 could open up fascinating possibilities.
Read More: Benjamin Moore Anchor Gray 2126-30 [Paint Color Review]
FAQs About Pashmina AF-100
What makes the Benjamin Moore Pashmina AF-100 a unique choice for home interiors?
With its versatile medium to dark gray shade and a calming, earthy undertone, the Pashmina AF-100 adds warmth and sophistication to any room.
How does the Light Reflectance Value (LRV) of Pashmina AF-100 influence my choice?
The LRV of 44.2 suggests that it reflects a balanced amount of light to create depth without overwhelming the space.
What colors are closely related to Benjamin Moore Pashmina AF-100?
Similar shades include Plymouth Rock 1543, Baja Dunes 997, Stone Hearth 984, and Northern Cliffs 1536.
Can I successfully incorporate Benjamin Moore Pashmina AF-100 in outdoor spaces?
Certainly! It can beautifully elevate exteriors as a neutral palette when used on siding, trims, front doors, or shutters.
How does Pashmina AF-100 react to different room lighting?
This shade adapts well to different lighting levels and can change subtly in hue depending on its exposure to north, south, east, or west-facing light.
Conclusion
Benjamin Moore Pashmina AF-100 is a versatile hue with balanced warmth and sophistication. Whether used for interiors or exteriors, this inviting color can effortlessly elevate your space while maintaining a serene and calming ambiance.
Its outstanding adaptability reacts to different lighting levels, and its compatibility with closely related Benjamin Moore paints can create harmonious color schemes in your home.
Embrace this shade's versatility to transform your home into a tranquil sanctuary where style meets comfort.