As a lover of all things related to home décor and furniture, I felt like it was high time I shared my knowledge on a classic piece that has managed to wow homeowners and interior designers alike for centuries – the Ottoman. So, what is an Ottoman? In this complete guide, we'll leave no stone unturned as we delve into the fascinating world of Ottomans and explore their history, styles, and how you can use them in your own space.
Growing up, I never knew there was more to this cozy piece of furniture than just being a comfortable footrest. My family had one that served primarily as a place for dad to prop up his feet after a long day at work. But having now discovered the full potential of Ottomans, I find myself constantly devising ways to incorporate these versatile beauties into every room in my home.
Speaking from experience (and backed by countless others who have basked in its glory), the Ottoman is one piece that truly deserves recognition for both its aesthetic appeal and unique functionality. Stick with me through this comprehensive journey into all things Ottoman-related as we uncover interesting tidbits about how this historical gem came into existence and how you can effortlessly blend it into your modern-day living spaces!
What is an Ottoman?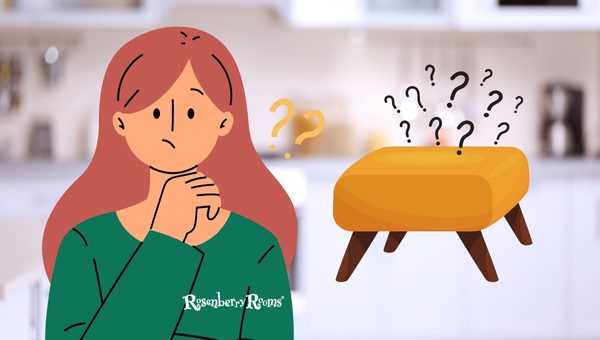 An Ottoman is a versatile piece of furniture that can serve multiple purposes; from being a footrest, to additional seating, storage, and even as a coffee table. Typically, Ottomans are upholstered with padding and covered in various fabrics or leather.
They come in different shapes and sizes, making them the perfect addition to any interior design style or living space. Due to their adaptability, Ottomans continue to be a popular home décor choice among homeowners and designers alike.
The History of the Ottoman
Originating in the late 18th century, the Ottoman's roots can be traced back to the Ottoman Empire, which was known for its luxurious and elaborate furniture designs. The early versions of Ottomans were primarily used as central seating areas in homes, surrounded by cushions and covered with lavish textiles.
During the Victorian era, Ottomans transformed into a more refined piece of furniture. They were often used as footstools or additional seating in living rooms. To accommodate these new uses, Ottomans began to be made in various shapes, sizes, and materials.
It wasn't until the 20th century that Ottomans gained their modern-day versatility. Furniture designers recognized their potential and started incorporating innovative features like storage compartments and convertible designs. This evolution has turned Ottomans into one of the most popular multifunctional furniture pieces available today.
In essence, the Ottoman's rich history aptly demonstrates its adaptability over time to meet the ever-changing needs of homeowners. From being a luxurious symbol in ancient times to a practical element of modern-day living spaces, Ottomans have certainly come a long way!
Types and Shapes of Ottomans
Ottomans come in a wide variety of shapes, styles, and sizes to suit any room or design aesthetic. In this section, we will explore the different types and shapes of Ottomans to help you find the perfect match for your home.
1. Storage Ottomans
Storage Ottomans are incredibly versatile pieces that combine the best of both worlds: style and function. These cleverly designed Ottomans not only provide a comfortable place to sit or rest your feet but also include hidden storage compartments beneath their upholstered tops.
Many storage Ottomans have removable lids or tops with hinges that can be easily opened to store anything from blankets and pillows to magazines, toys, or even shoes.
2. Round Ottomans
If you're looking for a softer aesthetic or want to create a more inviting atmosphere in your living space, consider adding a charming round Ottoman.
They bring curves into angular spaces and can often act as both seating and coffee table, particularly when paired with a tray on top. The circular shape lends itself well to complementing furniture items like sofas, armchairs, or sectional pieces.
3. Square Ottomans
Functionality meets chic design with square Ottomans which are perfect for those who gravitate towards clean lines and symmetry in their interiors. The square shape adapts well to many room layouts while providing ample surface area for resting feet or extra seating when needed.
4. Rectangular Ottomans
Ideal for elongated spaces or as a complementing element placed between two sofas facing each other, rectangular Ottomans work well as coffee tables by providing plenty of surface area on top without sacrificing style points.
5. Cube Ottomans
Compact and contemporary, cube Ottomans are an excellent choice for small spaces or as accents to larger furniture pieces. When placed together in a group, they can form a modular seating area or even act as a visually intriguing coffee table.
6. Tufted Ottomans
For those who appreciate the finer details and elegance of traditional design, tufted Ottomans make an opulent statement in any room. With their distinctive button-tufted upholstery, these Ottomans often feature luxurious fabrics like velvet or leather and intricate wood or metal legs.
7. Glider Ottomans
If you're seeking ultimate relaxation, look no further than glider Ottomans. These unique pieces are designed to rock back and forth gently, providing a soothing motion that pairs well with rocking chairs or nursery gliders.
8. Cocktail Ottomans
Elevate your entertaining game with a cocktail Ottoman, which is larger and sturdier than most other types, making them perfect for serving beverages and snacks when hosting guests. They often feature robust materials like metal or wood legs for added stability.
9. Sleeper Ottomans
If you find yourself short on sleeping quarters for guests, sleeper Ottomans are an ideal space-saving solution. These versatile pieces convert into twin-sized beds by unfolding the mattress hidden within the Ottoman's base.
10. Hallway or Entryway Shoe Storage Benches (Ottoman benches)
For busy households needing organizational solutions at the front door, consider incorporating an Ottoman bench into your entryway decor. These stylish yet practical designs provide a comfortable place to sit while donning shoes, alongside hidden compartments ideal for storing footwear and other essentials.
11. Outdoor Ottomans
Enjoy your outdoor spaces in style with outdoor Ottomans, created from weather-resistant materials to withstand the elements. These pieces offer additional seating, a place to prop up your feet, or even serve as side tables for outdoor gatherings.
12. Pouf Ottoman (or simply called poufs)
Inspired by Moroccan design, poufs are a more casual version of an Ottoman. Often made from woven textiles and filled with beads, cotton, or foam, poufs provide a relaxed and boho-chic vibe while still maintaining their functionality as extra seating or footrests.
13. Kilim or Bohemian-style Ottoman
For those who adore vibrant patterns and intricate designs, Kilim or Bohemian-style Ottomans are an excellent addition to any space seeking an eclectic touch. These Ottomans are often adorned with colorful flat-weave rugs covering the upholstered surface and usually supported by rustic wooden legs.
Components and Versatility
One of the things that make Ottomans such a beloved piece of furniture is their versatility. There are numerous ways to use them in your home, thanks to their unique components and various styles. Below, we'll examine some key aspects of Ottomans that contribute to their adaptability.
Upholstery and Padding
Ottomans are typically upholstered, which means they are covered in fabric or leather with cushioning beneath for added comfort. This cushioning, combined with the luxurious upholstery materials like velvet, cowhide, or durable performance fabrics, allows for comfortable seating or a plush surface to rest weary feet.
Styles and Designs
As previously mentioned, Ottomans come in an array of shapes and styles – from traditional tufted designs to sleek modern options – making it easy to find one that complements your existing interior design aesthetic.
Legs and Base Material
Many Ottomans feature distinctive legs made from wood or metal, which not only provide structural support but also contribute significantly to the overall style of the piece. Some storage Ottomans might have caster wheels for added mobility or a recessed base for added stability while concealing an extra storage area.
With all these components in mind, it's apparent why Ottomans are beloved versatile home furnishings that can be used as seating in living rooms or bedrooms, as footstools paired with comfortable chairs, coffee tables with decorative trays on top for added style and function (think remotes or coasters), or even as hidden storage solutions providing additional organizational capacity to any room.
Knowing the makeup of Ottomans now helps explain why they can be effortlessly adapted into various settings within your home while remaining stylish and functional integrations.
What is the Purpose of an Ottoman?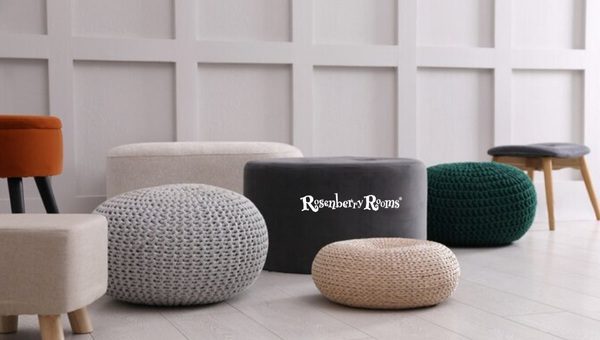 By now, you should have a clear understanding of the multifaceted nature of Ottomans. But to recap, let's explore some of the main purposes that make Ottomans such essential and versatile furniture pieces:
Seating: One of the primary functions of an Ottoman is to provide extra seating when needed. Whether in your living room or bedroom, an Ottoman ensures there's always a comfortable spot for guests or family members to unwind.
Footrest: Ottomans can also be an ideal partner for your favorite armchair, providing added comfort while you relax by letting you prop up your feet on its soft upholstered surface.
Coffee Table: With a flat surface (and maybe even a tray on top), Ottomans can effortlessly transform into coffee tables, giving you a stylish place to set drinks, books, or decorative items.
Storage: As mentioned earlier, storage Ottomans offer multipurpose functionality by incorporating concealed compartments for tidying away items in an organized manner.
Design Statement: Beyond their practical uses, Ottomans also serve as statement pieces that enhance the overall design and atmosphere of your space with their unique shapes and materials.
The purpose of an Ottoman is to provide maximum utility while adding aesthetic appeal – making it undeniably one of the most sought-after furnishings in modern homes.
Material Choices: Finding the Perfect Fabric for Your Ottoman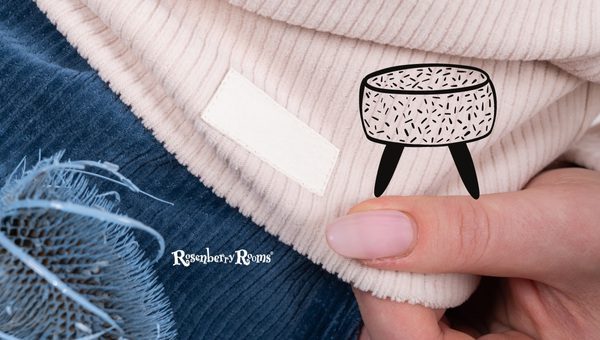 Choosing the right fabric for your Ottoman plays a crucial role in determining its appearance and longevity. When selecting upholstery material, consider factors such as style, durability, and ease of maintenance to find the perfect match.
Leather: A popular and timeless choice, leather brings a touch of luxury and sophistication to your Ottoman. It is also highly durable and relatively easy to maintain using leather cleaners or by simply wiping it down with a damp cloth.
Velvet: Velvet Ottomans exude opulence and elegance with their plush texture and vibrant colors. This luxurious fabric may require extra care, but its indulgent appearance makes it an eye-catching addition to any space.
Polyester or Microfiber: For an easy-to-clean option that retains its color well, consider fabrics like polyester blends or microfiber upholstery for your Ottoman. These materials are machine washable and generally more resistant to stains and fading.
Linen or Cotton: Natural materials like linen or cotton give your Ottoman a soft, inviting feel while providing a breathable surface ideal for warmer climates.
Outdoor Fabrics: If you're going for an outdoor Ottoman, opt for all-weather fabrics specifically designed to withstand the elements while maintaining a stylish appearance.
What's the Difference Between a Pouf and an Ottoman?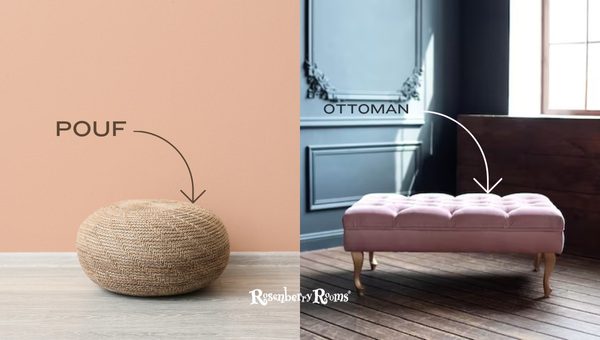 While both Ottomans and poufs offer versatile seating options, there are some distinct differences between these two popular pieces of furniture:
Structure: The most noticeable difference is their construction. Ottomans generally have a solid, sturdy structure, often supported by wooden or metal legs. In contrast, poufs have a more relaxed, flexible form and tend to be filled with materials like foam, beads, or cotton stuffing.
Functionality: Ottomans often come with additional features like hidden storage compartments and can easily double as coffee tables. On the other hand, poufs are usually simpler in function, primarily serving as footrests or casual seating.
Design Aesthetic: In terms of style, Ottomans lean towards a more sophisticated look with various shapes and upholsteries available to match different interior designs. Poufs impart a laid-back vibe with their soft structure and playful appearance.
Buying Guide: How to Choose An Ottoman
When selecting the perfect Ottoman for your space, it's essential to consider factors such as size, style, functionality, and material. The following guidelines will help ensure a seamless addition of an Ottoman to your home:
Measure Your Space: Before you start shopping, measure the area where you'd like to place the Ottoman. Be mindful of the dimensions like length, width, and height to ensure it will fit comfortably without disrupting your room layout.
Identify Your Needs: Determine what purpose you want your Ottoman to fulfill - whether it's for additional seating, storage, doubling as a coffee table or strictly being a decorative piece.
Choose a Shape and Style: With multiple shapes like round, square or rectangular options available, consider which will best complement your existing furniture and design aesthetics.
Consider Material: Evaluate different fabric types based on factors such as appearance (leather for luxury or velvet for elegance), durability (outdoor fabrics for longevity), and maintenance requirements (microfiber or polyester blends for easy cleaning).
Account for Color and Pattern: Select an upholstery color that harmonizes with your room's palette but still adds visual interest through contrasting tones or patterns.
Incorporate Practical Features: If you require more functionality like storage compartments or reclining capabilities (such as sleeper Ottomans), be sure to prioritize these features during your selection process.
Assess Your Budget: While investing in quality is essential when purchasing furniture pieces like Ottomans that generally receive daily use - ensure that the choice aligns with your pre-defined budget.
Ottoman Ideas for Your Living Room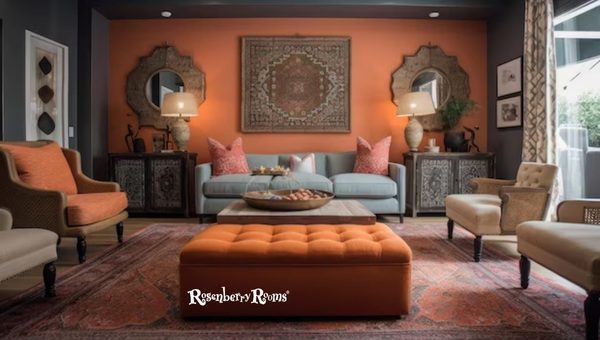 Incorporating an Ottoman into your living room can greatly enhance the space's visual appeal and functionality. Here are five inspirational ideas to help you make the most of an Ottoman in your living area:
1. Create a Cozy Seating Nook
A fantastic way to utilize an Ottoman in your living room is by creating a cozy seating nook or reading corner. Position a comfortable armchair with an accompanying floor lamp, bookshelf, or side table, and place a matching Ottoman in front of the chair for resting your feet while enjoying your favorite novel.
2. Combine Multiple Ottomans for Modularity
For a versatile and stylish approach, consider using multiple smaller Ottomans with varying shapes, such as cube or round designs, which can be combined to form a modular seating area or coffee table surface. This flexible arrangement not only adds visual interest but also allows you to rearrange the layout whenever desired.
3. Use a Statement Ottoman as a Coffee Table
Swap out your conventional coffee table for an eye-catching upholstered Ottoman that acts not only as a comfortable footrest but also as a visually intriguing centerpiece. You can use this multifunctional piece topped with a decorative tray to keep books, remotes, coasters, or other essentials organized and within reach when guests are visiting.
4. Incorporate Storage Ottomans to Declutter Your Space
If you're looking to maximize storage solutions without compromising on style or comfort, opt for storage Ottomans that meld practicality with elegance perfectly! These pieces can house items such as extra throw blankets, remote controls, game consoles accessories, or any other clutter that needs tidying away while keeping them hidden from view yet easily accessible.
5. Complement Your Existing Furniture with Matching Pieces
Bring cohesion to your living space by selecting an Ottoman that complements your existing furniture. If you have matching sofas or armchairs, you can choose an Ottoman with similar upholstery and design elements to create harmony in the room. On the other hand, if you want to create a more eclectic atmosphere, pick an Ottoman with contrasting patterns or colors that still blend seamlessly with your overall decor.
For example, a tufted leather Ottoman could be a fitting addition to your traditional living room setup. Alternatively, if you have a minimalist Scandinavian-inspired space, choose a sleek and clean-lined square or rectangular Ottoman.
FAQs About An Ottoman
Can I use an Ottoman as a coffee table?
Yes, Ottomans can be used as coffee tables. Simply place a decorative tray on the flat surface of the Ottoman for a stable area to set drinks, books, or other items.
How do I clean and maintain my upholstered Ottoman?
The cleaning method depends on the upholstery material. For most fabrics, use a vacuum cleaner with a brush attachment and a damp cloth to remove dirt. Leather requires special leather cleaners or mild soap and water.
How do I choose the right size Ottoman for my room?
Measure your available space, considering factors like length, width, height, and proximity to other furniture. Choose an Ottoman that fits comfortably without obstructing your existing room layout.
What should I consider when choosing an Ottoman fabric?
Consider factors such as style (e.g., leather for luxury), durability (e.g., outdoor fabrics for harsher environments), and maintenance requirements (e.g., microfiber or polyester blends for stain resistance).
Are storage Ottomans worth it?
Storage Ottomans are valuable additions to any room by combining functionality and aesthetics while providing additional storage space hidden within the piece's structure. They are perfect for decluttering homes while maintaining visual appeal.
Conclusion
In this complete guide, we've explored the fascinating world of Ottomans, delving into their rich history, various styles, and versatile applications.
With their unique ability to serve as seating, storage solutions, coffee tables, footrests, and statement pieces simultaneously, it's no wonder this timeless furniture continues to capture the hearts of homeowners and interior designers alike.
Use the insights provided in this guide to make an informed decision when selecting the perfect Ottoman that complements your space while fulfilling all of your specific needs.