A good night's sleep, we can all agree, is one of the most essential parts of our daily life. It not only rejuvenates our body but also lends our mind the necessary peace and calm after a hectic day.
At the heart of this blissful experience, is a perfect bed that not only provides utmost comfort but also complements your bedroom interiors.
Today, I would like to take you on my personal journey through one such magnificent piece – my recent purchase, the Thuma bed. To give you a transparent overview, here's my Thuma Bed review.
Intriguingly unique and surprisingly minimalist in its design, the Thuma bed has been on my wishlist for quite some time now.
On getting it home, I discovered some charming features that made it stand apart from the typical beds available out there.
So grab a cup of your favorite brew and let's delve into the details of why this may be the perfect addition to your sleeping quarters.
Unboxing Experience: First Impressions Matter
Upon the arrival of the Thuma bed, what immediately caught my eye was the efficient packaging. The bed came in a few large boxes, each neatly packed with all the necessary components.
The very first thing that impressed me was the sense of ecologically conscious packaging that Thuma seems to pride itself on.
As I cut open the box, my excitement skyrocketed. Step by step, as I uncovered the layers within, it felt not unlike unwrapping a much-anticipated gift.
Enclosed in it were perfectly crafted pieces of wood tied up quite carefully to avoid any damages in transit.
Each piece had its own custom compartment, clearly indicating that every little detail had been thought out meticulously.
Complementing these components was a small yet insightful instruction manual providing clear and comprehensive steps for assembly.
As someone who is not particularly handy with tools, this guide made an otherwise daunting assembly process seem like a child's game.
Another charming aspect of the unboxing experience was the inclusion of a tiny screwdriver kit – an unassuming yet thoughtful addition that made assembling this beautiful bed a satisfying DIY project.
In short, my first interaction with Thuma through their impeccable unboxing experience fosters faith in their promise towards quality and attention to detail - opening doors to great expectations.
Dip into Details: Assembly of the Thuma Bed
Setting up the Thuma Bed turned out to be an uncomplicated affair, despite my concerns. The clutter-free packaging meant no mess as I unboxed it.
Clever organization and part labs segregated neatly, it wasn't just a thoughtful touch but a delightful one too.
Step-by-Step Assembly
Let's delve into the assembly process in more detail:
The Puzzle-Lock Design: Thuma's ingenious puzzle-lock design made joining elements together a breeze - no tools or exasperating trips to the hardware store necessary!
The Slats: The hardwood slats fitted effortlessly into the supporting rubber strips that muffle movement noise - you can say goodbye to creaking beds!
The PillowBoard: Next was attaching the PillowBoard (Thuma's innovative solution for a headboard). It's snug fit and cushiony feel elevated not just the look but also the comfort of my bed.
I also received their handy assembly guide alongside in-print and digital forms, plus how-to videos accessible via QR code.
In about 30-35 minutes, voila! My Thuma bed was ready! And it could handle up to 1500 lbs of weight, bringing substantial sturdiness to its minimalist design.
Ease of assembly has been an impressive feature in my Thuma bed review. It truly embodies their tagline "Beautiful from every angle."
Remark on Looks: Aesthetics of Thuma Bed
When you first set eyes on the Thuma bed, it's hard not to be drawn in by its minimalist aesthetic. The beautiful craftsmanship and quality are evident right from the get-go - a style that seamlessly blends with any interior design theme.
Inspired Design
The bed frame is exquisitely crafted from repurposed wood, which not only speaks volumes for its sustainability efforts but also adds a unique and authentic character to your bedroom. The natural grain of the wood, paired with its warm tones provides a real sense of tranquility.
Minimalist Yet Sophisticated
There lies an understated sophistication in the simplicity of the design. Each corner and every edge showcases a perfect merge between sharp modern lines and time-tested woodworking techniques. No unnecessary frills to distract, just a clean design that champions quality.
Pillowed Headboard
One feature that specifically caught my eye was the elegantly designed pillow headboard. Swathed in eco, linen-weave fabric, it looks soft, impossible to ignore how comfortably it molds against your back when you lean.
Unpretentious Elegance
Sustainable Design
Warm Tones
Clean Lines
Comfy Headboard
What truly sets Thuma Bed apart is how remarkably it balances minimalism without losing out on elegance or sophistication.
It's more than just a bed; it's a statement piece that holds its own while still harmoniously blending into your personal space.
Deliberations on Design and Quality
When opening the box, what immediately struck me is the noticeable attention to detail and quality that Thuma puts into their product.
Each piece of the bed frame is carefully wrapped and protected, a small detail perhaps, but one that underscores the company's commitment to delivering an exceptional product.
Aesthetic Excellence
We all want our bedrooms to exude a certain atmosphere - a haven of tranquility or a splash of creativity perhaps.
With its clean lines and minimalist design, the Thuma bed truly delivers on aesthetics. Complementing any decor style with its sleek beauty, the frame is made from real repurposed wood that has been carefully selected for its grain quality, color variation, and sustainable attributes.
Each wooden piece speaks volumes about its superior craftsmanship, exuding warmth and sophistication.
Durability Underline
The pillar-like support legs are sturdy, standing up to substantial weight without any wobble. I noticed not just quality in material but also perfection in structure; interlocking Japanese joinery - completely noise-free due to their convenient 'slot-together' system sans any metal pieces.
Comfort Redefined
One major aspect of a bed's design includes how well it supports your mattress. The Thuma bed has a slatted base, providing excellent ventilation for your mattress while ensuring optimal support for restful sleep night after night.
Above all these details lies one important aspect: sustainability. Thuma shows respect towards Mother Earth by sourcing only repurposed wood for their beds making sure they are as eco-friendly as they are elegant.
Quality is repeatedly emphasized throughout every inch of this design - it certainly makes you appreciate the effort and thought put into creating this masterpiece.
Size Matters: Space Efficiency
One thing that really seduced me about the Thuma Bed was its smart design aimed at space efficiency. Now, we can all agree a bed should not just be comfortable but also well-fitted to your room dimensions without compromising on the room's aesthetics. With Thuma, achieving this balance is surprisingly seamless.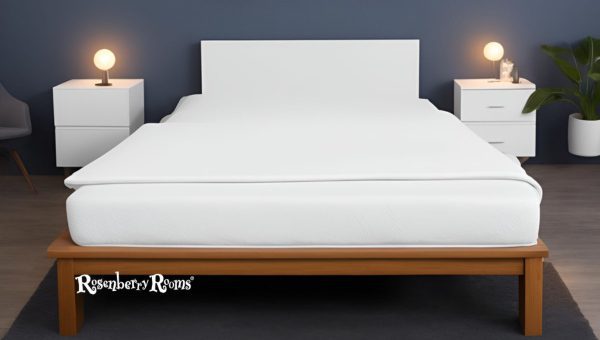 The Dimensions
The Thuma Bed comes in six versatile sizes, designed to cater to every possible need:
Twin: 44" x 80" (Standard)
Twin XL: 44" x 85"
Full: 59" x 80"
Queen: 65" x 85"
King: 81" x 85"
California King:77" x89"
This range of sizes allows you to choose one fitting perfectly with the available space in your room.
Space Saving Frame
What welcomed my attention was the bed's space-saving design. With a height of approximately nine inches from the ground, there is ample space for easy cleaning or even some moderate storage.
The perfect solution for freeing up some valuable square footage in your bedroom!
Thuma's Concise Design
The efficiency doesn't stop here; my favorite feature has to be the platform design itself. It encompasses a dual-plexiglass slat system, providing maximum mattress breathability and requiring no box spring as support.
This means no unnecessary bedside clutter, leaving your bedroom with a more spacious feel that appears both tidy and minimalist.
What about Comfort? Sleeping on the Thuma Bed
Let me delve into one of the essential aspects - comfort. After all, aesthetics and durability are not the only factors that make a bed great. Without comfort, the grandest of beds is essentially a beautifully crafted piece of wood.
The First Night
I must admit, my first night on the Thuma bed was somewhat akin to sleeping on a cloud. There was neither too much bounce nor any discomfort. Settling into it after a long day felt like a comforting embrace.
The feel of the Frame
The environmentally friendly, repurposed rubberwood used for this platform bed gives it an impressively sturdy feel. No creaky noises or wobbly moments to disturb your sound sleep here!
The Pillow Board
Now onto something you don't normally come across while shopping for beds - The pillow board. Crafted with soft-touch woven fabric lined with pebbled linen weave, it offers just enough support to lean back and feel at ease without being rigid or uncomfortable.
A Shift in Style
One interesting thing I noticed is that sleeping styles seem to matter less with the Thuma bed. It's engineered perfectly for those who sleep on their backs, sides, or even bellies like myself.
Maintaining Temperature
Moreover, the Thuma bed does well in maintaining an optimum temperature throughout your sleeping hours, thanks to its minimalist design and breathable materials used.
Comfort Score
| Factor | Score (Out of 10) |
| --- | --- |
| Back Support | 9 |
| Plush Comfort | 8 |
| Temperature Control | 8 |
Now let's move towards long-term usage which is equally important when investing in a good-quality bed!
Comparing Costs: Value for Money
Before we delve deep into the monetary aspect, it is essential to note that a good bed is quite literally the foundation of a good night's sleep.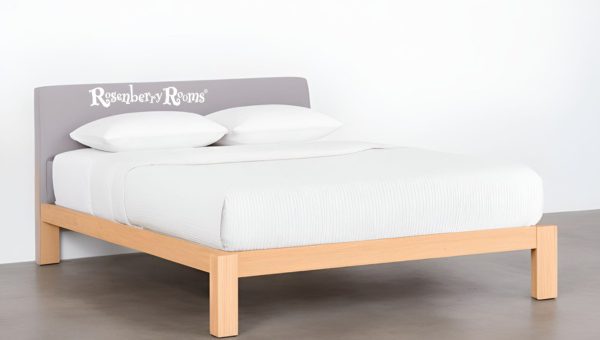 While making such a crucial decision, it is prudent to consider both the quality and the cost-effectiveness of the product.
Thuma Bed Pricing
Thuma offers a range of options designed to cater to varying needs and preferences. From smaller sizes for individual use to larger ones fit for couples or those requiring extra space, Thuma has covered all grounds. Here's a quick rundown:
Twin: $695
Twin XL: $795
Full: $895
Queen: $995
King: $1,095
Cali King: $1,095
Considering its high-quality materials - natural wood and eco-friendly repurposed rubberwood - and the exceptional design that prioritizes both aesthetics and functionality, I would say Thuma beds offer excellent value for money.
Certainly, these prices may seem steep if compared with an average bed frame sold at a department store.
However, when considering the longevity and style offered by Thuma alongside other high-end brands, you'll find it practically priced on par with its competition - making my Thuma bed a worthy investment towards ensuring peaceful nights ahead.
Profiling Pros and Cons – A Balanced Review
In our pursuit of a perfect bed, it's important to weigh the pros and cons. Let's undertake this journey for the Thuma Bed, and here's my attempt at providing you with an objective appraisal.
Pros
Ease of Assembly
Sturdy Made
Noiseless
Aesthetic Appeal
CONS
Same Price of King and Cal King Size
Cause Of Puzzle-Lock Design, Less Durable
In essence, choosing the Thuma Bed would mean opting for an extraordinary fusion of minimalist design and functionality despite some minor fallbacks. Find out more about it.
Personal Experience - After a Month with My Thuma Bed
My experience using the Thuma bed for a month has been nothing short of amazing. I often find myself looking forward to retiring to it after a long day.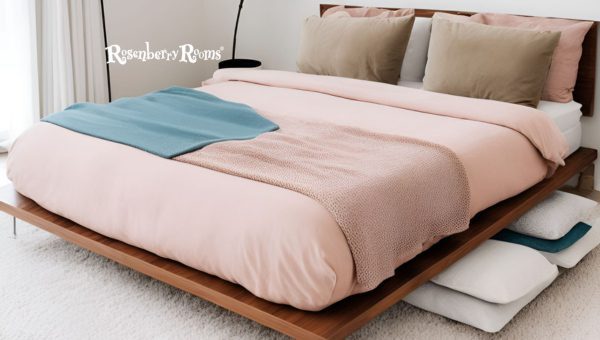 Let's break this down into the essentials of every bed: comfort, style, and durability.
Comfort
Starting with what I believe is the most important aspect—you guessed it right, comfort! The sturdy build and Peel&Stick adhesive strips have held up well even after a month of use, offering steady support. Remember, pairing it up with a good-quality mattress will only enhance your sleep.
Style
Shifting our focus onto aesthetics now - Thuma's minimalistic design perfectly enhances my bedroom's modern look without overwhelming the space. It seems difficult to conceive till you've actually seen it yourself.
Durability
Finally coming down to durability - given that it's been just a month, durability is something that can't be ascertained as yet; however, all components appear robustly designed and built with high-grade material.
To conclude my personal experience:
| Aspect | Comment |
| --- | --- |
| Comfort | Excellent |
| Design | Modern |
| Durability | Promising |
Such has been my journey so far with Thuma bed which as of now I'm truly happy about. Only time would tell how it holds up in the long haul.
My Verdict On The Thuma Bed Review
Beyond the aesthetic appeal, a bed should be a sanctuary that offers comfort, durability, and adaptability. Having spent nearly three months with my Thuma bed now, I believe it checks all these boxes seamlessly.
First of all, the minimalistic design is undoubtedly charming. The Thuma bed presents a perfect blend of traditional inspiration and modern style.
After wrestling through assembly stages (a process that was easier than anticipated I must say), the bed stood firm and strong, exuding an undeniable aura of premium quality.
The comfort factor was well taken care of as every night on my Thuma has been nothing but blissful. With a mattress sit-in frame to prevent slips and the ideal bed height for easy snooze button access, it's been as functional as it is comfortable.
Pricing - well let's just say that quality comes at a cost. While Thuma might not be the most inexpensive choice on the market, in my opinion, it certainly offers value for money considering its exquisite craftsmanship and longevity.
Lastly beyond each of these individual factors, what stood out most in my Thuma Bed review was how impeccably each component seemed to harmonize to create not just a piece of furniture but an enriching addition to my sleeping experience.
Here's how I would summarize my experience:
| Aspect | Rating (Out of 10) |
| --- | --- |
| Design & Quality | 9 |
| Comfort | 8 |
| Assembly | 7 |
| Value for Money | 8 |
So if you're in search of a premium quality bed that delivers both looks and comfort - don't hesitate to browse more about Thuma Bed.
FAQs About Thuma Bed
How easy is it to assemble the Thuma bed?
Assembly is surprisingly simple and can be done in under an hour. It's designed for easy set-up with minimal tools required.
Is the Thuma Bed worth its price?
Yes, while it's not the cheapest, the premium quality, design and comfort make it a valuable investment.
What makes Thuma bed unique in design?
Thuma mixes traditional design inspiration with modern minimalism, creating a charming aesthetic that blends seamlessly with most décors.
How comfortable is sleeping on a Thuma bed?
The experience has been blissful so far - with optimum bed height and a clever 'sit-in' mattress frame that prevents slipping.
Is the Thuma bed durable?
Absolutely! The sturdy build quality ensures longevity, making it a reliable choice in the long run.
Conclusion
My experience with the Thuma bed has been overwhelmingly positive. It has succeeded in refining my sleep routine while doubling up as a tasteful decor piece in the bedroom. The sheer simplicity of its design, coupled with surprising comfort and durability, makes it truly unique.
I particularly appreciate the thoughtfulness that went into designing a product that's invitingly cushy and effortlessly elegant.
If you value quality craftsmanship, functionality, and aesthetics in equal measure, Thuma could be the perfect fit for your bedtime haven.
Despite a higher price point than most alternatives in the market, I have found my investment worthwhile for a nightly retreat that ensures peaceful slumber and enhances my room's overall ambiance.
Ultimately your choice of bed should reflect your personal style and comfort needs – but based on my experience thus far, the Thuma bed is certainly worth considering.