Stepping into your haven after a long and tiring day should exude tranquility and comfort, enveloping you in a world of calm.
That's exactly what a bedroom should feel like - your refuge from the outside world. And believe it or not, achieving this serenity relies heavily on the color of your walls.
The thought may have crossed your mind about which soothing paint colors for bedrooms would be best.
You don't have to deck out your lifestyle magazines or go through countless images online wondering, "Which color will suit my style?"
An amalgamation of widespread research, design psychology, and personal experience has provided me with insights into the perfect set of calming shades that give a comforting embrace at the end of the day.
Let's explore some soothing paint colors for bedrooms that can help transform your space into a serene sanctuary.
Understanding the Psychology of Colors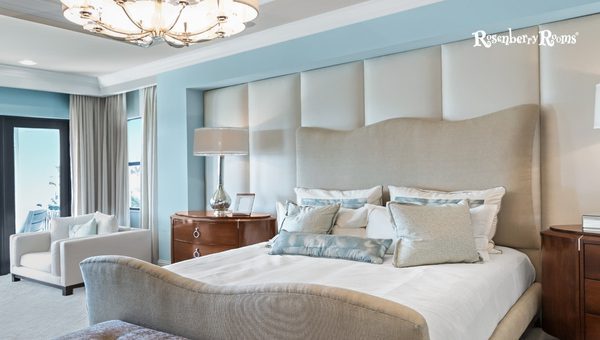 The psychology of color can't be overlooked when curating a calming atmosphere. Specific colors have been scientifically proven to influence our mood, emotions, and physical well-being.
Studies on color psychology have shown the innate association humans make between colors and sensations. For example, Blue, typically associated with coolness and calmness, brings down blood pressure and slow heart rate.
Warmer colors like orange, reds, and yellows are known for their comforting, cozy feel and energizing mood impact. These are best used sparingly in the bedroom, encouraging activity instead of rest. However, softer hues like peach or blush can provide warmth without overstimulation.
Green, synonymous with nature, signifies growth, harmony, freshness, and fertility. It is known for its soothing effect on the mind, making it an ideal option for a serene bedroom palette.
Personal preference also plays a part in our perception of color. A hue that soothes one person may evoke unease in another. Reflecting on your emotional responses to particular shades can guide you toward your perfect palette.
Soothing Paint Colors For Bedrooms: 13 Dreamy Colors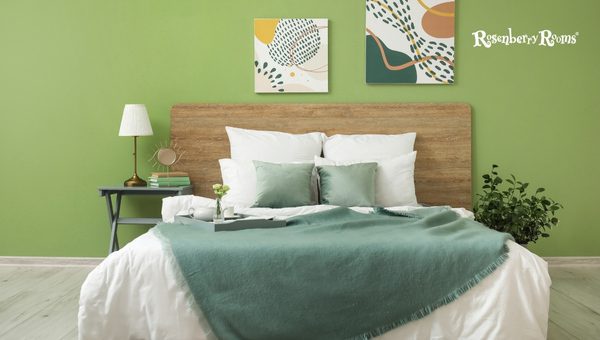 Finding the color that resonates with your calm can be a journey. As your trusted guide, I'm here to help you navigate this process and find your soothing sanctuary shade.
1. Benjamin Moore Gray 2121-10
Beginning our exploration with a timeless neutral, Benjamin Moore Gray brings sophistication to any room. This warm gray effortlessly sets a tranquil tone without overpowering other elements in your space.
Versatility: It can be paired with dark and light furnishings, making it adaptable to various interior themes.
Timelessness: A neutral gray is always in style. It works well in both modern and traditional settings.
Depth: While being a subtle hue, it adds considerable depth to a room without making it look smaller or cramped.
Read More: Sherwin Williams Eider White SW 7014 [Paint Color Review]
2. Benjamin Moore Mocha Cream 995
Next on our palette is the delightful Mocha Cream by Benjamin Moore. This lovely shade is an earthy blend of brown and cream that creates a cozy environment.
Warmth: Emulates the comfort typically associated with 'warm' colors while still being subdued enough for sleep.
Accommodating: Works well with most wood tones, expanding the possibilities for furniture options
Balance: While being warm, it maintains an elegant neutrality that doesn't dominate the emotion of the space
3. Sherwin-Williams Caviar SW 6990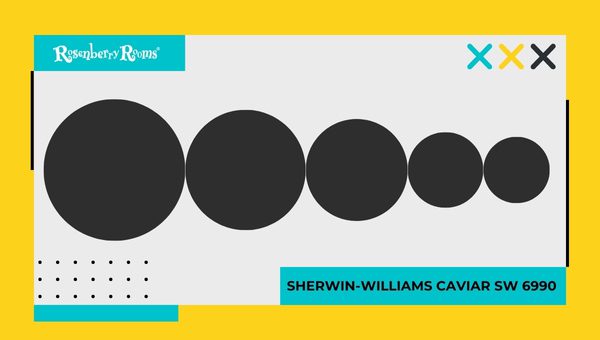 If you're admiring something more audacious yet soothing, the lustrous Caviar from Sherwin Williams may pique your interest. This deep black offers an unexpectedly serene backdrop when used wisely.
Bold Elegance: Creates striking contrast but makes sure your bedroom doesn't feel heavy due to its subtle underlying tones.
Backdrop Brilliance: Enhances light-colored furniture or artwork. Your vibrant décor elements will pop against this bold background.
Sanctuary Creation: Despite being dark, it immerses you into its tranquility - akin to a profound peaceful night's slumber
4. Sherwin Williams Rainwashed SW 6211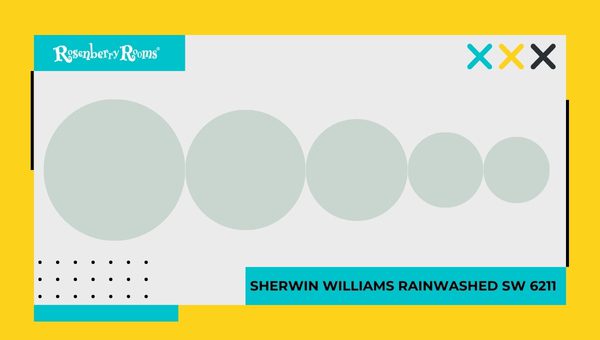 There's a tranquility inherent in the name itself; Sherwin Williams Rainwashed. This charming paint color suggests a cool spring morning after a gentle overnight rain.
This pale blue hue with an underlying touch of green can transform your bedroom into a peaceful sanctuary reminiscent of the soothing aspects of nature.
Cool Serenity: The soothing notes of blue-green subtly calm your senses, cooling down your space and bringing in tranquil vibes.
Versatility: Its soft shade makes it versatile enough to pair with lighter shades for serene outcomes or darker ones for dramatic contrast.
Nature-Inspired: Inspired by the natural elements, it imparts freshness and relaxation, akin to taking a deep breath in a lush forest after rainfall.
5. Sherwin-Williams Roman Column SW 7562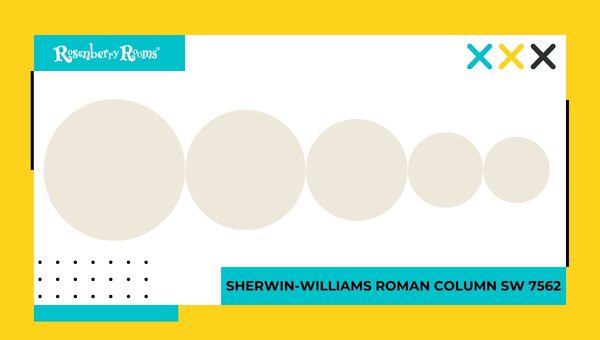 Imagine an architectural marvel bathing in the warm Mediterranean sun. That's what comes to mind with Sherwin Williams Roman Column.
This creamy off-white shade creates an open, light-filled atmosphere while providing enough warmth to keep things cozy.
Warm Tones: Undeniably welcoming with its warm undertones that make your space feel more intimate.
Spacious Ambiance: A glorious option for smaller spaces as it creates an illusion of openness and roominess.
Neutral Foundation: Provides an excellent backdrop for bold furniture accents or vibrant art pieces.
6. Benjamin Moore Normandy 2129-40
With Benjamin Moore Normandy, you're not just painting your walls; you are enveloping them in the hushed tones of twilight at sea, adding depth and dimension without overwhelming the space.
Rich Undertones: Its rich blue-gray undertones mimic the comfort associated with dark colors while keeping the ambiance mellow.
Nautical Vibe: A calming nautical vibe makes you feel like you're drifting peacefully on gentle waves.
Subtle Sophistication: The muted sophistication offers great visual depth while maintaining its tranquil persona.
7. Sherwin Williams Acacia Haze SW 9132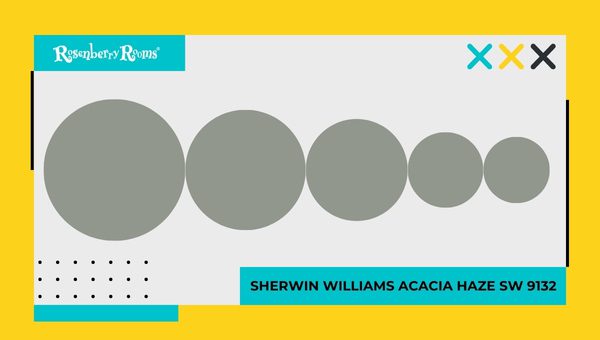 Closing our list is Sherwin Williams Acacia Haze—a tribute to vibrant greenery dappled softly by morning sunlight. This soft herbal shade infuses life into any space while nurturing quiet repose.
Refreshingly Vibrant: Just as its name suggests, this color has vibrant notes lending a fresh touch to your interiors inducing feelings of renewal.
Amplified Natural Light: Reflects natural light delightfully during the daytime, creating enchanting bright spaces.
Balancing Harness: The beautiful blend where Green and Gray meet balances out, inducing peace, relishing both Energetic greenery and fostering Harmonious Gray.
Read More: Benjamin Moore Cedar Key 982 / OC-16 [Warm Or Cool: Review]
8. Benjamin Moore Stonington Gray HC-170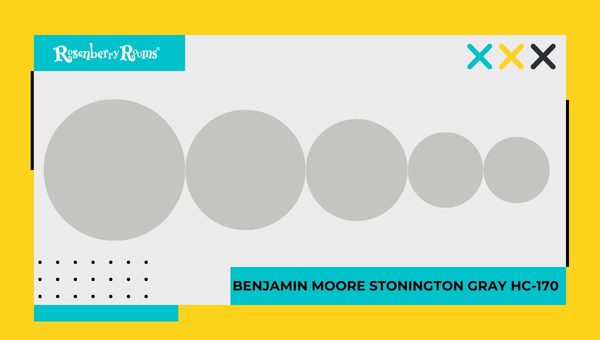 Benjamin Moore Stonington Gray is the epitome of class for those looking for an inviting, neutral paint color that boasts a warm elegance.
Stonington Gray's slight blue undertones create a serene setting where tranquility and sophistication coexist beautifully.
Subtle Sophistication: This color has just enough depth to make it enjoyable without turning overstimulating. It's a wonderfully peaceful shade that adds elegance to any bedroom.
Flexibility: Its neutrality gives it incredible adaptability. It pairs brilliantly with both light and dark furniture, allowing you the freedom to decorate according to your liking.
Understated Warmth: While resting in the cool spectrum of colors, it carries subtle warm undertones that create a distinctly cozy feel in your space.
Versatility: Whether used as a primary or accent color, Stonington Gray complements vivid colors beautifully while pairing well with other neutrals for monochromatic schemes.
9. Sherwin Williams Lady's Slipper SW 7139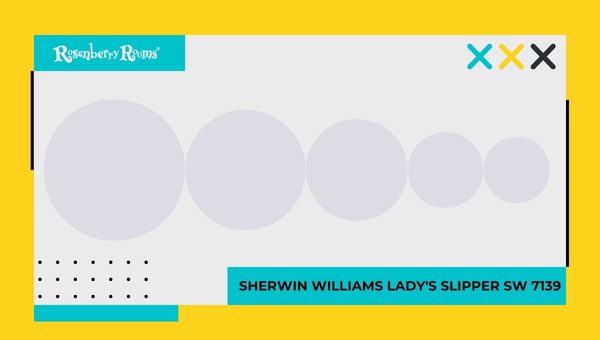 Floating seamlessly between the mellowness of rose and the tranquility of lavender, Sherwin Williams Lady's Slipper merges comfort with chic fashion. Being both softly feminine and subtly modern at once makes this paint color unique.
Mood Enhancer: It casts an uplifting aura on your space due to its gentle hue blending between pink and purple.
Warm Serenity: Exuding warmth while preserving serenity, this color infuses your room with comfortable ease helping aid relaxation.
Fashion Forward: A soft entry into bolder trends; combining this charming tone with darker reds or bright yellows can create high-fashion aesthetics without going overboard.
10. Benjamin Moore Inner Peach 1150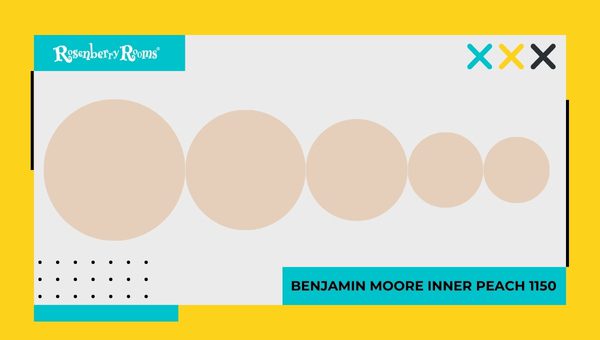 If you want a bedroom space that's bright yet soothing and infuses your mornings with refreshed positivity? Look no further than Benjamin Moore's Inner Peach! It's like capturing sunshine right onto your walls!
Bright Ambiance The warmth this sun-kissed peach offers is decidedly joyful. It imparts a sense of sunny optimism creating a bright atmosphere without abandoning its soothing nature.
Approachable Color: Inner Peach's pastel tone makes it approachable even if you're usually skeptical about using colors traditionally labeled 'bright'.
Easy Pairing: Its easy-going vibrancy makes it harmonize well with various styles and décor without overpowering them. Pair it with white for purity or rustic brown shades for a touch of earthiness.
The transformation journey from ordinary bedrooms into soothing retreats becomes streamlined when we dive deeper into understanding each paint color's features and strengths.
11. Benjamin Moore Alexandria Beige HC-77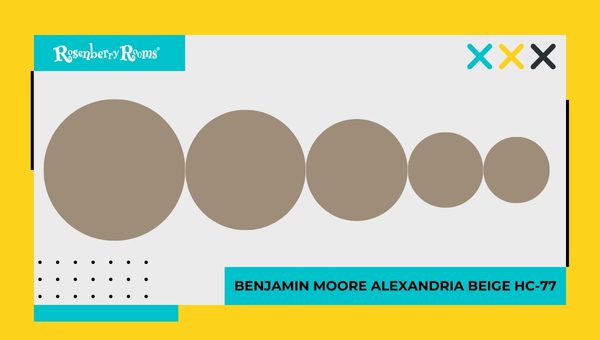 Imagine this: stepping into your bedroom and feeling as though you've been transported to a warm beach, sand under your feet, soft waves lapping nearby. This is the soothing presence that Benjamin Moore Alexandria Beige provides with its charm.
Named after the elegant city of Alexandria, this shade mimics the timeless character and warm sophistication inherent in this Egyptian city.
Warm Undertone: The beige color, with hints of light brown, whispers warmth and comfort to enhance coziness.
Versatility: Suitability to match different furnishings, making it adaptable to traditional or contemporary interior themes.
Timelessness: With its naturally welcoming hue, the Alexandria Beige never goes out of vogue, making it effortlessly adapt as your style evolves.
Luminosity: Despite being a soft shade, Benjamin Moore's quality pigment catches and reflects light uniquely, adding depth without making the room feel smaller.
12. Sherwin-Williams Underseas SW 6214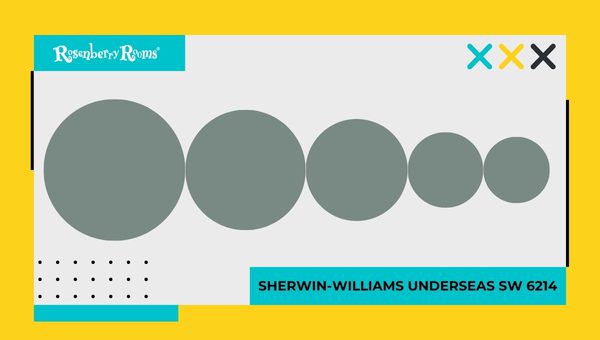 Inhaling deeply in a quaint coastal town's salty sea air—that's what Sherwin-Williams Underseas brings inside.
This brilliant shade resembles the magnificent depths of the undersea world, creating an inviting symphony between marine blue and vibrant green.
Soothing Vibes: The ocean-inspired color seamlessly releases calming vibes while adding depth due to the dark undertones.
Light Enhancement: Dark enough to add contrast but bright enough not to absorb all light creating a balance between intimacy and openness.
Playful Sophistication: The unique blend of blue and green lends elegance while keeping things lively—a playful twist on traditional maritime colors.
Boldness: A vivid yet soothing color option for those looking for more color without overstimulating the senses.
13. Benjamin Moore Balboa Mist 1549
Envision those perfectly balanced mornings—chilly but not excessively cold, sunny but not glaringly bright; that embodies Benjamin Moore Balboa Mist.
This timeless favorite is loved for its sophisticated neutrality, depicting comfort with a refreshing twist.
Comforting Neutral: The gray undertones give it comforting neutrality, which makes the space inviting without being overwhelming.
Easeful Warmth: Despite treading towards cooler tones, the muted touch of beige adds warmth from behind the scenes giving balance throughout different times of day & night.
Classic Elegance: There is always traditional supremacy tied with this elegant shade which complements all types and schemes of bedrooms, be it antique or modern furnishing.
Adaptive: The paint color transforms according to natural lights creating dynamic shades throughout the day from dawn to dusk, fostering perennial appeal rather than stagnation.
Colors like these make us realize how intricately our surroundings can profoundly affect our mood. All these choices make it easier for you to create an environment where you'll find cognitive peace, and visual pleasure unalloyed relaxation, all leading toward healthy sleep patterns.
FAQs About Soothing Paint Colors For Bedrooms
What are the best calming colors for my bedroom?
Neutrals, blues, and greens are considered soothing paint colors. Benjamin Moore Gray 2121-10, Sherwin Williams Rainwashed SW 6211, and Sherwin Williams Acacia Haze SW 9132 are remarkably calming options.
Would a darker color like Sherwin-Williams Caviar SW 6990 make my room feel more comforting?
Absolutely! Darker shades can evoke tranquility by creating an intimate atmosphere. However, make sure they complement your room size and other décor elements.
I prefer warmer tones. What should I lean towards for a serene bedroom atmosphere?
Earth tones or softer hues of yellow like the Benjamin Moore Mocha Cream 995 and Alexandria Beige HC-77 offer comforting warmth without disrupting sleep vibes.
Will painting neutral colors like Benjamin Moore Balboa Mist 1549 feel boring?
Not at all! Neutrals provide a solid base for various accessories or colorful bed linens to shine without cluttering the room.
Can nature-inspired colors like green and blue make me feel more relaxed in my bedroom?
Nature-inspired hues have been shown to reduce stress and encourage relaxation due to their subconscious association with tranquil outdoor environments.
Conclusion
Reflecting on our journey through soothing paint colors, it's remarkable how simple it can be to create your tranquil sanctuary with a pigmented serenity.
Each color, whether an understated neutral or a bold hue, carries its aura, impacting how we feel in our surroundings.
By understanding these nuances, we equip ourselves with the power to craft spaces that reflect our desires for rest.
The bedroom, often our first and last interaction of the day, deserves the attention required to provide us with the comfort we deserve.
Investing time and thoughtfulness into creating a serene ambiance is an act of self-love—a small step that warmly whispers, "You are valued."
Submerge yourself in the tranquility offered by these soothing paint colors and experience how tastefully painted walls can enrich your life.