As you consider your options for optimizing your sleeping space, the size of a trundle bed will likely be a key factor in your decision-making.
This clever piece of furniture is an easy way to accommodate that extra sleeper in your home, ideally without compromising room aesthetics and functionality.
You might ask yourself, "How big is a trundle bed anyway? Will it fit comfortably in my room?" The following insights will address those queries and more.
The modern trundle bed is designed to cater smartly to the user's needs while staying within a reasonable size range.
Whether you're pondering its suitability for your kid's room, guest room, or even an open-plan studio apartment, understanding its dimensions will be tremendously helpful in deciding if it will mesh with your current setup seamlessly. So, let's open up this conversation about trundle beds and their sizes!
What is a Trundle Bed?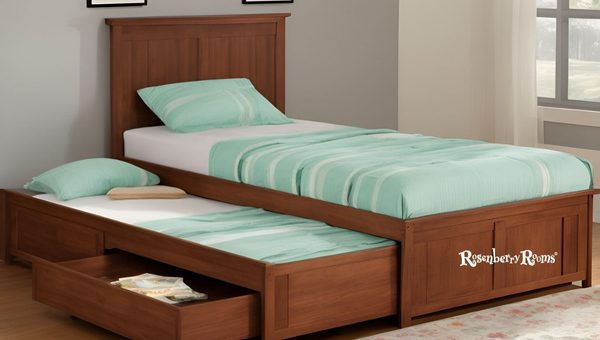 A trundle bed is a small bed tucked away under a larger one and can be pulled out when needed. Typically designed on rollers or wheels for smooth movement, these beds are ideal space-savers for those with occasional guest needs, small homes, or children's rooms.
Standard trundle beds usually come with a lower twin or full mattress size. The upper bed can be any size, such as twin, full, queen, or king.
Providing dual functionality - daily usage and occasional extra bedding option - trundle beds are versatile furniture pieces that offer style blended with practicality.
Read More: Trundle Beds 101 Guide 2023 [Tips For Your Trundle Beds]
All Sizes Of A Trundle Bed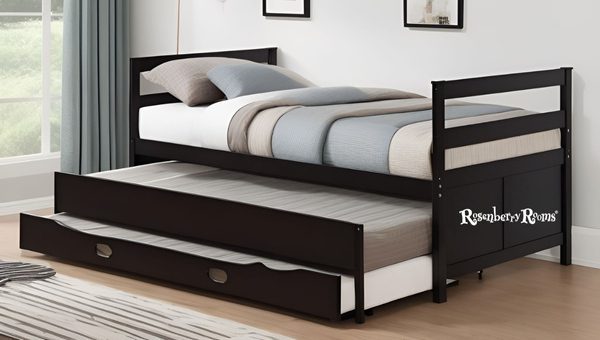 When investigating trundle bed options, it's vital to consider the variety of sizes in which these beds are available.
By correlating them with your room's dimensions, you can ensure you act on informed decisions and enhance your room rather than cluttering it. Let's delve into some of the popular trundle bed sizes:
Twin Bed with Trundle
A standard twin-size trundle bed is designed as a pair of two twin-size beds, one stacked under the other. The upper bed typically stays fixed, while the lower one can be pulled out when necessary.
These beds measure around 41 inches by 77 inches, compact enough to fit neatly into smaller rooms yet spacious enough to ensure a comfortable sleeping space for your guests or children.
It can serve a dual purpose as a sofa or daybed in its spare time, perfectly fitting for smaller rooms like kids' bedrooms or studio apartments.
Twin XL Trundle Bed
If you're dealing with slightly more length in your space and wish to provide that extra legroom, considering a Twin XL trundle bed may be a solid strategy.
Coming with dimensions 38 inches by 80 inches, these larger variants promise more room for taller sleepers while maintaining roughly the same width as standard twin beds.
That signifies they retain a slim profile suited for compact spaces without compromising comfort levels for longer bodies.
Building taller heights rather than widths enables this trundle variant to cater to a better sleeping experience even within limited spaces.
Full-Size Trundle Bed
A full-size trundle bed, often called a double trundle bed, is a step up from the standard twin size. It measures approximately 54 inches by 75 inches. With notably more room, this configuration can comfortably sleep two people without feeling overly cramped.
This trundle bed is perfect for adults and growing teenagers needing more sleeping space. If you're considering the design for a shared bedroom or a guest room, this could be an excellent choice for flexibility and function.
Keep in mind that a larger size will occupy more floor space. So make sure your room's dimensions can accommodate the expanded form when pulled out.
Finding bedding and accessories for full-sized beds is relatively easy, given their popularity — making them an excellent option for both comfort and convenience.
Queen Trundle Bed
At roughly 60 inches by 80 inches, queen trundle beds provide ample space for sleepers to stretch out comfortably and enjoy a restful night's sleep. Though larger than other types of trundles, these beds can save space when unused.
Considering their dimensions are just like those of traditional queen beds, they are evenly matched in terms of comfort and bedding options availability.
Ideally suited for couples who stay overnight occasionally or individuals who appreciate extra sleeping space, this size will fit even king-sized rooms effortlessly.
Also Read: Queen Air Mattress Dimensions 2023 [Twin, Full, Queen & King]
King Bed with Trundle
The King Bed with Trundle is topping the size charts regarding trundle beds. With a base king bed dimension of 76 inches by 80 inches, it effortlessly accommodates an additional twin-size roll-out mattress nestled neatly beneath it.
This larger option provides luxurious sleeping comfort that can easily house two adults, making it a perfect addition to large guest bedrooms or master suites. It offers plenty of room for movement and relaxation, ensuring guests sleep comfortably.
Despite the privilege of ample space, it's essential to remember the necessity for extra room to accommodate the rolled-out trundle. Ensure you have enough floor space to pull out and use the trundle comfortably.
California King
The California King size is another intriguing option for a trundle bed configuration. Measuring slightly narrower yet longer; 72 inches by 84 inches - this option provides an excellent solution for taller individuals.
The advantage of having a slightly longer bed is quite obvious - no more feet hanging off the end of your bed! And yet, despite being longer, its somewhat less width makes it a relatively less space-consuming choice than its standard king counterpart.
So, if you need that extra length but have concerns about room width, go for this elongated version of indulgence!
The Size of a Trundle Day Bed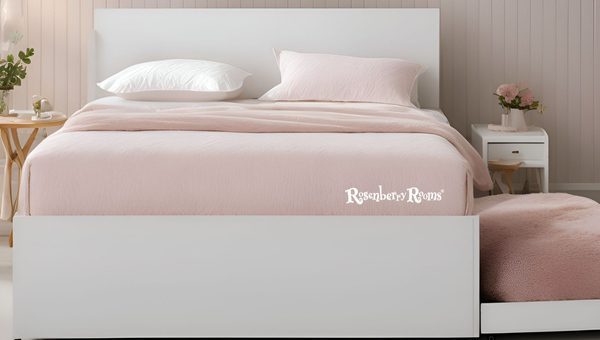 When it comes to a daybed with a trundle, the size is a prime factor that can sway your decision. A common size for this type of bed is roughly 38 inches by 75 inches.
These dimensions make trundle day beds an excellent pick for compact rooms since they sport a slim profile that won't bulk up your space visually or physically.
Yet, within this trim size range, you'll find sufficient leg-stretching room for most average adults, ensuring nobody feels cramped when sleeping on it.
Not to forget, full-size day beds with trundles offer even more spacious sleeping areas. Typically measuring around 56 inches to 77.5 inches in length by 41.5 inches in width, these models allow for broader shoulders or heavier bodies to fit comfortably.
The main sharable feature about trundle day beds is they work double duty – acting as both a potent seating area and an additional sleeping zone when needed.
Trundle Bed and Daybed: The Difference?
Do trundle beds and daybeds refer to the same thing? The simple answer is – no, they don't. These two terms often get mixed up because they share some similarities; however, their design and functionality are distinctly different.
A trundle bed typically refers to a 2-in-1 bed design, with an upper bed of any size (twin, full, queen) and a smaller bed underneath.
This lower bed can be pulled out on wheels or casters for easy maneuvering. Primarily, trundle beds serve as regular beds for daily use but can extend to accommodate an extra person when needed.
The daybed is just like your traditional couch that doubles as a bed for resting or sleeping. It's a type of sofa, but unlike usual ones without deep seats, these beautifully blend in space where you can sit during the day and sleep at night.
Like trundle beds, daybeds are incredibly versatile, but their unique design feature is that they are surrounded on three sides with high rails, making them appear more like a deep couch than a standard bed.
Explore More: Different Types Of Canopy Beds [Top 20 Canopy Beds In 2023]
Different Types of Trundle Beds
A trundle bed is a stylish and versatile piece of bedroom furniture, offering a smart solution for those hosting guests occasionally.
It's also brilliant for freeing up valuable space in smaller rooms without compromising comfort, design, or functionality.
Not all trundle beds are created equal, and choosing the one that suits your needs is rooted in understanding the various types available.
Standard Trundle Bed
A standard trundle bed encompasses a smaller twin-sized bed that can slide out underneath a larger one. The bottom remains closer to the ground, providing additional sleeping space whenever required.
The key advantages of this type of trundle bed are its unpretentious design and straightforward functionality.
This model essentially offers two separate beds that occupy the floor space of one when not in use. Therefore, it's brilliant for those small apartments or compact guest rooms where space maximization without compromising comfort is paramount.
Given their thoughtful design, usually featuring casters or rollers for smooth mobility, these beds can be easily drawn out when you have guests over or tucked away post-use.
Thus, managing your room space becomes relatively more manageable while your guest's sleeping comfort remains uncompromised.
Pop-Up Trundle Bed
Imagine having a standard trundle bed but with an added feature where the pull-out section could rise to match the height of the main bed. Well, that's what a pop-up trundle bed offers! When fully extended and popped up, it converts into one large sleeping surface, often equivalent to a king-size bed.
This unique feature makes pop-up trundle beds remarkably versatile — they can seamlessly transform from two separate twin beds into one generous sleep area perfect for couples or grown-up guests.
So whether you're having friends over for movies or acquaintances, stay over at short notice; this gives you both a comfy day-lounge option during daytime and a plush, larger-than-life sleeping spot through the night.
This kind of trundle bed is slightly more intricate in assembly than standard models. Yet, the flexibility it provides can be worth the extra effort if you frequently end up hosting guests preferring sharing the same bed instead of individual ones.
Daybed with Trundle
A daybed with a trundle offers an attractive and practical solution for multi-purpose rooms. This design most often features a twin-sized bed, whose frame has a higher headboard and footboard on three sides, creating a sofa-like appearance that's perfect for daytime use.
It houses a roll-out trundle bed underneath for convenience and space optimization. Measuring typically about 38 inches by 75 inches, the daybed presents a comfortable seating option during the day, which easily transforms into sleeping quarters for two individuals at night.
The dual functionality of this furniture design makes it an excellent choice for guest bedrooms or city apartments where space may be at a premium.
Bunk Bed with Trundle
Bunk beds with trundles deserve special mention when optimizing bedroom spaces to accommodate more sleepers.
Sleek in design and high on utility, these beds feature two stacked mattresses of identical sizes – commonly twin – plus an additional pull-out bed hidden below the lower bunk. Bunk beds measure around 39 inches wide by 75 inches long per level, lending plenty of room to stretch out while leaving ample space free from clutter.
Ideal for kids' bedrooms or rooms requiring multiple bedding arrangements without compromising floor area, these triple-decker solutions provide an efficient way to handle sleepover sprees or shared rooms.
Also Read: What Is The Size Of A Bunk Bed? 2023 [Twin, XL, Queen & King]
Captain's Bed with Trundle
Known for their built-in storage options and practicality, Captain's Beds can also come with a pull-out trundle that caters to your additional bedding needs.
The primary bed is generally available in various sizes, such as twin or full, while maintaining enough clearance underneath to accommodate a neatly tucked away trundle bed (most often twin size).
The entire unit might measure around 77 inches in length and 41-58 inches in width, depending on whether it's a twin or full-size version.
A captain's bed with a trundle provides not only a great sleep solution for two or more individuals but also handy drawers to stow away personal goods, making it a go-to choice for bedrooms in need of both space efficiency and organized storage.
L-Shaped Trundle Bed
L-shaped trundle beds are a fantastic choice if you're looking for a space-saving solution with a unique style. True to their name, these beds are arranged in an 'L' shape, with the main bed perpendicular to the trundle bed.
The design is space-efficient and ideal for corner placement, freeing up valuable room space for other furnishings or play areas. When not in use, the lower trundle bed slides conveniently under the main bed, maintaining a streamlined appearance.
This furnishing piece adds warmth and character to your room while providing functional sleeping arrangements without being too bulky or cumbersome.
Corner Trundle Bed
If you want an efficient use of your bedroom's corners, look no further than corner trundle beds. These kinds of beds include two twin beds set at right angles to each other with an optional pull-out trundle underneath one side.
By tucking nicely into your room's corner, this design allows for spacious and comfortable sleeping arrangements while optimizing floor space utilization. It also fosters greater interaction during shared bedtime stories or late-night chats!
This smart bedding arrangement can be a fascinating decorative element while ensuring that your comfort needs and spatial efficiency requirements are all adequately addressed.
Twin-over-Full Trundle Bunk Bed
A twin-over-full trundle bunk bed comprises three mattresses within one powerful design: A twin-sized mattress on the top bunk, full-size on the bottom bunk, and another under-bed twin-size roll-out trundle!
More than just a visual novelty, this versatile approach offers multiple sleeping options perfect for siblings sharing rooms or overnight guests. Different mattress sizes stacked vertically significantly maximize vertical space usage – a boon in smaller spaces!
Plus, with its built-in ladder and solid guardrails around the top bunk for safety assurance, it provides peace of mind, knowing that sleep time will be comfortable and secure.
Also Read About Platform Bed Vs Box Spring [Which Is Better In 2023?]
Pros and Cons of a Trundle Bed
When you're undertaking the task of rearranging sleeping accommodations, considering every aspect is paramount.
The pull-out magic of trundle beds could be an impressive solution, but like any other product, they also have their strengths and shortcomings.
This detailed exploration of the pros and cons will likely give you a comprehensive understanding of what to embrace and watch out for when pondering trundle bed options.
Pros
Space-saving
Versatile
Guest-friendly
Easy storage
Convenience
Kid-friendly
Comfortable
Twin bed option
CONS
Assembly challenge
Specialized mattress
Higher cost
Limited ventilation
FAQs about the size of a trundle bed
What is the standard size of a trundle bed?
The lower bed of a standard trundle bed is usually a twin size, approximately 38 inches by 75 inches.
Does the size differ between a bunk bed trundle and a normal trundle?
Not significantly. The lower bed on both is generally twin-sized, but the size of the upper bunk can vary.
Can you fit a queen-sized mattress on a trundle?
Yes, but these are less common and will take up more room when extended.
Are there any bigger sizes available besides a queen for trundle beds?
Yes, king-size and California king-size options are available, but not highly common.
Will any twin mattress fit on my new trundle bed?
It's crucial to check your manufacturer's instructions, as some trundles require specific or thinner mattresses.
Conclusion
Understanding the size of a trundle bed can play a significant role when deciding to incorporate such pieces into your room.
While trundle beds provide space-saving benefits and offer many practical advantages, it's important to make sure these delightful sleeping options complement your room's dimensions.
The right information is key to ensuring your new trundle bed fits your space like a glove and brings you the utmost satisfaction.
We hope this guide has provided valuable, easy-to-understand insights to inform decision-making. Here's to reimagine your space with smart, stylish furnishings!