Navigating the world of colors for your home can feel like a daunting journey. You are sailing through an ocean of different tones, hues, and shades.
You need the perfect color to capture your unique style and breathe life into your living space. Look no further - I'm here today to discuss the Sherwin Williams Naval SW 6244 color review.
A modern classic for many homeowners, Naval is that high-impact accent-partner on your walls you've been longing for.
This is not just any shade of blue; it's a tasteful embodiment of rich luxury and sophistication. Let's embark on this intriguing paint voyage where elegance marries versatility!
The Phenomenon of Naval SW 6244
Sherwin Williams Naval SW 6244 is a phenomenal shade that's been a feature color in several acclaimed abodes. It belongs to many prestigious color collections, including:
Colormix Forecast 2020 (Alive)
Colormix Forecast 2021 (Encounter)
Pottery Barn (Fall/Winter)
Pottery Barn Kids (Fall/Winter)
Colormix Forecast 2022 (Opus)
Gallery Series
With an LRV, Light Reflectance Value, of just 4, Naval SW 6244 is considered a very dark color. Regarding its technical specs, it has an RGB value of 47 / 61 / 76 and a Hex Value of #2F3D4C, placing it in the blue family(s).
One key highlight of this celebrated hue is its versatility. It's available for Interior and Exterior use, identifiable by its location number: 253-C6.
Apart from walls, it can add character to furniture pieces and decor items. Its power lies in its ability to create a perfect backdrop or make a bold statement depending on your design mood and preference.
Shedding Light on the LRV of Naval SW 6244
The Light Reflectance Value (LRV) of Sherwin Williams Naval SW 6244 is 4. The LRV essentially describes the percentage of light a paint color reflects, and therefore, it also effectively measures how much it can brighten a room when used as a wall color.
An LRV of 4 indicates that Naval SW 6244 is a very deep and dark color with low reflectivity. It will absorb more light than it reflects, creating an intimate and cozy atmosphere. Despite its low LRV, Sherwin Williams Naval remains popular for its rich and luxurious appeal.
While selecting paint colors, in addition to considering the LRV of paint color, factors such as room size, natural light source, artificial lighting, and the room's purpose should also be kept in mind.
The Undertones
Sherwin Williams Naval SW 6244 is a deep, rich navy blue paint color with a noticeable gray-green undertone. This means that while the primary color you see on the walls is a classic navy blue, subtle shades of gray and green also blend in, giving the color depth and sophistication.
The gray-green undertone also makes Naval more versatile and allows it to complement an array of colors in various interior design schemes.
It works harmoniously with metallic accents, warm woods, and natural stone finishes. Despite its boldness, thanks to its gray-green undertones, Sherwin Williams Naval SW 6244 does not overwhelm the space but adds to its character and elegance.
Read More: Light French Gray SW 0055 [Sherwin Williams Historic Color]
Cracking the Code to Naval's Warm or Cool Tone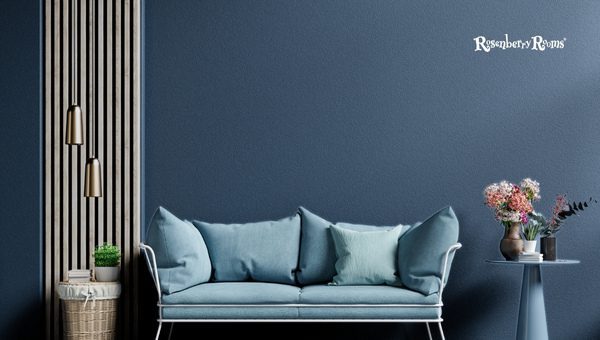 Sherwin Williams Naval SW 6244 is considered a cool paint color. This classification is related to the color's hue and undertones.
While Naval is a rich, dark navy blue, a cool color, it also has gray-green undertones that amplify its coolness. Cool colors create serene and calming atmospheres, often imitating water and the sky.
Sherwin Williams Naval SW 6244, due to its deep hue and cool nature, can bring both sophistication and tranquillity to a space.
Although it's a dark shade, its cool overtones prevent it from making spaces feel smaller or cramped, like some other dark colors might do. Because of its versatility, this cool blue paint can blend well with many shades and complement various home decor styles.
Interior Uses on Walls, Furniture, and More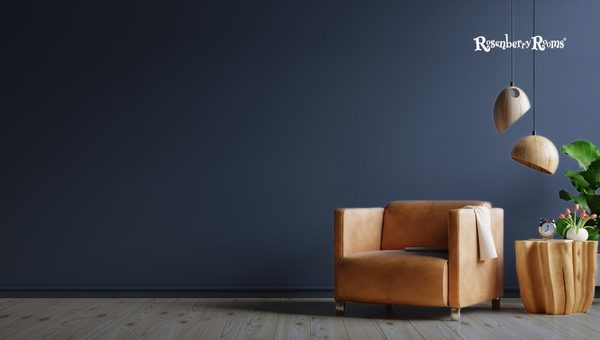 Regarding interiors, Sherwin Williams Naval SW 6244 has many uses that can transform your space into an elegant sanctuary. Here are a few ways you can use this striking paint color:
Walls: Use Naval on your walls for an instant wow factor. Whether you want to create a dramatic backdrop for your art pieces or set up a cozy reading nook, this deep shade of blue never disappoints.
Furniture: Add an element of surprise with Naval-painted furniture. Be it a repurposed vintage chest or your kitchen cabinets, this color breathes life into your furniture and makes it the room's focal point.
Accents: Try out Naval as an accent color for those who love experimenting. You could paint your door in this majestic shade or even use it on trim against crisp white walls. The contrast will add depth and interest to your decor.
Be it cutting-edge contemporary design or timeless classics - with the Sherwin Williams Naval SW 6244 arsenal at hand - you have infinite design possibilities! Don't be afraid to get creative and spin out some unforgettable interiors that are everything but ordinary!
Exterior Enlightenment with Sherwin Williams' Masterpiece
Yes, Naval SW 6244 shines within the confines of your home, but did you know it could also be a game-changer for your home's exterior?
Don't confine this elegant color to the indoors. Let's explore the myriad of possibilities it offers for your home's exterior. With this flexible shade, you can paint various outdoor surfaces.
Front Door: A Naval-painted front door is an attractive way to make a bold statement! This concept sets the tone for your home from when guests arrive and sets you apart in a sea of bland entryways.
House Exterior: Utilize Naval as an exterior color for a sense of timeless luxury. Complement it with white trims or accents for wonderfully rich contrast!
Shutters and Trims: For those looking at a subtler approach, try painting just the shutters or trims with Naval. It creates an attractive visual balance against a lighter siding or stucco.
Garage Doors: Want to break away from traditional white garage doors? Give them fresh flair by painting them in Sherwin-Williams Naval.
While widely known for its place in interior design trends, trust us, this versatile hue is just as impressive in outdoor settings. So why contain all that style within four walls when you can broadcast it to anyone passing by?
With its sumptuous depth and attention-commanding persona, the naval provides the distinctive richness that adds effortless sophistication to any exterior setting.
Like every dark-haired beauty dons her signature lipstick before stepping out into the world - no look is complete without proper finishing touches! So mix and match Naval with neutral shades or warm whites to create an elegant and balanced aesthetic.
Impact of Different Lighting Directions on Naval's Appearance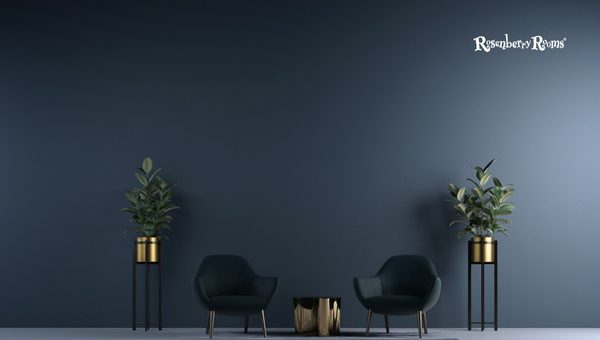 As a paint color that provides many design possibilities, it's crucial to understand how Naval SW 6244 interacts and changes under different lighting conditions.
Your room's natural light orientation can drastically affect its perceived color and tone, with each direction casting a unique variation.
North-Facing Rooms
North-facing rooms are most favored for the truest reproduction of the paint color, especially when it comes to cooler shades like Naval.
Natural light from north-facing windows is consistent and evenly distributed, with almost no direct sun at any time during the day.
This allows for a steadier showcasing of Naval's real tone throughout the day. However, expect an overall cooler feel – which could be just what you're in quest of!
South-Facing Rooms
South-facing rooms bask in a warm and golden glow throughout the day. This added warmth brings more depth and richness in naval paint against cool-toned furniture or decor pieces.
When explored in south-facing rooms - under direct sunlight - expect it to appear more inviting than ever.
East-Facing Rooms
Rooms facing east receive strong natural light in the morning that gradually fades out as the day progresses into the evening.
Naval may appear brighter with subtle warmer tones during the early hours but adopt cooler undertones as natural light embodies softer grey hues in the afternoon or evening, making for an interesting shift.
West-Facing Rooms
As west-facing rooms have weaker morning light and stronger direct sunlight towards dusk, Sherwin Williams Naval sees dramatic changes through routine transitions, pushing its fascinating nature further.
In subtle morning rays, it echoes deep and calming navy undertones, while during intense sunset hours, casual to formal adaptation can be witnessed, creating an ultra-luxe vibe all around.
Explore More: Sherwin Williams City Loft SW 7631 [Latest Review]
Importance of Paint Samples
Before you commit to painting an entire room or furniture piece, it's crucial to test the color with a paint sample.
Like many dark colors, Sherwin-Williams Naval SW 6244 can look different based on factors like lighting or surrounding decor elements.
Using paint samples, you can see how the color changes throughout the day under varying light conditions and choose if it is right for your space. A small investment in a sample can save you from potential dissatisfaction and costly repaints down the line.
Coordinating Colors
One of the incredible attributes of Naval SW 6244 is its ability to coexist harmoniously with many other colors.
The right pairing can create a fascinating design story in your space. Being one shade that plays well with others, here are some coordinating colors that can turn any room into an aesthetically pleasing haven:
Icicle SW 6238: A soft, slight bluish undertone, Icicle is a neutral color that contrasts the deep charm of Naval. Pairing these two can provide an overall calming and refreshing ambiance.
Ramie SW 6156: Subtle, sophisticated beige; Ramie works exceptionally well when paired with Naval SW 6244. Similar to how it complements natural linen, Ramie breathes warmth into your space and contrasts beautifully with the bold elegance of Naval.
Roycroft Suede SW 2842: This color is a rich, historic brown that works wonders when next to Naval. If you're thinking of crafting a design narrative evoking earthiness and gravity while popping off with sophistication through contrast, this might be your perfect partnership.
While these are some classic pairings, every element in your room talks and listens - from furnishing fabric hues to flooring material tinge - every aspect needs meticulous consideration when opting for coordinating shades.
Also Read About 20 Most Popular Sherwin Williams Exterior Paint Colors
FAQs About Sherwin Williams Naval SW 6244
What style of decor works best with Sherwin Williams Naval SW 6244?
Naval is versatile and can complement various interior styles, from coastal, nautical themes to contemporary, minimalist designs.
Can Naval be used in small rooms?
Yes, while Naval is a dark hue when strategically used, it can add depth and create an illusion of space even in smaller rooms.
What ceiling color goes best with Naval?
A crisp white like Pure White or Alabaster from Sherwin Williams pairs well with Naval for a ceiling color.
Is Naval suitable for exterior use?
Sherwin Williams' naval SW 6244 can make a statement on exterior surfaces, enhancing curb appeal by lending sophistication and depth.
How does the color Navy transform under different lighting conditions?
Natural daylight brings out the vibrancy of this deep blue color, while artificial lighting makes it appear more muted but still sophisticated.
Conclusion
Choosing the right paint color can be a journey full of adventure, but having the perfect guide makes it immensely easier.
Sherwin Williams Naval SW 6244 is that charming shade that effortlessly sails into any decorative style, offering a depth of space, sophistication, and versatility—no wonder it has been hailed as an all-time classic by many homeowners and designers alike.
With its incredible adaptability to different design contexts and amazing compatibility with various other hues, the grandeur of Sherwin Williams Naval is sure to add that magical touch, making your home truly unforgettable.