Searching for that perfect shade of gray can feel like an epic quest. You need just the right balance - not too dark, yet not too light, warm but not overly so.
Look no further because your journey ends here: with the Sherwin Williams Modern Gray SW 7632 color review. This may be the versatile and sophisticated hue you've been on the hunt for.
Straddling the line between beige and gray, Sherwin Williams' Modern Gray SW 7632 is a color that radiates chic modernity and understated elegance.
This accessibly bold shade can provide a tranquil backdrop or command attention in any room – it all depends on how you choose to play it.
With its chameleon-like qualities, Modern Gray can shift emphases, match diverse aesthetic vibes, or serve as an unexpected neutral accent throughout your home. Excited yet? Let's begin our journey with a closer look at this remarkable color!
Overview of Sherwin Williams Modern Gray SW 7632
Sherwin Williams Modern Gray SW 7632 is a versatile neutral hue that effortlessly transforms your space. This color flatters in any light and is well-suited for interior and exterior settings.
Color Collections: The Sherwin Williams Modern Gray features in several renowned color collections such as Colormix Forecast 2021 (Sanctuary), Living Well (Renew), Top 50 Colors, Pottery Barn (Fall/Winter), and the anticipated Colormix Forecast 2024 (a Study in Delicate Tints). This wide representation reflects its flexible nature.
LRV: With a Light Reflectance Value (LRV) of 62, it can brighten up your room quite efficiently, subtly reflecting ambient light.
Color Values: Its RGB values stand at 214 / 206 / 195 while the HEX Value is #D6CEC3, making it an interesting addition to your digital color palette.
Location Number: The Location Number for this shade is an easy-to-refer-to 283-C1.
Availability: You can experiment with its application since it's available for both Interior and Exterior uses.
Color Family: Find Modern Gray among the star-studded lineup of Sherwin William's Neutral Color Family – a testament to its fail-safe design prowess.
Coupling these significant data points with this color's potential feel and vibe makes Sherwin Williams' Modern Gray SW 7632 a smart choice for your next painting project.
Also Read About 25 Best Sherwin Williams Cool Gray Paint Colors
The LRV of Modern Gray SW 7632
The LRV of Modern Gray SW 7632 is 62. The LRV measures the percentage of light a paint color reflects. A higher LRV means the color reflects more light and is inherently lighter, while a lower LRV means the color absorbs more light and is naturally darker.
Thus, Modern Gray SW 7632 with an LRV of 62 is considered a fairly light-shade paint color that will reflect a moderate to high amount of light.
The Undertones Modern Gray SW 7632
Sherwin Williams' Modern Gray SW 7632 has subtle pink undertones. While this paint color is primarily a warm gray, the infusion of pink gives it a delicate, sophisticated dimension that comes to life depending on the lighting and surrounding colors.
An undertone can significantly impact how a color is perceived and represents the subtle hues that peek through the primary paint color.
For Sherwin Williams' Modern Gray, these pink undertones can make the color feel warmer based on its surroundings and can complement or contrast with other colors present in a room's decor.
The pink undertones work best with complementary shades or accents. They can bring out warmth in neutral designs and add balance when paired with cooler tones.
This characteristic makes Modern Gray a great choice for creating an inviting, comfortable space with an elevated aesthetic.
Contrast Between Interior and Exterior Use
Both interior and exterior applications of Sherwin Williams Modern Gray SW 7632 open the doors of opportunity to transform your space.
Not all colors are suited for interior and exterior use - but Modern Gray lives up to its name, bearing the versatility and richness of modern times.
The beauty of this color is how it assimilates with various textures, finishes, and settings that come along with interior or exterior painting.
Optimal Interior Spaces for SW 7632
Dabbling in the art of subtlety, Sherwin Williams Modern Gray is an ideal choice for harmonizing your interiors without any overbearing additions.
Can you imagine it sparking up a conversation in your living room? Or offering a comforting aura in the bedroom? Let's list down where exactly this gray-beige dream can work wonders:
Living room: The welcoming warmth of this shade enriches social interactions and makes the space look inviting.
Bedroom: Give into serenity! This soft hue soothes your senses, promoting restful sleep.
Dining Room: Complement those culinary feats with an appetizing backdrop.
Kitchen: Clean, crisp, yet comforting – Modern Gray does a fabulous job here.
Bathroom: Spruce up your bathroom with this sophisticated tone.
Hallway: Create a calming passage experience with these restful walls.
Home Office: Maintain professional neutrality while keeping the setting warm and inviting.
Nursery: Ensure tranquility in your little one's habitat.
Entryway: Welcome guests into an enterprising vibe.
Basement: Turn this often overlooked space into another inviting part of your home.
This meets-and-mingles approach makes the most influencer-approved homes boast Sherwin Williams' Modern Gray SW 7632 on their walls.
Transforming any space it strokes into a 'haven', it's undoubtedly an irresistible pick for today's homeowners and interior designers.
Potential for Exterior Applications
Before embarking on an exterior painting project, it's essential to consider a color that holds up well under different weather conditions and complements your home's style.
With Sherwin Williams Modern Gray SW 7632, you can create a home exterior that stands out in the neighborhood. Let's ponder over where exactly you can roll out this wonderful shade:
Exterior Walls: Modern Gray provides a chic canvas for the architectural details of your home, allowing them to shine. Its chameleon-like adaptability ensures it integrates well with changes in daylight and across seasons.
Front Doors: Make a statement right at your doorstep. This gray puts forth a friendly and inviting facade.
Window Trim: Opting for Modern Gray on window trim brings cohesiveness to the greater part of the building, linking the design together beautifully.
Shutters: Use this classic gray on the shutters to bring depth and contrast without getting too busy or flashy.
Garage Doors: Picking Modern Gray grants an upscale finish to garage doors, transforming them from mundane into captivating elements.
Fences: Presenting elegance while defining boundaries - fence applications are an excellent way for this color to shine outdoors.
Porch Railings: Employing this warm gray hue, it elaborates traditional architectural details like porch railings with contemporary vigor.
Outdoor Furniture: Modern Gray safely lends a classy tinge to create cohesive outdoor settings - garden walls, planters, or patio furniture.
The key takeaway here is that Sherwin Williams' Modern Gray SW 7632 enhances beauty in its subtlest form – whether used as an all-over exterior paint color or thoughtful pops on architectural features.
Weaving a tale of grace from sunup till sundown, this shade is perfect when you want timeless charm wedded with modern trends!
Explore More: Worldly Gray SW 7043 [Sherwin Williams Paint Color]
Is the Modern Gray Warm or Cool?
Sherwin Williams' Modern Gray SW 7632 leans towards soft warmth. While gray is technically a neutral color, the subtle pink undertones infused in this particular shade bring a gentle warmth, making it a "warm gray."
The soft warmth of Modern Gray makes it highly versatile. It can lend itself to various decorating styles and color schemes — from modern, minimalistic looks to more rustic, homey aesthetics.
This warm gray works exceptionally well in rooms with ample natural light, helping to create that cozy atmosphere.
Sherwin Williams' Modern Gray can interact beautifully with other colors. When paired with cooler tones, the warm undertones can offer balance and minimize stark contrasts; meanwhile, when used alongside warmer hues, it enhances the inviting ambiance.
Coordinating Colors with Modern Gray SW 7632
Pardon the pun, but coordinating colors are not always black and white. Here, we'll explore complementary Sherwin-Williams colors that pair wonderfully with the trendsetting Modern Gray SW 7632.
Snowbound SW 7004: With a soft LRV of 83, Snowbound introduces a bright off-white canvas. This lends a crisp and clean ambiance perfectly suited to balance the distinctively warmer tone of Modern Gray. It's perfect for trims, ceilings, or paired walls.
Taupe Tone SW 7633: This warm beige-gray is almost a deeper version of Modern Gray. Use it in tandem for continuous color flow from room to room or as an accent wall.
Plum Dandy SW 6284: Feel adventurous? Plum Dandy adds a playful pop of color. This muted purple makes accents like fabric or artwork stand out against the Modern Gray backdrop.
Remember that the versatility of Modern Gray allows it to blend well with several other shades from different color families, including cooler hues, earth tones, or pastels. Sherwin Williams has an extensive palette for even more combo inspiration!
Factoring Lighting Cardinal Directions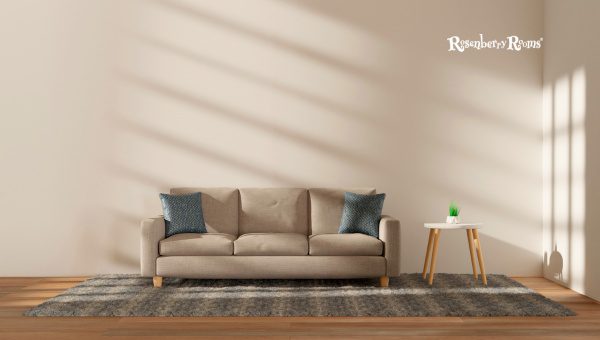 Choices regarding color in your spaces should not solely rely on personal preference, trendy picks, or design counsel alone.
An often-overlooked aspect is the ever-changing light that filters into your home throughout the day - cardinal directions are a key factor.
Yes, you heard it right! The geography of your home – north, south, east, or west – greatly influences how a paint color appears at different times of the day.
Influence of North-South Light Exposure
You'll notice that light in north-facing rooms never gets overly bright and tends to pull cooler tones because northern light is often diffused and indirect.
As Modern Gray SW 7632 leans towards the warmer side of the spectrum, it beautifully balances out the coolness of northern light, resulting in a perfectly neutral ambiance.
South-facing rooms are on the other end of the spectrum. They enjoy the most abundant and warmest light throughout the day. And you're lucky if you choose Modern Gray for these spaces!
Under bright southern exposure, this sophisticated shade appears lighter and slightly more grayish. However, don't worry – its inherent warmth prevents it from appearing stark or cool.
Impact of East-West Light Exposure
Light exposure in east-facing rooms varies drastically from early morning to late afternoon. In the morning hours, eastern sunlight can cast a warm-toned glow; Sherwin Williams' Modern Gray magically morphs into a subtle beige during this period - cozy yet refreshing for starting your day.
In contrast, west-facing rooms
experience intensely warm late afternoon sun as it descends. Filled with golden radiance at sundown – it's quite a sight!
Strut Sherwin Williams' Modern Gray here without any second thought: witness its magic as evenings make it appear warmer and inviting after absorbing all-day sunlight.
Read More: Sherwin Williams Mindful Gray SW 7016 [Neutral Paint Color]
FAQs About Modern Gray SW 7632
What kind of mood does Sherwin Williams Modern Gray SW 7632 create in a room?
Modern Gray creates a relaxed, peaceful ambiance in a room due to its warm undertones.
Can I use Sherwin Williams Modern Gray SW 7632 in my child's bedroom?
Absolutely! Its calming influence makes it an excellent choice for children's bedrooms or nurseries.
Will Modern Gray look too dark in a small, dimly lit room?
Not at all! With an LRV of 62, Modern Gray reflects light well enough to avoid looking dreary in darker rooms.
Does this color scheme work with open-concept living spaces?
Sherwin Williams Modern Gray SW 7632 provides a unifying yet flexible background that perfectly suits open-concept spaces.
Can I enjoy seasonal versatility with Sherwin-Williams' Modern Gray?
Indeed! Its transitional profile adapts well to changing decor and moods throughout the year.
Conclusion
Sherwin Williams Modern Gray SW 7632 has proven to be more than worthy of its 'Modern' moniker—bestowing homes with an elegant, cozy atmosphere that perfectly balances contemporary and classic vibes.
This shade adapts brilliantly to various interior and exterior applications, making it a versatile addition to your color palette.
So, try Modern Gray whether you're revamping your living space or adding some fresh touches. Embrace the tranquility it brings while enjoying the modern sophistication it lends to your home. Timelessly chic, this shade is everything your modern home needs!