You're in luck; today, we're discussing a versatile paint color that may be your next favorite. Enter the Sherwin Williams Iron Ore SW 7069 color review.
This color is more than just your average shade; it's a perfect blend of richness and sophistication that can transform any space.
Do you have a room that needs a little upgrading? Perhaps you're looking to add a touch of elegance to your home.
Whichever the case, prepare to discover what makes Sherwin Williams Iron Ore SW 7069 such an intriguing choice. By the end of this review, I promise you'll be itching to get out your paintbrushes and get started!
Everything from scratch about Iron Ore SW 7069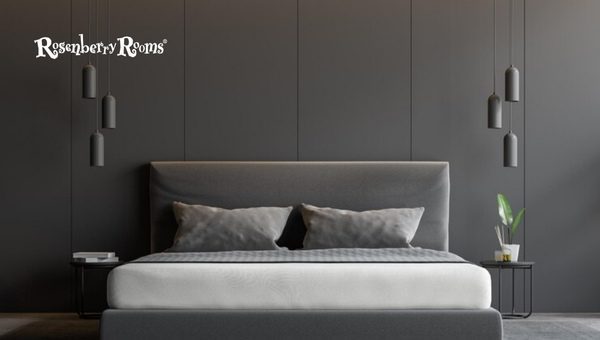 Sherwin Williams Iron Ore SW 7069 is a versatile favorite in the paint world. It belongs to several color collections, such as Color ID (Nurturer), Top 50 Colors, Pottery Barn for every season, Colormix Forecast 2022 (Opus), Rejuvenation, and Gallery Series.
Its Hex Value is #434341, reflecting a unique RGB spectrum of 67 / 67 / 65. Iron Ore has an LRV or Light Reflection Value of just 6, classifying it as a darker shade. This super flexible color is displayed at location 251-C7 in any Sherwin-Williams store.
Here's what makes Iron Ore exceptional:
Color Collections: Reposed in various collections, from everyday favorites to seasonal specials, indicating its extreme versatility.
Hex Value/RBG: The Hex and RGB values translate to a charcoal-esque appearance with hints of deep grey and faint green.
LRV: A lower LRV suggests that this paint can add depth and personality, especially to spacious or well-lit rooms.
Iron Ore is available in interior and exterior options for your convenience. It falls into the Neutral color family, making it an all-rounder when planning your home décor themes.
So, whether you're transforming your living room or refreshing that picket fence outside, Sherwin Williams Iron Ore SW 7069 is bound to leave an impressive mark!
The Undertones of Iron Ore SW 7069
Sherwin Williams Iron Ore SW 7069 is a popular and versatile paint color. Its undertone is characterized as a warm, greenish tint, which adds distinction and depth to this almost black paint color. This undertone subtly leans towards a neutral charcoal gray when used in certain light conditions.
In some circumstances, the green can become more pronounced; however, it generally remains subdued enough to be considered neutral.
This nuanced tonal quality makes Iron Ore a favorite among homeowners and designers, as it helps the shade blend well with various color palettes.
The warm green undertones of Sherwin Williams Iron Ore SW 7069 bring an organic richness that's beautifully balanced with its almost-black base, making it an excellent choice for both interior and exterior applications.
Light Reflection Value of Iron Ore SW 7069
The Light Reflectance Value (LRV) of Sherwin Williams Iron Ore SW 7069 is 6. Essentially, LRV measures the percentage of light a paint color reflects.
It's a valuable tool designers use to determine how light or dark a color will appear when applied to walls, surfaces, or objects.
With an LRV of 6, Sherwin Williams Iron Ore SW 7069 is on the darker end of the scale. This means that it absorbs more light than it reflects.
This characteristic gives Iron Ore its deep, nearly black appearance and makes it an exceptional choice for creating striking contrasts and dramatic design elements in a space.
It's ideal for highlighting architectural details, creating depth and dimension, or bringing a touch of sophistication and elegance to your decor.
Is the Iron Ore Warm or Cool?
Sherwin Williams Iron Ore SW 7069 falls within the spectrum of warm paint colors. This is mainly due to its subtle green undertone, which gives the paint a certain warmth that sets it apart from stark blacks or grays.
Warm paint colors typically create an inviting, cozy atmosphere in any room. Iron Ore SW 7069 seamlessly lends itself to this, adding depth and richness to spaces where it's used.
It emits a sense of sophistication and elegance due to its almost black coloration, but its underlying warmth prevents it from feeling harsh or cold.
In different lighting conditions, Sherwin Williams Iron Ore can even pull toward a very dark gray rather than black, further supporting its classification as a warm color.
This versatile shade is excellent for grounding lighter hues or creating captivating contrasts with colors on the cooler end of the spectrum.
Read More: Top 10 Best Sherwin-Williams Gray-Paint Colors
How Does it Feel Indoors?
Capable of creating a striking effect, Sherwin Williams Iron Ore SW 7069 can be the very factor your interior needs to spring to life.
Replete with a warm undertone, this shade offers an immersive sense of snugness and comfort, ideal for living rooms, dining areas, or bedrooms.
The dark boldness of Iron Ore is its key strength. It absorbs light instead of reflecting it and, therefore, tends to make rooms feel more intimate and cozy. This color perfectly pairs with light-colored furniture, creating an attractive, visually appealing contrast.
Perceptions in Natural Sunlight Outside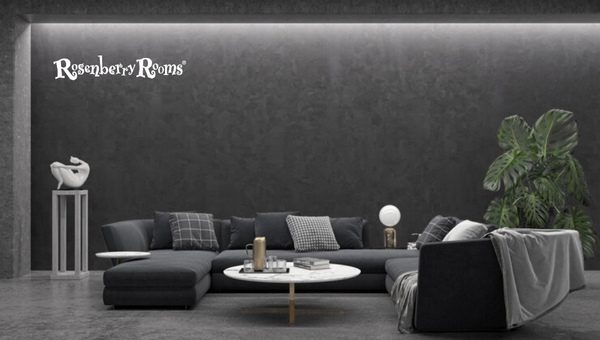 Sherwin Williams Iron Ore SW 7069 is no stranger to transformations. When painted outdoors and exposed to natural sunlight, this color surprisingly morphs into a softer version.
Under the sun's gleaming rays, the warm green undertones become more noticeable. It leans towards a muted olive tone, adding personality and definition to your exteriors without overpowering the overall aesthetic.
Even on sunny days, Iron Ore does not reflect much light due to its lower LRV. It won't seem glaring or bright but maintains its elegant charm throughout the day.
Pair Iron Ore with lighter trims or accents for an aesthetically pleasing contrast, or use it standalone for a classically striking look. Whether it's your picket fence, garden shed, or home exterior - Sherwin Williams Iron Ore SW 7069 handles sunlight like a pro.
Coordinating Colors of Iron Ore SW 7069
Creating a palette involving Iron Ore SW 7069 is exhilarating as this versatile shade pairs beautifully with numerous colors. A perfect color harmony can be realized with striking shades like Nebulous White SW 7063, Extra White SW 7006, and Cityscape SW 7067.
Nebulous White SW 7063 is a light grey color with a subtle blue undertone and, when juxtaposed with the depth of Iron Ore, provides an inviting balance in any room.
Extra White SW 7006, the whitest white of Sherwin Williams, creates a stunning contrast and brings out the rich depth in Iron Ore for a modern and crisp look.
Cityscape SW 7067 is another stunning grey, slightly deeper than Nebulous but lighter than Iron Ore. Combining three colors can create a layered monochromatic gray theme that exudes elegance and contemporary sophistication.
While choosing, focus on a holistic palette selection that complements your primary color choice (Iron Ore in this case) and aligns with the overall mood you seek to establish- calming, lively, or classic!
The Vitality of Testing with a Sample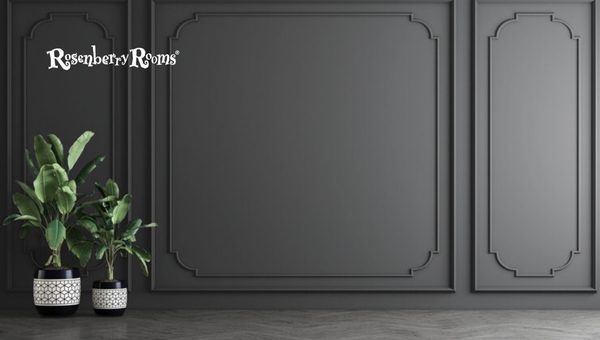 Testing paint samples before making a final decision is crucial, especially when considering a bold choice like Iron Ore SW 7069.
Merely imagining how the color might look is unreliable and risky. It's wise to apply a small patch in various lighting conditions to see how it manipulates your space.
Different times of the day or artificial light can significantly alter perception and impact your space's ambiance. Always sample before you dive into substantial painting projects—it's worth it!
Explore More: Sherwin Williams Alabaster SW 7008 [Latest Guide]
Tweaking Your Space's Ambiance with Lighting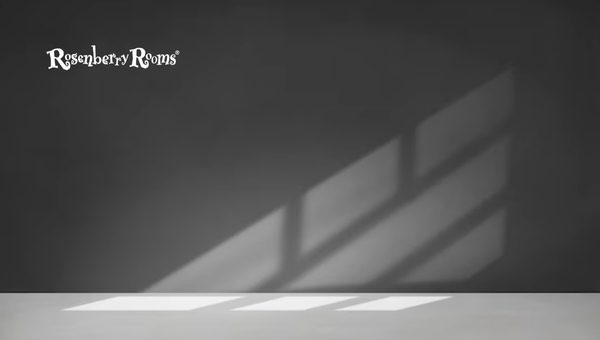 You've chosen Sherwin Williams Iron Ore SW 7069 – a versatile, sophisticated paint color that can adapt to any style and space. But how does it translate under different lighting scenarios? The answer lies in understanding your room's orientation and interaction with natural light.
Since lighting is the key element that impacts how we perceive colors, let's explore how Iron Ore reacts to light from various directions: north, south, east, and west.
Casting Shadows to the North
Rooms facing north tend to receive less sunlight and can often appear cooler. With its warm undertones and low LRV (light reflection value), Iron Ore can effectively balance this cool illumination by contributing a sense of warmth and depth.
It translates into a rich near-black shade in these spaces – making it an excellent choice if you crave bold drama against the subdued northern light.
Bathing in Southern Light
Southern-facing rooms bask in bright, warm daylight for most of the day, which could wash out weaker colors. However, Iron Ore stands its ground splendidly well thanks to its deep intensity.
It sways more towards a medium-grey tone under southern exposure - upholding its sophistication while ensuring your room doesn't feel overwhelmingly dark.
Illuminated East-Side Effects
Morning is the magic hour for eastern-facing spaces, with its fresh, warm sunshine flooding in to offer irresistible charm.
The sunlight can lend Iron Ore a wonderfully softer appearance at times, drawing out its subtle green undertones for some added intrigue.
The Glow from the West
With western exposure comes intense late afternoon and early evening sun that casts long shadows over your interiors.
In these conditions, Iron Ore shifts from a neutral cooler hue during daytime towards a gentler yet still profound grey-green as night falls – adding that perfect cozy ambiance you might seek for relaxation or entertainment.
Also Read About Repose Gray Sherwin Williams [Latest Paint Color Review]
FAQs About Iron Ore SW 7069
What type of finish works best for Sherwin Williams Iron Ore SW 7069?
A satin or semi-gloss finish harmonizes well with this color if you desire a subtle sheen, but a flat finish could add more depth.
How does Iron Ore blend with different color decor themes?
Given its neutral nature, Iron Ore can integrate seamlessly into modern and classic decor themes. It's a chameleon that adapts to complement various color schemes.
Would Sherwin Williams Iron Ore work on Kitchen cabinets?
Absolutely! Iron Ore on kitchen cabinets contrasts sharply against lighter countertops and backsplashes.
Can I use Iron Ore as an exterior paint choice?
Yes, you can. Its durability and refined look make it a great choice for front doors, window trims, or entire facades.
Does Sherwin Williams Iron Ore reflect Lightwell?
With a lower LRV of 6, Iron Ore is inclined towards absorbing light rather than reflecting it, resulting in an enigmatic dark grey hue with a cozy ambiance.
Conclusion
Sherwin Williams Iron Ore SW 7069 is an intriguing color that adds depth and drama to your space. It's a versatile shade that adapts well under different lighting conditions, from northern to southern, eastern, and western exposures.
This color is a gem in the wide spectrum of paint colors, allowing you to create a bold statement or subtly plug into your existing decor theme.
Consider it for your next redecorating project, and you won't be disappointed with the sophisticated flair it brings along.