If you've ever found yourself lost in the paint aisle, overwhelmed by the sea of color options, you're not alone. Picking out a color for your home can be a tough task.
But don't worry - that's why we'll do the work for you. In this article, we're focusing on Sherwin Williams Grizzle Gray SW 7068 color review.
This versatile shade is more than meets the eye - it's a dark, timeless color that can instantly add depth and character to any space.
This unassuming yet elegant shade of gray may not immediately jump out at you from a sea of swatches, but trust us; it's worth a second look.
Knowing Sherwin Williams Grizzle Gray better might make your next paint shopping trip shorter and sweeter. So sit back, relax, and prepare to be inspired by this beautiful hue.
Exploring Sherwin Williams Grizzle Gray SW 7068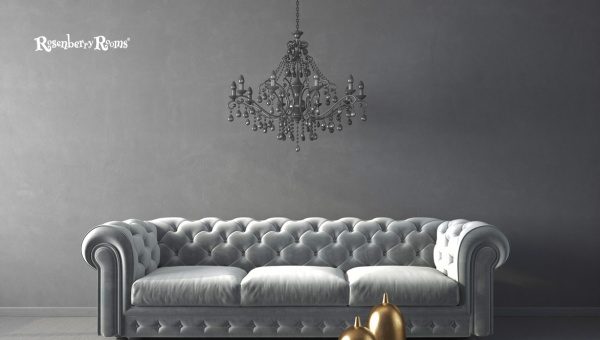 Before plunging into painting your space, it's important to understand what Sherwin Williams Grizzle Gray SW 7068 brings.
This chic color belongs to the neutral family, proving to be an extraordinary choice for your home's interior and exterior.
Its location number 236-C6 is convenient for quickly finding it on a color wheel or a paint store database. The Hex Value of this paint shade is #636562, and its RGB composition is 99 red, 101 green, and 98 blue, forming a beautifully balanced gray tone.
The Light Reflectance Value (LRV), which points to how much light the paint will reflect when dry, sits at a dark-toned level of just 13 for Grizzle Gray.
This brings uniquely shadowed aspects to this color, which can vary based on light exposure throughout the day.
While these technical details are crucial when considering this color, it's critical not to neglect how complimentary Grizzle Gray could be with your current or desired décor style.
Thoroughly explore its compatibility with your home to ensure it enhances rather than overwhelms your space.
Why Sampling is Crucial Before the Final Pick
Sampling is a non-negotiable step before settling on Grizzle Gray or any other color. Colors can dramatically change based on your space's lighting and existing elements.
A shade that looks perfect under fluorescent store lights may look vastly different in your home under natural light.
This is especially relevant for Grizzle Gray, which has an LRV of 13 on the darker spectrum. A sample helps you judge whether this will add an element of sophistication or make your room feel smaller and less inviting.
By applying test patches of paint, you can analyze the color in various lighting situations - daylight, dusk, or artificial light. Sampling ensures that you have a shade that perfectly matches your vision for your home.
Light Reflectance Value of Grizzle Gray SW 7068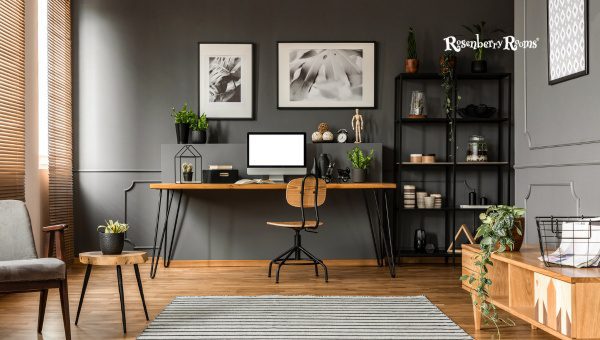 Sherwin Williams Grizzle Gray SW 7068 is a versatile color with a Light Reflectance Value of 13. LRV measures how much light a paint color reflects and is often used by designers to compare colors or determine how light or dark a color will look once applied.
The LRV scale ranges from 0, the absolute black and least reflective, to 100, pure white and the most reflective. A LRV of 13 means that Grizzle Gray is on the darker side of the spectrum.
This earthy gray hue absorbs the most light that hits it, making it an excellent choice for rooms where you want to create an intimate, cozy vibe.
The Undertones of Grizzle Gray
Sherwin Williams Grizzle Gray SW 7068 exhibits a cool green undertone. Known for its rich depth, this shade appears nearly black in darker spaces but reveals its cool green undertones under natural light.
Suitable for diverse interior and exterior applications, this color pairs well with warm wood tones and vibrant accent colors for balance.
As part of the "West Elm" collection, it provides sophistication and subtlety to modern design schemes. Due to its unique undertone, Grizzle Gray is versatile.
It can create an intimate atmosphere in smaller rooms or make large spaces cozy. This flexibility allows homeowners and designers to use it across various architectural styles and settings.
Cool or Warm? Spotting the Tone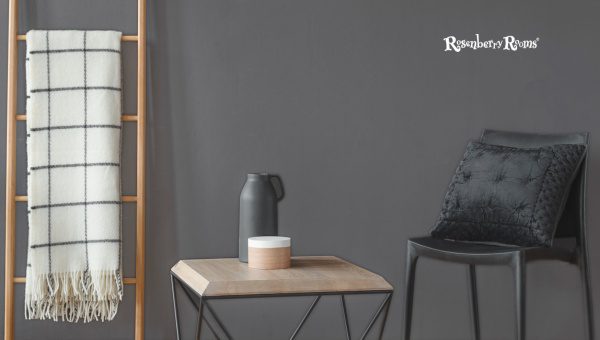 Sherwin Williams Grizzle Gray SW 7068 is generally a cool paint color. This dark, solid gray gets its versatility from its cool undertone, making it an ideal choice for various rooms and lighting conditions.
It achieves a refreshing outcome, whether used in small spaces to give depth or bigger rooms for a more filled look.
Ideal as an accent color or when creating a modern interior theme, Grizzle Gray blends well with other cool hues like blues and greens but can also provide a dramatic contrast to warm undertones.
Its adaptability makes it popular among interior designers and homeowners who aim for an elegant and sophisticated vibe.
Due to its heavy pigmentation, Grizzle Gray might absorb more light than it reflects, making smaller rooms appear darker. It's best to balance the effect with ample lighting or lighter colors.
Incorporating Grizzle Gray in Interior Spaces
When incorporating Grizzle Gray into your interior spaces, it's essential to consider existing elements like your roof color and woodwork.
This neutral shade of gray is versatile and works well with numerous color schemes—especially if you have brown or oak-colored woodwork.
For rooms with high ceilings or expansive spaces, Grizzle Gray can add prominence to architectural elements without swallowing up the area.
Using this gray on walls in rooms with plenty of natural light can help to soften the space, providing a calming effect.
If you're considering Grizzle Gray for smaller spaces, remember that its darker tone might make these areas feel smaller. It's therefore best suited for larger rooms with ample lighting.
Pairing this tone with white cabinets in the kitchen provides high contrast, making both colors pop. It's an excellent backdrop for showcasing colorful artwork, allowing vibrant colors to stand out.
Take advantage of monochrome palettes by combining different tones of gray in a room painted with Grizzle Gray SW 7068. You'll achieve a sophisticated and cohesive look that adds depth without being overbearing.
Read More: Sherwin Williams Rivers Edge SW 7517 [2023 Color Review]
Adopting Grizzle Gray for External Surfaces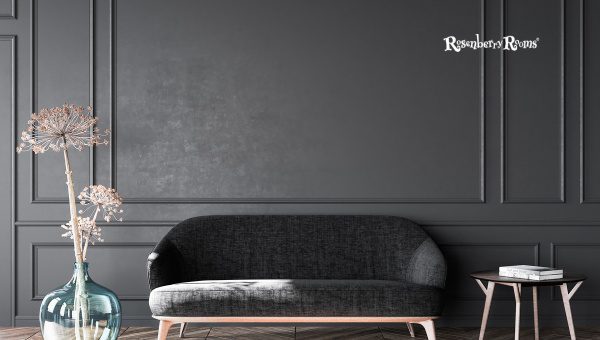 Opting for Grizzle Gray on your home's exterior surfaces can make a stunning statement. This bold hue offers extraordinary sophistication, setting the stage for a memorable first impression.
Depending on your roof color and surrounding elements, Sherwin Williams Grizzle Gray can create an elegant contrast, making your home stand out in the neighborhood.
Siding
Implementing Grizzle Gray on your home's siding can create a modern and dynamic appearance. This dark shade delivers a visually captivating contrast against softer environments, turning heads and holding gazes.
Ideal for homes in urban and rural settings, this sophistication not only exudes character but also amazingly hides dirt and imperfections - so you won't need to worry about constant cleaning to keep your house looking spick-and-span.
But remember! Dark colors absorb more UV light, leading to faster fading; use a Sherwin-Williams Paint with UV resistance to ensure longevity.
Gables
One distinctive way to showcase Grizzle Gray is through painting your gables. Imagine them arching overhead in this rich shade – it will lend it an appealing gravitas while subtly distinguishing it from the rest of the property.
This can be an excellent method in traditional homes to emphasize architectural details that could otherwise go unnoticed.
Consider using lighter or contrasting colors on trim work or other accents if you decide on grizzled gray gables – such balanced coordination amplifies depth and detail.
Front Door
Utilizing Grizzle Gray as a front door color presents a tasteful statement that vacuums all attention towards your home entrance - whether from guests or passersby.
It has a unique draw that adds an unparalleled charm to any doorway; specifically, paneled or detailed doors are particularly striking when painted in this hue as it emphasizes their splendid structure.
Pairing with gold or brass hardware would give just enough flashiness without too much glitz – thus crafting the perfect welcoming point every homeowner dreams about having!
Adopting Sherwin Williams Grizzle Gray 7068 for external surfaces enhances curb appeal. It injects chic durability with its steadfast presence - making your abode look like it's meant to withstand time with impeccable style.
Exemplary Trim Colors to Compliment Grizzle Gray
Once you've chosen Grizzle Gray as your base color, picking the right trim colors will perfectly complete your vision. Trim color is essential because it frames and accentuates the primary paint color, creating a harmonious balance in your room.
Sherwin Williams Nebulous White SW 7063 is a beautiful option for trim alongside Grizzle Gray. This soft, dreamy white creates a stunning contrast against the deep tones of Grizzle Gray, highlighting the architectural features of your space.
Sherwin Williams Passive SW 7064 is another fit for individuals who prefer a mellow and calm backdrop. It is accompanied by Grizzle Gray and has an aura of gracefulness combined with understated sophistication.
Sherwin Williams Foxy SW 6333 forms a more dynamic duo with our main character, Grizzle Gray. Foxy infuses vibrant energy into an environment and acts as an exciting pop of color against the neutrality of Grizzle Gray.
Remember that your roof and wood colors also significantly influence painting decisions. Ensure a harmonious flow between them, and Grizzle Gray allows for a well-rounded aesthetic feel in your space.
Research additional pairings or consult with color experts to make well-informed decisions about these pivotal selections for your home's decor. Most importantly, create combinations that reflect you and make your spaces feel authentically yours.
Read More: Sherwin Williams Colonnade Gray SW 7641 [Color Review 2023]
Effects of Cardinal Directions on SW 7068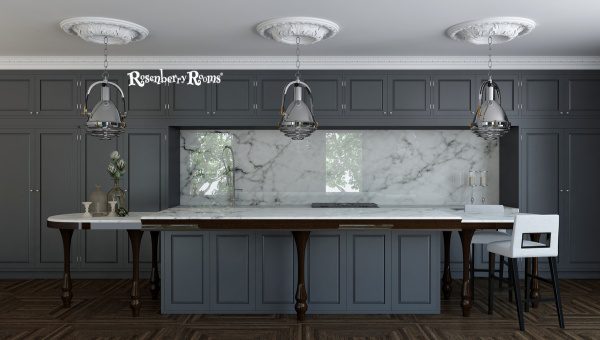 When picking the perfect color for your home, one crucial factor you cannot overlook is the impact of cardinal directions - North, South, East, or West - on your hue selection.
The sun's position throughout the day can shift a color's appearance in ways you might not predict. Regarding Grizzle Gray SW 7068, remember that this color will read differently depending on which side of the house it's applied.
North
North-facing rooms receive less direct sunlight and can make colors appear cooler. If you plan to use Grizzle Gray in a North-facing room.
This could intensify its cool profile while darkening the space due to its low LRV (13). To keep things balanced, consider lighter furniture or accents to bring warmth and create contrast.
South
South-facing rooms bathe in abundant sunlight for most of the day, making colors appear warmer and brighter.
Given Grizzle Gray's cool undertones and low LRV, south-facing light enhances this paint color by brightening it slightly without eliminating its sense of depth and sophistication. It becomes the perfect canvas for nailing a cheery yet chic aesthetic.
East
With predominantly morning light, east-facing rooms offer warm illumination that gradually becomes cooler throughout the day.
When used in these spaces, Grizzle Gray takes on a somewhat complex persona – appearing slightly warmer when hit by early sunshine but growing cooler as daylight fades.
With light-toned furniture or décor elements, Grizzle Gray strikes an elegant balance between warm and cool.
West
West-facing rooms enjoy strong sunlight during afternoons and evenings – which can cast an intense glow on your walls.
In these cases, darker colors like Grizzle Gray morph into a deeper version of themselves and retain their gray identity, preserving its neutral appeal.
Remember that your roof color and woodwork also play a prominent role when aligning with SW 7068. A stark contrast between these elements can add visual intrigue to your home's exterior without becoming overwhelming.
Read More: Sherwin Williams Gauntlet Gray SW 7019 [Color Review 2023]
FAQs About Grizzle Gray SW 7068
What color family does Sherwin Williams Grizzle Gray SW 7068 belong to?
Sherwin Williams Grizzle Gray SW 7068 belongs to the neutral color family.
Can I use Grizzle Gray in low-light spaces?
Yes, you can use Grizzle Gray in low-light areas, but its low LRV of 13, which reflects minimal light, might make the space appear darker.
Would Grizzle Gray be suitable for my home's exterior?
Absolutely! Its sophisticated appearance can add architectural depth to your home's exterior.
What are the RGB values for Grizzle Gray?
The RGB values for Grizzle Gray are 99 (Red), 101 (Green), and 98 (Blue).
Which colors pair well with SW 7068 for creating a balanced look?
Trim colors like Passive SW 7064, Nebulous White SW 7063, or Foxy SW 6333 pair exceptionally well with Sherwin Williams' Grizzle Gray.
Conclusion
Sherwin Williams Grizzle Gray SW 7068 is a beautifully balanced, sophisticated hue that adapts impressively to varying lighting conditions and can add depth and character to any space.
Its cool undertones and low LRV create a sense of cozy elegance while integrating effortlessly with various styles and complementing a wide range of accent colors. It's a wise choice for those seeking to upgrade their home decor while maintaining timeless charm.
Choosing Grizzle Gray underscores your prowess in understanding the elusive art of gray color palettes — not too stark, not too warm, and just the right amount of chicness.
This attractive gray color is your secret ingredient for creating a space of depth, character, and class. So next time you consider a change in hues for your house - remember there's a grizzly — well, actually- there's Grizzle Gray!