So, have you considered giving your home a fresh coat of paint and heard about Sherwin Williams Gauntlet Gray SW 7019? Terrific! We're conducting an in-depth review of this specific paint color in this article. We'll cover details such as color scheme coordination, light reflection, and the general mood it sets in any room.
Sherwin Williams Gauntlet Gray SW 7019 is one of those colors that can completely transform your space, so before depositing that first swatch on your wall, let's ensure it matches perfectly with your style and vision.
We promise this will give you a good idea of what to expect from this color and make your ultimate decision easier. Join us as we peel back the layers on Gauntlet Gray – literally and figuratively!
All about Sherwin Williams Gauntlet Gray SW 7019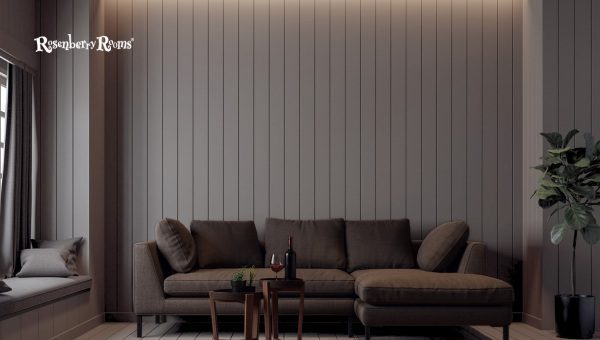 Sherwin Williams Gauntlet Gray SW 7019 falls firmly in the Neutral Color Family. This hue is featured in the Top 50 Colors and Gallery Series collections and is known for its versatility. It is available for interior and exterior applications and features a location number of 244-C6.
Moreover, for all you tech-savvy folks, its Hex Value stands at #78736E. That's an RGB value of 120/115/110 for precise digital replication. It bears a Light Reflectance Value (LRV) of just 17, which hints at it being a darker shade with low reflectivity.
Gauntlet Gray's evident depth assists well with accentuating architectural components and creating striking contrasts when paired with lighter tones.
This tone sits comfortably between anything 'too light' or 'too dark,' making it a balanced choice for multiple spaces within your home or office.
Remember, though it's considered neutral, that doesn't mean "boring" or "dull" applies here too; quite the contrary! Gauntlet Gray exudes character through and through - more on that shortly!
LRV and Undertones, A Closer Look
Knowing the Light Reflectance Value (LRV) and understanding the undertones of a paint color are crucial factors when deciding on a choice for your space.
How the shade appears under different lighting conditions and how it blazes with other colors is largely determined by these two parameters. Now, let's investigate Gauntlet Gray's LRV and undertones.
Stitching Sherwin Williams Gauntlet Gray's LRV
The Light Reflectance Value (LRV) of Sherwin Williams Gauntlet Gray SW 7019 is 17. This represents the amount of light reflected off a given painted surface; in this case, the Gauntlet Gray color.
The LRV runs on a scale from 0 (absolute black) to 100 (pure white), implying that Sherwin Williams Gauntlet Gray has a relatively dark shade due to its low LRV.
To provide more context, it's a trendy neutral paint color with deep charcoal gray tones that give depth to any space without making it look overwhelmingly dark, as its LRV value sits comfortably at the darker end of the spectrum but not excessively so.
Also Read: Sherwin Williams Cityscape SW 7067 [Paint Color Review 2023]
Identifying Gauntlet Gray's Undertones
Sherwin Williams Gauntlet Gray SW 7019 carries undertones of a warm greige. This deep, dark gray shade encompasses elements of richness and elegance.
Its blend of gray and beige provides an attractive, warm undertone that promotes coziness and tranquility.
The warmth in the greige undertone offers a certain sense of comfort and invitation, particularly well-suited for large shared living spaces or bedrooms.
The specific appearance can change based on the lighting conditions, making this color versatile and compatible with various interior styles and decors.
Interiors and Exteriors Decked in Gauntlet Gray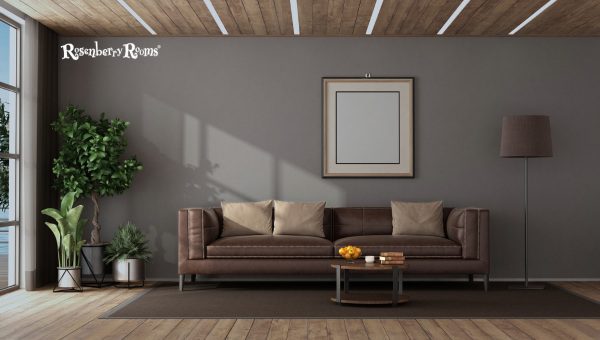 Sherwin Williams Gauntlet Gray is not just a paint color; it's a total mood. It possesses a chameleon-like quality that pulls different colors based on its environment.
Adorn your interiors and exteriors with this versatile hue and uplift your living space or workplace's overall ambiance. Let's explore how Gauntlet Gray sets the perfect tone for various settings.
Fitting Gauntlet Gray in the Interior Setting
Sophistication is up for grabs when you infuse your interiors with Gauntlet Gray SW 7019. It works seamlessly with modern, contemporary designs or classic decor styles.
A grand expanse of Gauntlet Gray in spaciously connected living-dining areas leads to a unifying calm effect, often sought after in open-plan designs.
Consider pairing the deep tones of Gauntlet Gray with crisp white trims and moldings if styling seems challenging. It creates an elegant contrast potent enough to transform uninteresting and dull rooms into vibrant spaces.
This color shines beautifully on interior doors, baseboards, crown molding, or even as an accent wall in your favorite room.
An entryway or staircase wall accented with this color will undoubtedly create an impressive visual impact that will not easily be forgotten by visiting guests.
Exteriors Embracing Gauntlet Gray
Dressing your home's exterior façade is also a favorable option with SW 7019. This gray brings out the depth and textures of brick surfaces or stone masonry in a phenomenal way that exudes an inviting appeal from the curbside.
Since it's fit for all weather conditions (thanks to being outdoor-compatible), you can safely paint it on exteriors without worrying about fading under harsh sunray exposure or washing off due to heavy rainfalls.
Gauntlet gray looks magnificent on exterior features such as wooden shutters, siding, window trim, or unique architectural elements like exposed brick walls or stone-clad surfaces – all elements ideal for enhancing curb appeal.
Complementing this shade with warm lighting fixtures outdoors can boost the nighttime beauty quotient tenfold.
Temperament of Color - Warm or Cool?
Sherwin Williams Gauntlet Gray SW 7019 is categorized as a warm gray paint color. It has subtle brown and green undertones, which lend a warmer appearance than a typical, stark gray.
This neutral color matches several other hues and can add a cozy warmth to your space without overly dominating.
Using it in a room can enhance natural light and create an inviting ambiance all year round. The warmth of Gauntlet Gray also makes it an excellent choice for large and small spaces alike, as it gives off a comforting feel that is neither too dark nor too light.
Also Read: Sherwin Williams Tony Taupe SW 7038 [Paint Color Review 2023]
Pre-purchase Considerations - Sampling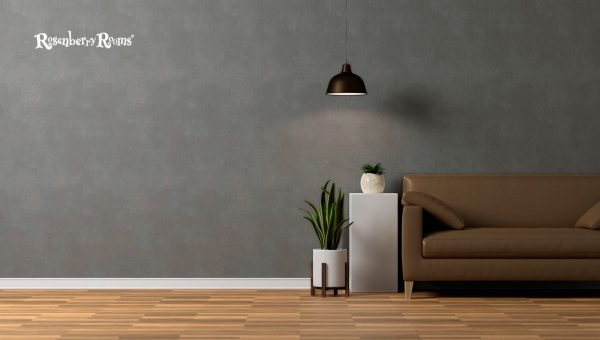 Before committing to Gauntlet Gray, remember the golden rule of painting – always run a sample test. This process involves purchasing a small sample pot or even a larger peel-and-stick sample. Sherwin Williams provides both to help you make the most informed decision.
Spend a few days observing the color at different times and under various lighting conditions. Check how it looks adjacent to major furnishings, flooring, and architectural features. Remember that Gauntlet Gray is influenced by its surroundings mostly due to its undertones.
While it may take some extra time and patience, this step is vital in ensuring Gauntlet Gray is the perfect fit for your space.
Complementing with Coordinating Colors
Now that you've chosen Gauntlet Gray as your base shade, it's pivotal to identify complementary colors that can elevate the overall atmosphere. Most color schemes recommend adding one or two coordinating hues for depth and interest.
Sherwin Williams Eider White SW 7014 presents as a beautiful coupling choice. This crisp white tone creates an infallible contrast against Gauntlet Gray. It's versatile enough to be used on trims, moldings, and even on your interior doors.
Next in line is Sherwin Williams Repose Gray SW 7015. This light gray shade shares similar undertones with Gauntlet Gray, which makes it an ideal choice if you're seeking to create a soothing monochromatic look.
Lastly, add a pop of color with Sherwin Williams Armagnac SW 6354 to add warmth and vitality to the space. Armagnac is a warm-toned color that harmonizes beautifully with Gauntlet Gray's cooler tones while being an instant eye-catcher in otherwise neutral settings.
When planning your palette, be mindful of the room's purpose and the ambiance you want to create. The beauty of decorating is that there's no rule set in stone; there's only what makes you glow with satisfaction every time you enter the room.
Lighting Impact - Cardinal Directions Guideline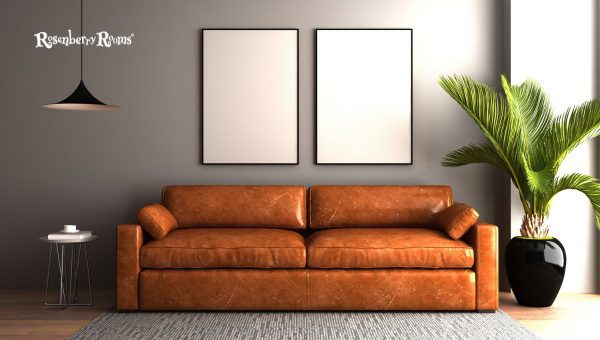 Lighting plays a crucial role in how a paint color exhibits itself. It's essential to consider your room's orientation and how the sunlight interacts with the chosen paint shade before finalizing your choice.
Sherwin Williams Gauntlet Gray SW 7019 reacts intriguingly to different lighting situations at various times of the day due to its neutral but complex undertones, making it a fascinating color choice.
North-Facing Light on SW 7019
Rooms with north-facing windows tend to receive cooler, bluish light. If Gauntlet Gray adorns these walls, you'll notice an interesting dynamic—an amplification of its cooler undertones in crisp contrast.
Gauntlet Gray can appear slightly darker and more heavily saturated than rooms with different orientations. Despite this, the balance in Gauntlet Gray remains well-maintained without losing its warmth entirely.
South-Facing Light on SW 7019
In contrast to the north, south-facing rooms bask in warm, golden light throughout the day. In such spaces, you'll witness Gauntlet Gray unfold like an artist's canvas - retaining depth while highlighting cool and warm undertones.
During peak daytime hours especially, expect to see Gauntlet Gray flaunting its alluring warmth yet keeping its stability as a versatile neutral.
East Lighting Effect on Gauntlet Grey
Rooms facing east experience bright morning light that then fades towards sunset. Under such conditions, practically any color tends to catch warmth early in the day—but not our studied grey.
Sherwin Williams' SW 7019 transitions elegantly from cool-toned mornings to warmer-hued evenings—a testament to this shade's astounding adaptability.
West Facing Rooms Painted with SW 7019
West-facing rooms are remarkable because they're affected by changing moods of natural light—passive or subdued during early daytime, curving gracefully into warmer tones during sunset.
Chromatically speaking, for Sherwin Williams Gauntlet Grey SW 7019—the color maintains its bracing greyness with subtle layers revealed through daylight transition, resulting in a harmonious vibe exuded when bathed in evening gold tints.
Also Read: Sherwin Williams Pavestone SW 7642 [Paint Color Review 2023
FAQs About Gauntlet Gray SW 7019
What type of color can I pair with Sherwin Williams Gauntlet Gray SW 7019?
Sherwin Williams Gauntlet Gray can synchronize well with colors like Eider White SW 7014, Repose Gray SW 7015, or Armagnac SW 6354.
Is this color warm or cool?
Gauntlet Gray leans towards being a warm gray in certain lighting situations despite its neutrality.
What is the LRV of Sherwin Williams Gauntlet Gray?
The Light Reflectance Value (LRV) of Sherwin Williams Gauntlet Gray is 17, indicating it's darker and less reflective.
Will Gauntlet Gray look dark in a north-facing room?
Gauntlet Gray may appear slightly darker and more heavily saturated, with north-facing rooms receiving cooler, bluish light.
Can I use it for both interior and exterior painting projects?
Absolutely! Sherwin Williams Gauntlet Gray SW 7019 is suitable for indoor and outdoor use, offering excellent versatility.
Conclusion
The versatility and complexity of Sherwin Williams Gauntlet Gray SW 7019 make it an appealing choice for anyone seeking to change the landscape of their space.
Its nuanced transition in various lighting, adaptability in different settings, and harmony with an array of beautiful accents set this shade apart.
This well-balanced neutral color ensures that it can effortlessly bring life into your living spaces, subtly enhancing the room's architecture and design.
Offering a pleasing contrast with both cool and warm undertones, Gauntlet Gray is sure to leave a lasting impression.