Choosing the right paint color can transform your space, setting the mood from soothing to vibrant, rustic to chic.
Every hue has its personality, with possibilities that extend beyond just the aesthetics. One such color you might have encountered while searching for the perfect shade is Sherwin Williams Acacia Haze SW 9132.
In our Sherwin Williams Acacia Haze SW 9132 color review, we're going into detail about this dynamic tone and how its unique characteristics can redefine your living space.
This particular shade of paint captures nature's serenity in a container, ready to splash some tranquility on your walls.
But before you decide, let's ensure this color aligns well with your vision and works harmoniously with your existing décor or design plans. So buckle up and get ready to explore everything about this appealing paint choice!
Overview of Sherwin Williams Acacia Haze SW 9132
Sherwin Williams Acacia Haze SW 9132 sits in the green family and showcases itself as a calming color that exudes an aura reminiscent of nature. With hexadecimal value #969C92, this soothing paint offers homeowners a chance to bring serenity into their homes.
Featured in the Colormix Forecast 2020 (Haven) collection, this paint could grace your interior or exterior spaces due to its flexible usability.
The RGB value remarkably stands at 150/156/146, proving the shade is neither too intense nor muted. The Light Reflectance Value (LRV) lies at 32, providing a middle-ground light absorption level well-suited for various lighting conditions and room sizes.
Sherwin Williams has intricately positioned it on location number 217-C4 in their vast color spectrum to provide consumers with a quick reference.
LRV for Acacia Haze SW 9132
The LRV of Acacia Haze SW 9132 is 32. This means that the paint color reflects about 32% of light and absorbs roughly 68%.
In the LRV scale where 0 refers to absolute black and 100 denotes pure white, an LRV of 32 indicates that this color is darker.
Acacia Haze is a versatile hue with a perfect balance of warm and cool undertones. It brings a calm, soothing ambiance to any space it's applied to.
The relatively low LRV makes it ideal for rooms with ample natural lighting as it helps tone down brightness while maintaining a lively atmosphere.
Undertones of Acacia Haze
Sherwin Williams Acacia Haze SW 9132 is a sophisticated paint color with beautiful slate blue undertones.
Undertones can greatly influence the overall look of the color and how it behaves in different lighting situations, harmonizing with other colors around them.
The slate blue undertones of Acacia Haze SW 9132 give this color a cool edge, adding depth and complexity to its overall perception. This layer of personality makes it an ideal choice for creating a serene and calming atmosphere in any space.
The nuance created by the mix of green hue with slate-blue sub-tones gives it a unique character that brings grace and emotion to interiors.
So, while the primary appearance may be more linked to green, the subtlety of SW 9132 comes from these underlying slate blue tones.
This cool undertone helps balance out warmer elements in a space, contributing to a balanced and composed color scheme.
Explore More: Sherwin Williams Incredible White SW 7028 [Color Review]
Interior Uses for Sherwin Williams Acacia Haze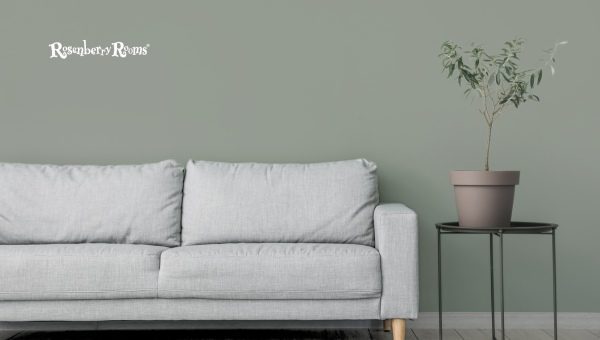 Acacia Haze's versatility shines when it comes to enhancing the interiors of your home. This color looks stunning in more than just a few spaces and can be ideal for imparting character to various rooms. Here are some suggestions on where you might like to use this color:
Living Room: Implementing Acacia Haze in your living room can work wonders. As a backdrop, this shade gives off a calming vibe and accents artwork or furniture, helping them stand out without overpowering their charm.
Bedroom: Introduce Acacia Haze into your bedroom palette if you want tranquility and relaxation. Its soothing tone helps create a restful ambiance, perfect for winding down after a long day.
Home Office: Tuning into focus and productivity gets easier with colors that inspire calmness. Hence, having Acacia Haze grace the walls of your home office could enhance concentration without feeling overstimulated.
Kitchen: Opt for this hue on your kitchen walls or cabinets to bring nature-inspired ambiance amidst the culinary action.
Bathroom: A bathroom with an Acacia Haze palette brings forth thoughts of serene forest bath experiences, making your grooming routine more relaxed.
Realizing the potential of any paint color within the interiors requires careful attention to other elements like lighting, space size, existing decor style, and color undertones. Acacia Haze SW 9132 seems exceptionally good at adapting amidst all these variables.
Exterior Applications for Acacia Haze SW 9132
Who said the serenity of Acacia Haze is only meant for interiors? It holds a world of potential when you consider exterior applications.
Its calming, nature-inspired color can enhance your home's curb appeal while imbuing it with tranquility.
Exterior Walls: Gracing the exterior walls with Acacia Haze can set your house apart from the rest on your block. The soothing green will give a welcoming appeal to your façade and harmonize well with varied architectural styles.
Trim: If you're not too keen on painting the entire façade, consider using Acacia Haze for trim work. It works great with neutral-toned main exterior colors and can provide an appealing contrast pleasing to the eye.
Outdoor Structures: Garden sheds, gazebos, or pergolas soak in this earthly tone well. This paint color effortlessly blends these structures into nature's backdrop, giving them distinguished charm.
Front Door: Bold-colored doors might be trending, but nothing beats the subtlety of an Acacia Haze front door. Welcoming and comforting - your guests would instantly love this introduction to your home.
Consider other aspects like sunlight exposure, neighboring homes' palettes, and landscaping before choosing this color for exterior use.
Also, use high-quality exterior paint to ensure longevity and true color representation under various weather conditions.
Warm or Cool - Identifying the Temperament of Acacia Haze
Sherwin Williams Acacia Haze SW 9132 is categorized as a cool paint color. A paint color's temperature, either warm or cool, significantly affects the mood and ambiance of a space. Like Acacia Haze, cool colors are often associated with calmness and serenity.
Despite its green hue, which can often be warm in other shades, its slate blue undertones mark it as a distinctly cool color.
Its undertones of slate blue give it a refreshingly tranquil quality that can balance warmer elements in your interior decor.
This cool-toned paint creates a calming effect, making spaces more spacious and open. Moreover, its subdued boldness makes it an excellent choice for creating comfortable environments with an air of sophistication.
Whether used in large spaces or as an accent wall, Acacia Haze infuses rooms with a soothing tranquility that mirrors nature's aesthetic palette.
Read More: Sherwin Williams Classic French Gray SW 0077 [Color Review]
Role of Lighting Directions on Sherwin Williams Acacia Haze
Light direction impacts understanding how a paint color would appear on your walls. Regardless of the color, its perception can drastically change based on the type of light that strikes it. So, let's discuss how Sherwin Williams Acacia Haze looks under different lighting situations:
North-Facing Light: North-facing rooms get less direct sunlight throughout the day. This light gives a cooler feel and can make colors appear slightly more muted and dull. With its sumptuous depth, Acacia Haze remains robust and doesn't lose its appeal in these conditions.
East-Facing Light: East-facing rooms receive plenty of warm morning light that progressively becomes cooler as the day unfolds. For Acacia Haze, it means projecting a greener tint during mornings, gradually shifting to more bluish tones as the daylight fades.
South-Facing Light: Rooms with southern exposure benefit from consistent bright light throughout the day, making colors look warmer and more vibrant. The coloring of Acacia Haze becomes noticeably richer in such rooms.
West-Facing Light: West-facing rooms experience a greater intensity of evening sunlight that casts a golden hue on walls. As the day progresses into nighttime, you would watch Acacia Haze divulge tints of cool blue undertones, showcasing its multifaceted character.
While lighting directions influence color perceptions significantly, artificial lighting should not be overlooked when considering wall colors.
Observing how this green hue varies under different light conditions is recommended before finalizing it for your space.
By understanding these effects completely, you can make a well-informed choice about this paint color for your home.
Why is color sampling a Necessity?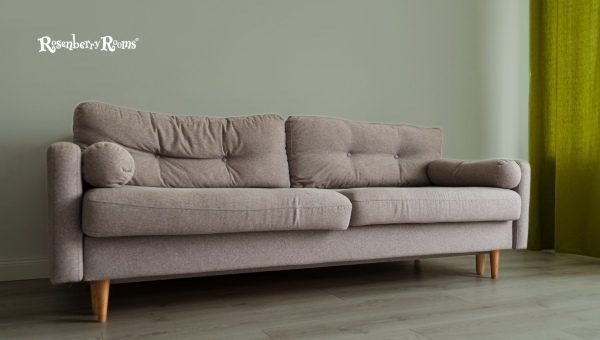 Sampling a color before finalizing your choice is crucial to your color selection process. It helps you see the accurate representation of the color on your walls, offering insights into how different lighting conditions affect its appearance.
Placing the sample in different room parts throughout the day allows you to visualize its interaction with changing light exposure and surrounding decor. Paints like Sherwin Williams' Acacia Haze may look different online or in-store due to photographic variations and display settings.
Therefore, having a physical sample on your wall eliminates any element of surprise post-application and ensures that you're content with your final choice.
Coordinating Color Pairing with Acacia Haze
Pairing Acacia Haze SW 9132 with the right colors is crucial for a coordinated look. Like every other paint color, it has its best companions.
Spare White SW 6203: Spare White is an airy, pure white hue that can serve as a subtle but contrasting background for Acacia Haze. It enhances the greenish undertones of Acacia Haze and promotes a breezy ambiance in your living space.
Dover White SW 6385: Dover White's warm, creamy tone complements Acacia Haze's cool demeanor. This cozy combination creates visual warmth and adds depth to any room.
Favorite Tan SW 6157: Favorite Tan is an excellent choice to pair with Acacia Haze for those interested in creating a more textured look. The beige hue goes well with the nature-inspired vibe of Acacia Haze and builds an inviting earth-tone palette.
Selecting the perfect palette can sometimes be intimidating, given the vast spectrum of combinations, but knowing which colors go well together makes things easier.
Consider your space, furnishings, and desired mood when selecting coordinating colors for Sherwin Williams Acacia Haze SW 9132.
Top List Recommended Trim Colors for Acacia Haze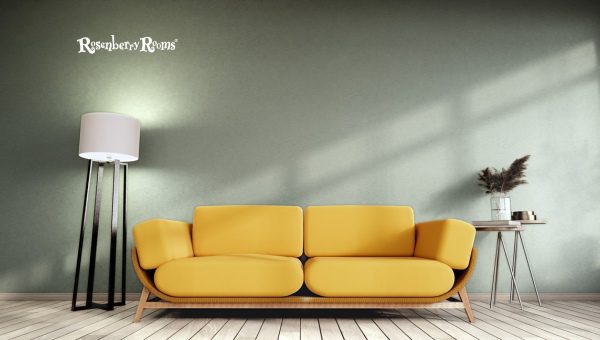 To complement the serene look of Sherwin Williams Acacia Haze, you should consider crisp, clean trim colors. Here are our top picks:
Sherwin Williams Alabaster SW 7008: This off-white hue is an excellent trim color option. Its pleasant neutrality offsets Acacia Haze nicely without diverting attention. Whispering a subtle antiquity vibe, Alabaster would harmonize beautifully with Acacia Haze to provide depth and rhythm to your space.
Sherwin Williams Pure White SW 7005: Pure White is a great choice if you're looking for a more immaculate contrast against the calming backdrop of Acacia Haze. It defines your trims distinctly and agelessly.
Sherwin Williams Extra White SW 7006: Truly extra in vivacity, this white hue offers a sharp but not harsh counterpoint to Acacia Haze's cooler tones. Utilizing Extra White can create an airy feel, enhancing the open vibes of the soothing nature-inspired shade.
Irrespective of which tone you choose among these variants of whites as your trim color with Acacia Haze, remember that it's about creating a harmony that suits your style and fulfills the vision you hold for your space.
Also Read About Sherwin Williams Popular Gray SW 6071 [Color Review]
FAQs about Acacia Haze SW 9132
What Room Will Look Best with Acacia Haze?
Acacia Haze can work wonderfully in many rooms, but it is especially charming in bedrooms, bathrooms, or home offices where its calming qualities flourish.
Is Acacia Haze a Good Exterior Color?
Acacia Haze can be an appealing exterior color, particularly for homes nestled within landscapes, offering a lovely harmony between the structure and its surroundings.
Can I Pair Acacia Haze with Bold Colors?
Indeed, Acacia Haze carries enough neutrality to pair well with bolder colors while appreciably complementing softer hues.
Does Sherwin Williams Acacia Haze Require More Than One Coat?
While Sherwin Williams paints are known for their quality and coverage, the number of coats will depend on your project specifics, like wall condition and the desired intensity of the color.
Does Sherwin Williams Acacia Haze Reflect Light Well?
Acacia Haze has an LRV of 32, indicating a mid-range ability to reflect light desirable for spaces with adequate natural or artificial lighting.
Conclusion
Sherwin Williams Acacia Haze SW 9132 proves its essence as being more than a straightforward paint color.
Its inherent calming qualities and versatile usability make it an appealing choice for breathing both tranquility and character into your living spaces.
This Acacia Haze review provides an exploratory guide for this unique paint choice, but the real magic is unveiled once you sample it within your environment. You might discover how dramatically this shade can redefine a space's character!