After countless hours of researching and browsing through various furniture stores, I finally stumbled upon the Medley Blumen Sofa. Let me tell you - as a diligent sofa shopper, it was nothing short of love at first sight!
In this Medley Blumen Sofa review, I want to share all there is to know about this versatile and stylish sectional that somehow managed to check all the boxes on my ever-growing list of sofa must-haves.
You know the drill: durability, comfort, functionality, and design are key when it comes to finding the perfect addition to your home. So, I set out on a mission to discover if the Medley Blumen Sofa could actually live up to its reputation - whilst also sifting through numerous websites and testimonials just like any curious consumer would.
Grab your favorite cup of coffee or tea, sit back, and relax as I unveil all the delightful details in my Medley Blumen Sofa review. Spoiler alert: you might just find yourself smitten with this elegant piece just like I am!
The Medley Blumen Sofa: A Brief Overview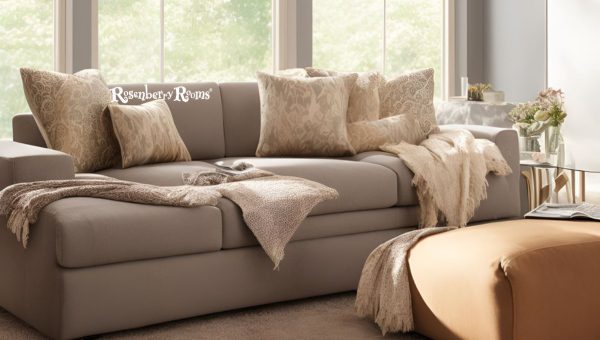 The Medley Blumen Sofa is a modern and stylish sectional sofa designed to bring both comfort and sophistication to your living space.
Its sleek and minimalistic design makes it an attractive addition to any home decor, while it's versatile options and durable materials ensure it will stay looking great no matter how hard you or your family may be on the furniture.
What Makes the Medley Blumen Sofa Stand Out
One of the most appealing aspects of the Medley Blumen Sofa is its customizability. Unlike many other sofas on the market, each Blumen sofa is made-to-order, allowing you to choose from various fabric options, leg styles, and configurations.
This means you can create a personalized piece that perfectly suits your needs and aligns with your unique taste.
Another key feature that sets the Medley Blumen Sofa apart from its competition is its focus on environmental sustainability. The company prides itself on using eco-friendly materials such as kiln-dried alder hardwood and non-toxic adhesives in its products.
Each piece is handmade in California, meaning less transportation pollution compared to mass-produced alternatives.
Material and Construction Quality
The Medley Blumen Sofa's high-quality materials are evident from the moment you begin to assess its construction.
Frame: Built from solid kiln-dried alder hardwood which provides excellent durability and sturdiness. This ensures that the frame can withstand everyday use without faltering.
Support System: With reinforced steel springs wrapped individually in pockets, the Medley Blumen offers superior support while preventing any sagging or dipping.
Cushions: High-density foam filling combined with trillium fiber topping provide an excellent level of comfort as well as long-lasting shape retention for cushions - even after years of constant use!
Upholstery: Medley offers a variety of fabric options to customize your Blumen sofa. This includes family-friendly performance fabrics which are stain-resistant, moisture-resistant, and durable even for households with pets or children.
Legs: The sofa is supported by sturdy solid wood legs in your choice of three different styles and finishes, to match any desired decor theme.
Joints: Mortise and tenon joint construction provide robust connections between the components, ensuring exceptional structural integrity throughout the entire build.
In addition to its impressive choice of materials, Blumen sofas are built with care by skilled craftsmen who place a priority on providing the highest level of quality possible.
Furthermore, every Medley Blumen Sofa comes with a lifetime warranty on its frame and suspension system, demonstrating the brand's confidence in its product's durability and excellence.
To sum up, if you're on the hunt for a sectional sofa that is not only customizable but also stylish and built to last, the Medley Blumen Sofa should be at the top of your list.
Its standout design features – combined with its sustainable materials and expert construction – make it a smart investment for those seeking comfort without sacrificing style or quality.
With such an appealing package, it's no wonder that this particular sofa has garnered rave reviews from scores of satisfied customers across the nation!
Customization Options for the Medley Blumen Sofa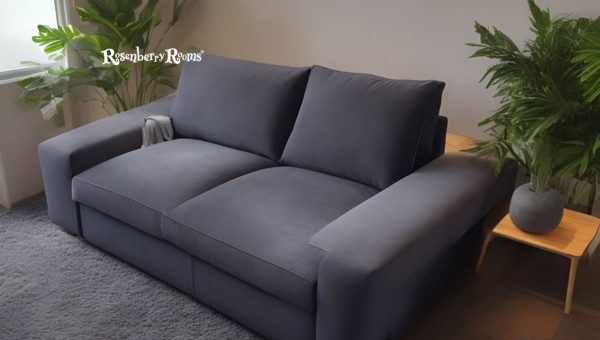 One of the things that truly grabbed my attention when I first came across the Medley Blumen Sofa was its extensive range of customization options.
It's no secret that everyone's home and personal preferences are unique, so finding a sofa that caters to the needs and wants of a broad array of individuals is definitely a big plus!
In this section, we'll explore the customization possibilities offered by the Medley Blumen Sofa, from choosing the right configuration for your space to fabric selections and personalization.
Choosing the Right Configuration for Your Space
Upon visiting the Medley website, I realized that picking my preferred configuration would be a breeze. The site offers an interactive tool that not only visualizes your sectional layout choices but also lets you make amendments on-the-fly. Here are some configuration possibilities you can enjoy:
Classic L-shape: Both left-facing and right-facing configurations are available, enabling you to design your sofa according to your room's orientation.
U-shape: For larger living spaces or those in need of extra seating areas, consider creating a U-shaped configuration with chaise extensions on both sides.
Symmetrical: Equal lengths on both sides create balanced harmony within your living space.
Asymmetrical: An extended chaise on one side adds variety and supports relaxation options like lounging with your legs up or extra space for cuddling pets or family members.
Optional ottoman: Need more flexibility? Add an ottoman that can easily convert your sofa into a cozy lounge area, or provide additional seating or surface elements.
Considering all these layout options allowed me to choose the perfect fit for my living area while ensuring enough room remains for free movement and other furnishings.
Fabric Options and Personalization
When it comes to upholstery fabrics, the Medley Blumen Sofa does not disappoint with its extensive range of tantalizing choices available.
I was delighted (and slightly overwhelmed) by the over 60 fabric options, making it easier than ever to align my sofa choice with my existing décor. Here's a taste of the fabric categories you can select from:
100% Polyester: Easy to clean and maintain fabrics that offer a pleasant balance between softness and durability.
Poly & Acrylic Blends: A broad array of textures, colors, and patterns for those who'd like a touch of customization beyond the standard polyester options.
Cotton & Linen Blends: Natural fibers that boast breathable and eco-friendly qualities while providing comfort.
Velvet: For a touch of luxury in your living space, choose from this selection of rich velvet hues.
Each fabric is rated based on characteristics such as wearability, stain resistance, seam strength, pilling resistance, and colorfastness to light - ensuring that you make an informed decision on your investment.
Pro tip: You can order free swatches from the website before deciding which fabric speaks to your heart!
On top of these endless fabric options_,_ Medley allows you to further personalize your Blumen Sofa through details such as leg finishes (wooden or metal) and cushion fills (Poly Foam or Spring Down). Mix and match these elements to create a timeless piece catered specifically to your stylistic preferences.
This customization journey has ultimately led me to design a Medley Blumen Sofa that meets all my expectations in terms of configuration, aesthetics, and overall comfort—making it the perfect centerpiece for my living space!
Comfort Factor of the Medley Blumen Sofa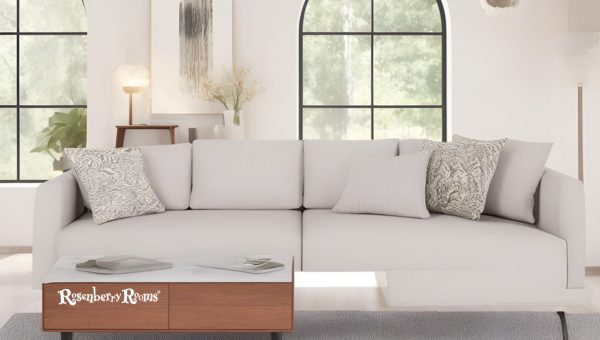 As an avid lounger and relaxation enthusiast, I cannot emphasize enough how important comfort is when choosing a sofa. If you're going to invest in a piece of furniture that you'll spend countless hours on, it has to meet standards in both style and comfort.
Lucky for us, the Medley Blumen Sofa excels in this department. Let's dive into the details of its comfortable features.
Seat Cushions and Support System
What truly sets the Medley Blumen Sofa apart from its competitors is the unparalleled comfort provided by its seat cushions. Constructed with high-density foam, these seats offer a perfect balance between softness and firmness, ensuring that your body gets the support it deserves while still feeling cozy enough for those Netflix binges or afternoon naps.
Moreover, the cushions are wrapped in a layer of plush poly fiber, giving them a luxurious feel that immediately elevates the lounging experience. Many users have raved about how comfortable these cushions are, with some even comparing them to sleeping on a cloud!
Now let's talk about the support system: the sofa frame boasts kiln-dried hardwood construction paired with durable sinuous springs that prevent sagging over time. This ensures not only added longevity for your investment but also maintained comfort throughout years of use.
Backrests, Pillows, and Lounging Comfort
When it comes to backrests and pillows on the Medley Blumen Sofa, rest assured - there are no shortcuts on quality or design here! The sofa features sturdy-yet-comfortable backrests that provide just the right amount of support for your back and neck while still allowing you to sink in blissfully.
For added cushioning (and an additional touch of style), the Medley Blumen Sofa comes with plush throw pillows included in your choice of fabric! There's something about sinking back into a sofa adorned with cushions that just elevates the entire experience of relaxation.
And speaking of lounging comfort, let's discuss some of the configuration options available for this piece. You can choose from a variety of sizes and configurations to suit your specific needs. The Medley Blumen Sofa is sold as a standalone piece or as part of a larger sectional, offering versatility to fit seamlessly into any living space.
For those seeking extra lounging space, I would highly recommend considering the chaise option! Nothing beats kicking back your feet and stretching out on a roomy chaise after a long day at work or an intense workout session. Trust me - your (and your guests) comfort levels will be taken to new heights.
The Medley Blumen Sofa offers an exceptional level of comfort in addition to being stylish and customizable. Its unmatched seat cushions, support system, backrests, and lounging features make it an appealing choice for anyone in search of the perfect sofa for their home.
While there are many factors to consider when purchasing furniture, rest easy knowing that you'll be reveling in supreme comfort with this stand-out piece from Medley.
Durability of the Medley Blumen Sectional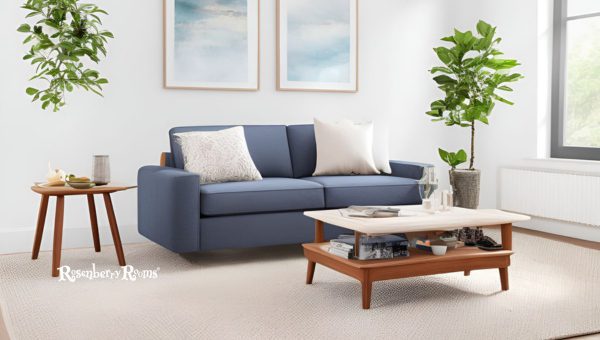 One of the primary concerns when investing in a sectional sofa is its durability. After all, it should be able to withstand daily wear and tear comfortably while still maintaining its quality and appearance.
With the Medley Blumen Sofa, you won't have to worry about this aspect. Let's take a look at what makes this sofa so durable.
Frame Construction and Stability
The foundation of any great sofa starts with its frame, and the Medley Blumen Sectional does not disappoint in that aspect. The sofa's frame is built with solid wood and is reinforced with corner blocking, providing exceptional stability while ensuring its longevity.
Moreover, the company utilizes a system of sinuous steel springs placed under the cushions to distribute weight evenly and offer optimum support. This also means less creakiness and noise when sitting or lying on it.
If that isn't enough to convince you, Medley offers a lifetime guarantee on their frames! They clearly prioritize quality construction and are confident in their product persisting through years of usage without any issues.
Upholstery Longevity and Maintenance
Another crucial aspect contributing to a sofa's endurance is the quality of its upholstery. With numerous fabrics available for your Medley Blumen Sofa, each option has been curated for not only comfort but also durability.
Many offer stain-resistant properties and are designed for high-traffic usage without compromising on softness or appearance.
To give you an idea, here's a list of some popular fabric choices:
Eclipse: A soft chenille-like fabric with built-in stain resistance
Cabana: Composed of solution-dyed polyester, known for high colorfastness even during prolonged sun exposure
Vintage: A 100% cotton fabric offering the incredible softness
But don't worry if these options don't seem right for your space; there are plenty more to choose from on Medley's website. You can even order free fabric swatches/sample fabrics to make sure you find the perfect match for your home.
Maintaining the upholstery of your Medley Blumen Sofa is relatively simple as well. Each fabric type comes with its specific care instructions, so ensure to give that a read before attempting any cleaning. In most cases, weekly vacuuming and spot treatment for minor spills and stains with mild detergent and water will suffice.
Pro tip: Consider investing in a slipcover to prolong the life of your sofa's fabric and make cleaning even more convenient.
The Medley Blumen Sofa is designed with high-quality foam that doesn't deflate or lose shape over time. Wrapped in dacron fiber, these cushions provide excellent support while maintaining their plushness.
With good care and maintenance practices, this elegant sectional will undoubtedly withstand the test of time while continuing to serve as a beautiful centerpiece for your living space.
Design Aesthetic of the Medley Blumen Sofa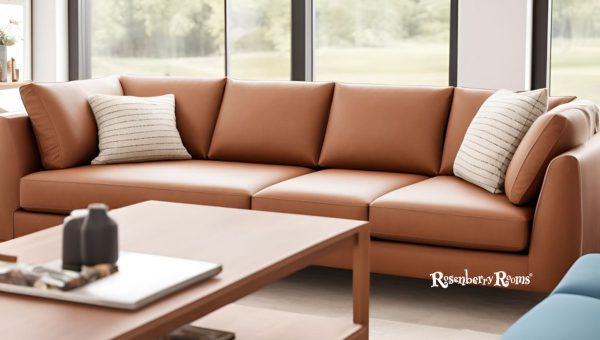 When coming across a furniture piece as stunning as the Medley Blumen Sofa, one can't help but appreciate the level of craftsmanship and attention to detail that has gone into creating its captivating design.
Let's dive deep into the aesthetic appeal of this sofa and discover how it fits effortlessly into various home styles.
How It Fits in Various Home Styles
The elegant and modern profile of the Medley Blumen Sofa makes it easy for me to switch up my interior decor, knowing that my centerpiece will still complement its surroundings with ease. Its versatility never ceases to amaze me, as it graciously adapts to numerous design aesthetics:
Minimalist: With its clean lines and understated features, the sofa seamlessly fits into any minimalist space without overpowering or distracting from other elements.
Industrial: The sturdy wooden frame provides an organic touch that contrasts well with common industrial textures such as concrete and metal.
Mid-Century Modern: Inspired by 1950s design principles, the Medley Blumen Sofa channels classic mid-century modern vibes while adding an updated twist through customizable fabric options and sleek lines.
Scandinavian: Characterized by simplicity, functionality, and minimal ornamentation - Scandinavian designs welcome the airy feel and modest yet stylish profile of this sofa.
With these diverse styles in mind, I believe that it works cohesively with multiple décors while also featuring enough individuality to stand out on its own.
Upgrading Your Space with a Focal Point Piece
The Medley Blumen Sofa is designed in such a way that it becomes an eye-catching focal point within any living space.
In my experience, just bringing this beauty home immediately uplifted the look and feel of my existing setup. Here are some simple tips for utilizing this exceptional piece to upgrade your home interior design:
Make It Center Stage: If possible, position the sofa to be the first thing seen upon entering the room. This helps in creating an instant statement and sets a welcoming tone for your space.
Embrace Contrast: Choosing a sofa fabric that contrasts with your room's dominant color palette can highlight its refined elegance while adding visual interest.
Accessorize Thoughtfully: Enhance the look of your Medley Blumen Sofa by selecting a few well-curated cushions, throws, or artwork that complements its design without overshadowing it.
Balance Proportions: To create visual harmony, consider the size of your space and how you can best balance your furnishings. For example, pairing this sectional with other appropriately-scaled furniture pieces like coffee tables or side chairs will support its presence in the room.
Cohesive Lighting: Lighting plays a crucial role in setting the mood for your living area. By incorporating floor lamps, table lamps, or overhead lighting that work cohesively with the overall design aesthetic - you make sure your Medley Blumen Sofa looks its best at all times.
The Medley Blumen Sofa is undeniably a remarkable addition to any home – offering exceptional versatility and an unmatched design aesthetic.
No matter which home style you prefer or what current look graces your living space – I assure you that this stunning piece will only elevate and enhance the entire experience for years to come!
Add-on Accessories for a Cohesive Look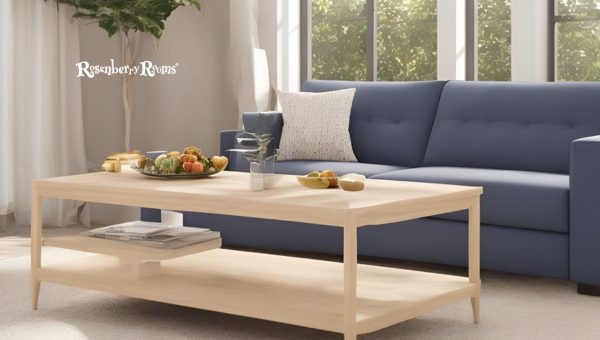 One of the many reasons why I adore the Medley Blumen Sofa is how it not only serves as a standalone masterpiece but can also be combined with other pieces from the collection to create that perfect, harmonious space.
After all, styling your living room is like creating a symphony – bringing together different elements to work seamlessly in sync.
Picking Additional Pieces from the Collection
When considering add-on accessories, remember that the Medley Blumen Sofa is already a focal point piece. To maintain balance and cohesion in your living area, you'll want to select complementary items and accents that bring out its inherent beauty.
Ottoman: Medley offers a matching ottoman, which can be an excellent addition to your sofa setup. Not only does it provide additional seating or act as a footrest, it also doubles as extra storage for those cozy blankets or board games! The ottoman's design perfectly mirrors the sofa's aesthetic for a consistent look, available in both fabric and color options.
Accent Chairs: Incorporating accent chairs may be just what your room needs to tie everything together. When choosing chairs, opt for those that complement your Medley Blumen Sofa without overpowering its visual presence. Check out Medley's selection of accent chairs - there's likely something to suit your taste.
Coffee and Side Tables: For an ultimate functional setup, coffee tables and side tables are essential additions. I suggest going for designs with clean lines and minimalist appeal so that they blend smoothly with your Blumen sectional.
Throw Pillows: An easy way to elevate the style factor further is by adding some creative throw pillows! Make sure they resonate color scheme-wise with the upholstery fabrics you have chosen for your Blumen sofa.
Achieving Balance with Your Updated Sofa Space
Creating an inviting atmosphere using your Medley Blumen Sofa as the centerpiece is a balance of art and pragmatism – mixing complementary colors, textures, and elements.
Color Scheme: To master the use of color in your space, choose a color palette that makes you feel at home. You could either opt for a monochromatic look or play with contrasting shades for added depth.
Spacing: When adding accessories to your living room, keep in mind the overall layout and spacing. Plan ahead by measuring your space and visualizing the arrangements. Take note that adequate room should be left between pieces of furniture to ensure easy circulation and cozy lounging.
Lighting: Another important aspect of achieving balance is lighting. Consider adding ambient lights or floor lamps to create a warm and welcoming ambiance while also making sure they blend in effortlessly with your Medley Blumen Sofa design.
Artwork and Décor: Finally, add the finishing touches to uplift your décor by incorporating wall art that complements the charm of your sofa - it's like providing a beautiful backdrop! Choose from paintings, prints, or even gallery-style arrangements containing multiple frames.
Let's face it: acquiring the Medley Blumen Sofa is only half the battle won. The true victory lies in masterfully arranging and accessorizing your space for an absolutely riveting result.
As I have realized through my own experience, investing some thought into selecting accompanying furniture pieces and paying heed to balance can make all the difference in how you enjoy your beautiful new sofa. After all, home is where our story begins - so why not make it inspiring?
FAQs About Medley Blumen Sofa Review
What is the price range for the Medley Blumen Sofa?
Depending on your desired customization options and add-ons, the Medley Blumen Sofa's price range may vary. It's recommended to visit their website or contact their customer service for accurate quotes based on your preferences.
Where can I buy the Medley Blumen Sofa?
You can purchase the Medley Blumen Sofa through their official website or authorized retailers. Be sure to check if they offer shipping to your location and any additional taxes or fees that may apply.
Is the Medley Blumen Sofa easy to assemble?
Yes, the Medley Blumen Sofa comes with clear assembly instructions and typically takes minimal time and effort to set up. You can also contact their customer service for additional support in case of any issues during assembly.
How do I clean and maintain my Medley Blumen Sofa?
Regular maintenance is essential for keeping your sofa in top shape. Vacuuming, spot cleaning with a mild solvent, or using a professional upholstery cleaning service (depending on fabric type) should be sufficient for most situations. Make sure always to check the manufacturer's care instructions included with your sofa purchase.
What is the warranty coverage on a Medley Blumen Sofa?
The warranty coverage may vary depending on your chosen configuration and materials but generally includes protection against defects in material or workmanship. It's important to review specific details related to warranty information provided by the manufacturer upon purchasing your Medley Blumen Sofa.
Conclusion
The Medley Blumen Sofa has exceeded all expectations when it comes to design, comfort, and durability. With the customization options available, you can create a sectional sofa that harmoniously fits into your space and aligns with your personal style.
It's worth a closer look if you're on the hunt for a furniture piece that not only enhances your home's aesthetic but also provides long-lasting quality and coziness for you and your family to enjoy.
As someone who personally took the plunge with this exquisite piece of furniture, I cannot recommend it highly enough. So go ahead – give yourself permission to invest in the best for your home.
The Medley Blumen Sofa absolutely lives up to its hype, providing everything you need in an elegant yet functional piece around which your living space will thrive.
Cherish every moment spent lounging atop this stylish new addition; from my experience, it's going to be love at first sight!