Do you know that special joy envelops you when you enter a delightfully designed home, where each nook and corner tells a story?
That's precisely how I feel every time I walk into my kitchen. It's not just the heart of my home; it's also where my passion for farmhouse kitchen decor comes alive.
Farmhouse kitchen decor is not just about fashioning a space with vintage elements, it also appeals to the nostalgia for simpler times while providing all the functionality of a modern kitchen.
There's an unrivaled charm in innovatively using traditional design aspects to create warm, inviting spaces brimming with character and personality.
Trust me; nothing compares to sipping freshly brewed coffee in such an atmosphere.
How to choose the best Farmhouse Kitchen Decor
Selecting the right farmhouse kitchen decor can transform your ordinary kitchen into a cozy and charming heart of your home. Here are some handy tips to help you choose:
Define Your Style: Farmhouse style varies from classic to chic and rustic. In this case, deciding which farmhouse decor style suits you best is crucial.
Choose Authentic Materials: Utilize authentic materials like wood for furniture, metal for accents, and vintage accessories to enhance the charm.
Color Palette: Lean towards neutral colors like whites, grays, and beiges or warm hues like browns.
Open Shelving: One classic feature of a farmhouse kitchen is open shelving. Don't be afraid to use shelves to display dishes or decor items.
Vintage Appliances: Retro-inspired appliances bring back a nostalgic feel in your kitchen.
Wooden Furniture: Including wooden farmhouse tables or islands can add warmth and substance to your space.
Accessorize: Using vintage accessories such as mason jars, antique cookbooks, or framed botanical prints can add that final touch that makes your kitchen come alive.
Mix & Match: Combining different styles can make your farmhouse kitchen unique, just like you!
55 Beautiful farmhouse Kitchen Decor Ideas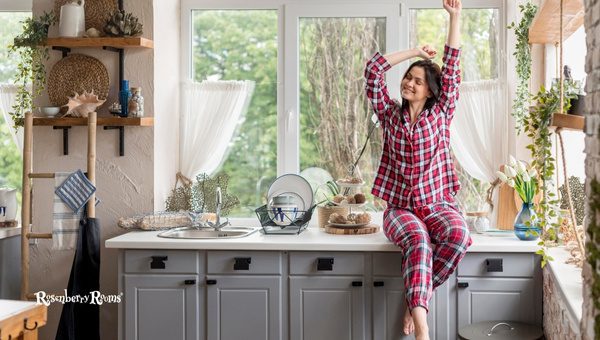 While there are endless choices for farmhouse kitchen decors, let's delve into some delightful options that can transform your cooking space into a rustic haven.
1. Chalkboard Pantry Door, Hanging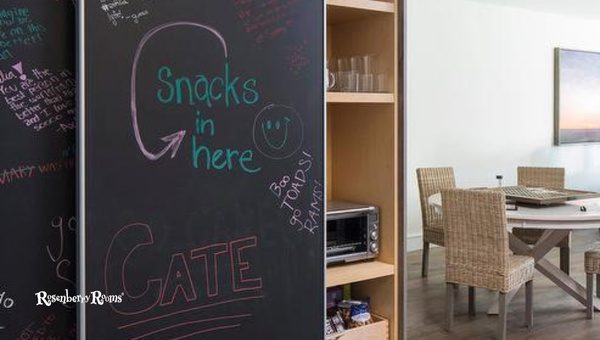 The Chalkboard Pantry Door is on the lead of the farmhouse kitchen decor. This throwback decorative piece combines convenience and chic style into one package.
You can quickly jot down your shopping list, daily chores, or cute messages. Moreover, it's an excellent way to recycle, as you can convert an old door into this fascinating piece of art.
Usually painted in bold black to serve its purpose and stand out, surrounded by a wooden frame that highlights its elegance. It's undoubtedly a catchy and practical aspect of the farmhouse kitchen decor.
2. Mini-Mason Jar Vase Trio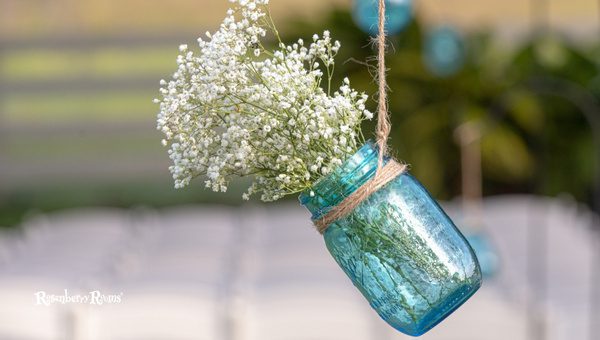 The Mini-Mason Jar Vase Trio is another gorgeous way to incorporate farmhouse allure into your kitchen. Vintage mason jars filled with captivating flower arrangements not only add beauty but also bring in a fresh aura to your space.
The minimalistic design, coupled with the rustic look of these jars, lends an air of simplicity and charm characteristic of a farmhouse kitchen.
Plus, it's flexible. Swap between vibrant flowers or easy greenery depending on the season or mood!
3. Picket Window Shutters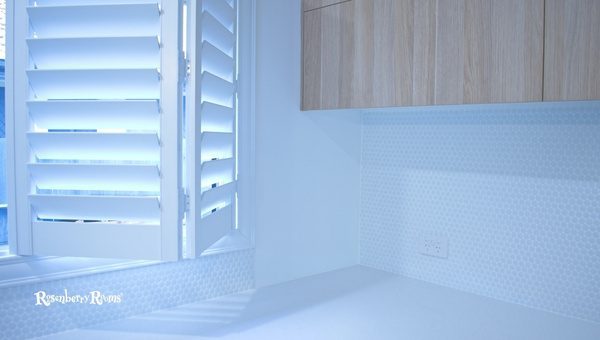 Picket Window Shutters This shutter immediately elevates the aesthetics of any room they're installed in - particularly the kitchen. They offer an old-world charm mixed with functionality as they filter sunlight ideally while ensuring privacy at its best.
These shutters are mostly aged or painted white to bring about that countryside sophistication we all love in a farmhouse setup.
Whether a chalkboard pantry door hanging on one side, mason jar vases spreading freshness across countertops, or picket window shutters providing quaint seclusion, each element contributes to the farmhouse-like tranquility that we crave amidst our modern living.
4. Coffee Can Herb Garden
Creating a Coffee Can Herb Garden proves to be a magical experience for those who love coffee. This ingenious farmhouse kitchen decor doubles as a source of fresh herbs at your fingertips.
Simply take empty (and cleaned) coffee cans, pierce some drainage holes at the bottom, add potting soil, and plant your favorite herbs.
This set-up is functional and aesthetically pleasing - it gives old coffee cans a new lease on life while adding greenery to your kitchen.
5. Milk Pail Pendant Lamp
The quirky charm of a Milk Pail Pendant Lamp instantly adds character to your farmhouse kitchen style. Using an old milk pail as the base and hanging it from the ceiling, fit an attractive bulb fixture inside, and voila!
You have yourself an unconventional, rustic pendant lamp that radiates warmth while casting intriguing speckled shadows around the room. The juxtaposition of light with aged metal brings charm in droves.
6. Shabby Chic Kitchen Décor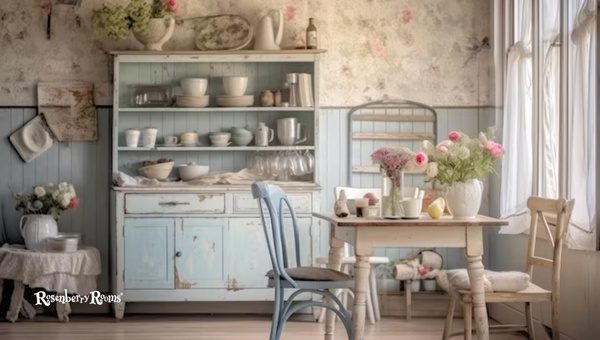 Shabby Chic is where the country cottage meets French-style elegance. The idea is to combine muted color tones with distressed furniture or textures that exude old-world charm yet comfortable coziness.
Old wooden tables, whitewashed wooden panels, throw pillows in faded floral prints, and vintage crockery are quintessential Shabby Chic accents ruling our hearts.
7. DIY Cupboard Makeover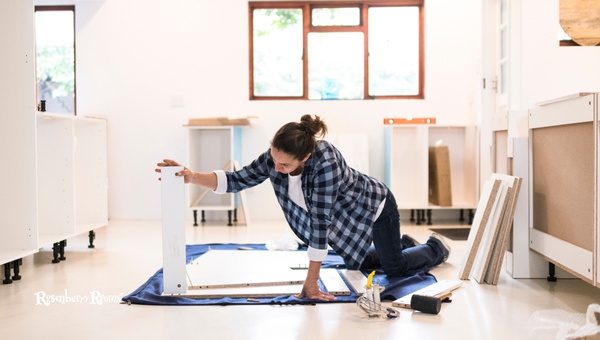 For hands-on decorators like me, love lies in DIYing too! A DIY Cupboard Makeover can breathe a fresh lease of life into your space without burning holes in your pocket.
Sand down an old cupboard, freshen it with neutral-tone paint like white or cream, or try a two-tone look if you feel adventurous. Replace metal fixtures with brass or porcelain ones for that lovely countryside feel.
8. Rustic Cutting Board, Sheep Print
This adorable touch ties up the grandeur! A Rustic Cutting Board featuring Sheep print hung on the wall or leaned against the backsplash catches eyes and hearts alike.
The simple yet delightful depiction of country life on raw-looking wood effortlessly injects the rural sense we adore about farmhouse kitchen decors - its simplicity at its best!
These choices highlight how unique materials can lead to unique creations echoing nostalgically soothing vibes as required from farmhouse kitchen decors.
9. Dutch Door to Kitchen Garden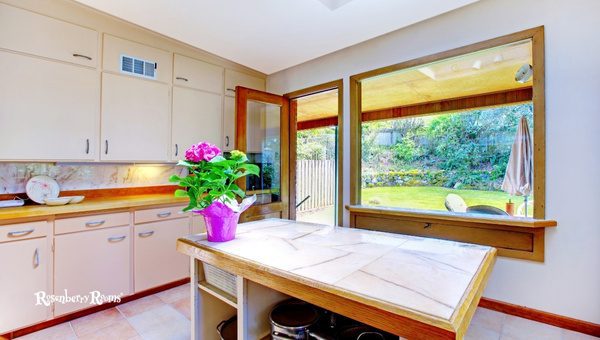 A Dutch door is a charming and functional centerpiece, bridging the gap between the kitchen and garden.
Traditionally split horizontally in the middle, the top half can be thrown open to let in fresh air. At the same time, the bottom remains shut - an idyllic setting that aligns well with farmhouse aesthetics.
With farm-like glimpses of your quaint kitchen garden through an open top-half portal, you'll improve ventilation and beautifully fuse indoor and natural elements. Incorporating these doors into your layout helps echo the traditional roots of your theme!
10. Rustic Farmhouse Wooden Shelf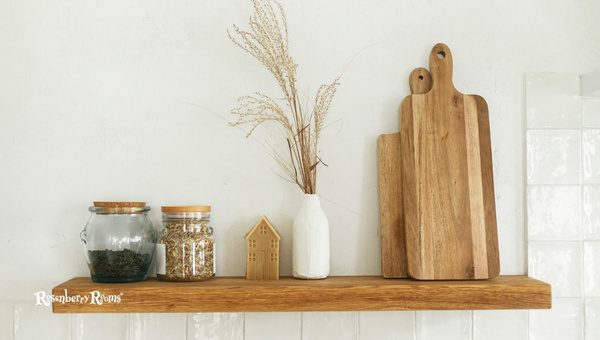 There's something immensely heartwarming about rustic wooden shelves. These visually appealing utility items are a must-have feature in any farmhouse kitchen.
Built ash gray or deep oak with a distressed finish, they can significantly uplift any wall space you affix them onto.
The vintage-looking rough-edged wooden structures bestow an earthen aura upon your kitchen when adorned with antique utensils, jars of pickles, dishes, or family photographs.
For DIY enthusiasts, getting hands-on with this project is rewarding! But if construction isn't your forte, several beautiful options are available online too!
11. Vintage Cheese Grater Organizer
Indeed an unexpected yet captivating element to include in your farmhouse kitchen decor is a vintage cheese grater organizer. Utilitarian yet artful attachments they are!
This decor piece infuses subtle, alluring finesse into your farmhouse aesthetic by elevating the ordinariness of cooking tools into decorative displays.
Whether hung on walls or placed on countertops, they stylishly stash small miscellaneous items like notes or keys, besides obviously functioning as standalone conversation starters!
12. Wooden Circles Pumpkin Vignette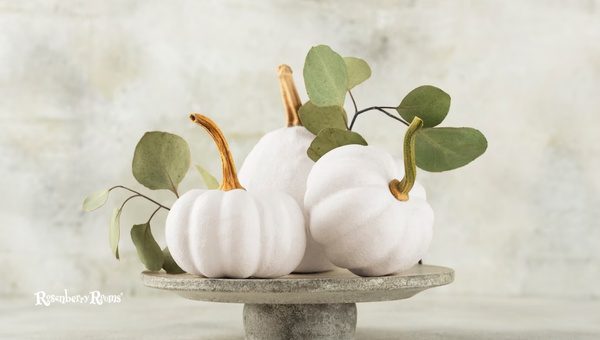 Farmhouse decor harmonizes well with seasonal variations. Thus, you can change certain decor elements with seasons to keep things fresh.
A beautiful fall addition favoring this approach is – A wooden circle pumpkin vignette!
Crafted using circular woodcuts and painted in warm pumpkin shades, it can become a fascinating autumn decoration on windowsills or tables. With pumpkins signifying harvest time, they suit the rural theme very well.
13. Hanging Pharmacy Clock
A timeless piece hanging pharmacy clock offers vintage sophistication while reflecting the historical nuances of rural life. Its innovative and elegant design immediately enhances any dull area into one full of life.
Imagine being able to tell time from a distance amidst enticing aromas engulfing from pots on stoves while prepping for meals! Trust me, sealing such visuals within such clocks is worth it.
In essence, every selected feature has roles cut out for themselves–unique & irreplaceable ones at that very subtly yet magically turn our simple spaces into cute corner heavens evoking nostalgic country-life memories at sight itself.
14. Clamp Lid Canning Jars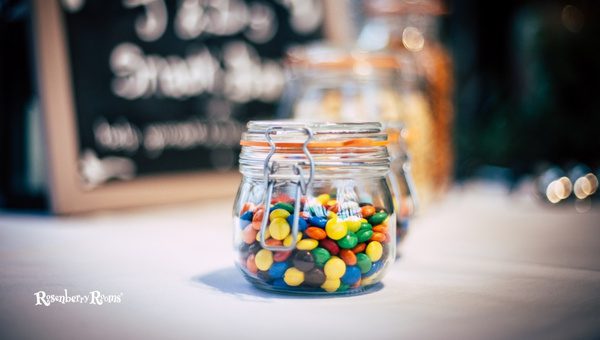 Think about it. What's the point in making those delectable jams and pickles if we can't store them properly?
That's precisely where Clamp Lid Canning Jars fit into our kitchen décor. Crafted skillfully with thick, clear glass and featuring a wire bail (clamp) and rubber gasket, these jars are perfect for aesthetically preserving various foods.
The bulkiness of the jar, coupled with its utilitarian charm, truly fits into the country-style essence we adore so much.
What's more, when not used for canning or storage, these jars can be creatively used as simple yet appealing vases or centerpiece fillers!
15. Farm Animals Metal Sign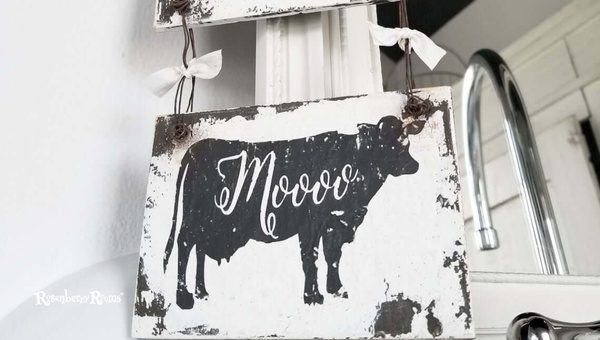 A Farm Animals Metal Sign is an authentic rural-themed decor element that enriches your kitchen space with a heartwarming sense of nostalgia. These signs often feature farm animals - cows, pigs, chickens - individually or as a collection.
Crafted with care from metal (often tin), these signs bear rustic artwork coupled often with catchy phrases like "Fresh eggs served daily" or "Milk straight from the cow."
When cleverly placed on walls or entryways, they make tasteful additions, filling any room immediately with irresistible farmhouse charm.
16. DIY Candle Holders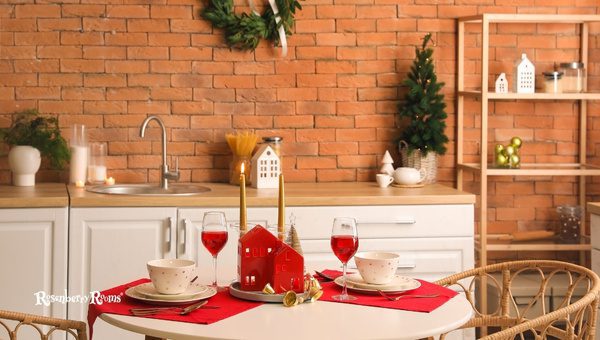 DIY projects have always been intimate ways to add personal touches to spaces. This is especially true when crafting Candle Holders.
Traditional candles are essential in farmhouse decors; their warm light brings a serene aura that is hard to resist.
There's no one specific way to create candle holders; little pots or chunky blocks of old wood can quickly turn into quaint holders once we insert small alcoves into them for candles – creativity is your limit here, folks!
17. Vintage Desk Island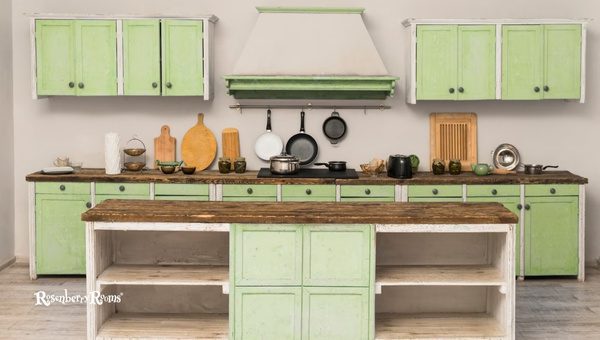 Now let us discuss functional furniture pieces - notably the Vintage Desk Island. It's an ingenious decor idea where an old desk dons two hats – one for storage and another for dining space.
The charm lies in how, with mere essential modifications & enhancements, our innocuous-looking desk transforms itself into a cute yet practical kitchen island aiding heavily in chopping veggies & occasionally turning into a kid's snacking corner.
The worn-out look repeats beautifully around your home, adding extra countryside-style depth.
18. Hand-Lettered Country Store Labels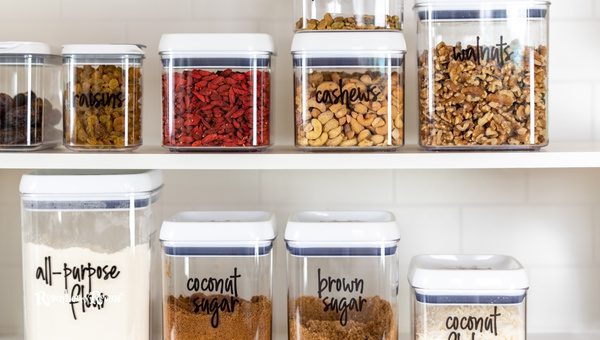 Bringing simplicity & organization while ensuring our farmhouse aesthetics are intact is what our hand-lettered country store labels promise us all every time!
They're visually appealing tools used primarily to categorize and designate spots within the home, neatly making elements like bins, baskets, and mason jars easy to locate even from far distances!
The meticulous lettering on labels delivers vintage vibes akin to local markets remaining fondly etched deep down in our memories since childhood at sight only!
19. Plantation's Bounty Shelves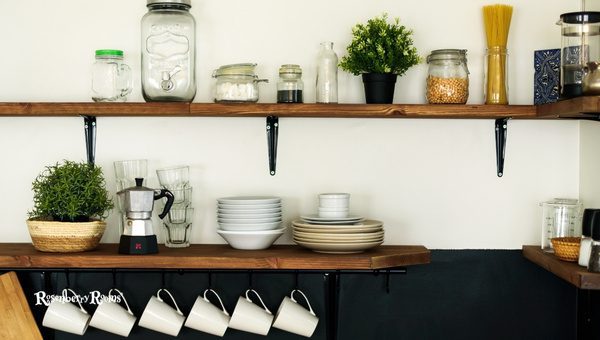 An indispensable part of any farmhouse kitchen is the Plantation's Bounty Shelves. This decor feature truly embodies the spirit of farm life.
Reminiscent of abundant farm produce, these shelves help highlight kitchen bounty - whether it's your collection of spices, picturesque Mason jars filled with homemade jams, or fresh-picked fruits.
These shelves often come in rustic wood, invoking an old-world charm that complements your kitchen aesthetics.
To add a punch of character, you can paint these shelves in earthy hues or let the natural grain shine through for that authentic feel. With varying sizes and designs available, there's always a perfect fit for any space!
20. Rustic Paper Towel Roll Coop
A paper towel holder might seem like an underestimated utility item, but when designed thoughtfully, it can become a charming accent piece - like the Rustic Paper Towel Roll Coop.
Encased within a distressed wireframe (similar to chicken coops), this unique holder gives your towel rolls an exciting home.
This fun feature adds functionality and serves as a surprising conversation starter while seamlessly portraying the rustic appeal in its every metal curve and bend.
21. Greenery, Flowers Bring Life
Farmhouses are known for their close connection to nature. And what better way to bring nature into your life than adding lush greenery and vibrant flowers to your kitchen decor?
Plants tucked into corners or lined up on window sills purify indoor air and significantly uplift moods. And trust me, flowers effortlessly enhance visual aesthetics, whether neatly arranged in vases or maintained as potted indoor blooms.
So why wait? Cultivate some house plants or restock fresh flowers periodically to add that splash of color and life into your everyday routines.
22. Farmers Market Window Sign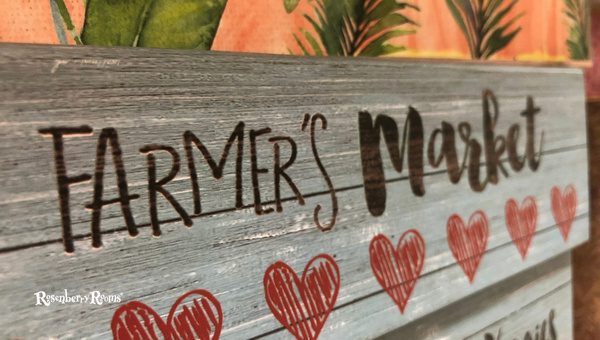 Nothing evokes nostalgia quite like the Farmers Market Window Sign. Prominently displaying this sign near windows or above kitchen cabinets takes us back to simpler days when local shopping was delightfully social!
Available in various styles, from metal signs in beautiful script to weathered wood boards displaying artistically hand-lettered quotes, they subtly exhibit affection for earthy, wholesome produce from local farmers' markets while keeping things coolly vintage.
23. Porcelain Sink in Vintage Cabinet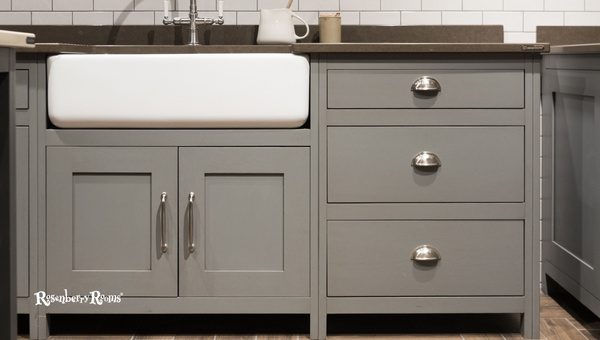 Last but not least – Porcelain Sinks nestled within Vintage Cabinets; often, they become heart-throbs! A staple from ages ago, these porcelain sinks redefine classic elegance while promising durability and convenience.
The vintage cabinet under-sink elegantly conceals plumbing fixtures and provides ample storage for cleaning supplies.
When contrasted with modern finishes, the timelessly tranquil ambiance induced through such set-ups ensures you hit a home run straight onto capturing epitomes of farmhouse fashion effortlessly.
24. Landing Zone for Knick Knacks
Incorporating a landing zone for all your knick-knacks brings an element of organization and rustic charm to the kitchen. It can be as simple as a quaint wooden tray or an antique corner table.
This specific place is where all the small yet significant items like keys, grocery lists, or your favorite coffee mug find their home. Besides decluttering, it enhances your kitchen's appeal with a neat and tidied-up appearance.
Location: Choose a spot that's easily accessible yet doesn't obstruct your work area.
Size: Decide whether you need a compact tray or a larger table depending on the quantity of your small items.
Style: Keep it consistent with the rest of the farmhouse theme - raw wood could be an ideal pick.
25. Rustic Metal Kitchen Sign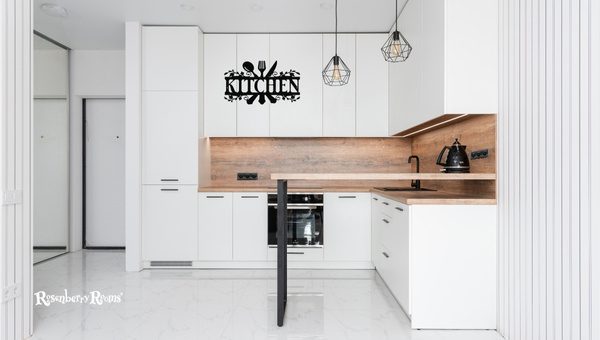 An essential farmhouse-style staple is signs that give personality and warmth to your cooking space. A suitable place to hang such a sign would likely be somewhere noticeable yet not intrusive.
It may read phrases like "Kitchen: Heart of the Home" or "Farm Fresh Produce," which perfectly captures the nostalgic essence you'd want to project in a farmhouse setting.
Materials: Use rustic metal with distressed paint or a vintage patina.
Fonts: Typically easy-to-read, warm fonts are desirable.
Colors: Opt for soft neutrals for classic looks but don't hesitate to bold colors if that aligns with your style better.
26. Thrift Store Finds, Farmhouse Beauty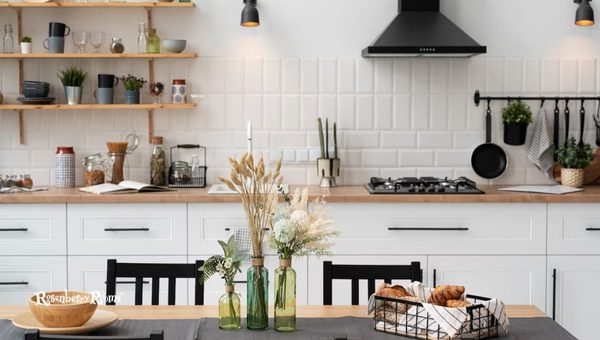 Thrift store trawling isn't just about buying second-hand goods, it's also about breathing life into old items and allowing them to grace your kitchen with characteristic charm.
Antique candlesticks, salvaged wood pieces, or vintage china can all contribute incredibly to adding layers of warmth in farmhouse-vibe kitchens.
Choosing Items: Look for unique items; every item should narrate a story.
Place of Display: Find vital focal areas in your kitchen where each piece can shine separately yet collectively bind together seamlessly.
27. Turned-Wood Vessels, Tools Collection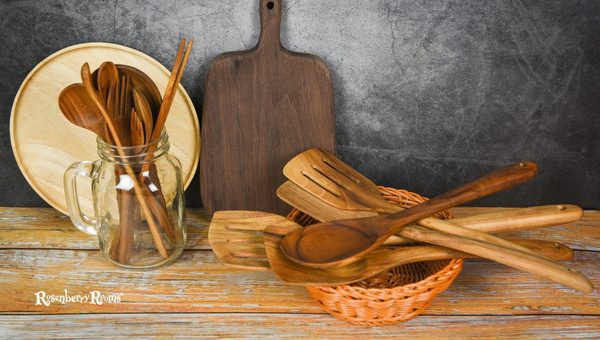 Kitchen tools can often become part of decor when placed strategically well, enhancing overall aesthetics besides serving functionality.
Putting together some shapely turned-wood vessels echoing organic flair easily fits this farm-style decor idea housing anything from cooking utensils to fresh herbs.
To gear its usage optimally, remember these steps:
Ensure edges are smooth and finished avoiding any splinter possibilities
In case storing herbs, plant them directly without using plastic liners, thus using vessels' pros smartly
Occasionally clean these containers keeping them bug-free.
28. Whitewashed Mirrors with Eucalyptus Wreath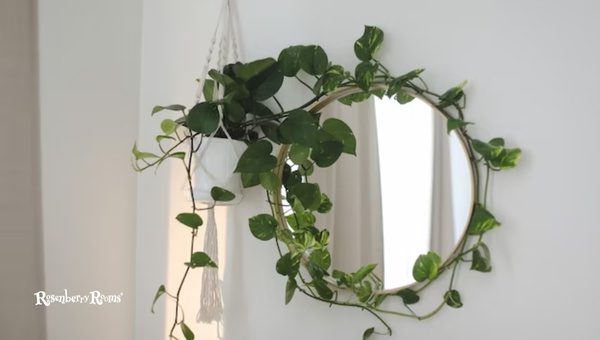 To bring light and depth into any room, whitewashed mirrors work wonders, especially when backing eucalyptus wreaths, doubling the effect of drawing natural elements within besides brightening up spaces immediately.
Face these mirrors toward windows capturing sunlight and maximizing illumination streaming within, creating warm, welcoming ambiances perfect for hearty meals!
Follow these tips, simple homemade ones:
Buy a plain mirror frame, then paint it white, lining wash effect.
And let it dry before hanging the eucalyptus wreath, preferably a real one, adding a fresh aroma around
29. Upcycled Armoire Cabinet
An Upcycled Armoire Cabinet is an exquisite example of turning something old into a stunning new piece of furniture.
A discarded armoire can be little repainted, polished, and made a central element in your farmhouse kitchen.
Besides their vintage look, these storage options are super spacious and practical. They can hold items like dishes, appliances, food items or even serve as pantry space in your kitchen.
Their antique appearance can add an aura of grandeur to your farmhouse while being eco-friendly.
Here's a step-by-step guide:
Find an old armoire you'd like to refurbish.
Remove any damaged parts.
Clean and polish the remaining elements.
For the spruced look, choose a pastel hue or white color paint.
Add rustic hardware such as cast iron handles for a more authentic look.
30. Coffee Wooden Kitchen Tray
The Coffee Wooden Kitchen Tray is a versatile piece that works brilliantly for both uses - serving and decor.
Besides being used traditionally for serving freshly brewed coffee or breakfast-in-bed stuff, it can become a wonderful centerpiece on coffee or dining tables.
Typically created from reclaimed wooden planks, these trays bear the imprints of time, which endow them with their unique character.
You could also DIY and create customized messages (like "Fresh Coffee Served Daily") through stencils & paint on these trays to liven up the atmosphere!
To upgrade the tray further, place little mason jars filled with flowers, salt-'n'-pepper shakers grouped, or votive candles arranged neatly into it. It becomes more than just a tray when styled thoughtfully, doesn't it?
31. Farmers Market Kitchen Sign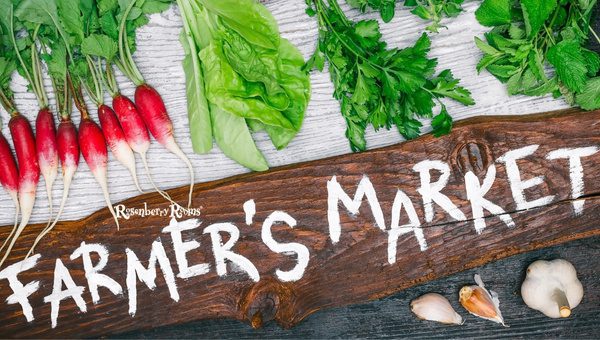 A Farmers Market Kitchen Sign pays homage to fresh produce sources: local farmers' markets. These signs bring visual pleasure by linking inside visuals with outside ones where they're usually found.
Painted on wooden planks in big, bold letters, they instantly catch attention, subtly familiarizing visitors with the nourishment journey from farms to tables before being consumed.
Such signs spark interesting conversations on sustainability besides reviving countryside memories, making them poignant additions to farmhouse kitchens.
You could purchase handcrafted ones depending upon preferred design variations online; otherwise, DIY-ing such signs at home and involving family members in this project may also ensure quality time spent together.
32. Salvaged Wood Candlesticks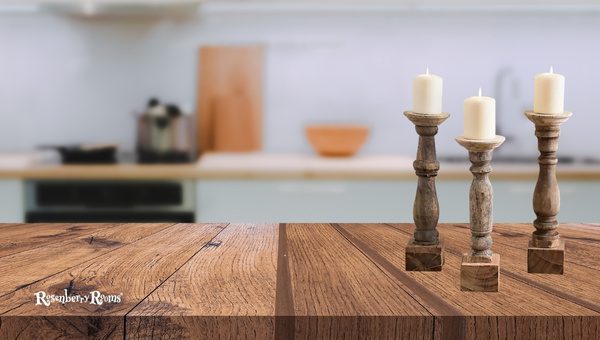 Indulge in old-world charm with Salvaged Wood Candlesticks as they create beautiful rustic vibes in spaces around kitchens (or extended dining areas).
Made from salvaged wood materials, each candlestick is unique, perfectly capturing the essence of the tree's previous life.
Pairing these vintage-looking candlesticks along counters/shelves/windowsills/islands proves enchanting, especially when lit flickering candle flames set soothing moods across settings beautifully.
Their diverse availability online makes purchasing convenient; nevertheless, setting hands (& heart) on crafting them using simple carpentry tools too isn't daunting and worth trying once at least!
33. Distressed X-Back Chairs
Certainly cannot forget sharing about the classic quartet: the supremely comfortable Distressed X-Back Chairs.
These chairs encapsulate farm origins well, reflecting lives/workshops where equipment wasn't only functional but visibly appealing too- an embodiment of practicality meets crude gracefulness.
Using the distressed chalk-paint technique over modern-day chairs gets desired looks quickly yet efficiently without logging hours behind procurements enabling you proudly say, "Yes, I did this."
This way, mixing modernity & vintage appeals subtly will allow the best of both worlds to harmonize beautifully right inside our abodes.
34. Island Makeover, Breakfast Bar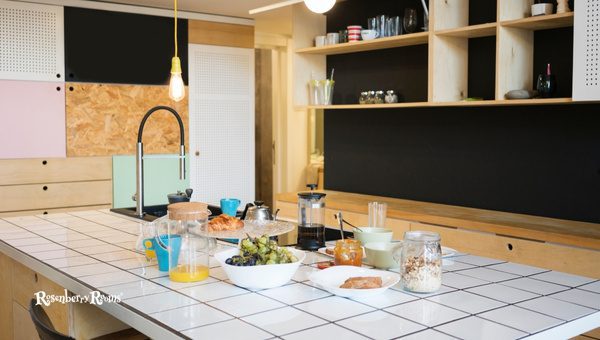 Altering your kitchen island can dramatically change the overall atmosphere of your kitchen. I made my once simple island spectacular by transforming it into a breakfast bar.
Installing a new countertop with an overhang for seating can alter your casual everyday meals into a cozy café-like feel.
Choose a stone that compliments other surfaces within the room. Upholstered stools or high chairs, perhaps in variations of grays, browns, or beiges, could add soft textures contrasting well with the hard stone countertop. A series of pendant lights above this ensemble creates ambiance and enhances the style quotient.
35. Salvaged Rake Wineglass Holder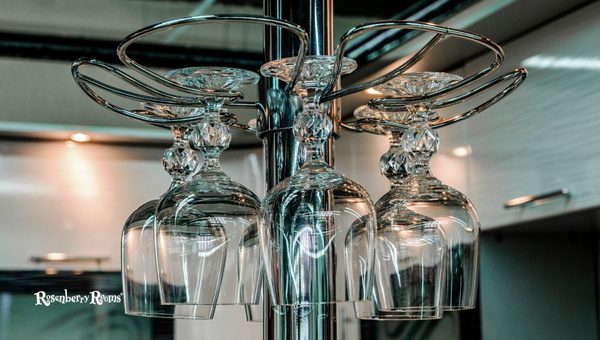 Farmhouse decor often includes incorporating recycled objects creatively. For instance, I transformed an old rusty garden rake into a rustic wineglass holder - a wonderfully unusual and quirky touch to my farmhouse kitchen décor.
Clean the rake surface well before mounting it onto the wall upside down; this allows glasses to hang from each spit with their bottom upwards.
It's a brilliant storage solution for excessively accumulating wine glasses while aesthetically aligning perfectly with farmhouse allure!
36. Gray Tiered Fruit Stand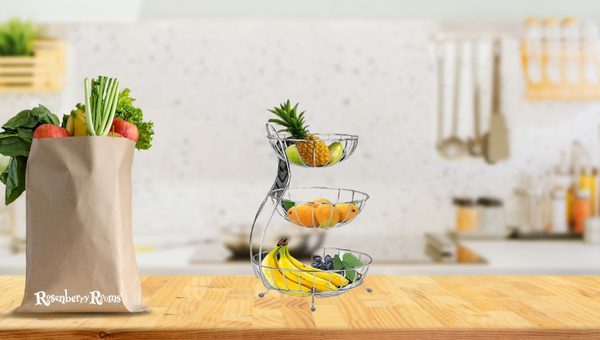 For something more traditional yet contemporary, consider using this two-tier fruit stand as the centerpiece of your farmhouse kitchen decor—the gray paint with a slightly worn-out look promotes antique charm and replicates classic tinware.
This tabletop feature is convenient too. Just pile fresh fruits neatly tier-wise, letting their vibrant colors pop against a plain gray surface, subtly generating a lively aura.
37. Blue, White Linen Cabinet Curtains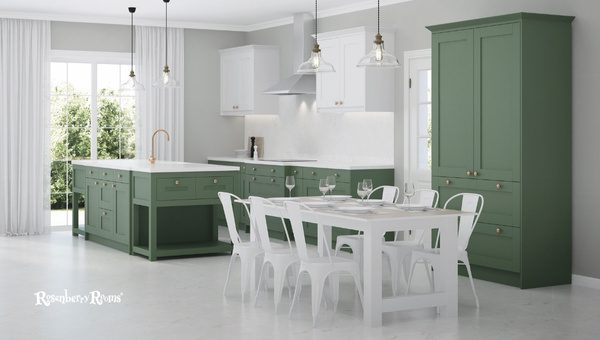 Integrating fabrics in your design aids in softening your space's harsh elements creating inviting warmth and comfort alongside practicality.
In my case, white lace curtains mounted on blue cabinets did wonders - Soft fabrics contrast sharply against solid wooden structures evoking cozy rustic charm.
Choose linens easily washed at home; adding vintage curtain rods matching these rustic cabinets will seal appeal!
38. Stovetop Cover, Noodle Board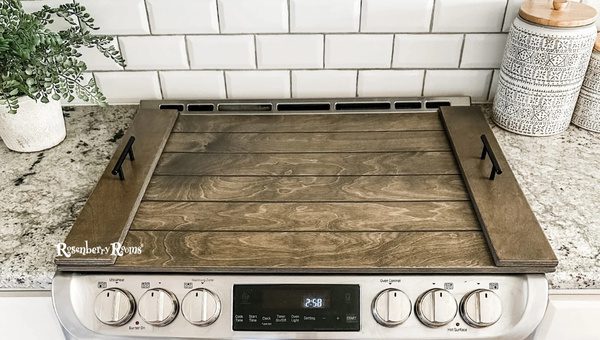 For an optimally functional kitchen space, consider smartly leveraging areas around stove tops- A noodle board turned stovetop cover does precisely this!
This helps create additional working counter space while ensuring stovetops are concealed nicely when not used.
The noodle board gives character due to its rich wood component that suits farmhouse aesthetics, feeding beautifully into making lasting visual narratives from home kitchens.
39. Baker's Hutch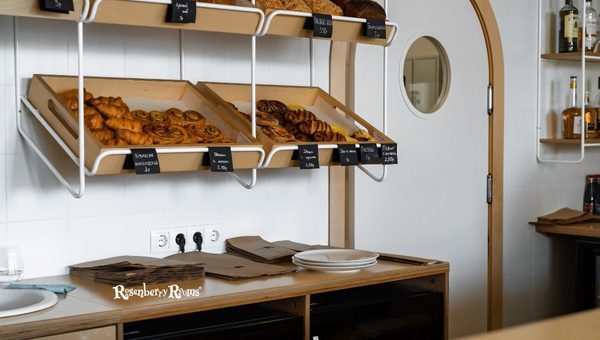 The Baker's Hutch is a star element in farmhouse kitchens. Often characterized by a tall structure with storage space underneath, this wooden furniture piece is exceptional for storing baking ingredients and accessories and even showcasing your beautiful bakeware collection. Featuring open shelving interspersed with cabinetry, it marries functionality with aesthetics.
Ideally made in medium to dark wood tones, this piece complements rustic farmhouse interiors excellently.
It's an investment that adds character to your kitchen while condensing storage needs into a single compact corner.
40. Reclaimed Wood Window Awning
The Reclaimed Wood Window Awning is a pivotal aspect of the farmhouse decor that often goes unnoticed.
This architectural element is a protective layer for your windows and a vintage design statement for exteriors.
Manufactured from reclaimed wood (often barn wood), these outdoor additions trend high for their eco-friendliness and rustic appeal.
Paired best with pastel shade sidings (like softer hues of white or cream), they effortlessly bring out the charm of simpler times.
41. Daily Break Quote Kitchen Sign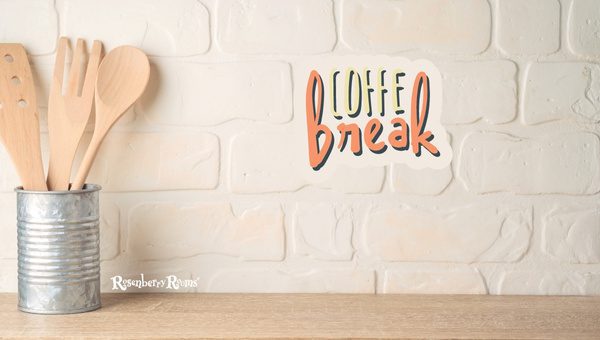 One of my favorites in the farmhouse decor wagon is the Daily Break Quote Kitchen Sign. Usually painted on distressed wooden boards and accented by quirky or handwritten stylish fonts - these signs uplift kitchen vibes instantly.
From festive food quotes to inspirational thoughts - they offer an ideal break spot within your kitchen where you can pause, read, and recharge during long cooking hours - making kitchens nurturing both bodies and minds!
42. Chicken Wire Cupboard Fronts
Farmhouse decor boasts its ability to innovate using mundane elements like a chicken wire! Yes, you heard it right - Chicken Wire Cupboard Fronts have gradually become one of the hot trending kitchen decors!
Substituting solid door fronts with chicken wire exudes an open feel across kitchens. It lets you show off charming dishware or glassware without incorporating completely open shelves.
43. Grain Bouquet & Woven Accents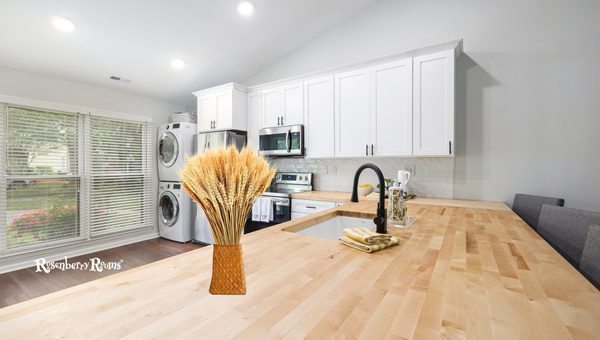 Simplicity at its warmest best is what Farmhouse decor aims at! One such understated yet sensational addition includes Grain Bouquets & Woven Accents.
Usually positioned atop kitchen tables or countertops, grain bouquets enliven interiors while reminding us of barn livelihoods closely associated with grains and hay production.
On the other hand, denser woven accents like baskets or rugs add earthy textures across rooms, hinting upon manually created articles bearing soft touches upon busy lives, offering elated experiences post-hectic city-lives.
44. Dark Wood Kitchen Island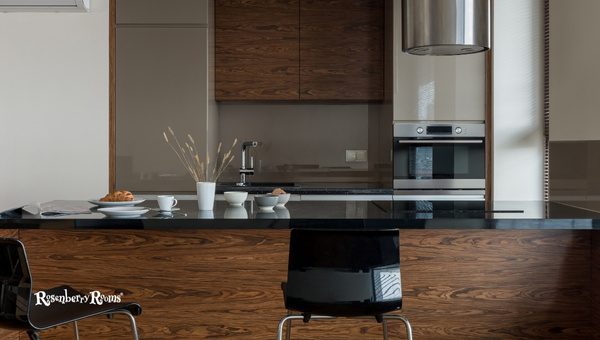 The kitchen Island serves as the hub of the kitchen, providing not just additional workspace but also acting as an instant upgrade to your décor.
Notably, a Dark Wood Kitchen Island can infuse your space with elegance and rustic charm.
This island is characterized by solid wood construction with a dark finish and has a rustic appeal. But it's more than just a visual feast.
It's convenient, too, offering ample storage - think drawers and cabinets, complemented by open shelving for an airy feel.
Decidedly traditional yet brimming with utility value – be it for prepping cookouts or pulling up bar stools for quick family meals – a dark wood kitchen island undoubtedly raises kitchen ambiance several notches up!
45. Stenciled Kitchen Towels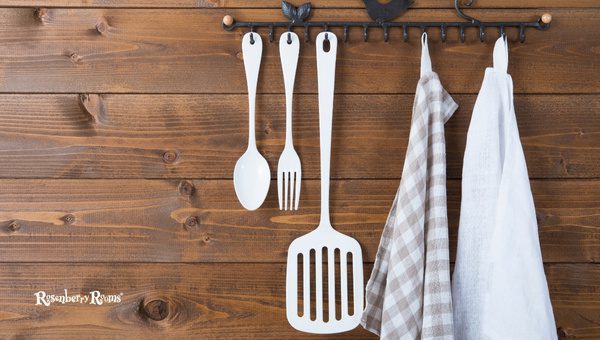 Next on our farmhouse décor itinerary are the Stenciled Kitchen Towels. Kitchen towels might seem like humble necessities rather than décor items.
But decorated with stencils of farm themes - think fruits, vegetables, or even adorable farm animals - they become art pieces!
These cute, hand-painted towels add a delightful pop of color to your farmhouse aesthetic without overpowering the overall scheme. What's best? They make unique gifts, too, for anyone who shares admiration for such quaint aesthetics!
46. Oink, Moo, Cockadoodledoo Welcome Sign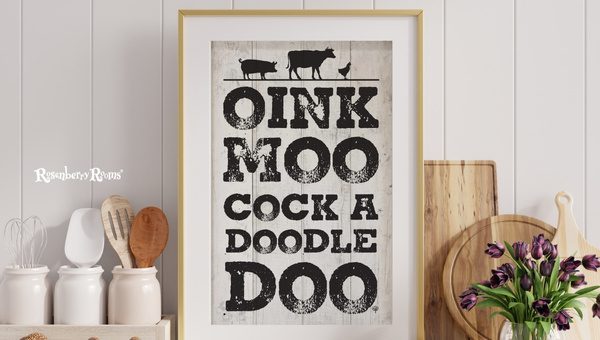 Farmhouse decor comes alive with perfect signage! And nothing quite matches the lighthearted charm of an 'Oink, Moo, Cockadoodledoo Welcome Sign.'
Crafted from wood or metal, right at your entrance door, this sign brings in comfortable glimpses of barnyard life while embracing guests.
Picturing warm welcomes conveyed via respective sounds made by hogs (oink), cows (moo), & roosters (cockadoodledoo) close to rural life is strangely inviting indeed!
47. Counter Organizer: Metal Baskets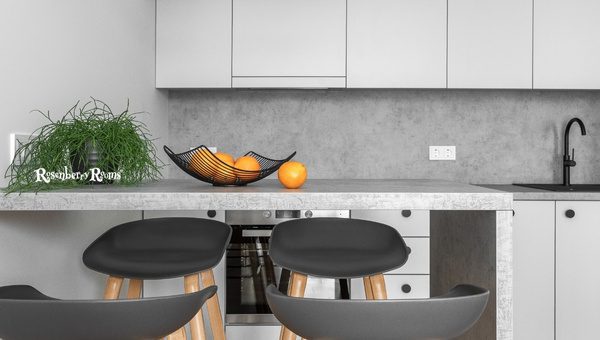 Embracing style and storage simultaneously? Yes, please! With functional organizers like Metal Baskets on counters or open shelves, you can certainly amp up the organizational aspect of kitchens without compromising decor.
These sleek yet sturdy metal baskets come in various sizes to cater to different storage needs. You can't overlook these versatile options given their vintage look and modern functionality!
48. Natural Wood Collection in Barn Basket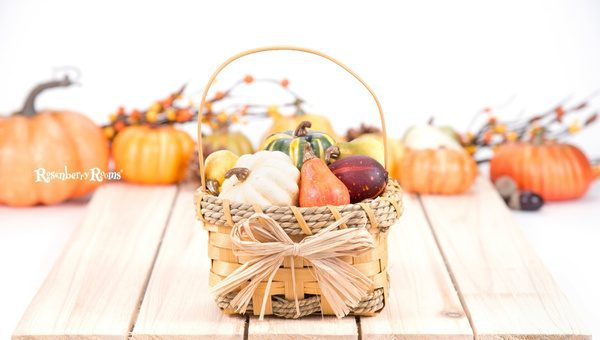 Last but not least is incorporating Natural Wood Collection huddled cozily inside Barn Baskets. This showcases wooden objects native to countryside vistas- rolling pins, mortar-pestle sets, etc., all snuggled within captivating barn baskets that create intriguing points in many corners around your farmhouse kitchen.
No matter what decor facet you select, effortless blending will always pave the way to create that stunning farmhouse look, proving everything old can be new again.
49. Farmer's Market Produce Drawers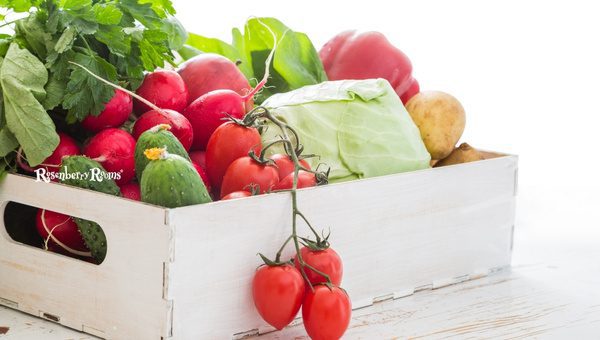 Farmer's Market Produce Drawers are a fantastic choice for farmhouse kitchen decor, enabling functionality with a vintage twist.
These biodegradable boxes are designed to replicate the kind used at farmer's markets, adding an authentic touch to your kitchen.
You can use them to store fruits and vegetables or even kitchen utensils. The rustic aesthetic and practical use make this design tip a must-have for those looking to achieve perfect farmhouse kitchen decor.
How to incorporate them:
Step 1: Measure your available space.
Step 2: Purchase the boxes that best fit the open space.
Step 3: Plan how to utilize these drawers and arrange them accordingly.
50. Kitchen Words Wall Decor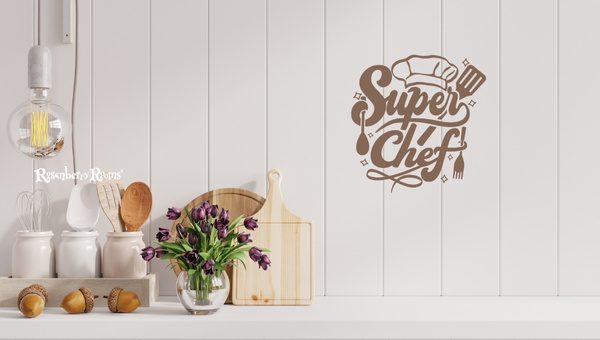 Infuse your farmhouse kitchen with inspirational quotes through Kitchen Words Wall Decor. This design technique employs bold or cursive prints of cooking-related sayings that inspire love, laughter, and good food. Moreover, it's a great way to convey your passion for culinary adventures while decorating.
How to get one:
Kitchen Words Wall Art
Choose between options such as "Eat," "Cook," "Love," or complete cooking-related sentences.
51. Basket, Greenery & Seed Packet
Unleash the beauty of nature in your kitchen by utilizing baskets of greenery with seed packets affixed to them.
These baskets are equipped with live plants that add freshness to your space while offering an authentic country feel. Accents like these bring life into the otherwise product-heavy surroundings of a kitchen.
Where can you place such baskets?
On top of counters
Hanging from ceilings
Nestled in corners
52. Gray, White & Warm Wood Accents
An amalgamation of gray, white & warm wood accents is about creating harmonizing contrasts between different elements within kitchens.
The creamy texture of white balances out dramatic grey walls/ceilings/flooring, evoking homely soothing vibes, whereas warming wooden accents provide that needed rustic charm, making it intensely enchanting.
54. Antique Produce Shelves & Wire Baskets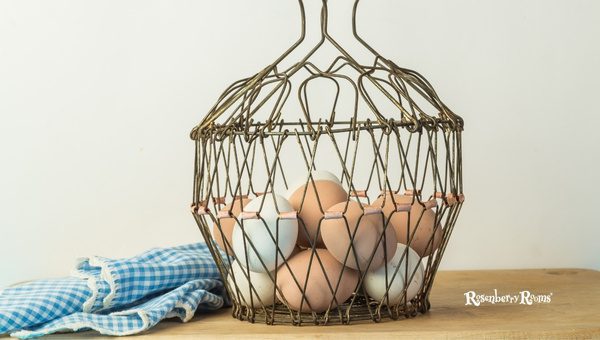 Antique produce shelves and modern wire baskets combine new styles with old, enriching farmhouse appeal extensively! While shelves deliver storage utility, wire baskets exhibit designs worth swooning over!
Locate a DIY guide or pick an Antique Produce Shelf from the e-commerce site.
Fill it up with Wire Baskets sourced from this site.
Pro Tip: Try differing basket sizes and patterns on each shelf layer.
55. Soft Silver, White & Wood Color Scheme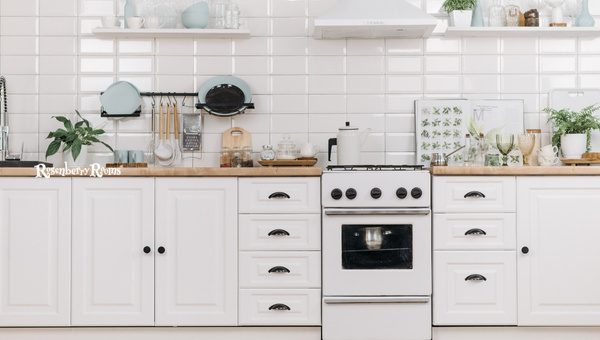 The choice of the color scheme directly governs ambient vibes generated by spaces hence getting it right is crucial.
Soft silver schemes exude understated elegance mixed with white they tastefully soften harsh silver tones yet retain overall sophistication that's elevated multifold by wooden accents bringing about charming rawness and showcasing the best synergy between varying elements.
FAQs About Farmhouse Kitchen Decor
What is the farmhouse kitchen decor?
Farmhouse kitchen decor is a design aesthetic that combines rustic country elements with modern touches to create a warm and welcoming atmosphere.
How should I begin decorating my kitchen with a farmhouse feel?
Begin by leaning towards neutral color palettes and incorporating elements like open shelving, vintage appliances, rustic tools, and wooden furniture.
Can farmhouse kitchen decor work in small kitchen space?
Absolutely! Use open shelving and light color palettes, and efficiently utilize your space with baskets or organizers to make the most of it.
Is farmhouse decor expensive?
While certain pieces can be pricey, there are plenty of ways to incorporate the style into your kitchen on a budget.
Can I mix styles in my farmhouse kitchen decor?
Absolutely! Besides traditional elements, you can infuse your individualistic touches or mix up various styles for a more contemporary appeal.
Conclusion
As we wrap up, it's exciting to realize many options exist to incorporate the farmhouse style into your kitchen decor.
Traditional elements like wooden furniture or tools, neutral color palettes, open shelving, and even vintage appliances can create a rustic yet modern feel.
At the same time, farmer's market drawers or inspirational word decors confirm farmhouse kitchen decor's charm.
The heart of every farmhouse kitchen lies in blending nostalgia with contemporary sensibilities. And trust me, there's no better joy than dwelling in a cozy and inviting atmosphere that is not only pleasing to the eye but also emanates warmth and love with a story baked into each corner of your space.