Every once in a while, the itch for home renovation strikes. When it does, it's hard to ignore the enduring charm and warm embrace of a farmhouse-themed bedroom.
With its subdued color palette and rich textures layered with retro-inspired patterns, this unique decor style crafts an ambiance that is tender and familiar, like an affectionate hug from a cherished person.
But the key to unlocking this enchanting ambiance resides in selecting the idyllic farmhouse bedding. This choice not only sets your comfort level but also lays the primary groundwork for your overall room aesthetic.
Regrettably, many find themselves daunted by this task—even those experienced in home decorating. Selecting just the perfect mix of prints and fabrics, conforming to a farm-style look, can feel like quite an undertaking.
Farmhouse bedding operates on dimensions more profound than what one first perceives. It encapsulates not just materials or patterns— but also a specific ethos of rural life.
I'm here to guide you through this journey— helping you transform your bedrooms into quaint yet sophisticated spaces that effuse both comfort and style languidly.
From selecting timeless quilt sets and charming blankets to matching them with impeccable curtain choices— welcome to your definitive farmhouse bedding guide!
How to set up Farmhouse Bedding?
Setting up farmhouse bedding is akin to mastering the perfectly curated blend of comfort, charm, and authenticity. Let's break down the steps to help you channel an idyllic countryside retreat within your bedroom walls.
Farmhouse design embodies simplicity and tranquility. Begin laying your base with sheets that exude gentle sophistication. Cool, breathable cotton, crinkly linen, or soft flannel are excellent choices depending on weather conditions. Choose solid colors or subtle stripes in neutral tones like grey, white, cream, or soft pastel shades.
An artfully placed blanket or quilt can instantly transform the feel of a room. Opt for classic quilts in muted patterns or simple checkered blankets for a warm touch.
Your pillow arrangement should be inviting and plush. Use a mix of large square European shams and smaller standard pillows with either matching shams or contrasting fabrics to add depth to your bed layout.
Do remember, personal touches go a long way in making your farmhouse bedding feel like home, pleasant for yourself, and inviting for guests.
The Foundation: Sheets
When styling a farmhouse bed, it all starts with the sheets. These are not just the foundation of your bedding but play a significant part in dictating how comfortable and inviting your bed feels.
Choosing the Right Sheet Material
Your sheet material choice significantly impacts your bed's feeling against your skin. Opt for crisp and breathable materials that promise comfort all year round. For instance:
Cotton: It's breathable, durable, soft, and moisture-absorbing.
Linen: This fabric is known for its breathability and coolness.
Flannel: Ideal for colder climates, flannel provides warmth minus the weight.
Thread Count Demystified
When picking sheets, you may come across their 'thread count.' While higher thread counts often imply better quality, anything above 300-400 will not likely offer added benefits. Instead, focus on the quality of the material rather than quantity or numbers.
Colors and Patterns
Farmhouse style embodies tranquil simplicity; opt for solid colors or subtle patterns in understated hues like greys, whites, creams, or soft pastels that evoke relaxed rural charm.
Remember—your sheet isn't just about comfort; it's also about setting a calming tone at the heart of every farmhouse bedroom design.
Comforter, Duvet Cover, and Bedspread
The beauty of a farmhouse bedroom lies in its warm and welcoming vibe. It is here that comforters, duvet covers, and bedspreads play a pivotal role.
Warmth Meets Style
A comforter is essentially a two-sided blanket filled with insulating material. Besides offering added warmth during colder seasons, they also serve as a style statement for the room. When picking a craftsmanship-filled comforter:
Opt for warm, earthy tones matching the traditional farmhouse palette.
Choose classic patterns like florals or understated plaid for an extra cozy appeal.
Select materials which offer durability and suit your climatic needs, such as down or alternative fillers.
Versatility and Elegance
Duvet covers differ from comforters; they are designed to encase and protect your duvet while adding a stylish flair to your bedding.
They offer various design possibilities, allowing you to switch colors or patterns per season or whim.
Consider designs that complement the rest of your bedding without overwhelming it.
Classic Appeal
Bedspreads harken to simpler times, making them perfect for any farmhouse bedroom.
They're usually lighter than comforters but still provide ample warmth—suitable for both summer nights and winter afternoons.
Bedspreads often feature intricate patterns inspired by nature—a nod to the outdoor surroundings integral to farmhouse aesthetic
Layering Gracefully: Blankets and Quilts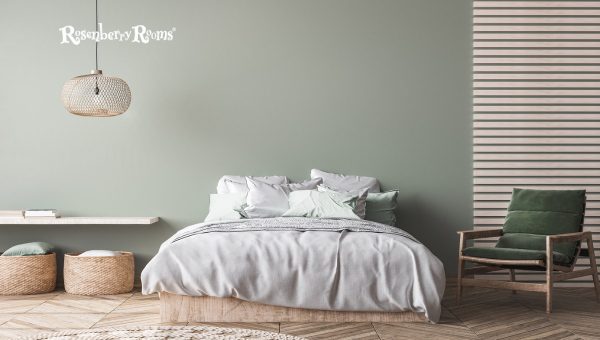 Layering is the central pillar of constructing a cozy, farmhouse-style bed. It involves adding different fabrics, textures, and sizes to create a rich, inviting aesthetic.
Adding Texture
Layering blankets is an art in itself that plays with textures and patterns.
Texture: Include various materials in your layers—cotton, linen, and voile—to add depth and dimension to your bed.
Pattern: Mix solids with simple patterns for an eye-pleasing effect.
Quilts as Heirlooms
Nothing screams farmhouse more than a vintage quilt draped across the bed.
Opt for quilts with classic patchwork or applique designs to pay homage to traditional craftsmanship.
Even new quilts can be great additions if they have rustic colors or patterns reminiscent of old times.
Thanks to its unique story or craftsmanship, a well-chosen heirloom quilt can serve as an extra layer of warmth and a talking point.
Mixing and Matching
The perfect blend requires some fine-tuning when mixing and matching blankets and quilts.
Sticking to neutrals or soft pastels is crucial to harmonize the color scheme.
Furniture pieces within the room also play into the final look—choose accents in your bedding that echo these elements for cohesion.
Don't shy away from adding another layer—like a knit throw or crocheted blanket! They ooze coziness while providing extra warmth for colder nights.
The secret lies in experimenting until you achieve a balance that looks good and offers maximum comfort tailored to your needs.
Restful Pillows for Dreamy Nights
A carefully curated selection of pillows enhances the appeal of your farmhouse bedding and ensures a good night's sleep.
Pillow Plushness
The proper pillow fill contributes significantly to the plushness and comfort of your pillows.
Down: It's soft, lightweight, and offers excellent insulation. Perfect for a luxurious feel.
Memory Foam: Offers superior support contouring to your head and neck shape.
Feather: These provide firm yet malleable support, ideal for back sleepers.
Synthetic Down: These offer similar benefits as down but are hypoallergenic—ideal for those prone to allergies.
Sleep Position Matters
The loft or height of your pillow should correspond with your primary sleeping position for optimum comfort.
For side sleepers: A high-loft pillow provides ideal alignment for the neck and spine.
For stomach sleepers: A low loft pillow is best to prevent unnecessary strain.
For back sleepers: A mid-loft range pillow is usually fitting.
Pillowcases and Shams
Pillowcases protect your pads from daily wear, while shams are an aesthetic addition; they add an appealing layer to your bedding ensemble.
Opt for materials like cotton or linen that are gentler on the skin and easy to care for.
Patterned or textured pillowcases can add depth to an otherwise plain-looking bed
While shams aren't meant for sleeping, they significantly give your bed a complete look by adding structure and tidiness.
Finding restful pillows is all about striking a balance between style and comfort—it's the epitome of what farmhouse bedding represents.
Harmonizing Elements: Creating the Farmhouse Bed Aesthetic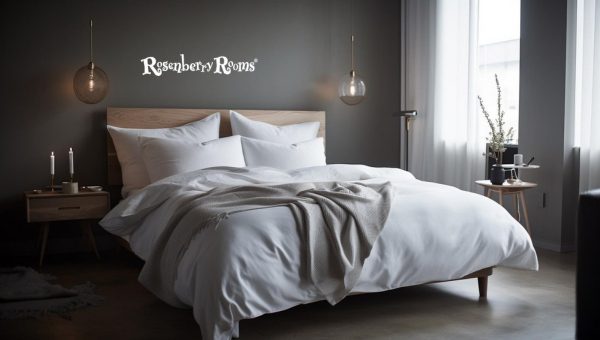 Styling a memorable farmhouse bed is a delightful blend of selecting suitable color palettes, mixing diverse textures, and adding strategic embellishments. The perfect fusion of these elements can create a tactile story that oozes rustic elegance.
Color Palettes and Patterns
The quintessential farmhouse aesthetic is defined by tranquility and heritage, best represented by the color palette.
Stick with earthy neutrals like greys, beiges, creams, and whites to evoke cozy sophistication.
For patterns, consider classic stripes or checks. Vintage floral or lace details offer femininity without much effort. Be sure to place bold patterns next to simpler ones to create balance.
Mixing Textures
Leveraging diverse textures can take a simple farmhouse bed from standard to standout.
Start with crisp linen sheets for a cozy base.
Layer it up with a cotton comforter for added dimension.
Toss in a chunky knit blanket for an extra layer of warmth.
Each texture helps provide contrast while still keeping your bedding cohesive.
Adding Finishing Touches
Now comes the part where we add the cherry on top—exciting decorations that inject personality into your farmhouse bed.
Scatter vintage-inspired pillows adorned with tufts, fringes, or delicate embroidery alongside modernistic plain ones for an inviting arrangement.
A stylish throw casually draped at the foot of the bed instantly upscales your decor while providing warmth during colder nights. Opt for one in bold color or pattern to inject visual intrigue!
Mastering this symphony of elements ensures your bedding exudes rustic elegance while offering sanctuary-like comfort—a hallmark of any exceptional farmhouse bedroom design.
Care and Maintenance: Preserving the Farmhouse Bedding Beauty
After investing time, energy, and finances in curating your perfect farmhouse bed, it's natural to want to preserve its beauty. Here are some critical tips for maintaining the charm and longevity of your bedding.
Laundering Tips
Laundering is pivotal in preserving the comfort and durability of your sheets and bedding.
Regularly wash them every week or two to keep them fresh.
Generally, use warm water for colored fabrics and hot water for whites.
Use mild detergents that do not contain harsh chemicals; these may deteriorate fabric quality over time.
It's always best to air-dry your sheets if you have the time and space. If not, tumble dry on low heat.
Fluffing and Folding
Your quilts and pillows also require regular attention to stay fresh, plush, and cozy.
Fluff your pillows every morning when making your bed to maintain their shape
Wise folding can prevent creases on quilts. Try rolling them instead of folding them when storing them.
Protecting Your Bedding Investment
Duvet covers protect expensive duvets from dirt, spills, or body oils while being easy to wash. Additionally, incorporating pillow protectors under pillowcases prolongs pillow lifespan by guarding against wear and tear.
Both items deserve a place in any farmhouse bedroom, considering their practicality merged with plentiful design opportunities.
Personalizing Your Haven: Accessories and Accents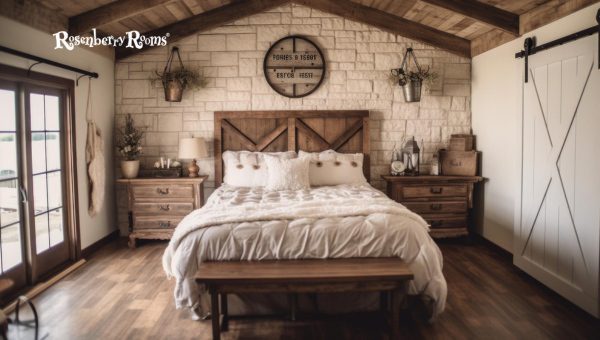 The beauty of a bedroom comes alive when the right accessories and accents are in place. These accessories are emblems of your unique style and personal taste while adding depth and personality to your space.
Framing the Farmhouse Bed
Bed skirts aren't just about hiding unsightly bed frames or under-the-bed storage, they also add style to your farmhouse bed. Opt for pleated or ruffled designs in natural hues for a traditional look.
A classic canopy can enhance your bedroom's visual interest by creating a cozy, secluded environment. Consider light, translucent materials that flutter lightly with each breeze.
Completing the Bedroom Ambiance
Don't forget the walls and lighting fixtures when styling a farmhouse bedroom.
Consider using rustic wall decor, such as reclaimed wooden signs, vintage mirrors, or minimalist artwork that echoes nature's charm.
As for lighting, opt for mood-enhancing fixtures like chandeliers with exposed bulbs or matte metal wall lamps—to create a feeling of warmth and hominess.
Vintage Finds
Incorporating vintage finds is vital to creating that lived-in, rustic feel of farmhouse style. Consider using unique items like aged trunks as side tables or antique ladders as blanket holders for a creative spin on functional decor.
Remember—farmhouse styling appreciates items with a history; these nostalgic pieces evoke stories from bygone traditions while breathing new life into contemporary spaces.
FAQs About Farmhouse Bedding Guide
What colors are typical in farmhouse bedding?
Neutral tones like white, cream, and gray are familiar; soft pastel shades or earthy hues can add a pop of color without disrupting the calm ambiance.
What materials should I choose for farmhouse bedding?
Cotton and linen are famous for their breathability and simplicity; quilt materials may add texture with chenille, patchwork, or knitted options.
How can I accessorize my farmhouse bed?
Bed skirts, canopies, throw pillows in contrasting textures or patterns, antique finds, and rustic wall decor are beautiful ways to inject personal style into your farmhouse bed setup.
Should my duvet cover match my sheets in a farmhouse bedroom?
While they don't have to match perfectly, they should harmonize. A good rule of thumb is to stick to a similar color palette or theme for a cohesive look.
How can I maintain the freshness of my farmhouse bedding?
Regular laundering using gentle detergents is crucial; swap out and clean your duvet covers once a month and regularly give those pillows a good fluff! Pay attention to the manufacturer's care instructions individually for each piece.
Conclusion
A farmhouse-inspired bedroom is more than a passing trend—it's a timeless testament to comfort and simplicity.
Choosing the right bedding is crucial to fostering an environment that feels warm and organic, wrapped in textures that evoke the countryside charm we crave.
From picking the ideal sheets and layering with quilts to incorporating vintage accessories, creating a farmhouse haven needn't be daunting.
Remember that comfort, simplicity, and authenticity should be your compass in all your choices. It's about curating a space that wows at first sight and invites you to slow down, unwind, and savor every moment spent within its embrace. Isn't this the essence of all things home?
So go ahead… burrow into that plush collection of pillows, let those linens offer a soft welcome after a tiring day, and create memories amidst the rustic allure of your farmhouse bedroom.