A unique charm comes with a farmhouse-style bathroom, an appeal that combines both the rustic and the modern in such a beautiful blend.
As part of my ongoing exploration of interior decor trends, I'm focusing today on one crucial aspect that significantly contributes to this unique aesthetic: the farmhouse bathroom floor tile.
While it may seem minor, this element holds a power that can instantly transform your plain restroom into an enchanting sanctuary.
Renovating any space within your home can be exciting, and choosing the perfect floor tile for your bathroom is no different. However, it does bring along its own sets of challenges as well.
Today I am here to guide you through one specific niche - the perfect farmhouse bathroom floor tile. Whether you're remodeling your entire bathroom space or want to add a touch of cozy rural charm, let's dig deep into how you can make the best choices for your future rejuvenating haven.
Step-by-Step Guide: Choosing Farmhouse Bathroom Floor Tiles
When choosing the perfect tiles for your farmhouse bathroom, follow these steps to ensure a harmonious balance between style, durability, and practicality.
Step 1: Decide on Your Color Scheme
Color is a significant factor in setting the mood of your bathroom. With a farmhouse style, it is generally recommended to stick with earthy tones like beige, dusty brown, milky white, or cool grays.
Yet, don't hesitate to inject some personal preference into the mix! You may choose deep blues and greens for a touch of nature or refined black and silver for an elegant theme.
Step 2: Select Your Preferred Pattern
Patterns add depth and character to your space. From classic checkered designs to vintage floral motifs or rustic wood textures - the farmhouse style permits a lot.
The key here is to keep it simple yet eye-catching. Repeating patterns can create consistency throughout your bathroom.
Step 3: Consider Tile Size
Do you opt for small intricate mosaics or large, robust slates? Both can shine in a farmhouse-inspired haven.
Smaller tiles add intricacy, while larger ones lend an airy open feel. Generally, consider sizes from tiny 1"x1" mosaics up to extensive format options 12"x24" or more significant.
Step 4: Consider Complementary Elements
Your flooring should harmonize with other elements in your bathroom, such as sinks, faucets, tubs, and lighting fixtures. If possible, have samples of each to see how they work together under your natural and artificial light.
Consider how different tiles look together and how they feel physically. Willoughby Brooks rightly notes, "[bathrooms] also need durability as there's…a fair amount of water being splashed around" (source). So make sure to choose materials that are water-resistant and easy to clean.
With these steps in mind, exploring different tile options becomes an exciting venture leading you toward creating the farmhouse bathroom of your dreams.
Importance of Selecting the Right Floor Tiles for a Farmhouse Bathroom
When you're planning to refurbish your bathroom, it's crucial to remember that your choice of floor tiles is more significant than you might initially think.
Aesthetic Appeal
Firstly, from an aesthetic standpoint, a well-selected tile adds character and strengthens the charm of the farmhouse style.
It defines your theme and makes it visually appealing. Flooring plays an immense role in setting the tone for your entire bathroom's decor.
Durability and Maintenance
Choosing the right tile guarantees its durability and ease of maintenance. Bathrooms are exposed to plenty of wear and tear due to daily usage.
Therefore, such spaces require the selection of highly resistant tiles that can withstand different conditions while maintaining their authentic look.
Optimized Functionality
Floor tiles provide slip resistance, a vital factor in safety in wet areas like bathrooms. One should consider this aspect to avoid mishaps and ensure everyone can use the room comfortably.
Your tile choice should reflect whether you select a vintage-inspired design or use more modern schemes.
This would significantly give away how you envisage your farmhouse bathroom.
Don't Miss This: Letterfolk Tile Mat Review 2023 [Customizing Tile Mat]
Defining Your Bathroom Tile Style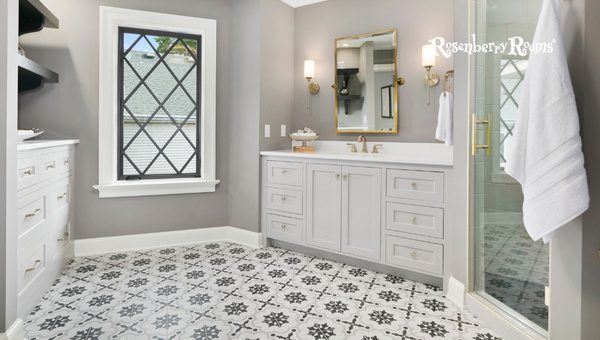 Establishing the homeowner's style is critical when choosing tiles for your farmhouse-style bathroom. The theme often combines simplicity, warmth, and comfort while considering functionality.
Above all else, our homes should reflect who we are - the same goes for our bathrooms.
Your Personal Preferences Matter
The farmhouse style incorporates various substyles, so it's crucial to pinpoint where your tastes lie. Are you a minimalist at heart?
Perhaps rustic elegance with a touch of vintage flair is more your speed? Or are you drawn to a more modern, streamlined aesthetic with rural touches? Identifying what appeals to you will guide your tile selection process.
Each choice, from color, pattern, and texture to material, adds to your bathroom's overall ambiance.
Making inspiration boards or using online platforms like Pinterest or Houzz for ideas may be helpful. Look at pictures of different styles and note which ones resonate with you – this can serve as a great starting point.
Once you have established this framework based on your preference, ensure that the chosen tile contributes positively to creating that ambiance aligning with your style.
Balancing Rustic Elements With Modern Comfort
A crucial aspect to consider while defining your tile style is harmonizing rustic elements with modern comforts. For example, aged wood-look tiles paired with sleek chrome fixtures give an elegant mix of old and new.
The goal here is creating balance - utilizing contrasting elements to complement the other. Tiles in traditional materials like stone or marble may exude historic charm, but incorporating modern patterns or designs adds freshness.
Remember: this balancing act adds depth and interest to any design scheme. A sense of history interwoven with contemporary insights reinforces contrast that perfectly captures the farmhouse aesthetic's essence!
Defining your tile style is an intricate dance between achieving functionality and paying homage to timeless beauty. It's about crafting an environment that encapsulates authenticity yet never compromises comfort.
Tile Options for Farmhouse Bathroom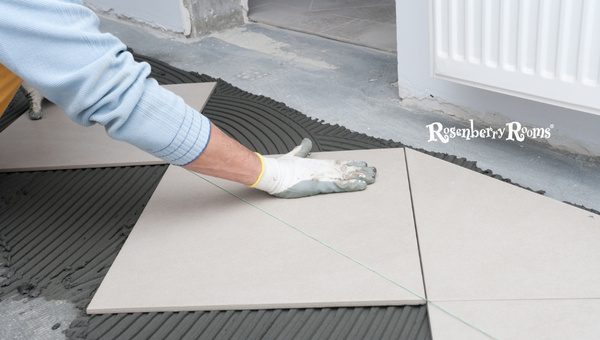 When achieving the perfect farmhouse aesthetic, the floor tile you choose could make or break your design. It's essential to consider various options to understand what each offers.
1. Rustic Slate Serenity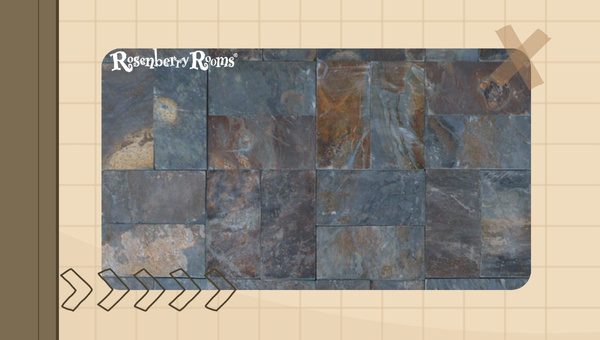 Rustic Slate Serenity is undoubtedly one of my favorite choices. With its beautiful dark hues and slightly uneven texture, these tiles embody that genuine countryside atmosphere.
They are as charming as they are practical, brilliantly capturing both the rustic and serene aesthetics at their core.
Benefits of Rustic Slate Serenity:
Unmatched Aesthetics: The unique natural patterns found in slate create an earthy and warm ambiance that is eponymous with a farmhouse-style bathroom.
Easy Maintenance: Rustic slate is known for its durability. These tiles can maintain their original luster with just regular cleaning.
Mold & Stain Resistance: These tiles typically have a protective sealant that makes them resistant to mildew and stain, proving super functional for a bathroom setup.
Versatility: Rustic slate comes in several color variation options. This versatility means a shade is likely perfect for your preferred color scheme.
Now, if you're more inclined towards something with warmer undertones yet equally captivating, let me suggest another favorite of mine - Vintage Oak Plank Tiles.
2. Vintage Oak Plank Tiles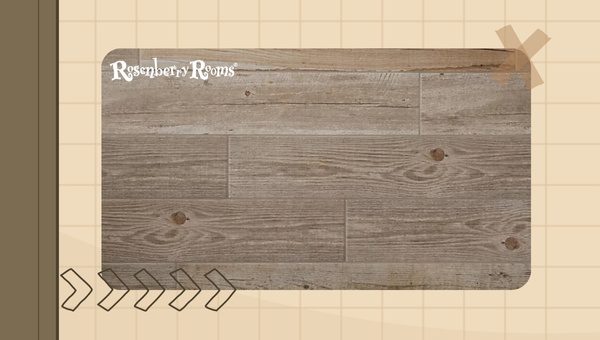 To encapsulate a perfect blend of rustic warmth and modern sophistication, Vintage Oak Plank Tiles are the way to go.
These tiles provide an authentic wood-like appearance with their convincingly detailed graining and wonderfully varied shades — from light honey hues to rich chestnut tones.
Their long, narrow shape lends a soothing rhythmic pattern to the floor, creating a pleasant visual effect that draws in one's gaze.
Benefits of Vintage Oak Plank Tiles:
Authentic Appeal: Recreates the look and feel of natural oak wood, instilling an unmistakable rustic farmhouse atmosphere.
Durability: Unlike natural wood, susceptible to water damage and rot, these tiles offer superior durability in damp environments like bathrooms.
Easy Maintenance: You can easily clean them with commonly available cleaning products; they require no oiling or waxing like natural wooden surfaces.
Versatile Styles: With variations in color tones and grain appearance, these tiles allow for remarkable design flexibility.
Moving on, Country Charm Cobblestone is another fascinating flooring option that undeniably adds character to your farmhouse bathroom.
3. Country Charm Cobblestone
Country Charm Cobblestone - the name itself brings up images of old-world streets full of charm. These stone tiles help create a bathroom floor with a distinct personality and inviting warmth.
The irregular shapes and earthy tones produce a distinct rugged texture that bears the nostalgic appeal of bygone days.
By opting for these cobblestones presented in light neutral and beige cool tones, you can introduce a rural allure into your sanctuary without sacrificing modern-day conveniences.
Benefits of Country Charm Cobblestone:
Visual Interest: The variety in shapes adds depth and creates a fascinating visual landscape for your bathroom floor.
Natural Element: Incorporates the soothing feel of natural elements indoors.
Durability: Stone is known for its longevity; it can hold its ground against moisture, wear-and-tear credibly well.
Easy Care: Sealed cobblestone tiles are easy to care for; they can be cleaned using common household cleaners.
4. Farmhouse Flora Mosaic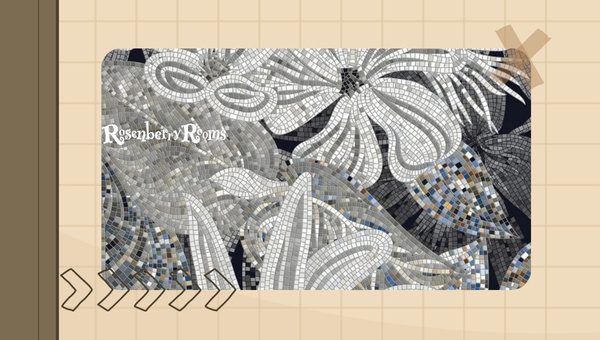 Imbibe the heartwarming elegance of past times with Farmhouse Flora Mosaic tiles. Made for those seeking a look that intertwines simplicity with a hint of creativeness, these tiles display fascinating floral mosaics that spell 'rustic chic' like nothing else.
Crafted typically from ceramic or porcelain, they exhibit graceful vintage patterns reminiscent of your grandmother's china collection.
The white and gray tones give off an appealing lightness, enhancing the space while keeping it grounded in traditional styles.
Stellar Aspects of Farmhouse Flora Mosaic:
Distinctive Decoration: The graceful floral designs bring artistry to your floors, making it immediately stand out.
Neutral Palette: The white and grey hues provide a delicate balance to bold or colorful bathroom pieces.
Various Materials: Often available in ceramic and porcelain varieties - both known for their durability.
Broad Compatibility: These tiles can blend seamlessly with many color schemes and bathroom styles.
5. Weathered Barnwood Tiles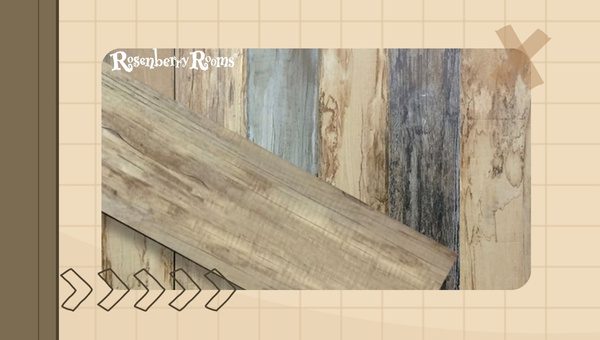 Invoke an undeniably rural allure using Weathered Barnwood Tiles - the epitome of farmhouse charm right under your feet.
These tiles simulate the appearance of aged wood that tells a story as no other material does—each piece echoes history with a washed-out color palette and visible grain pattern.
These tiles are exceptional because they harmonize old-world charm while guaranteeing modern-day durability.
Why Choose Weathered Barnwood Tiles:
Authentic Appearance: Undeniably rustic appeal replete with weathered textures and aged patina.
Strong Durability: All the aesthetics of natural wood without the susceptibility to rot or warp when exposed to dampness.
Low-Maintenance: Just like ceramic or porcelain—the two most common materials used—they can be easily cleaned with standard methods.
Complementary Factor: Their neutral tones make them easy to pair up with many design elements.
6. Provincial Patterned Stones
Make room for Provincial Patterned Stones if you wish for some French countryside sophistication in your bathroom spaces.
These limestone tiles are decorated with intricate patterns—a majestic blend of old-world artistry injected into every stone piece.
The gentle off-white base color interspersed with subtle earth-colored detailing perfectly mirrors this classic style's calm serenity.
A closer look at Provincial Patterned Stones' Benefits:
Bold Patterns: From geometric designs to dainty scrollwork, eye-catching visuals can revive any floor space.
Texture Variation: The slightly uneven surfaces contribute sensory appeal and slip resistance.
Long-lasting Durability: Limestone proves its strength over time—a worthy-quality investment that lasts year after year.
Warm Tone Flexibility: Exceptional compatibility with warm-toned farmhouse aesthetics because of subtly varied tinting throughout the stone's surface.
7. Prairie Stone Herringbone
Summon the serenity and simpleness of prairies in your bathroom with Prairie Stone Herringbone tiles. The herringbone pattern adds a modern twist to the classic stonework, balancing rustic farmhouse charm and contemporary elegance.
These tiles come in an array of neutral hues, ranging from soft whites to sandy grays, wonderfully reflecting the untouched beauty of sprawling prairie landscapes.
The rectangular shape and meticulous herringbone layout pay homage to traditional farmhouse styling while creating a sense of movement and balance.
Here are key advantages to choosing Prairie Stone Herringbone:
Aesthetic Appeal: A strong regional aesthetic that combines natural simplicity and modern sophistication.
Durability: These tiles are made of stone and are highly durable against everyday wear and tear.
Unique Pattern: The herringbone pattern brings visual interest compared to conventional tile layouts.
Rich Palette: A wide range of neutral tones allows seamless integration into various color schemes.
8. Whitewashed Brick Pavers
Whitewashed Brick Pavers offers an unbeatable aesthetic for those seeking a vintage vibe for their farmhouse bathroom.
With layers of white paint over the bricks' rugged surface, these tiles deliver an aged look that tells stories of past events while maintaining an airy openness thanks to their light-colored finish.
Brick pavers channel the comforting solidity of traditional houses with whitewashing, adding whimsical lightness —an overall cozy detail for your intimate space.
Compelling reasons to consider Whitewashed Brick Pavers include:
Antique Charm: Their vintage look can bring nostalgic warmth into your bathroom.
Brightness: Despite being brickwork, the whitewash lightens up the atmosphere dramatically.
Durability: Bricks are renowned for their robustness—so expect longevity!
Easy Maintenance: An occasional wipe-down keeps these pavers sparkly clean.
9. Homestead Hexagonal Tiles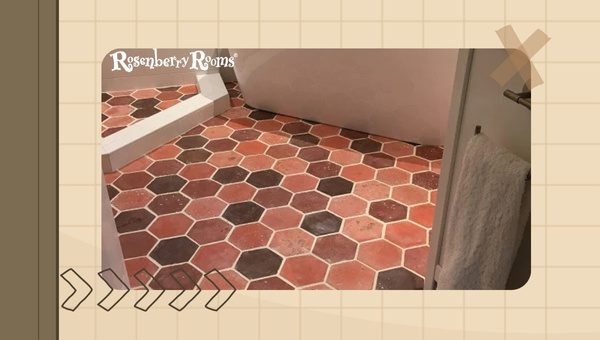 If you're hunting for something different yet attention-grabbing, behold Homestead Hexagonal Tiles. Hexagon tiles have significantly returned in recent design trends due to their unique geometry, which offers countless arrangement possibilities. Between contrasting colors or gradient hues—the design potential is immense!
Inviting virtues of Homestead Hexagonal Tiles entail:
Innovation & Versatility: Their unconventional shape allows endless creative patterns
Visual Interest: They can form sophisticated visuals that captivate the eye
Modern Meet Traditional: A refreshing twist on traditional tile choices—a fine blend between old and new!
10. Cottage Grove Marble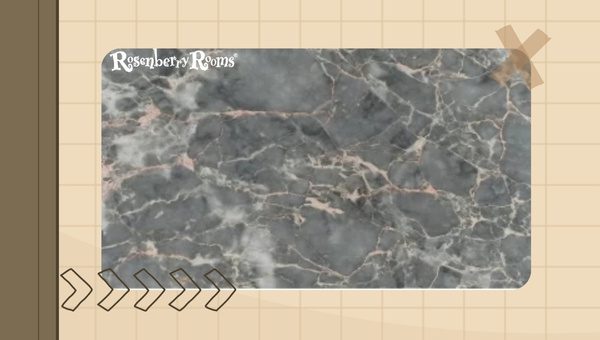 If ultimate sophistication paired with tranquility is what you aspire to, allow me to introduce—Cottage Grove Marble.
Renowned for its luxurious vibe, marble can add timeless grace to any setting, including bathrooms. With its light creamy background garnished by delicate veining — Cottage Grove encapsulates peaceful countryside glamour.
Benefits offered by Cottage Grove Marble are:
Sophistication: Marble truly screams luxury like no other material
Durability: Despite its refined appearance, it is surprisingly tough & durable
Variety: Each slab is unique—adding character through intricate vein patterns
Brightness: Its cream hue naturally reflects light making space seem more airy
Choosing the Right Tile Material
Material selection plays a pivotal role when it comes to bathroom floor tiles. The material you choose determines your farmhouse bathroom floor's longevity, appearance, and maintenance needs.
Let's explore the most common materials - ceramic, porcelain, marble, and natural stone - and their advantages and drawbacks.
Ceramic Tiles
Ceramic tiles present a tried-and-tested solution perfect for various decors, including farmhouse-style bathrooms.
Advantages:
Durability: Ceramic tiles can easily handle everyday wear and tear; they resist scratches and do not absorb water.
Ease of Maintenance: With their stain-resistant nature, routine cleaning methods suffice for these tiles.
Versatile Designs: Ceramics come in numerous designs, colors, shapes, and sizes, enabling you to find exactly what suits your aesthetic vision.
Disadvantages:
You may feel cold underfoot (a heated tile system can solve this issue).
On the more complex side,, standing over extended periods may be uncomfortable.
Porcelain Tiles
Porcelain tiles are highly recommended if you're seeking more robust varieties of ceramic alternatives.
Advantages:
Exceptional Durability: Porcelain is denser than ceramic, offering superior resistance against stains.
Water Absorption: It has less water absorption making it suitable for areas that get particularly wet.
Variety in Design: Like ceramic tiles but stronger - porcelain ones offer extensive design flexibility.
Disadvantages:
Because they're heavier and more complex than ceramics, porcelain tiles can be more challenging to cut and install.
Marble Tiles
If luxury defines your style then marble floor tiles are your golden ticket!
Advantages:
Luxurious appeal: Marble immediately creates an upscale look that screams elegance.
Unique patterns All marble slabs possess distinctive veining making every marble tile one of its kind!
Disadvantages:
Excellent as they might be aesthetics-wise, marbles need constant upkeeping as they're more vulnerable to staining.
These luxury items come with a substantial price tag too!
Natural Stone Tiles
Rustically charming yet ruggedly enduring – that's a natural stone for you!
Advantages
Long-lasting Stone lasts long if properly sealed & Maintained
They come directly from Mother Nature – each piece possessing unique color variances & imperfections, giving it genuine appeal facing no contest.
Disadvantages
Natural stones need regular sealing to prevent discoloration, given their porous nature.
Also, among costlier options
Your choice in the material must reflect durability needs balanced with style preferences within estimated costs.
Always remember: The key is not just choosing what looks good today but ensuring it continues doing so daily.
Budget Considerations: Affordable vs High-End Tiles
It's no secret that a farmhouse bathroom remodel can be quite an investment. However, here's the good news: achieving that attractive décor you've been dreaming of doesn't always have to break the bank. The trick lies in being strategic with your tile selection.
There are elegant yet affordable tile options, as much as high-end tiles promise unparalleled luxury. But how do you decide when to splurge and when more cost-effective alternatives will do the trick?
When to Invest in High-End Tiles
If budget allows, high-end tiles can elevate your bathroom's look and feel. Materials like marble, hand-painted ceramic, or mosaic pieces can bring unmatched elegance and refinement into your space.
Investing in such premium options makes sense when:
Your goal is long-term durability: These tiles typically possess superior quality and are better equipped to withstand wear and tear.
You're after a unique aesthetic: Handcrafted or specialized designs often carry an unusual appeal that catches attention.
You seek luxury & comfort: For instance, heated floor systems beneath marble tiles add a layer of luxury practical during colder periods.
Consider shopping around on reputable online platforms such as TileBar or Wayfair, renowned for their vast array of exceptional tile collections.
Affordable Tile Options That Keep Up with Luxury
That said, achieving that upscale look is possible without splurging on the most expensive materials. Some fantastic affordable alternatives include:
Porcelain tiles: Durable like stone but less costly, porcelain tiles also offer flexibility with diverse color and pattern options
Ceramic tiles: An inexpensive yet high-performing material excellent for moisture-prone areas.
Vinyl tiles: Kiss budget worries goodbye with these versatile tiles that impersonate a variety of expensive materials convincingly
Concrete or cement floor: Polished concrete floors have their rustic charm apt for farmhouse bathrooms while also being pocket-friendly
Pro-tip: Mixing up high-end accent pieces amidst a budget-friendly majority could be a smart way to add some luxe without overspending — think statement borders against basic ceramic backgrounds.
As Amy Matthews aptly states: "[Remodeling] is all about working smart within your range - big or small - not around it."
So whether you go for affordable or premium tiles, always ensure they align well with your overall aesthetic vision & functionality needs while respecting your budget allowances.
FAQs About Farmhouse Bathroom Floor Tile
What is the best color for farmhouse bathroom floor tiles?
Earthy tones like beige, brown, milky white, or cool grays are perfect for a farmhouse-style bathroom.
How do I choose the correct pattern for my farmhouse bathroom floor tile?
Choose simple yet eye-catching patterns like classic checkers or vintage floral motifs that uplift the rustic charm of your space.
What size should tiles be in a farmhouse-style bathroom?
The size depends on your preference, with smaller tiles adding intricacy and larger ones bringing a more open feel to your space.
Can I opt for non-traditional colors for my farmhouse bathroom floor?
Absolutely! While traditional colors are popular, you can select deep blues and greens or refined black and silver to fit your style.
Can my farmhouse bathroom floor tiles be matched with other fixtures?
Although not necessary, having harmonious elements aids in creating a balanced, aesthetically pleasing look within your space.
Conclusion
Choosing the right farmhouse bathroom floor tile encompasses both practical and stylistic decisions. The beauty of a farmhouse-style bathroom resides in its flexibility, allowing you to blend modernity with a traditional or rustic appeal.
Remember to consider the color, pattern, size, texture, and material while selecting the tiles for your bathroom floor.
Also, think about harmony within the floor and how it syncs with the rest of your bathroom fixtures.
Going for a farmhouse-style bathroom means inviting warmth and tranquility into your daily routine. With careful planning and tasteful selection, your tile choice can inherently imbibe this charming sylvan spirit into your space.
Whether investing in an entire renovation or adding subtle touches over time, every decision you make contributes to creating a uniquely beautiful sanctuary that aligns with the captivating farmhouse aesthetic.