If you're on the hunt for furniture that's stylish, durable, and beautifully crafted to stand the test of time, you may have come across Ethan Allen.
Known for their broad range of appealing furniture designs and quality craftsmanship, Ethan Allen has gained a reputation in the furniture industry that's worth noting.
This Ethan Allen furniture review aims to provide you with comprehensive insights into what makes this brand stand out in a crowded market so that you can make an informed choice when it comes to elevating your spaces.
Maybe you've just bought a new place, or perhaps you're looking to revamp your current home interiors. Whatever the case may be, choosing the right kind of furniture can seem like quite a task.
From understanding the space requirements in your home to matching style preferences, this process involves several elements that demand your attention.
With this article, let's throw some light on why Ethan Allen could be your go-to solution for all things furniture and interior design related.
All about Ethan Allen Furniture
Founded in 1932 by the visionary Nathan S. Ancell, Ethan Allen Interiors Inc. has grown into an esteemed furniture manufacturer and retailer renowned for offering high-quality home furnishings.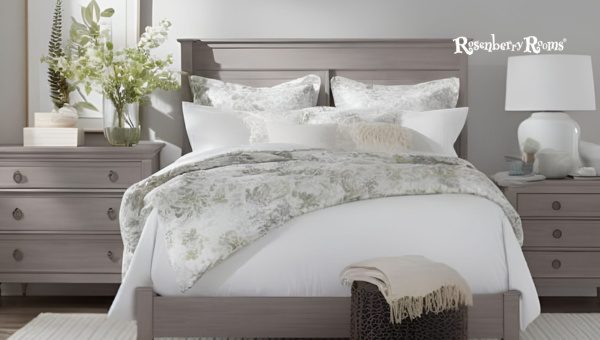 Dedicated to meeting the varied tastes and styles of its customers, Ethan Allen has consistently delivered pieces that beautifully combine form and function.
Headquartered in Danbury, Connecticut, Ethan Allen operates under the proficient leadership of CEO M. Farooq Kathwari. It reported impressive net annual sales of $791.4 million as of June 30, 2023.
Despite its long history and traditional roots, Ethan Allen successfully managed to rake in a substantial revenue of 589.8 million USD in 2020.
To consistently offer standout designs and unmatched quality, Ethan Allen takes pride in its US-based manufacturing locations, which ensure stringent quality control and adherence to best practices.
With a broad product spectrum that spans living room furniture, bedroom accents, outdoor pieces, home office essentials, and more, it's clear why Ethan Allen remains at the forefront of the furniture industry.
When you shop from Ethan Allen's vast collection of aesthetically pleasing selections created from sustainable materials with uncompromised craftsmanship and attention to detail, it's no wonder consumers continuously turn to them for their home decor needs.
Shopping Options with Ethan Allen
Ethan Allen offers you an exciting range of furniture options that cater to every room in your home, allowing you to bind each area with a unique aesthetic harmoniously.
Let's delve into the key areas the living room, dining room, and bedroom - to understand the wide range of furniture options they offer.
Living Room Furniture
When it comes to enhancing or redefining your living space, Ethan Allen leaves no stone unturned. They offer an exquisite collection of sofas in velvets, leathers, and fine fabrics available in a medley of colors and styles.
This is a testament to their commitment to adhering to diverse tastes. Would you prefer a classic leather club chair or the timeless Chesterfield? Maybe a modern mid-century design catches your eye?
Ethan Allen's living room offerings extend beyond seating options into console tables, bookcases, coffee tables, decorative chests, and media cabinets that can transform your space.
Each piece is impeccably curated to deliver maximum style infused with comfort that stands out in any setting.
Also Read: How To Choose Curtains For Your Living Room [Expert Advice]
Dining Room
The dining area is not only a place for meals but also an important gathering point for family and friends. Give it the attention it deserves with Ethan Allen's dining room furniture line-up.
Choose from elegant dining sets crafted from solid woods like mahogany or cherry, or opt for contemporary steel and glass tables if modern is more your style.
Complement these with a wide range of chairs upholstered in luxurious fabrics or finished woods, creating an inviting ambiance that'll make those memorable dinner parties even more enchanting.
Bedroom
Retreating into a beautifully furnished bedroom makes all the difference. Ethan Allen ensures this comfort with carefully designed bedroom furniture from splendid beds available right from twin to California king-size options accounting for your needs alongside varied styles ranging from poster beds to customizable upholstered ones offering personalized comfort and style.
The array further extends into dressers, bedside tables, armoires, and even decorative benches that add a cozy seating area to the bedroom setup.
Each piece is designed with an eye for detail, ensuring durability and functionality without missing out on style that defines your space and resonates with your personality.
Home Office
In the modern era, the importance of a well-designed home office cannot be underestimated. Ethan Allen leads the curve with desks that merge practicality and sophisticated design.
They offer an assortment of writing desks, modular desks, or even secretary-style options for those seeking an antique touch in their workspace.
Complement these with equally ergonomic and stylish office chairs, or choose a quaint bookcase from their offering to manage your workspace clutter and showcase your book collection.
Rest assured, knowing Ethan Allen's finely designed storage solutions ensures efficiency while lending your workspace an unparalleled aesthetic charm.
Outdoor
Transform your outdoor space into a welcoming retreat with Ethan Allen's outdoor furniture collection. Strategic to different outdoor settings, they offer durable dining tables, relaxed seating options, and accessories crafted from weather-resistant materials to withstand harsh conditions.
You can select intricately woven wicker furniture for your patio or opt for sleek metal pieces that lend a contemporary vibe to your space, each aiding in crafting a haven outside the confines of your interior living spaces.
Lighting
The right lighting can dramatically alter the ambiance of any room, adding depth and interest. From grand chandeliers that make a statement in any foyer to subtle table lamps perfect for bedside reading, Ethan Allen's selection ensures every nook counts.
Sconces aimed at accentuating wall artworks or pendant lights enhancing kitchen islands, they champion lighting diversity that goes beyond aesthetics into functionality, serving as conversation starters in your carefully curated interior spaces.
Read More: What Color Light Helps You Sleep? [Science-Backed Answers]
Rugs & Flooring
An area often overlooked but secretly pivotal in room decor is rug selection! And yes, Ethan Allen understands this well enough, offering rugs that come in varied materials like wool, silk, and jute, reflecting fantastic craftsmanship while ensuring durability.
From bold graphic prints that add dimension to neutral rooms to subtle hues that create quiet elegance, they cater to all style preferences bound to harmonize with every interior theme.
Awaken otherwise dull floors with their beautiful area rugs or give your room a warm, cozy feel with plush carpets that effortlessly transform spaces into alluring comfort zones.
Explore More: Floyd Rug Review 2023 [We Put It To The Test]
Decor
At Ethan Allen, they believe that the beauty of a space is in its details. This is why their lineup of decor items offers you the chance to put those perfect finishing touches on your home.
Think art pieces that tell a story, bold geometric rugs to anchor your rooms, sleek mirrors to amplify space and light, lighting solutions that range from chic table lamps to dramatic chandeliers, and throw pillows in all the textures and hues you could want.
These elements work together so you can create a personal aesthetic that's not just about furniture but truly feels like home.
Gifts Nav Link
With Ethan Allen's extensive gift collection, you will never run out of options for any event or occasion. It caters to everything from elegant home decor staples like bowls, vases, and candle holders to thoughtful, personal items such as frames and bookends.
There are even unique items like game sets for a playful touch or beautifully crafted jewelry boxes for something more intimate.
Each piece expresses sophistication and quality craftsmanship, which makes your gift not only memorable but also an embodiment of style.
Clearance
Don't overlook Ethan Allen's clearance section when looking for fantastic deals on high-quality furniture and decor pieces.
This part of their store offers spectacular savings on various items, including bedroom accents, dining sets, outdoor pieces, lounge essentials, and so much more.
So, if you're decorating on a budget or love hunting down a bargain, keep an eye out for this section regularly to snag those dreamy pieces at dreamier prices.
These items are often in limited quantity or last season's designs- making every find unique.
Ethan Allen Delivery Time
When it comes to delivery, Ethan Allen ensures a streamlined process designed with your convenience in mind.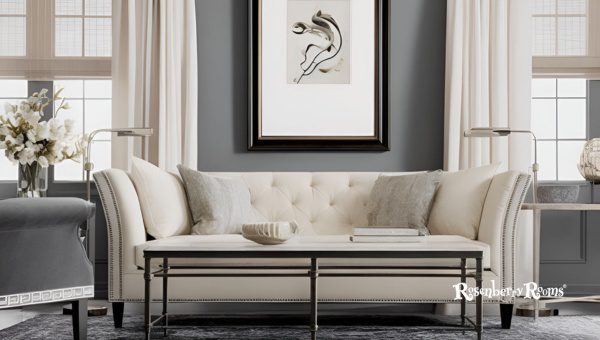 First things first, it's essential to be aware that the standard delivery time for Ethan Allen furniture usually falls within a 6 to 8-week timeframe.
This period allows for meticulous crafting of your chosen pieces, stringent quality control, and careful packaging.
If you're in a rush to furnish your space, don't worry. Ethan Allen has got you covered. They offer a Quick Ship option, which can get your furniture delivered within 30 days.
Upon arrival, you're not left on your own to grapple with nuts and bolts. The company offers the luxury of in-home delivery and assembly, meaning that your precious pieces will be set up without any hassle on your part.
Every item goes through rigorous quality assurance before leaving their depot. You can rest easy knowing that not only does Ethan Allen craft your furniture with extreme care, but they also ensure it reaches you in impeccable condition.
Also Read: Do You Tip Mattress Delivery Drivers? 2023 [If So, How Much?]
Understanding Ethan Allen's Policies
When it comes to purchasing furniture, you need more than just high-quality items; you need excellent policies that safeguard your interests and deliver a seamless shopping experience.
That's precisely what Ethan Allen aims to provide with their customer-friendly policies.
Delivery costs: Ethan Allen aims to ensure an optimum balance between quality service and affordability. Depending on your order details and location, delivery costs may range from $59 to $199.
Premier In-Home Delivery Service: Convenience is key when it comes to furniture shopping. At Ethan Allen, they understand this well, which is why they include Premier In-Home Delivery Service with every purchase. This means your chosen pieces come directly to your doorstep.
In-home assembly and inspection: With Ethan Allen, your comfort extends beyond the furniture itself. They offer in-home assembly services so that you're not left struggling with complex assembly instructions. Plus, a thorough inspection is carried out after setup for added peace of mind.
Returns: Haven't fallen in love with your purchase? Don't worry! With Ethan Allen's hassle-free 30-day return policy, you can return it. However, keep in mind that you will be responsible for the return shipping fees.
Financing options: High-quality furniture comes at a cost, but with financing available on the Ethan Allen Platinum Card, it doesn't have to be an immediate burden on your wallet.
7-year warranty: Quality trust is bolstered by guarantees. Hence, Ethan Allen provides a seven-year warranty on upholstery frames, springs, and legs, making sure your investment lasts as long as possible.
This company's dedication does not stop at just making beautiful pieces of furniture; US manufacturing locations ensure stringent quality control measures are adhered to while maintaining environmental consciousness.
Now, isn't that all you could ask for from a reliable and customer-focused brand such as Ethan Allen?
Is Ethan Allen worth the investment?
Yes, In a market crowded with furniture manufacturers and retailers, it's crucial to find pieces that don't just match your style but also promise durability, quality, and sustainability.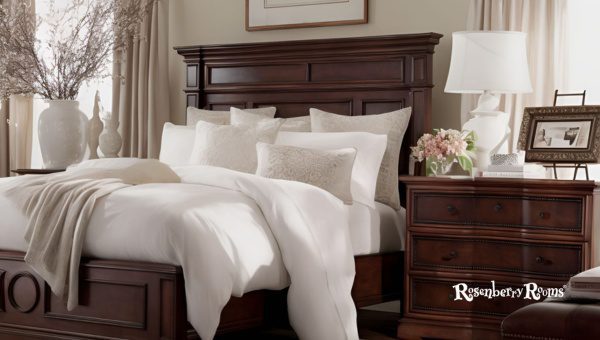 Let's delve into why Ethan Allen stands out in these aspects and might be a worthy investment for your space.
Durability: Your furniture is not just for show - it undergoes daily wear and tear. With Ethan Allen, you're investing in durable pieces built to last. From the rugged framework that forms the base of each furniture piece to the finest finishing touches, durability remains integral to their ethos.
Comfort: Comfort is key when selecting furniture for your home. Whether it's curled up on an Ethan Allen sofa or getting a good night's sleep on one of their luxurious beds, they prioritize comfort alongside style.
Style: Whether you're all about modern mid-century design or peachy traditional themes, Ethan Allen boasts an array of styles. Their Verona Aquamarine collection with elegant brown legs is particularly noteworthy for bringing a touch of refined luxury to any living space.
Sustainability: In today's eco-conscious world, picking sustainable products can make a difference. Ethan Allen ensures each piece is created using sustainable materials without compromising on aesthetics or durability.
Quality: Quality lies at the heart of every piece Ethan Allen crafts. The cushions are filled with CertiPUR-US foam, which assures you of both safety standards and plush comfort.
Fabric Durability: The use of velvet fabric signifies an eternal trend that also provides stain-resistant properties – combining practicality with high-end design.
If you are looking for stylish furniture that is comfortable for various occasions and built to last without disregarding sustainability practices, Ethan Allen emerges as a robust contender.
Their high-quality pieces go beyond merely looking good - they stand the test of time, too. Any purchases made from Ethan Allen become a long-lasting investment, making them worth every penny.
Ethan Allen poses as an investment that guarantees returns in the form of style, comfort, and durability for years to come.
Read More: Ashley Furniture Review 2023 [Assessing Their Quality & Value]
FAQs About Ethan Allen Furniture Review
Is Ethan Allen only a furniture retailer?
No, besides being a well-known furniture retailer, Ethan Allen also offers interior design services.
What style of furniture does Ethan Allen offer?
Ethan Allen offers a variety of styles ranging from traditional to modern mid-century designs.
Where is Ethan Allen's furniture made?
While they do have international manufacturing, a significant portion of Ethan Allen's furniture is produced in their facilities in the USA.
Does Ethan Allen have its delivery service?
Yes, Ethan Allen has its premier In-Home Delivery Service, which includes in-home assembly and inspection of the products delivered.
Is there any warranty offered on products by Ethan Allen?
Yes, for example, a 7-year warranty covers upholstery frames, springs, and legs, indicating their commitment to long-lasting product quality and customer satisfaction.
Conclusion
When it comes to investing in furniture with style, durability, and quality, Ethan Allen establishes itself as a solid contender.
Not only is their vast range impeccably crafted, but also thoughtfully designed for comfort and appeal. Their strong commitment to sustainability makes it an even worthier choice for the eco-conscious consumer.
Ethan Allen's reputation as a go-to destination for high-quality furniture that lasts stands justified so whether you're revamping your space or building it from scratch.
Consider Ethan Allen to furnish your home with timeless pieces that enhance your lifestyle and reflect your personality.