Oh, the joy of a good night's sleep! It's one thing we can almost universally agree on. Nothing beats those moments when I'm crawling into my sanctuary for that sweet, unspoiled slumber, drifting away in the world of dreams.
At the heart of it all is the centrepiece of any bedroom—the bed itself. Last month, I decided to refresh my bedroom furniture and embarked upon a journey to find my comfort utopia, landing on the Burrow Chorus bed.
Immediately drawn by its sleek design and unusual materials, I decided to give it a go. Thus began my intimate affair with the Burrow Chorus bed.
So here's me spilling out my heart about all things wonderful and otherwise in this Burrow Chorus bed review. Akin to a well-scripted ode to this charming and cozy masterpiece, I'm happy to share all the details you may need before deciding if this is your dream bed too! Let's jump right into it.
The Birth of My Stylish Slumber: Unboxing the Burrow Chorus Bed
The journey to the land of comfort and style began with the unboxing. I was immediately taken aback by just how compactly packaged this bed was. Delivered in four flat boxes that could easily be moved around, this bed appeared as practical as it seemed online.
Inside were all components neatly wrapped and labelled. From the sturdy Kiln-dried birch wood slats to the feisty mid-century cone legs - everything arrived undamaged and looking just like their online profiles. But the true star was undoubtedly the showstopping button-tufted headboard.
This handsome piece, made with an alluring rich velvet fabric, exuded a contemporary vibe that served as a nod towards a luxe aesthetic without being too ostentatious. Just running my hand over it brought about a sense of lovely tactile engagement.
Assembling the Chorus: A DIY Dream or Nightmare?
Now onto the daunting task of putting it all together. There is always an overwhelming sense of intimidation that comes when faced with assembling something as significant as a bed frame from scratch. But let me be upfront here - Burrow has nailed the DIY experience!
You do need some basic DIY skills or simply a knack for puzzles could do wonders too. Every single part of this bed comes labelled in English, making it easier for you than cracking Da Vinci's code! This thoughtful touch made my journey drama-free indeed.
The assembly guide, with its thorough yet straightforward instructions and well-drawn diagrams which can even be downloaded online, paved way for an estimated two-hour assembly time (although your mileage may vary depending on your skill level.)
Step one entailed attaching bracket holders to sidewall panels using included screws.
Next, I had to attach these sidewall panels together with metal rods & thumb screws, forming a secure base.
Then came sliding on those strong birch wood slats onto their respective spaces on side rails.
Finally, tightening of legs and latching up to that irresistible headboard completed this beautiful frame.
As challenging as these steps may sound, trust me when I say they were executed more efficaciously than most jigsaw puzzles I've wrestled with in my life.
The design is objectively user-friendly – sparing both my time and patience which is absolutely golden in my books! So, for all you newbie DIY enthusiasts worried about how difficult this process might be - breathe easy.
Sink Into Comfort: How the Burrow Chorus Bed Feels
Once I was past the DIY hustle of building the bed, it was time for that first inaugural rest. We all crave that 'sink into' sensation when we lay down on a bed. Luckily, the Burrow Chorus bed delivered this surpassing my expectations, and here's why.
Cradling You Gently: The Mattress Design and Support
The bed's hallmark trait is undoubtedly its ability to cradle you tenderly. Now let's dissect what this means exactly. Upon lying down, I immediately noticed a slight sinking feeling—but not intrusively so—to create a warm snuggle-like fit around my body contour.
You might be asking - what underpins this cocoon-comfy experience? The gentleness primarily stems from its built-in mattress slats' design. Unlike conventional box spring beds, Burrow Chorus features slatted mattress support, making it ideal for memory foam mattresses like mine.
Translating the techie jargon - 'slats' are essentially thin planks of wood that form the base for your mattress. These flat slats are positioned parallelly across the bed frame providing uniform support to your mattress.
But how do these humble slats influence comfort? Well, imagine your weight being dispersed equally across your entire body versus pressure points like shoulders and hips enduring most of your weight: Sounds comfortable right? That's precisely how these nifty slats work!
By offering consistent support throughout my mattress's base, they distribute my body weight evenly across the bedding surface area.
Resultantly, there is less pressure build-up at typical pinch points such as hips and shoulders providing me with a serene sleep environment each night!
These magic slats combined with my plushy-soft memory foam mattress worked wonders in relieving pressure point pains on waking up every dawn – true comfort indeed!
Furthermore, they also allow airflow between mattress layers, keeping the sleep surface cool - perfect for hot summer nights.
The Finish and Aesthetic Appeal of the Burrow Chorus Bed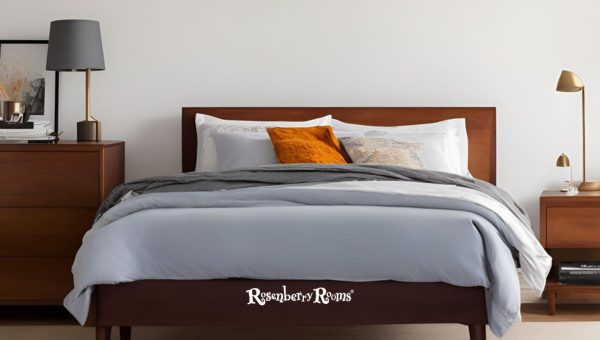 Now, let's talk about the eye candy aspect, aesthetics! Design wise, this masterpiece marries retro-feel with a modern twist quite masterfully - creating a luxurious yet welcoming space for rest.
The first thing that grabbed my attention in this regard was the deliciously dramatic button-tufted headboard. Its velvet finish exudes an upscale vibe without being too flashy or ostentatious. Alluring to the touch and easy on the eyes, I couldn't help but fall for its charm.
The bed comes in various color palettes suitable for diverse tastes. I personally chose the calming shade of crushed gravel to partner up with my bedroom's minimalist theme.
Merging Elegance with Functionality: The Overall Look
One thing about this bed that I absolutely adored was how the overall design flawlessly weaves functionality with style. Want a bed that can accommodate ample under-bed storage? The Burrow Chorus checks that box!
With 13 inches of clearance from the floor, generous under-bed storage possibilities come into play; perfect for those extra pillows or off-season linens you need to stow away!
Moreover, its mid-century cone legs aren't just there to look chic. They are made of solid hardwood which guarantees exceptional stability and longevity.
Finally - and this is quite rare - there's no footboard! Yes indeed, this implies unobstructed movement ere you want to plop yourself down lengthwise during those lazy afternoons. It may seem like a minor detail but trust me, it makes quite the difference considering our unconscious penchant for sprawling out across our beds.
To sum it all up, if you're in pursuit of stylish simplicity along with top-notch practicality - then go ahead and put a pin on Burrow Chorus bed as your next bedroom centrepiece coz you know, you can never go wrong with Elegance merged seamlessly into Functionality.
Durability Assessment: Is the Burrow Chorus Bed Built to Last?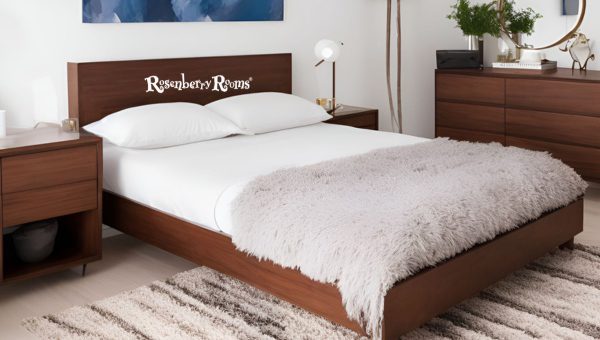 If there's one thing everyone scrutinizes before dropping their hard-earned money on furniture, it's durability.
You wouldn't want to invest in something that won't withstand time and wear, right? I can say that, after giving the Burrow Chorus bed a trial over a year, I'm extremely eager to laud its durability assessment.
Year-long Experience - Wear and Tear Evaluation
Over the past twelve months, my Burrow Chorus bed has been a silent witness to countless nights of sound sleep, lazy afternoon naps and let's be honest - some intense popcorn-movie marathons! Let's tackle each component separately:
1. The Frame: Lovingly crafted from sturdy Kiln dried Birch wood, the frame seems immune to warping or bending. It maintains its form perfectly even after a year of regular use. No creaking or sagging – attributed partly to its thoughtfully spaced wood slats design providing uniform support.
2. The Legs: Solid hardwood legs are steady as a rock and show no signs of wobbling even under dynamic weight distribution during turning/rolling over in sleep - trust me when I say stability is beyond question with this one!
3. The Velvet Headboard: Not any regular fabric material but high-quality velvet cladding is used here. This sumptuously soft woven fabric remains gentle as ever on touch while maintaining its rich color vibe despite rigorous rubbing/cleaning trials from my end.
Despite all these observations from my end, remember the durability of any product will eventually boil down to how well you maintain it.
As long as you treat your Burrow chorus bed with respect (meaning no jumping/bouncing hard on your bedtime space), I see no reason why it shouldn't prove loyal for years.
Now if these points don't make this bed a keeper, then what does? This detailed examination should assure anyone skeptical about the strength and resilience this wonderful ensemble has on offer.
After all 'Durability' is not an extravagance but an essential component when choosing your ideal sleeping haven.
Cost in Context - Pricing of the Burrow Chorus bed
One of the most pressing questions looming over any retail decision, a question that weighs both on our minds and our pockets, has got to be - Is it worth the investment? So let's talk dollars and sense when it comes to affording a Burrow Chorus bed.
Burrow keeps their pricing pretty straightforward. According to their website, the price range of the bed is directly proportional to its size:
Full Size- $1039 + Free Shipping
Queen Size- $1219 + Free Shipping
King Size - $1379 + Free Shipping
One glance at these numbers might induce an instinctive flinch considering it's not what one might describe as 'budget-friendly.' However, it's important to place this cost against long-term value you will gain from this piece of furniture.
Comparing Value for Money against Other Premium Beds
So how does this stack up when compared with other premium beds in the market? Let's draw onto some perspective here.
Comparatively, high-end bed brands such as West Elm or Pottery Barn peddle queen-sized beds ranging from approximately $1400 to an extravagant $3000! However, these prices often don't include extras like headboards or in some cases even bed slats!
Meanwhile, many affordable offerings from brands like IKEA do exist, but they may not assure you the same level of quality or aesthetic appeal that Burrow assures. Moreover, their sophisticated assembly process might feel more like a minefield than a user-friendly DIY project.
Now circling back to our questioned price tags; considering what you are getting for your buck with Burrow - an exquisitely designed and constructed bed frame (headboard included!), coupled with free shipping is definitely an offer hard to resist!
Not just that, but Burrow also boasts of exceptional return policy and warranty terms. A risk-free 30 days return policy allows customers an opportunity to try out their products and decide if it's a good fit for them.
Should you decide otherwise within this period, returns are absolutely free-of-cost – which alleviates buyer's remorse fear if any."
The manufacturer's warranty coverage isn't too shabby either offering up to 1-year warranty on all parts and labor!
To conclude my discourse on cost dynamics – given its supreme durability added with undeniable comfort levels tucked into utterly drool-worthy aesthetics - Burrow Chorus provides you with top-tier value for your money as compared to many other high-priced peers.
My Verdict on the Burrow Chorus Bed Review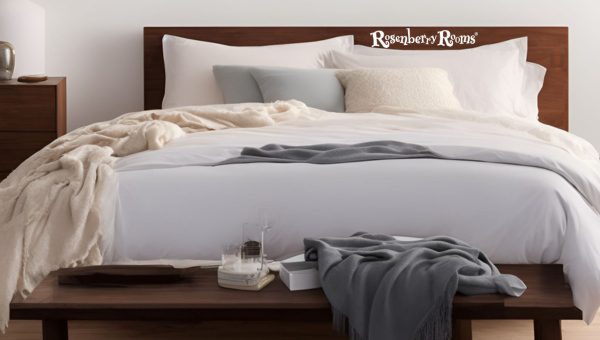 After over a year of shared memories and quiet nights, I think I'm pretty well qualified to make an informed call on this chic furniture piece.
But before we dive into my final verdict on this Burrow Chorus bed review, let's have a quick rundown of its pros and cons:
Pros
Cons
Limited color options: Color choices currently limited to only two shades - Crushed gravel & Midnight Blue
Casting a Long Night Shadow - Pros, Cons, and Should You Buy It?
Given these noteworthy strengths overshadowing sparse drawbacks (mainly budget-related), I'd say Burrow Chorus emerges unequivocally victorious in my quest for that perfect bed! It sure did cast a long night shadow over other options stacked up before me!
My experience illustrates that if you're someone who values not just aesthetics but also practical usage and longevity from their purchases – then this one's definitely designed keeping you in mind.
So shall you buy it? Absolutely yes! By all means make this luxurious yet user-friendly beauty your own – because ultimately moments of solace snuggled within our comfy beds truly denote finest slices of life!
At last, wrapping this narrative - "Living is indeed refined within comfort" and who better to reiterate this wisdom than our very own comfort haven called The bed.
FAQ About Burrow Chorus Bed
Q1: Is the Burrow Chorus Bed easy to assemble?
Absolutely! The Burrow Chorus Bed comes with detailed, English-labeled instructions that guide you through the assembly process effectively. Just ensure you follow all the steps meticulously and you should be just fine.
Q2: Is it a good investment?
Yes, it is. While the bed may have a relatively high initial cost, its aesthetic appeal, practical functionality, and notable durability makes it a worthwhile investment in the long run.
Q3: Is there enough under-bed storage space?
Indeed! The Burrow Chorus bed offers 13 inches clearance from the floor which definitely opens up generous possibilities for under-bed storage.
Q4: Do they offer any return policy?
Yes, Burrow does offer a return policy. They provide a risk-free 30 days trial period during which you can return products without any charges if you're unsatisfied with them.
Q5: Does Burrow provide any warranty coverage?
Burrow offers up to a 1-year warranty on all parts and labor for the Chorus bed. This covers defects in workmanship and materials but not normal wear and tear or damage due to improper cleaning or accidents.
Conclusion
After an in-depth and thorough assessment of the Burrow Chorus bed, it's clear to see that it delivers on multiple fronts. It's stylish yet functional. It's comfortable yet resilient, making it a true dream for any bedroom.
The bed is not just a piece of furniture, but an investment you make towards your comfort and well-being. While it might require a sizeable upfront cost, the long-term benefits offered by its durability and design make it worthwhile. All in all, the Burrow Chorus bed can be an exceptional addition to your home!