Are you struggling with dizziness when you lie down or wake up in the morning? Vertigo, an unpleasant sensation that can disrupt your life, might be the culprit behind your discomfort. One straightforward way to manage this condition is by choosing the best pillows for vertigo.
Believe it or not, something as simple as a supportive pillow can offer great relief from vertigo symptoms. This article will shed light on how an appropriate pillow can help and guide you to find one that suits your needs.
Get ready to say goodbye to those endless nights of tossing and turning. Keep reading, and let's revolutionize your sleep together!
What is Vertigo?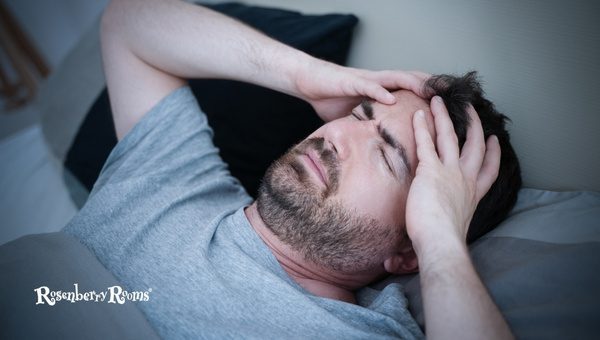 Vertigo is a type of dizziness characterized by a sensation of feeling off balance and experiencing a sensation of spinning.
This feeling can be slight, temporary, or long-term enough to affect balance. It is most common in people over age 65 but can occur at any age.
Vertigo is usually caused by an issue with the inner ear or brain, and it's not a disease but rather a symptom of different conditions, primarily those related to issues in the vestibular system.
Also Read: Best Sleeping Position For Chiari Malformation 2023 [C5-C6]
What are the Symptoms of Vertigo?
Experiencing vertigo can be quite unsettling. It interrupts your daily routine and leaves you with a feeling of constant imbalance and discomfort.
Understanding the various symptoms of vertigo can empower you to take necessary steps, such as modifying your sleeping arrangements or consulting a health professional. Let's dig a little deeper into these.
Spinning Sensation: One of the most common symptoms, this often feels like a swirl that doesn't let up. You might feel as though you're moving or the room is moving around you, even when everything is stationary.
Feeling of Tilting: Alongside the sensation of spinning, vertigo often presents as an intense feeling that you're tilting to one side. This sensation may occur even while sitting or lying down.
The feeling of Being Pulled in One Direction: This sensation isn't just about physical movement; it can affect your perception, too. It may feel like an unseen force is pulling you in one direction. It's surprising how strong this pull can be!
Nausea and Vomiting: These physical symptoms are closely linked to the disorientation caused by vertigo. The constant spinning and tilting sensations can lead to feelings of nausea, which, in severe cases, may result in vomiting.
Nystagmus (Abnormal Eye Movements): This symptom manifests as involuntary eye movements, usually esoteric oscillations that are a telltale sign of nystagmus.
Sweating: At times, excessive sweating (not caused by heat or exercise) could be an indication that your body is battling dizziness due to vertigo.
Headache: One might attribute headaches to several factors, but if other listed symptoms accompany it, it could be attributed to vertigo.
Ringing in The Ears (Tinnitus): A persistent ringing, buzzing, roaring, clicking, or hissing sound heard in one or both ears can be linked with vertigo.
Hearing Loss: If you are finding it hard to follow conversations or hear properly, especially when other symptoms are present, it could indicate a case of vertigo.
Difficulty Walking or Standing: Experiencing instability while walking or standing is a clear signal something is amiss. In this context, it might be vertigo you're dealing with.
Loss of Balance: Similar to the previous point, if you're having trouble retaining balance while performing regular activities like walking on a straight pathway, climbing stairs, etc., vertigo might be the problem.
Feeling Lightheaded or Faint: Occasionally experiencing lightheadedness and feeling as if you might faint out of the blue could also indicate that you are showing symptoms of vertigo.
All these troublesome symptoms can make your life miserable; they not only disrupt daily activities but hamper your overall quality of life.
Now that we've thoroughly explored the signs and symptoms of vertigo, you can better understand what's happening to your body.
Recognizing these symptoms is half the battle won. After all, only once you know what you are facing can you take adequate measures to handle it properly.
6 Best Pillows for Vertigo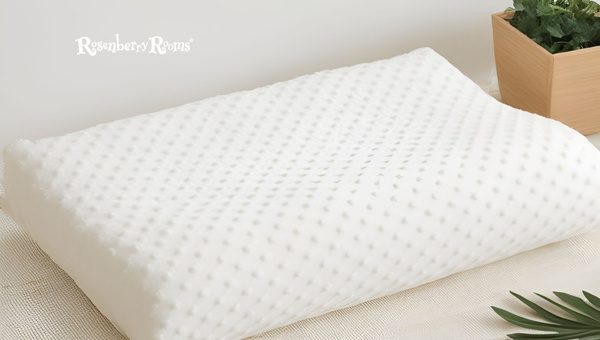 There is an array of pillows on the market, making it difficult to know which is the best option for those experiencing vertigo. Various factors, such as your sleeping position and specific symptoms of vertigo will influence your choice.
We will guide you through eight highly recommended pillows that can potentially improve your sleep quality and alleviate vertigo symptoms.
Read More: How To Arrange Pillows On A Bed 2023 [10 Bed Makeover Ideas]
Therapeutic Cervical Orthopedic Foam Sleeping Pillow
The Therapeutic Cervical Orthopedic Foam Sleeping Pillow leads the charge towards a peaceful night. Its design, a collaboration between an ergonomic designer and a Doctor of Chiropractic, ensures optimal comfort and effective relief from discomfort.
This plush pillow boasts its manufacturing within the USA using non-toxic materials. It's not only recyclable where applicable, but it's also non-allergic. This makes it a responsible choice for both your health and the environment!
One of the key features that sets this pillow apart is its promotion of spinal alignment–an essential factor for sound sleep and managing vertigo symptoms.
It comes with a bonus: A free-fitted polyester/cotton machine-washable zippered pillow cover. A convenience to secure cleanliness without any hassle!
There's no doubt that purchasing this pillow is more than just splurging on sleep comfort–it's an investment for future health.
If you have been searching for a remedy to sleep-related issues triggered by vertigo, this pillow should be high on your list.
| Feature | Description |
| --- | --- |
| Large | $99.12 |
| Average | $99.11 |
| Large | $99.11 |
| Petite | $93.01 |
| XLarge | $99.12 |
| Brand | Therapeutica |
| Special Feature | Removable Cover |
| Color | White |
| Size | XLarge |
| Fill Material | Memory Foam |
| Weight | 2 pounds |
| Dimensions (inches) | 20 x 18 x 6 |
A good night's sleep plays a significant role in managing vertigo symptoms. Choosing an ideal resting companion like the Therapeutic Cervical Orthopedic Foam Sleeping Pillow can be instrumental in achieving this goal!
Coop Home Goods Original Loft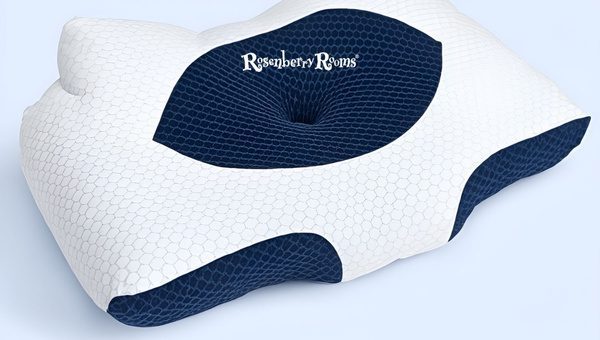 Coop Home Goods Original Loft is a perfect fit if you're a side sleeper. The cut-out shape of this pillow supports the natural curvature of your neck, reducing pressure and combating the symptoms of vertigo.
What sets it apart is the fully adjustable fill. This feature allows you to customize the pillow to your exact preference, finding the sweet spot between too fluffy and too flat.
Made with only the best materials, this pillow offers comfort without compromising health standards. Its premium memory foam meets strict CertiPUR-US and GREENGUARD Gold standards for content, emissions, and durability.
Not only does it provide support for your neck, but it also ensures a cozy rest with an ultra-soft, machine-washable cover that maintains its plushness over time.
When it comes to bedtime solutions for vertigo, you want a pillow that considers every aspect of your nocturnal comfort. Coop Home Goods Original Loft does just that - making certain that you enjoy a comfortable sleep each night.
Its adjustability grants personalized comfort in every sense, promoting proper alignment and easing the irritating sensations associated with vertigo.
| Feature | Description |
| --- | --- |
| Price | $72 to $92 |
| Color | Original White - 19" x 29", Crescent White - 18" x 28", Cut-out White - 18" x 28" |
| Fill Material | Memory Foam/Microfiber |
| Pillow Type | Bed Pillow |
| Color | Cut-out White |
| Size | King |
| Brand | Coop Home Goods |
| Weight | 6.6 pounds |
| Fabric Type | Polyester/Rayon Made from Bamboo |
| Certifications | CertiPUR-US & Green Guard Gold |
Choosing this pillow means choosing relief from relentless vertigo symptoms while ensuring tranquil and restful nights ahead.
No more restlessness caused by an unsupportive pillow – instead, wake up feeling refreshed and ready to embrace the day.
Supa Modern Cooling Gel Memory Foam Pillow
Imagine dozing off on a Supa Modern Cooling Gel Memory Foam Pillow, an item of sheer luxury that ramps up your sleeping experience.
This exquisite pillow goes beyond being merely a place to rest your head; it's strategically designed to give you unparalleled comfort and enhance your sleep quality.
Gone are the days of battling with discomfort, thanks to the 3D Breathful Design. This sophisticated feature promotes better airflow and optimum pressure distribution, contributing significantly to improving your sleep quality.
Essentially crafted as the best gel bed pillow for sleeping, it boasts a cooling bamboo exterior, which adds not just a hint of luxury but also provides a soothing, cool sensation that's ideal for hot nights.
One standout feature is its fluffy adjustable height. It allows you to customize the loft based on your personal preference, ensuring maximum comfort when you lie down.
The meticulously woven texture is not only aesthetically pleasing but also machine washable. You don't have to worry about stubborn stains or maintaining its pristine condition. The provision of a secure zipper ensures easy removal and replacement post-cleaning.
Don't keep this gem for yourself - it makes an ideal present for those celebrating special occasions or simply as an act of care. Because let's face it - who wouldn't appreciate the gift of peaceful sleep? Give this perfectly luxurious gift to friends and families as an expression of thoughtfulness.
| Feature | Description |
| --- | --- |
| Price Range | $34 to $69 |
| Standard (1 Count) | $59.99 |
| Standard Size (Pack of 2) | $69.99 |
| Queen (1 Count) | $34.99 |
| Queen (2 Count) | $49.99 |
| King Size (Pack of 1) | $49.99 |
| King (2 Count) | $69.99 |
| Travel (1 Count) | $35.99 |
| Color | White |
| Fill Material | Memory Foam |
| Pillow Type | Bed Pillow |
| Size | Standard Size (Pack of 2) |
| Brand | SUPA MODERN |
| Weight | 7.88 pounds |
| Dimensions | 26"L x 20"W |
| Fabric Type | Bamboo |
With all these fantastic features in one single package, the Supa Modern Cooling Gel Memory Foam Pillow is undeniably a game-changer in boosting sleeping quality while providing relief from vertigo symptoms.
Also Read: How To Mix And Match Pillows On A Sofa [2023 Styling Tips]
Emircey Adjustable Cervical Pillow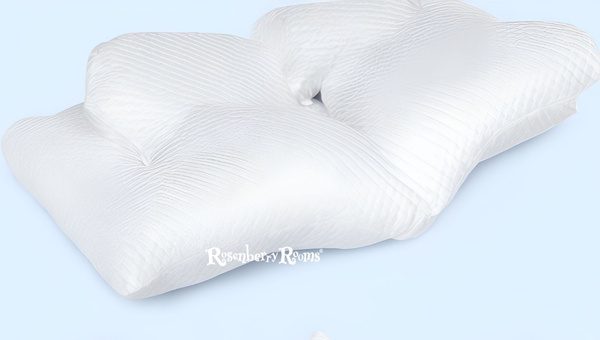 The Emircey Adjustable Cervical Pillow could be your new bedtime game-changer. If you're tired of waking up each morning with a stiff neck and aching shoulders, this pillow may be the solution for you. Its innovative design is specifically made to alleviate neck and shoulder discomfort, helping you wake up refreshed and ready for the day.
What sets this pillow apart? It's all about customization. The Emircey Adjustable Cervical Pillow gives you the option to customize its height according to your comfort, a feature comparatively missing in many other sleeping aids.
This means it provides unparalleled support tailored explicitly for you, ensuring optimal alignment of your head, neck, and shoulders.
But that's not all this wonderful pillow has to offer. You'll also be delighted by its high-quality memory foam construction. This safe and odorless material conforms seamlessly to your shape while providing excellent, comfortable support throughout the night.
In terms of efficacy, many have labeled Emircey as one of the most effective ergonomic pillows out there in addressing vertigo symptoms due in part to how it encourages healthy sleep positions.
These help keep your vestibular system – responsible for maintaining balance - undisturbed, hence reducing occurrences of vertigo episodes.
| Feature | Description |
| --- | --- |
| Price Range | $39 to $54 |
| Small Size | 22.4"L * 14.2"W * 5.2"H |
| Queen Size | 24"L * 14.2"W * 5.2"H |
| King Size | 26.4"L * 14.2"W * 5.5"H |
| Brand | Emircey |
| Special Feature | Adjustable |
| Color | White |
| Size | Queen Size 24"L * 14.2"W * 5.2"H |
| Fill Material | Foam, Memory Foam |
| Weight | 3.94 pounds |
Emircey boasts not only superior product quality but great customer service as well. They offer hassle-free purchase options and a friendly team ready and willing to assist you - making the entire buying journey memorable.
If over-the-counter treatments aren't helping your vertigo much, if normal pillows leave more pain than comfort – then it might be time to turn towards specialist solutions like Emircey Adjustable Cervical Pillow, designed uniquely with the intention of improving lives through better sleep.
NTCOCO, Shredded Memory Foam Bed Pillows
When it comes to comfort and support, NTCOCO Shredded Memory Foam Bed Pillows shine above the rest.
The fabric blend of 52% polyester and 48% bamboo ensures a soft touch along with breathability for a cool, dry sleeping experience. These pillows offer an irresistible combination of snug softness and adaptive support.
In the interior, 90% shredded memory foam pairs with 10% silk. This makes for a plush, luxurious feel while providing unparalleled support to the neck and head.
The unique aspect of these pillows is their adjustable height - you can add or remove foam to create the perfect loft level for your comfort.
These pillows require specific maintenance to stay in prime condition. Do not fully machine wash these; instead, remove the foam beforehand and air it out separately while washing the fabric cover separately.
Customer service? NTCOCO has got you covered. With their commendable 1-year satisfaction guarantee pledge, you can seek assistance for any queries or issues round-the-clock.
To top it all off, each NTCOCO pillow comes vacuum-sealed to maintain its sponginess and elasticity during shipment. Each box is packed with two soft yet supportive pillows ready to greet your tired head every night.
| Feature | Description |
| --- | --- |
| Price Range | $32 to $69 |
| Available Sizes | Queen - $32.99, King - $37.99, King (2-Pack) - $69.99 |
| Fill Material | Memory Foam |
| Pillow Type | Bed Pillow |
| Color | King 2 |
| Size | King (2-Pack) |
| Brand | NTCOCO |
| Dimensions | 32"L x 18"W |
| Weight | 4 pounds |
| Closure Type | Zipper |
Not only - studies have shown that using quality materials like memory foam can significantly reduce neck pain and enhance sleep quality, which shows NTCOCO's commitment to your well-being.
Your sleep matters; safeguarding it goes beyond buying just any pillow - it's about investing in quality material like that found in NTCOCO Shredded Memory Foam Bed Pillows.
Famedio Adjustable Cervical Pillow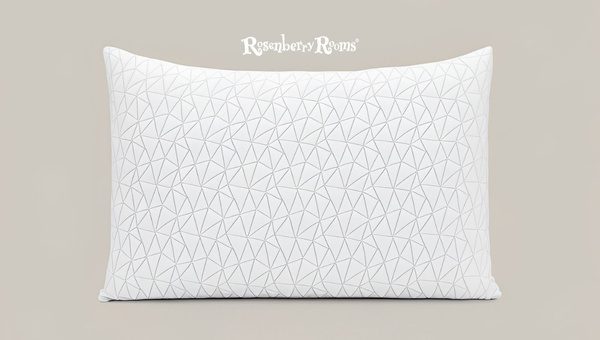 Are you constantly grappling with neck pain and seeking the ultimate solution to alleviate this discomfort? Then look no further than the Famedio Adjustable Cervical Pillow.
This ergonomic wonder promises uncompromised support for your neck while contouring perfectly to your body.
One of the highlighted features of this pillow is its U.S. patent hollow design, which aims to ease neck strain efficiently.
But don't worry if it looks daunting at first glance; it's been designed meticulously, ensuring comfort while maintaining its purpose in alleviating neck pain.
You'll certainly love its wider loft range, not to mention the quality upgrade from previous models. Its fantastic variance in thickness allows you to easily adjust it according to your preferences, ensuring a tailored sleeping experience like no other.
Aside from being physically appealing, Famedio promises full after-sale support. It's essentially a no-risk trial where you can return the product if it does not meet your satisfaction standards.
Considering its exceptional design and high-performing features, there's little chance you'd want to give it up!
| Feature | Description |
| --- | --- |
| Price Range | $43 to $46 |
| Size | Standard, Queen |
| Dimensions (LxWxH) | 21.6" x 14.3" x (3.5"-4.4") for Standard, 25.5" x 16.5" x (4.1"-5.2") for Queen |
| Weight | 2.79 pounds for Standard, 3.9 pounds for Queen |
| Color Options | Blue, Grey, Navy Blue, Pink, Purple, White |
| Brand | Famedio |
| Special Feature | Adjustable |
| Fill Material | Foam, Memory Foam |
| Shape | Rectangular |
Embark on a journey towards comfortable sleep now by investing in this top-notch cervical pillow – and revel in the joy of letting go of your ever-persistent neck pain!
Explore More: What Is A Pillow Sham? [Pillowcases Vs Pillow Shams]
FAQs about the best pillows for vertigo
Does a specific type of pillow help with vertigo?
Yes, cervical or orthopedic pillows can help by providing the right head and neck support, potentially reducing vertigo symptoms.
How can a pillow alleviate my vertigo symptoms?
Pillows designed for vertigo offer proper alignment, essential for reducing pressure points that could trigger or exacerbate vertigo attacks.
Are memory foam pillows effective for vertigo sufferers?
Absolutely! Memory foam pillows offer ample support and mold to the shape of your head and neck, which can be beneficial for people with vertigo.
Are there specialized pillows available on the market specifically designed for vertigo?
Yes, specialized options such as cervical pillows are tailored to provide targeted support, aiding in the reduction of vertigo symptoms.
Can sleeping without a pillow help alleviate my vertigo?
While some people find relief without a pillow, it's typically better to use one that offers appropriate head and neck support.
Conclusion
If you're dealing with vertigo, it's worth considering a specialized pillow to promote better sleep and potentially alleviate your symptoms.
The best pillows for vertigo is one that offers ample firmness to align your neck properly and reduce pressure on points that could trigger a vertigo episode.
Take control of your vertigo by investing in a suitable pillow–it could pave the way to more restful nights and livelier mornings.
Remember to consult with a healthcare professional for personalized advice related to managing vertigo, as individual responses may vary.