You've decided to upgrade your bedroom décor and want a fresh, clean look. One of the easiest and most cost-effective ways is by updating that old, exposed box spring with a stylish cover.
But with so many options on the market, how do you choose? We've done the hard work for you and put together an insider's guide to finding the best box spring covers out there.
Refreshed bed aesthetics can genuinely influence your mood and your room's overall appeal. And we all know how important it is to make our personal spaces inviting and comfortable, right?
That's why investing in a high-quality box spring cover can truly change the game.
With our list of the best box spring covers available online, rest assured you're in for an easy decision-making process as you enhance your cozy corner.
Why are Box Spring Covers Important?
Let's begin by understanding the importance of donning a box spring cover. For starters, it gives your bedroom a fresh, cohesive look.
More than aesthetics, it also contributes significantly to maintaining cleanliness by preventing dust accumulation and warding off pesky bugs. Your box spring is essentially the bed's support system, and as such, staying covered helps prolong its lifespan.
Box spring covers are easy to clean and replace. This makes them a cost-effective solution to revamp your bed's appearance without replacing the entire thing.
If you or someone in your family has allergies, these covers work as an allergen barrier—giving you not only comfort but peace of mind.
You'd agree that anything ensuring long-term financial savings while delivering the comfort you deserve is definitely worth considering.
What are the Benefits of Box Spring Covers?
As we've just seen above, box spring covers serve a critical function in your sleeping environment. They may seem like simple additions, but their benefits extend far beyond aesthetics. Now, let's delve into those benefits in more detail: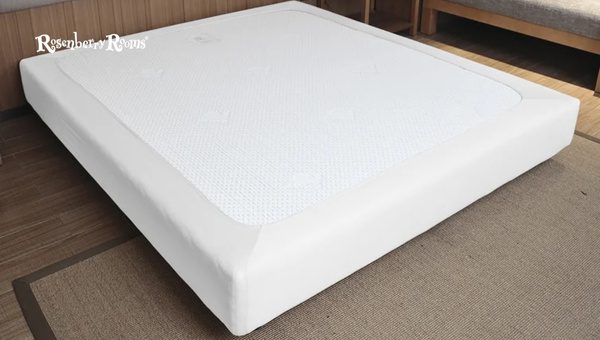 Dust Mite Protection: Dust mites can trigger allergies and cause asthma attacks. A box spring cover acts as a barrier, preventing these tiny creatures from making a home in your bed.
Allergy Relief: Many people suffer from allergies related to dust and dander. By encapsulating your box spring in a cover, you'll greatly reduce exposure to these allergens, offering relief for allergy sufferers.
Aesthetic Improvement: A well-chosen box spring cover can complement the overall design and color scheme of your bedroom, giving it a refined and exclusive feel.
Protection Against Bed Bugs: Bed bugs can be a nuisance and are hard to eliminate once they've infiltrated your bed. But guess what? A quality cover acts as an effective barrier against these pesky parasites.
Increased Lifespan of the Box Spring: Covers protect against sweat, wear and tear, spills, and stains, all factors that could degrade your box spring over time. Therefore, by using one, you're definitely extending its life span.
Reduces Wear and Tear: Persistent friction between the mattress and box spring can lead to physical damage over time. Using a cover reduces this damaging friction.
Keeps the Box Spring Clean: A big win with using covers is that it keep dirt, dust, and lint; you name it off your box spring. Your cleaning routine just got lighter!
Provides a Barrier Against Spills and Stains: Unexpected Spills? No problem! The cover prevents liquids from reaching the box spring, keeping it as good as new for longer.
Reduces Noise from Springs: Have you ever experienced a creaky noise emanating from your bed? These covers can help muffle those sounds, ensuring a quiet, peaceful night's sleep.
Easy to wash and maintain: Most covers are machine-washable, making them incredibly easy to clean. Say goodbye to arduous manual scrubbing!
Considering these vast benefits, there's no doubt that box spring covers are an invaluable addition to your bedding setup.
They aren't just accessories but essential pieces that significantly enhance the longevity and aesthetics of your bed while providing several health benefits.
So, if you haven't already thought about investing in one, now is the time.
6 Best Box Spring Covers
When it comes to upgrading your bedroom, a simple yet significant change starts with dressing up your box spring.
Box spring covers not only give your bed a sleek finish but also protect it from dust, stains, and the wear and tear of daily use.
Let's delve into our list of the six finest box spring covers that promise durability, aesthetics, and functionality.
Read More: How To Cover A Box Spring In 2023 [10 Unique Ideas]
Twin Six Premium Bed Box Spring Cover
Priced competitively between $17 to $22, the Twin Six Premium Bed Box Spring Cover is a worthy investment for upgrading your box spring aesthetics.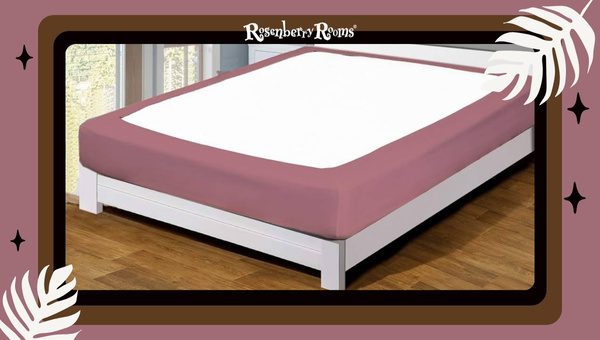 This elegantly constructed solid polyester cover is available in eight stylish colors and varying bed sizes, including Twin/Twin XL, Full/Full XL, Queen/Split Queen, and King/California King/Split King.
With its modern and neat appearance, this box spring cover subtly adds flair to your room without drawing too much attention. Not only that, but it's also an efficient defender against dust and pet hair.
Unlike conventional bed skirts that tend to dangle and obstruct under-bed space, the design innovation of this wrap-around cover embraces the sides of your box spring seamlessly.
Rather than lifting your bed to install it, glide it over the mattress down to the frame, an easier and immaculate alternative.
Fabricated from 96% Polyester and 4% Spandex material - akin to yoga or bathing suit fabric - the Twin Six Premium cover offers an ultra-stretchy finish.
This ensures an ideal fit for your box spring courtesy of its flexibility while adding a contemporary, clean look.
This product's clever design incorporates deep corner pockets offering perfect accommodation for standard box springs heights between 8.5" to 9".
If you have a lower-height box spring ranging from 7" to 8", additional security can be achieved through elastic straps or safety pins.
Pros
Competitive Pricing
Available in various bed sizes
Wide range of stylish colors
Dust and pet hair-resistant
Seamless wrap-around design
Stretchy, high-quality fabric blend
Easy installation and removal
CONS
Require additional security for lower-height box springs
Limited height accommodation
Not fit unconventional box spring sizes
Not 100% wrinkle-free after washing
To top it all off, maintaining cleanliness has never been easier. You can easily remove this wrinkle-free cover for machine washing.
Mrs Awesome Stretch Jersey Box Spring Cover
Priced between $14 to $17, the Mrs Awesome Stretch Jersey Box Spring Cover offers an affordable and quality alternative to bed skirts.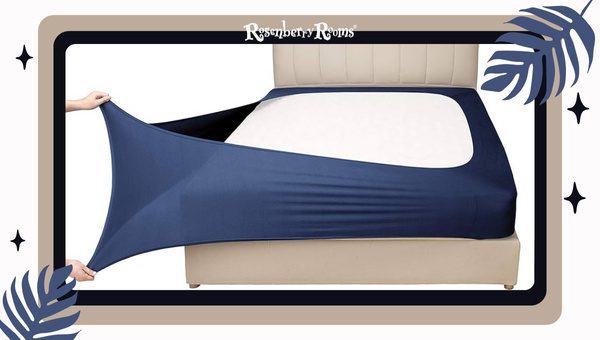 This cover, available in different bed sizes ranging from Twin to King, is designed with your convenience in mind.
Constructed with a blend of premium jersey knit fabric and microfiber, this cover delivers an impressive performance trifecta: ultimate softness, high elasticity, and resiliency against wrinkles. Keeping this box spring cover clean is also stress-free; it's easy to care for and durable enough for long-term use.
A distinctive feature of this product is its four-way, super-stretch microfiber design. It boasts compatibility with both low and deep-profile depths from 5" up to 13", easily stretching over corners for a snug fit.
You can use it comfortably with a king-size mattress or box spring ranging from 54" to 79" in width or 56"~90" in length.
Outstanding in design, the top and bottom edges come complete with elastics that envelop your box spring snugly; no more fretting about unforeseen slips.
In terms of aesthetics, you have a variety of classic colors available at your disposal – switch it up whenever you want.
Pros
Premium jersey knit fabric blend
High elasticity and anti-wrinkle
Easy care and durability
Compatible with low to high-profile depths
Firm grip due to elastic top and edges
Variety in color options
CONS
Price variances can be confusing
Single fabric blend limits texture variety
Stretch material may loosen over time
Stitching could potentially tear on abuse
Every inch of this box spring cover reflects great craftsmanship: tight stitches and firmly held seams ensure longevity, showcasing a neat space without hindering installation or removal.
Springspirit Box Spring Cover
The Springspirit box spring cover stands as a testament to the craftsmanship and meticulous design. With supreme quality that you can rely on.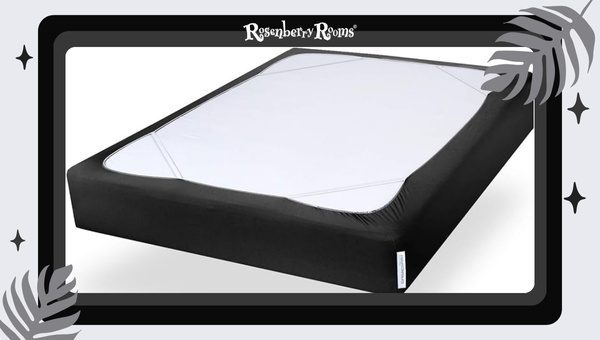 This cover is the proverbial cherry on top that completes your serene haven in your bedroom—made from ultra-soft and smooth fiber material.
It's not only a treat for your eyes but also has a luxurious feel to it. With its clean lines and uninterrupted appeal, this cover will ensure your box spring maintains a modern look without obstructing any under-bed storage you may have.
Available in five different colors, you're bound to find one that complements your room décor.
With options ranging from twin size to king, these covers are carefully designed to cater to all types of box springs.
Featuring deep corner pockets and woven elastic material, it ensures an ideal fit around your box spring for all-around protection.
Caring for your Spring spirit cover couldn't be more straightforward. Just machine wash in cold water with like colors and tumble dry low.
Pros
Quality craftsmanship
Luxurious feel
Contemporary design
Versatile color options
Multiple size availability
Fitted design with deep corners
Easy care and laundry instructions
CONS
Too modern for some tastes
Color may fade over time with washing
Elastic material could lose elasticity
Potentially tight fit in certain types of box springs
That's why they offer a lifetime guarantee for utmost customer satisfaction; should the product fail to meet your expectations, they've got you covered with an easy return policy.
Also Read: Best Material For Duvet 2023 [35 Best Duvet Fabrics In 2023]
Barossa Design StretchWrap Box Spring Cover
If you're looking for a blend of style, functionality, and durability in one package, then the Barossa Design StretchWrap Box Spring Cover is your go-to option.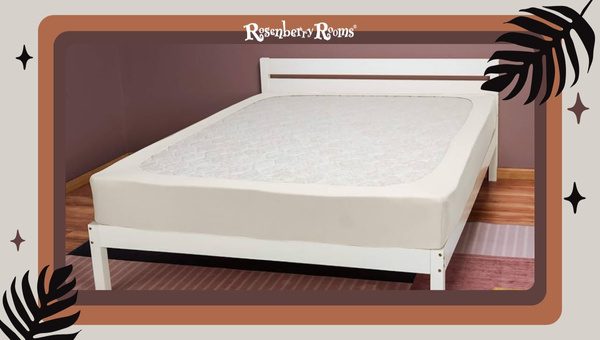 Sporting a smooth and clean look that replaces traditional bed skirts, this cover provides a snug fit on your box spring with its unique microfiber/spandex material composition.
Offered in an array of sizes from twin to king and eight solid color options, this cover guarantees to fuse with any bedroom decor seamlessly. Its jersey knit design further adds to its appeal, allowing it to span the corners effortlessly.
One selling point of this cover is its four-way stretch. Thanks to the stretchable knitted fabric, it tightly wraps around any box spring profile ranging from 4" to 12" depth without much hassle.
It's designed with stay-fit corners comprising thick elastics on both ends. This feature ensures that the cover remains firmly in place and doesn't unnecessarily pop off while moving or changing sheets.
One highlight that might interest you is certainly the ease of installment. Forget about lifting your hefty mattress or fumbling with adjusting straps; this cover's design lets you wrap it around all four sides of your box spring in just seconds.
But perhaps what tops off this box spring cover beautifully is its user-friendly care instructions - say goodbye to ironing or daily adjustments typically associated with bed skirts.
The Barossa Design Stretch Wrap notably stays wrinkle-free and doesn't need constant tucking in; give it a quick wash, and it's as good as new.
Pros
Offers stylistic versatility
Ensures snug fit
Four-way stretch feature
Stay-fit corners for secure placement
User-friendly installment process
Requires minimal maintenance
Attractive price point
CONS
Limited color range
Might show wear over time
Not wrinkle-resistant
Needs occasional readjustments
Undisputedly efficient with a price range between $14-$16, this cover is indeed worth every penny spent as it promises not only elegance but also optimal protection for your box spring, making for an investment-worthy purchase.
Bedecor Stretchy Fabric Box Spring Cover
The Bedecor Stretchy Fabric Box Spring Cover is not merely a wrap for your box spring. It's an investment that offers versatile benefits and stands out as a top-notch, high-quality product.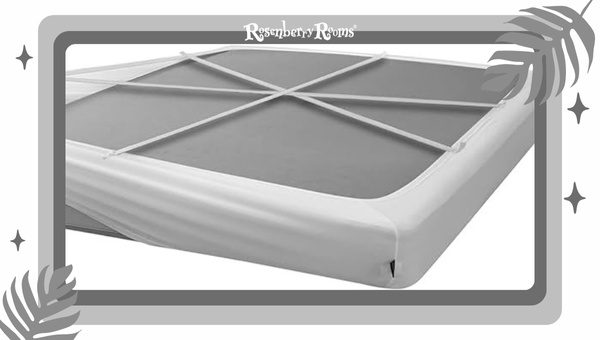 Made from smooth, flexible polyester, the fabric is devised to spread comfortably across 4-9 inch box springs without any worry about it slipping off. The four-way wrap ensures uniformity and neatness in appearance.
This box spring cover comes in six different colors, including its best-seller, a neutral beige cream resembling taupe and oatmeal that is popular not only for aesthetics but also for its ability to create a cozy ambiance promoting restful sleep.
Decked with modern style, this cover can significantly enhance your bed's appearance by hiding the box spring and providing a cohesive look.
It coordinates well with a bed skirt or headboard cover and fits various types of foundations, whether it be low profile, wooden, foldable box springs or an adjustable platform bed.
One of its unique features is the adjustable elastic straps, which ease putting on and removing the cover. Plus, it stays firmly in place once adjusted properly, so there are no more daily fixes.
This Bedecor product offers protection from dust mites and pet dander, an essential feature for allergy sufferers.
Pros
Fits Multiple Box Spring Types
Smooth, Flexible Material
Allergy Protection Feature
Enhances Bed Appearance
Easy Installation and Removal
Adjustable Elastic Straps
Luxurious, Versatile
CONS
Elastic Might Wear Out Over Time
Limited Size Flexibility
Lacks Color Vibrancy Varieties
Requires Proper Care for Longevity
Keeping your box spring clean from these common allergens it helps extend its lifespan, giving you longer-lasting optimal support for a superb slumber.
Explore More: Parachute Organic Cotton Duvet Cover Set Review 2023 [Latest]
Biscaynebay Decorative Box Spring Cover
The Biscaynebay Decorative Box Spring Cover, priced between $14 and $16, is available in a wide range of sizes from Twin/Twin XL all the way up to King/Cal King.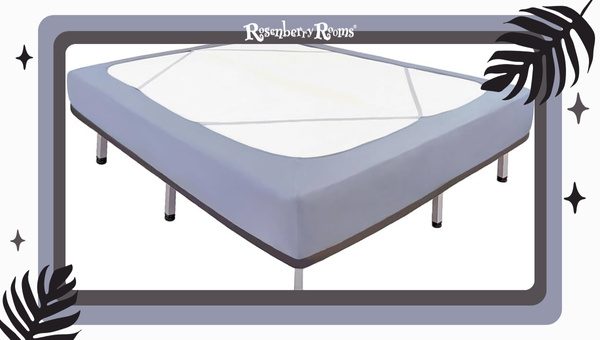 This means that no matter the size of your box spring, they've got you covered. Literally!
Most noteworthy about this product are the diverse color options, a whopping 12 in total. This allows you to match the cover with your present bedroom decor and adds versatility. Whether you have a theme of subtle creams or vibrant blues, there's a color for you.
The quality of the material used is another standout feature; it's derived from Jersey Knitting & Spandex, providing two specific benefits: stretchability and durability.
Besides being highly resistant to wrinkles, it comes with an incredible feel similar to touching an extremely soft T-shirt.
This box spring cover is designed for ease of use; it perfectly slides over your box springs, given its stretchy nature.
There isn't any need to remove your mattress, hook it onto one corner, then pull it over to other corners for complete coverage.
It even includes elastic belts you can adjust for an even snugglier fit! Specially tailored for standard box springs with heights between 4" and 12", the fitting has never been easier.
Pros
Affordable price range
Wide size options
Diverse color selection
Stretchable and durable
Easy installation process
Hassle-free adjustable elastic belts
CONS
Requires careful washing
Inappropriate for bleach cleaning
Potential color fading over time
Not suitable for non-standard box spring sizes
The Biscaynebay cover is machine-washable, should be cleaned on a low heat setting, requires no ironing, and bleach isn't recommended. Just remember to wash it separately if its color is dark.
FAQs About best box spring covers
What is the main purpose of a box spring cover?
A box spring cover serves primarily as a protective layer for your box spring, safeguarding it from dust, allergens, and bed bugs while enhancing the overall aesthetics of your bed.
Does every box spring require a cover?
While not mandatory, using a cover is highly recommended for maintaining cleanliness and ensuring the longevity of your box spring.
Can I wash my box spring cover in a washing machine?
Yes, most box spring covers are machine-washable, but be sure to follow the specific manufacturer's instructions regarding heat settings and the use of bleach.
Do all box spring covers fit every type of box spring size?
No, it's important to check the product specifications for size compatibility before purchasing a cover. Some covers are adjustable for different heights, but not all.
How do I install my new box spring cover?
Box spring covers generally come with user-friendly installation instructions; many times, you just slide it over your existing box springs. There's typically no need to remove your mattress.
Conclusion
Wrapping it up, investing in a high-quality box spring cover presents manifold benefits. Not only does it elevate your room's aesthetics, but it also extends the lifespan of your box springs by offering protection against dust and bugs.
Rest assured that top-notch covers are easy to care for, usually requiring nothing more than a simple machine wash.
Given this, our detailed guide should empower you to find the best box spring cover that fits not just your bed but also your style and meets your needs.
A well-dressed bed not only looks great but renders superior comfort, too.