If a fresh coat of paint is on your home improvement to-do list, you've probably come across various color choices.
Navigating through this myriad can be a bit overwhelming, right? However, one shade that's catching the eye of décor enthusiasts everywhere is Benjamin Moore Van Deusen Blue HC-156. This paint color could be the game-changing element you want to introduce into your space.
Matching paint with your furniture and overall aesthetics isn't always easy. With this review of Benjamin Moore Van Deusen Blue HC-156, hopefully, your decision will become simpler.
It's all about finding that perfect balance between style and comfort. So why not consider a color that enhances your decor and creates an inviting atmosphere?
In-depth Review of Benjamin Moore Van Deusen Blue HC-156
This stunning mid-toned blue, named after the well-known Dutch artist Abraham Van Deusen, exudes an uncanny sense of calm and tranquility, making it a go-to choice for many homeowners.
Benjamin Moore's Van Deusen Blue HC-156 can act as a striking statement in your space or enhance the natural light, casting a serene ambiance across your room.
Van Deusen Blue's Light Reflectance Value (LRV)
The Light Reflectance Value (LRV) of Benjamin Moore Van Deusen Blue HC-156 is 11.97. LRV measures the percentage of light a paint color reflects and can be a useful tool when selecting paint colors for your home or office space. The scale runs from 0, pure black, to 100, representing pure white.
This number indicates that Van Deusen Blue is a dark color on the LRV scale. It will absorb more light than it reflects, creating a deeply saturated, intense color effect.
While using this paint, it's crucial to consider the amount of natural and artificial lighting present in the room where it will be applied.
A low-LRV color such as Van Deusen Blue can create an intimate and cozy atmosphere in a well-lit room but may make poorly lit rooms appear smaller or darker.
Benjamin Moore's Van Deusen Blue is known for its rich and elegant look; it's perfect for adding depth and balance to any space.
Warm or Cool? The Temperature Spectrum of HC-156
Benjamin Moore Van Deusen Blue HC-156 is considered a cool paint color. Color theory categorizes colors as either warm or cool based on their undertones.
Van Deusen Blue leans towards the cooler spectrum as it has blue and gray undertones traditionally associated with cool colors.
Cool colors like Van Deusen Blue evoke a calm, soothing effect, often incorporated into designs to create a sense of relaxation and tranquility.
It's ideal for bedrooms, bathrooms, or any space where a serene atmosphere is desired. Despite being a darker hue, its cool undertone keeps spaces airy and open when used properly with appropriate lighting and contrasting decor elements.
The Undertones of Van Deusen Blue
Benjamin Moore Van Deusen Blue HC-156 has a muted blue undertone. An undertone is subtly perceived under the predominant color that your eye first notices when looking at a paint swatch or sample.
Despite being darker, the undertones of Van Deusen Blue are key to understanding its specific shade. It possesses a slight gray influence, producing what is often referred to as a muted or washed blue. This cool undertone gives Van Deusen Blue its unique tranquility and depth.
The muted blue undertone of Benjamin Moore Van Deusen Blue HC-156 can subtly shift in appearance under different lighting conditions, appearing more assertively blue in bright daytime light and more subdued, leaning towards grayish-blue under artificial lighting.
Also Read About Benjamin Moore Linen White OC-146 [Paint Color Review]
Practical Applications in Interior Spaces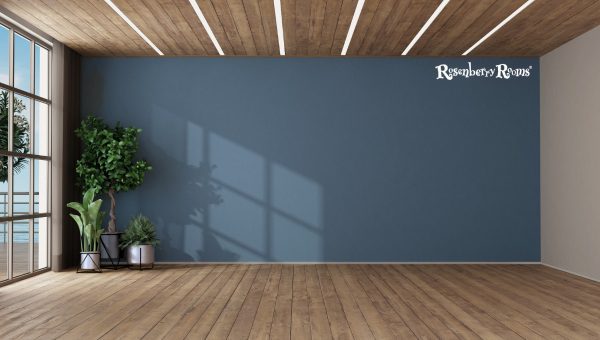 Introducing Van Deusen Blue into your interior spaces can truly transform the overall aura of your home, creating an atmosphere of tranquility and sophistication.
This extremely flexible, classy color can be applied in various rooms and spaces, syncing effortlessly with different design themes. Let's further dissect where you could apply it.
Bedroom: If you're looking for a cozy retreat-style bedroom, look no further. The soothing shade of Van Deusen blue creates a serene environment, perfect for relaxation after a long day. Pair it with soft white accents and natural wood tones for unmatched comfort.
Bathroom: Paint your bathroom walls with this splendid color and encapsulate yourself in its calming aura every time you shower. Complement the color with fine, polished chrome fixtures to make a statement.
Living Room: Enhance your living space, the heart of every home, with a warm and welcoming dash of Van Deusen blue. It pairs brilliantly with neutral-toned furniture and adds extra spark to make consistent family gatherings more memorable.
Dining Room: Create an appealing dining backdrop by introducing this shade on one main wall or as an art mural background around your dining set. It's sure to elevate the dining experience at every meal time.
Kitchen: As a surprise element, use Van Deusen Blue on your kitchen cabinets or as an island paint choice- when paired with light countertops like quartz or marble, it can turn any routine cooking experience into something much more enjoyable.
Van Deusen Blue's versatility lies in its application across different spaces and its compatibility with diverse design elements- from classic hardwood flooring to contemporary metal workpieces.
Why You Should Always Test a Sample First
Every room in your home is unique, and what may work for one might not necessarily be the best fit for another. Therefore, testing a sample of Van Deusen Blue on your walls beforehand is necessary. This lets you see how the color varies with light exposure and complements your decor.
Paint colors can look drastically different on the screen than on your walls. Testing gives you the reassurance you need before painting an entire room or exterior face.
Similar Colors to Van Deusen Blue HC-156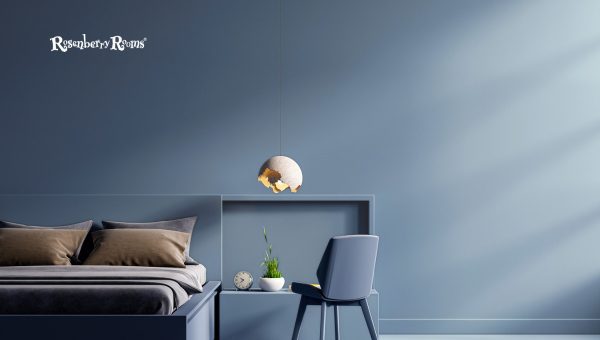 When choosing the perfect paint color, it's always helpful to look at similar hues to determine the exact palette you're after. Let's take a glance at several shades that are related to Benjamin Moore's Van Deusen Blue.
Consider these alternative options before settling on your final choice, as they might align with the aesthetic requirements you're looking for; each color shares common traits with Van Deusen Blue but exhibits unique qualities, making them ideal candidates for use in different contexts within your home decor project.
Explore More: Benjamin Moore Grant Beige HC-83 [Paint Color Review]
Exterior Uses and Considerations for Benjamin Moore HC-156
As great as Van Deusen Blue looks inside your home, it can make an equally impressive statement outside. This paint color packs a wow factor and will have your neighbors admiring as they stroll by.
Front Door: Leave a lasting impression on your guests by painting your front door in the stunning Van Deusen Blue. It's inviting distinctive, and makes for an unforgettable passageway into your sanctuary.
Window Trim: Use Van Deusen Blue to accentuate your window trims. It adds more character to the overall aesthetic of your house without overpowering the main exterior color.
Shutters: Adding this brilliant blue to shutters adds a touch of sophistication while exhibiting a timeless look.
Garage Door: Trade in the standard white garage door with this vibrant blue shade that will make any passing pedestrian take notice.
Exterior Accents: Noteworthy architectural features on the exterior of your home would pop even more with splashes of Van Deusen Blue.
Porch or Deck Flooring: A fresh coat of this sophisticated color can transform a simple porch or deck into an inviting relaxation zone.
Exterior Furniture: Apply this versatile shade to stylize your garden benches, patio seats, or picnic tables for that picture-perfect backyard.
Mailbox: A dash of creativity on something as routine as a mailbox can bring cheeriness while maintaining decorum.
Fencing: Give robustness and elegance to property boundaries or garden fences while subtly blending with green landscaping.
Outdoor Planters: Paint them in HC-156 for added charm, which perfectly complements lush green foliage, enhancing curb appeal.
Benjamin Moore's Van Deusen Blue is undoubtedly an exterior color to consider. Remember that outdoor light can drastically alter the color's appearance throughout the day. It's a safe bet to test out a sample before fully painting any significant exterior surfaces or features.
Consider your home's architectural style and material when deciding on an exterior color. While Van Deusen Blue is versatile, ensuring it complements your overall design theme will further enhance its curb appeal.
Maintaining Balances with Natural Light-Directions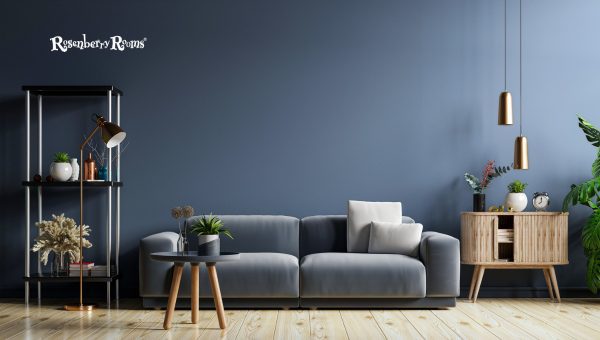 Lighting plays a crucial role in emphasizing the aesthetics of your space, and it's no different with Benjamin Moore's Van Deusen Blue HC-156.
Depending on the room's orientation - North, South, East, or West - this stunning shade can acquire distinct nuances while maintaining its elegant charm.
Rooms with North Exposure
Rooms exposed to north-facing light generally have a cooler quality of light. Colors tend to appear more muted and sometimes bluish. In such rooms, Van Deusen Blue will express its cool undertones strongly, radiating more calm blues rather than boldness.
To balance the cold light, consider pairing Van Deusen Blue with warm colors or creamy neutrals in north-facing rooms. Rich beige tones or earthy browns can be perfect companions here.
Rooms with South Exposure
South-facing rooms are known for their warm, bright light throughout the day. Here, Van Deusen Blue will reveal its full depth and richness under the glow of natural daylight. It becomes lively and dynamic without coming off as overwhelming.
You could pair this richness with crisp-white crown molding or wainscoting to accentuate this richness even more.
Rooms with East Exposure
Morning sunlight is not as soft as afternoon illumination- Eastern exposure subjects rooms to this bright yet somewhat crisp light until noon.
In an east-facing room, Van Deusen Blue may appear lightly muted in the early morning but regains its profound personality by mid-morning and maintains it for the rest of the day.
Complement Van Deusen blue with cool-toned decors or furniture pieces in east-facing rooms for an impactful contrast.
Rooms with West Exposure
Late afternoon sun floods west-facing rooms, giving them a warmer tone towards evenings; subjecting these spaces to Van Deusen blue allows them almost a chameleonic trait: progressing from muted blues in the morning to more vibrant hues in the afternoon and evening.
Pairing this blue with warm yellows or gold decor accents can lend such spaces a wonderfully balanced aesthetic appeal.
Every home's lighting conditions are unique due to fluctuating external factors, like large trees or neighboring buildings blocking the light.
Best Matching Colors with Van Deusen Blue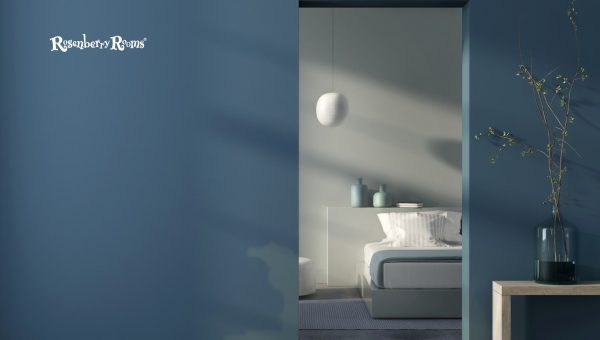 Pairing Van Deusen Blue HC-156 with color selections on the warmer and lighter side will surely create striking color harmony. Here are some colors you want in your palette when working with this majestic blue.
Play around with these combinations; remember, creating your perfect palette is subjective and should reflect your style.
You might also extend your research online by browsing decor threads, home remodeling forums, or simply surfing through Instagram or Pinterest until you find designs that match your vision.
Read More: Benjamin Moore Amherst Gray HC-167 [Paint Color Review]
FAQs about Van Deusen Blue HC-156
How does Benjamin Moore Van Deusen Blue HC-156 look in direct sunlight?
Van Deusen Blue appears brighter and more vibrant in direct sunlight, highlighting its rich blue undertones.
What is the best color for ceilings when using Van Deusen Blue on the walls?
A pure white or light gray shade works brilliantly as a ceiling color with Van Deusen Blue walls.
Can I use Benjamin Moore Van Deusen Blue in a small space?
Using this deep and sophisticated blue can make your small spaces feel more expansive and intimate at the same time.
When painting my room with Van Deusen Blue HC-156, how do I consider lighting?
It's important to view how the paint reacts to different light sources - natural daylight, incandescent light, and fluorescent light can alter how the color appears on your walls.
Is it ideal to mix different finishes when painting with Van Deusen Blue HC-156?
Definitely! Mixing finishes such as matte and glossy can add an extra dimension to your interiors while maintaining the elegant appeal of this timeless hue.
Conclusion
The Benjamin Moore Van Deusen Blue HC-156 is an elegant, versatile color that beautifully complements various home décor styles. It's the perfect balance between charming and calming, transforming any room into a soothing retreat.
So, if your space needs that refreshing makeover or you're just looking to introduce a touch of sophistication - don't hesitate to choose Van Deusen Blue. Take a bold step towards redefining your home aesthetics in the classiest way possible.