Deciding to refresh your space with a new coat of paint? You're probably teetering on the edge of color choices.
This is where today's Benjamin Moore Amherst Gray HC-167 color review comes into play. As a brand, Benjamin Moore has covered you with its vast array of inspiring shades and robust variety of quality paints.
The specific shade we're talking about today, Amherst Gray HC-167, is an interesting blend of distinguished subtleness and rich depth that adds a touch of elegance to any surface it adorns.
So, let's journey into this particular shade's attributes, which could be your next color choice while redecorating.
But before we go there, it's worth stating that selecting the right paint color for your home isn't just about aesthetics; it's also about creating a living space that aligns with your mood and lifestyle.
The Unique Appeal of Benjamin Moore Amherst Gray HC-167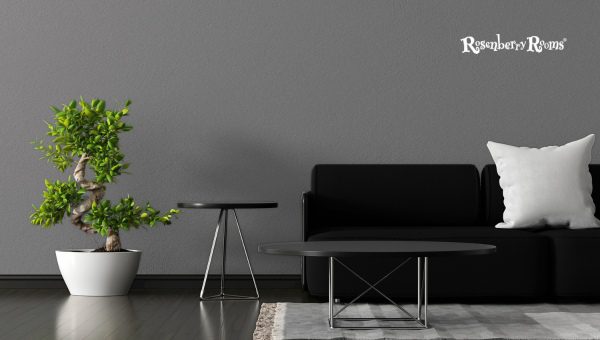 If blended poise coupled with a touch of mystique is your thing, pay attention to the spellbinding charm of Benjamin Moore - Amherst Gray HC-167. This shade belongs to the Arborcoat Stain Colors collection and stands out due to its historical lineage.
Its versatility extends beyond age-old sophistication; it's equally enchanting when applied on vinyl surfaces. Its deep charcoal hue enriched with green undertones exudes a unique appeal that's hard to find.
The Charm of its Warm or Cool Undertones
Its subtly warm undertones characterize Benjamin Moore Amherst Gray HC-167. Despite its name, this color resembles a charcoal gray, distancing itself from the typical cool grays with blue undertones. A hint of green undertone sets Amherst Gray apart, although it's fairly subdued.
This slight shift towards warm hues makes it versatile and complementary to various decor styles and color schemes. It brings sophistication without overwhelming a space, proving useful in small or large spaces.
Whether used for accent walls or main living areas, Benjamin Moore Amherst Gray HC-167 can enhance the warmth and elegance of your home with its distinct yet understated charm.
Necessary Aspects to Consider Before Choosing Amherst Gray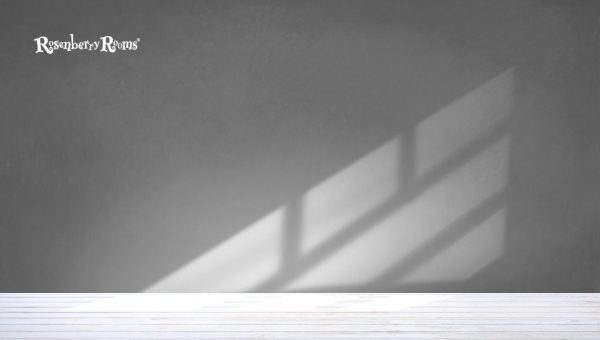 When choosing a color for your space, more aspects need your attention than just the shade. One of these factors is the Light Reflectance Value (LRV).
Importance of Light Reflectance Value (LRV - 18.8)
Amherst Gray boasts an LRV of 18.8. By definition, LRV measures the amount of light reflected by a surface or, in simpler terms, how light or dark a color appears. It's ranked on a scale from 0 (pure black) to 100 (pure white).
In the case of Amherst Gray, with an LRV under 20, this indicates that this color is on the darker spectrum. What does it mean for you?
This color has strong uses and may soak up much light in a room, as darker colors have low reflectivity. It implies larger surfaces or rooms coated with Amherst Gray will appear visually smaller or cozier. In contrast, using it strategically in smaller areas can add depth and accent.
Why Sampling the Color is Crucial
You can order an actual sample from Benjamin Moore's website. Sampling allows you to observe how the color adapts to different lighting conditions in your home setting.
Keeping Amherst Gray during the day and night and in natural and artificial lights offers a better sense of its true character before you commit fully.
Given these technical aspects, it is essential to reflect on how this shade would behave in your specific environmental conditions and adapt to your lighting resources before giving Amherst Gray the thumbs up!
Consider this shade a potential candidate after using sample swatches or painting a small section in your space to better understand its complexity.
Always ensure that the color coordinates with other aspects, such as furniture, textile patterns, decorative items, flooring materials, or window treatments, because these combined components enhance your room's overall visual harmony.
Explore More: Benjamin Moore Caldwell Green HC-124 [Paint Color Review]
How Amherst Gray Adapts to Various Lighting Conditions
One of the significant aspects that alter how a specific color appears is the lighting, which can change the entire vibe of a room. Now, consider Benjamin Moore's Amherst Gray.
Its richness and depth allow this unique shade to adapt beautifully to different lighting conditions, showcasing a diverse spectrum depending on natural and artificial light exposure.
Influence of North Light: North-facing rooms lack direct sunlight and tend to cast cooler undertones in any space. Paired with the cooler northern light, Amherst Gray reveals its inherent coolness but does not lose its intensity or complexity. The room will embrace more of an emphatic gray tone under such lighting conditions.
South Light Impact: Unlike northern exposure, south-facing rooms bask in warm and vibrant sunlight throughout the day. This bright, ambient light brings out the warmer undertones of Amherst Gray, highlighting its greenish hue subtly while still maintaining that charismatic gray outlook.
Exposure from East: In east-facing rooms, the color perceives a soft, warm glow during sunrise but turns cooler as the day drifts into the evening. This dynamic transition exhibits a charming play of Amherst Gray's warm-to-cool shift splendidly.
Influence of West Light: West-facing interiors experience stronger warm hues during sunsets. Under such conditions, Amherst Gray projects more warmth than early morning or afternoon.
Lighting significantly influences how you visually perceive colors, especially nuanced colors like Amherst Gray HC-167.
Unfolding the Interior and Exterior Applications of Amherst Gray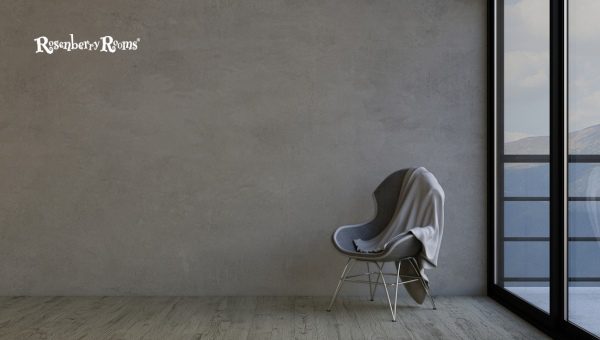 Embellishing your property with the right color can define its personality, and Benjamin Moore's Amherst Gray is multifaceted when it comes to this.
Exhibiting a chameleon-like attribute, the color binds seamlessly with virtually any spot you choose in your home. The versatility in application both inside and outside your home is where this hue truly takes center stage.
Focus on Garage Doors. This shade of gray provides an aesthetically pleasing contrast that elevates the stature of your garage. Move Towards Porch Ceilings.
It's a unique choice that lends an old-world charm to newer structures. Staring at your Exterior Furniture, you'll find that Amherst Gray enhances their appeal by infusing a sense of sophistication.
Give Attention to those Exterior Walls. This paint's stunning abilities aren't confined indoors; let your house exterior relish its elegance, too. The depth and richness of Amherst Gray can present an alluring finish that mesmerizes every passerby.
The applications don't end here; let's move indoors. Starting with your Home office, envision a peaceful atmosphere fostered by the subtle elegance of HC-167 as it quietly motivates productivity.
Moving on to all-important shared spaces, like the Living Room or Dining Room, you'll find that using Amherst Gray as an accent wall creates memorable dinner parties and cozy family gatherings filled with vibrant conversations.
A Bathroom painted with Amherst Gray refreshes you while preparing for work. A Bedroom adorned by this shade sets a calming mood for starting your day right.
After assessing these perfect spots in your abode, one distinct factor stands out - the exceptional character and broad-spectrum appeal of Benjamin Moore's Amherst Gray HC-167.
Also Read About Benjamin Moore Hale Navy HC-154 [Paint Color Review]
Exploring the World of Matching Colors to Pair with Amherst Gray
Choosing just the right colors to match Benjamin Moore's Amherst Gray can elevate your home decor, creating harmony and balance visually. Here are some Benjamin Moore colors that pair seamlessly with Amherst Gray:
The magic happens when you coordinate these colors judiciously in your design plan - alternating between them for walls, trim, furniture, or accent pieces. Remember that each color pairing will evoke unique aesthetics and moods.
Therefore, before deciding on your color combinations, it's always worth considering the atmosphere you want to establish in your space.
Exploring the World of Matching Colors to Pair with Amherst Gray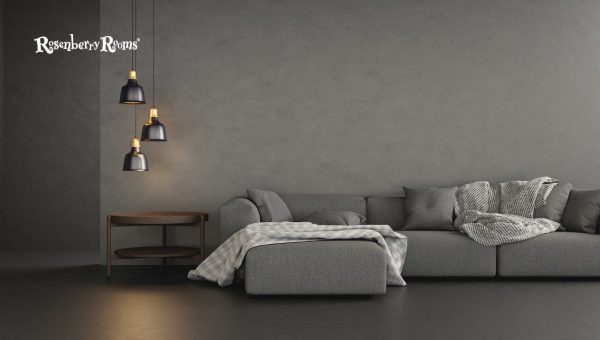 Choosing a color scheme for your space is mainly personal and driven by your aesthetic sensibility. Amherst Gray's rich depth and warm undertone make it versatile, blending seamlessly with bright and subdued colors.
Oyster 2115-70 is one such color, bearing a soft, creamy hue that strikingly contrasts the boldness of Amherst Gray. This allows for a well-balanced palette, communicating ease and sophistication.
Then there's Porcelain 2113-60, which resembles the pearly shimmer of its namesake. This light pastel gray with a hint of blue undertones works excellently in tandem with Amherst Gray, cultivating an atmosphere that's pure and serene.
Now, after adding a hint of warmth to your room's aura, pairing Amherst Gray with Vanilla Milkshake OC-59, a light creamy white shade, is an ideal choice. The beautiful medley invokes comfort and coziness.
There's no overlooking Wythe Blue HC-143, a captivating blue-green shade reminiscent of tranquil seascape views. Its grounding nature, in combination with the bold aggression of Amherst gray, transforms your space into a unique masterpiece.
Read More: Benjamin Moore Thunder AF-685 [Review: Warm or Cool]
FAQs About Amherst Gray HC-167
What type of finish is best for Benjamin Moore Amherst Gray HC-167?
Whether you prefer a matte, eggshell, or glossy finish largely depends on the look you are going for. While a matte finish gives a chic look, a glossy one can make the space more vibrant.
Is Benjamin Moore Amherst Gray HC-167 versatile in terms of applications?
Absolutely. It can adapt beautifully to numerous interior and exterior uses - from living rooms to porch ceilings or garage doors.
Can I use Amherst Gray in my tiny apartment?
Indeed! Despite being a darker hue, it can create an illusion of expanded space when paired with the right accents and lighting.
What mood does the Benjamin Moore Amherst Gray set?
Amherst Gray sets a classy yet intimate mood thanks to its subtle sophistication and depth.
How well does Benjamin Moore Amherst Gray coordinate with wooden furniture?
Exceptionally well! Its warm undertones beautifully enhance the natural grains of wooden details - be it flooring or furniture.
Conclusion
Benjamin Moore Amherst Gray HC-167 is a classic hue with elegance, sophistication, and versatility. Its beautifully balanced undertones pair well with various coordinating colors, making it a fabulous choice for any space in your home.
When used right, this deep charcoal gray paint has the potential to transform any ordinary space into an extraordinary haven. Whether renovating or just for a quick refresh, consider Amherst Gray your go-to color!