Ah, the wonderful world of color! There's nothing quite like finding the perfect shade to breathe new life into your space, and today, I'm going to share my insights on a genuinely standout color: Benjamin Moore Trout Gray 2124-20. The subtle texture and depth this hue brings might be just what you've been searching for.
Choosing a color for your home or office isn't just about aesthetics – it's about setting the mood and creating an atmosphere that complements your personality or brand.
In this Benjamin Moore Trout Gray 2124-20 color review, we'll uncover the unique qualities of this versatile shade.
We'll dissect its characteristics and how it plays out in different lighting conditions and room settings so you can decide if it's right for you. So, without further ado, let's get into it.
The Benjamin Moore Trout Gray 2124-20
The allure of the Benjamin Moore Trout Gray 2124-20 lies in its enchanting depth and versatile nature. Here are some key details that will help you comprehend its essence quickly:
Depth and Versatility: Trout Gray is a darker color with a hint of sophistication and enigma. Its gripping depth allows it to function efficiently as a statement or complementary shade.
Color Composition: It settles on the more affluent end of the gray color palette, with blue undertones creating an intriguing semblance of neutrality.
Creating Balance: The versatility of Trout Gray makes it uniquely equipped to balance lighter shades. When paired with light tones, it aids in creating depth without overwhelming the space.
Adaptable to Various Styles: Whether your style leans towards modern, industrial, traditional, or transitional, Trout Gray blends in, making it well-suited for various interior designs.
Mood Setting: The hue exudes an air of tranquility while maintaining a steady presence, making it suitable for spaces where calmness mixed with professionalism is desired.
You can find more details and explore this commanding shade at Benjamin Moore's Official Website.
What Undertones Does Trout Gray Have?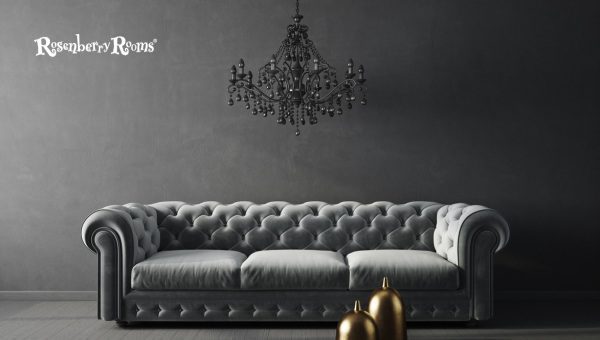 Understanding the undertones of color is essential as it impacts how the paint will interact with its surroundings. For Trout Gray, it's a captivating interplay of cool and warm undertones:
Primary Undertone: At the heart of Trout Gray is a fantastic, understated bluish undertone. This makes the color lean slightly towards Navy blue, introducing an added element of intrigue to your spaces.
Secondary Undertone: In contrast to the primary undertone, Trout Gray also has an associated secondary warm undertone. This hidden warmth rises to visual prominence when paired with specific hues or under certain lighting conditions.
Mixing It Up: The result is a fascinating mix of warm and cold tones that offers versatility, making it capable of complementing varied room decors effortlessly.
So, when you decide to use Benjamin Moore Trout Gray 2124-20 in your space, remember its complex mix of undertones. This knowledge helps you make conscious decisions about pairing and purposeful placements.
Also Read: 10 Best Benjamin Moore Paint Colors For A Girl's Room
All About LRV of Trout Gray
The Light Reflectance Value (LRV) is a measurement commonly used in color and paints to determine how much light a color reflects and how it can affect perception and mood.
Benjamin Moore Trout Gray's LRV stands at 16.41. This indicates that it absorbs a significant amount of light, making it a darker shade in the paint spectrum.
Perception
Trout Gray, with its moderate LRV, tends to create an intimate and soothing environment:
Dark & Moody: Its lower reflectivity index gives spaces a cozy, enveloping feel. This characteristic can expand smaller areas when cleverly balanced with lighter tones or contrasting bright accents.
Versatile: Despite being dark, its intriguing undertones give it flexibility when paired with other colors.
Usage
Understanding Trout Gray's LRV can significantly influence where it should be applied:
Low-light rooms: It works great in areas with indirect sunlight, engendering a mellow and relaxing ambiance.
Highlighted Features: Use its low LRV as an advantage for painting features you want to highlight. Think fireplaces or feature walls - they would naturally draw attention!
Remember: The impact of LRV varies depending on size and light availability in the room! Cape's careful consideration will ensure Benjamin Moore Trout Gray 2124-20 fits into your design seamlessly.
Benjamin Moore Trout Gray: Interior or Exterior?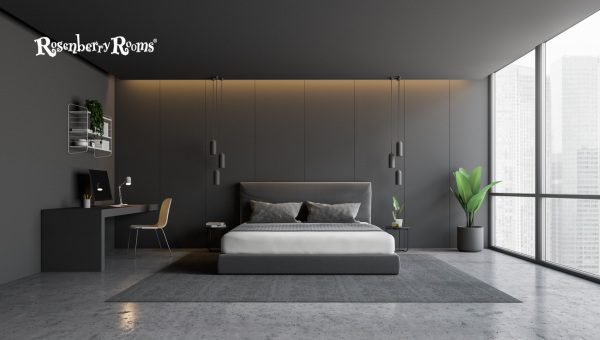 Trout Gray's alluring charm is twofold - it can effortlessly ace interior and exterior settings, acting as a solid foundational color or the perfect pop of sophistication. Let's delve deeper into its expansive potential.
Interior
Trout Gray's blending versatility and captivating depth come alive within interior settings. Used as a statement wall in your living room or a soft backdrop in your reading nook, it breathes life into each setting with tranquillity and elegance.
Exterior
Benjamin Moore Trout Gray 2124-20 truly excels when utilized in exterior applications:
Sophisticated Facades: Trout Gray offers an enchanting spectacle as the primary color for external walls. It exudes an appealing finish that radiates both charm and sophistication.
Dynamic Doors: Using Trout Gray on entrance doors creates a welcoming atmosphere while simultaneously providing a striking contrast against lighter facades.
Accent Surfaces: Use this versatile hue on shutters, trims, fences, or railings to intensify architectural features and boundary structures.
There is no hard-and-fast rule when utilizing Benjamin Moore Trout Gray 2124-20 - whether inside or out. The key to unveiling its true potential lies in playing up its undertones and thoughtfully pairing it with spells of contrasting brightness.
Where Can You Use Trout Gray Paint Color in Your Home?
Benjamin Moore's Trout Gray is a remarkably versatile shade that can work wonders across various spaces in your home. Here's where you can consider applying Trout Gray:
Living Room: Apply Trout Gray on the primary walls for a profound grounding effect. Its sophisticated tone lends an air of elegance and quiet luxury.
Kitchens: Cabinet doors painted in Trout Gray contrasted with lighter countertops create an exquisite two-toned effect.
Bathrooms: For a spa-like escape, allow Trout Gray to envelop your bathroom walls. Combine it with white tiles for a timeless appeal.
Exterior Walls or Doors: Showcase your home's architectural details by choosing bold Trout Gray for external applications. It beautifully contrasts with natural elements and other accent colors.
Lighting conditions affect how a color is perceived! Invest some time to observe the shade under different light situations to ensure that Benjamin Moore Trout Gray 2124-20 is what you desire for your space.
Harness the versatility of this fabulous color and let your creative ideas flow when deciding where to apply it within your home.
Has Trout Gray Gained Popularity as a Paint Color Choice?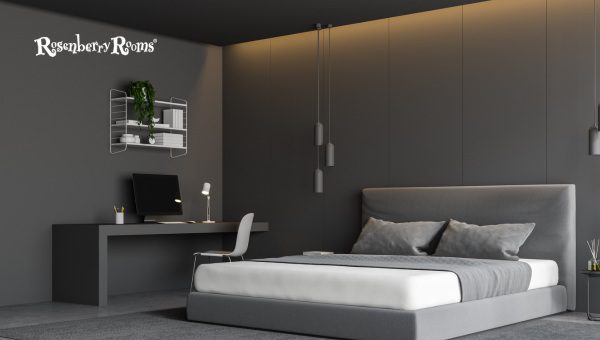 Oh, absolutely! There's been a definitive surge in the popularity of Benjamin Moore's Trout Gray, and rightly so. Its versatility and intriguing depth have meandered their way into hearts and homes.
Increased Demand: The past few years have seen increased demand for darker shades and bold neutrals. Trout Gray sits comfortably in this palette range.
The Dark Days Are Here: There has been a shift towards moody interiors - spaces that offer comfort and cocoon-like feels. With its darker hue, Trout Gray fits the bill perfectly!
The Shades of Gray: "Gray" is no longer associated with dullness or austerity. Instead, it's considered chic, sophisticated, and versatile — terms that fit the description of Trout Gray splendidly.
What Colors Go Well with Trout Gray?
When it comes to pairing Trout Gray, its neutrality opens up a variety of options. Comfortably sitting between warm and cool shades, this color can be paired with a broad spectrum:
Warm Grays: Combining Trout Gray with slightly warm grays or beige tones creates a pleasing contrast. Think shades like "Greige" that introduce a hint of brown in their undertones.
Violet Undertones: For an edgy and sophisticated vibe, pairing it with colors that have subtle violet shades can result in an unexpected yet elegant combination. Finding the perfect complementary tone requires an appreciation for subtle undertones.
Bright Pastels: Pastel colors like soft pinks or blues can add a touch of lightness and vibrancy against the darker Trout Gray backdrop, enhancing its depth.
Classic White: For a more minimalistic approach, classic white works brilliantly with Trout Gray. The stark contrast enhances the sophistication of Trout Gray while keeping the space light and airy.
Also Read: Benjamin Moore Bleeker Beige HC-80 [Paint Color Review 2023]
Benjamin Moore Trout Gray: Warm or Cool Paint Color?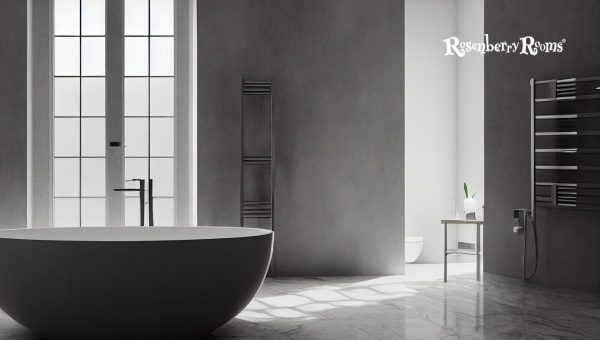 Decoding the temperature of a paint color can greatly influence how that color is perceived and how it interacts with other elements in a room.
Let's explore whether Benjamin Moore Trout Gray leans towards warm or cool on the color spectrum.
Warm
At first glance, it may seem logical to dump Benjamin Moore Trout Gray into the cool heap because it is gray. But that's oversimplified.
The intriguing thing about this shade is its fusion of warm and cool tones – tied together in a delicate equilibrium, making it capable of swinging depending on ambient conditions.
Cool
Structurally, Trout Gray has an underlying blue tone that surfaces more prominently under different lights, incredibly natural light. This undertone gives the shade its cooling impact.
When placed in a cooler setting or paired with cool tones, the cool aspect of this shade shines through, creating an inviting and soothing calmness.
It's both! This duality is what sets it apart. It's like having two colors in one versatile package, potentially bringing balance to any room design.
Similar Colors with Trout Gray
When it comes to painting, you might wonder what other colors relate to Benjamin Moore's Trout Gray.
This knowledge allows you to create striking combinations and provides alternative color choices if, for some reason, Trout Gray isn't quite what you're after.
Benjamin Moore Iron Mountain 2134-30: Imagine a robust gray with an earthier edge - that's Iron Mountain for you. It has an LRV of 10.96, which makes it darker than Trout Gray but still within the same color family.
Sherwin Williams Charcoal Blue SW 2739: Another deeper gray paint color with more pronounced cool blue undertones. This color pairs magnificently with warm accents.
Farrow & Ball Downpipe No.26: This dusky gray takes depth a notch higher and carries an instant appeal for anyone seeking a genuinely moody tone.
Regardless of similarities, no two colors are ever precisely the same! Therefore, while these hues fall within the same general sphere as Benjamin Moore Trout Gray 2124-20, each carries unique attributes that can offer in-depth subtleties and mood.
Trout Gray: Trim Colors
Choosing the right trim color to pair with Trout Gray can make or break your design intentions. However, I've picked out two exceptional colors that harmoniously blend with it to create a tasteful aesthetic.
Sherwin Williams High Reflective White SW 7757: A stark, radiant white, it contrasts spectacularly against the backdrop of the darker Trout Gray. It's ideal for achieving a crisp look and illuminating architectural features.
Benjamin Moore Chantilly Lace OC-65: Possibly one of the purest whites on Benjamin Moore's color palette. With just a click hint of warmth, Chantilly Lace creates a stunning juxtaposition against Trout Gray without clashing.
The perfect harmony between wall and trim colors can define a space's perceived size and lighting conditions.
Why Sampling is The Most Important Step Before Full Paint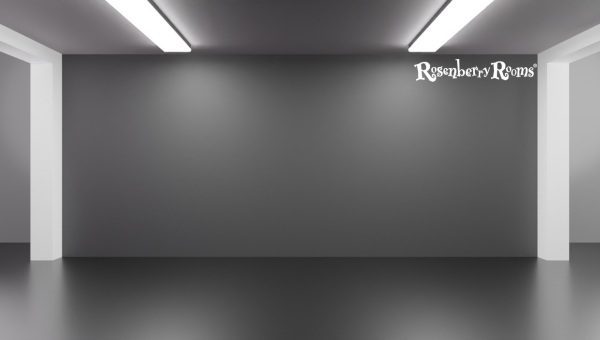 Taking the plunge and painting an entire room without testing is risky. Sampling is an essential step before you commit to a complete paint job.
Seeing Is Believing: There's a vast difference between seeing a color on a sample card and seeing it on your walls. Light factors, room size, and other elements can impact how the color looks in your space.
Living with the Color: Samples allow you to 'live' with your chosen color for a few days. This can help you assess if the hue fits into your lifestyle and complements your mood throughout different times of the day.
Factoring in Decor: When used as a sample, you can better understand how Trout Gray interacts with your room's decor and furniture. It's all about harmony!
Avoiding Costly Mistakes: Lastly, if you don't love living with Trout Gray after sampling, it's less costly to change course than if you had painted an entire room or wall.
Patience is vital when deciding on a new color. By sampling before painting entirely, give yourself time to familiarize yourself with how Trout Gray looks in your space.
FAQs About Trout Gray 2124-20
What makes Benjamin Moore Trout Gray 2124-20 stand out?
With its captivating mix of cool and warm undertones, Trout Gray perfectly balances sophistication and tranquility. Its versatility allows it to adapt to various interior décor styles quickly.
Does Trout Gray 2124-20 work well in small spaces?
Absolutely! Despite its darker shade, Trout Gray can make small spaces feel larger when paired with lighter tones or bright accents.
Is Benjamin Moore's Trout Gray suitable for exteriors?
Yes! Its ability to harmonize with natural light makes it an excellent choice for exterior use, adding depth and richness to curb appeal.
How does lighting affect the look of Trout Gray paint color?
Light exposure can emphasize the warm or cool undertones of Trout Gray. In lower light, the color appears darker and more subtle.
What colors pair well with Benjamin Moore's Trout Gray?
As a neutral tone, Trout Gray pairs beautifully with many other colors but truly shines when matched with white or pastel shades. It adds depth and interest without overwhelming softer colors.
Conclusion
Bringing our exploration of Benjamin Moore's Trout Gray to a close, there's no denying the allure and flexibility of this color.
Whether used as an accent feature, a wash across your room, or even on your home exterior, its captivating amalgamation of cool and warm undertones will surely leave an unforgettable impression.
When working with Trout Gray 2124-20, taking the time to understand its undertones and Light Reflectance Value can genuinely make a difference in fully realizing its potential in your space.
From crafting a tranquil bedroom to creating a commanding statement wall in a room, Trout Gray stands ready to transform your home into the oasis you've always wanted it to be.