If you're looking to freshen up the aesthetics of your home, one of the most significant considerations will be the color palette you choose.
Today, we bring you an in-depth Benjamin Moore Rodeo 1534 color review, a beautiful shade that reflects serenity and elegance in every stroke.
This enchanting hue has taken the home décor world by storm, becoming a go-to choice for many homeowners nationwide.
It brings an unparalleled charm that breathes new life into any space it adorns. Benjamin Moore always stays ahead of the game regarding sophisticated color trends, and with Rodeo 1534 at your disposal, your home transformation journey is set for success.
Exploring the Benjamin Moore Rodeo 1534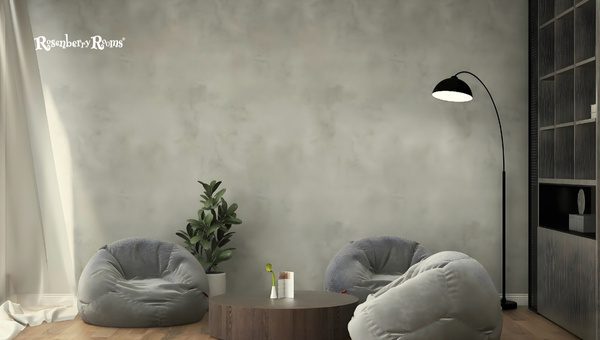 From the curated palette of Benjamin Moore comes Rodeo 1534, a color that exudes a rustic yet refined charm.
This unique shade of gray melds warmer and cooler undertones, creating a space that feels incredibly cozy yet chic.
As the name suggests, it mirrors the tranquil ambiance of a countryside rodeo, inducing a sense of calming serenity to inspire inviting spaces across your home.
Known for its incredible versatility, it flawlessly fits into any interior or exterior setting, making it an ideal choice for those adventurous homeowners who like to switch things up occasionally.
All About the LRV of Benjamin Moore 1534 Rodeo
The Light Reflectance Value (LRV) is a critical aspect when selecting paint colors precisely because it indicates how much light the color can reflect.
For Benjamin Moore Rodeo 1534, its LRV is 59.84. This essentially means that:
Rodeo falls in the mid-range of the LRV scale, meaning it reflects a significant amount of light without being overly bright.
The moderate LRV makes the Rodeo versatile, complementing spacious and constrained interiors.
It balances between exuding brightness and retaining depth, bringing freshness without overpowering other elements.
It's essential to understand that paint sheen might influence the perceived LRV somewhat. For instance, a high gloss sheen could slightly enhance brightness compared to matte or eggshell finishes.
Navigating the Undertones of BM's Rodeo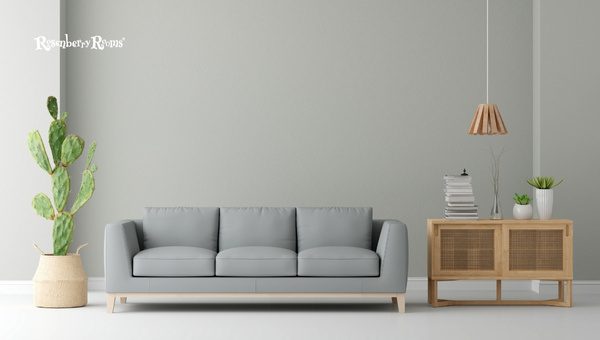 An undertone could refer to the subtle color beneath the primary surface color for a layperson. In Rodeo's case:
Benjamin Moore Rodeo 1534 predominantly has gray undertones. However, in certain lighting or adjacent to specific colors, it may display beige undertones, too.
These undertones contribute to a soothing ambiance, creating a soft, calming aura that complements various interior design schemes.
Understanding Rodeo's undertones is crucial as it influences your complementary color choices and overall decor scheme.
Controlling your room's color temperature becomes comfortable with this neutral undertone. The warm-beige tones can add coziness during colder months, while the cooler gray tones provide respite in warmer periods.
You might notice some greenish hues peeking through Rodeo's typically grey-beige complexion in certain situations. On closer observation, this unanticipated tinge only adds to its complex beauty.
Explore More: Benjamin Moore Arctic Shadows 1559 [Can Appear Smoky Blue?]
Interior Applications for 1534 Rodeo
Rodeo 1534 offers your space a soothing, tranquil vibe when used indoors. It elevates the aesthetic appeal, complements your décor, and seamlessly ties the elements together. Let's delve into its interior applications:
Living Room: The Benjamin Moore Rodeo blends well with natural light, thereby promoting an inviting atmosphere in your living room. Complement it with furnishings in cream or beige for a striking appearance.
Bedroom: The Rodeo's airy and crisp nature lends itself superbly to bedrooms. When paired with soft lighting, it invokes a sense of calmness and relaxation.
Bathroom: If you desire a spa-like feel in your bathroom, Benjamin Moore Rodeo is an ideal option. Paired with white bathtubs and sinks, it creates an elegant yet serene space.
Home Office: This striking shade can be ideal for homeowners who wish to maintain a professional yet comfortable environment in their home office.
The rule of thumb is coherence. Irrespective of the room type, ensure all elements work harmoniously to offer visual continuity.
Remember that similar lighting conditions are crucial when comparing samples; otherwise, the comparison will not yield accurate results. It's strongly recommended that you test large-size samples over smaller ones for increased accuracy.
As you might have realized now– every bit of Benjamin Moore Rodeo's trendiness lies in its myriad functionalities that stand second to none.
The Splendor of Exteriors designed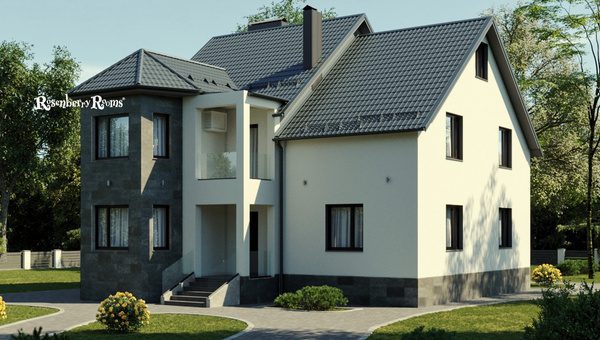 The world of exterior aesthetics unfolds in a unique story with the application of Benjamin Moore's Rodeo.
This shade of gray and its versatility make Rodeo 1534 a preferred choice for many homeowners when transforming their outdoor space.
The Outdoors with Classy Grays
Rodeo showcases a classic gray tone, which instantly uplifts your exteriors. The elegant finish of this color speaks volumes about sophistication and subtlety.
It lends an aura of tranquility and depth that beautifully contrasts the vibrant greens within your garden or underlines the architectural elements of your home.
Rodeo complements brick, stone, wood, or vinyl siding exteriors. It can also highlight distinctive architectural features such as window sills, porches, posts, or decorative trims.
Ensuring Compatibility with Your Home's Exterior
Choosing a paint color purely because you like it may result in a mismatch with your home's exterior demeanor. To perfectly sync this shade with your house façade, consider these factors:
Examine under different lighting conditions – ensure you check how the Rodeo looks at various times throughout the day under natural light.
Consider other elements – doors, windowsills, and garage doors all create an overall aesthetic appearance for your home when painted in this captivating hue.
The Color Temperament: Warm or Cool?
Color Temperament primarily refers to whether a color falls on the warmer or cooler end of the spectrum. It significantly contributes to the color characteristics, influencing its ability to create specific ambiances. Let's explore if Benjamin Moore Rodeo 1534 leans more towards warm or cool.
Warm
Regarding warmth, Rodeo 1534 exhibits beige undertones that inject an inviting and cozy element into your space.
Warm colors typically create an environment inviting conversation and stimulating appetite, making them ideal for kitchens, dining rooms, and living rooms. A fresh coat of Rodeo in these spaces can help foster a warm and welcoming vibe.
Cool
Being a neutral gray shade, Rodeo also carries some cool undertones. These cooler notes make it an excellent choice for bathrooms and bedrooms where you want an atmosphere of calm and relaxation.
Understanding these nuances can help tune your color choices depending on the room's function and desired atmosphere.
The balance of warm beige undertones with cooler tones in Rodeo lends itself immensely to its versatility. Remember never to rely solely on paint swatches; painting sample patches directly onto your walls will help you perceive the undertones even better under different lighting conditions.
Perfect Spots for Benjamin Moore's Rodeo in Your House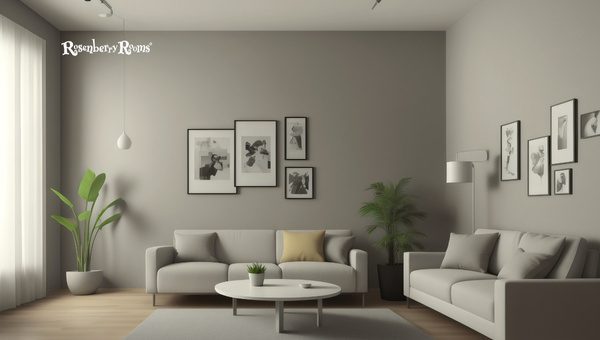 Choosing the right paint color can remarkably highlight your home's distinct features. While the overall color scheme contributes to your space's diorama, what influences it the most are specific spots you handpick for a particular paint.
Here's where Benjamin Moore's Rodeo makes its mark -- it is more versatile as it adjusts seamlessly to any space. Let's discuss some perfect corners in your home for this transformative shade.
Bedroom
Your bedroom is your sanctuary, a place to unwind and relax. A calming shade like BM Rodeo 1534 can help create that serene atmosphere you yearn for at the end of a long day.
The muted gray undertones promote a peaceful ambiance alongside the warmer beige notes, making the space feel cozier and personal.
Pair Rodeo with pastel accessories or bold-colored fabrics; they work harmoniously to bring out the best in your bedroom decor.
Bathroom
Bathrooms often get overlooked during home remodels, but with Rodeo on your team, every corner of your home will shine.
Its beautiful balance of colors confers an aesthetically pleasing and tranquil vibe on your bathing space – akin to a spa experience! When combined with white sanitary ware or marble countertops, Rodeo sings notes of elegance effortlessly.
Kitchen
A kitchen carries many roles under its hood; therefore, its ambiance should encourage productivity and comfort. Incorporating Benjamin Moore's Rodeo into your kitchen design scheme implores just that.
The warm gray offers contrast against countertops made of materials such as granite or quartz while maintaining visual appeal.
What's more interesting is how this color harmonizes with steel appliances -- giving a very modern industrial feel.
Home Office
The selection of colors significantly influences productivity in office spaces – including home offices! Choosing BM's Rodeo for these spaces makes them appear professional and instills a soothing environment essential for focused work.
No matter what corner you plan on revamping at home - the adaptability of Benjamin Moore's 1534 Rodeo has got you covered.
Whether going solo or incorporating accents - remember that lighting plays a critical role in discerning how this versatile hue will perform at different times of the day.
Read More About 14 Best Benjamin Moore Paint Colors For Nursery In 2023
Why Samples Matter More Than You Think
Investing in paint samples before committing to a color is a smart move. Here's why:
Color Accuracy: Computer screens and paint swatches can be deceiving. The actual paint color can vary from how it appears on digital screens and swatch cards due to various factors like lighting, shadows, reflections, and more.
Contextual Application: It's crucial to observe how your selected shade interacts with other elements in the room, like flooring, furniture, and light fixtures, under different lighting conditions throughout the day.
Saves Time and Money: Sampling beforehand prevents costly mistakes from choosing an unsuitable shade. It saves you the stress of painting your whole space only to discover you're unhappy with the result.
The Reason Behind Rodeo 1534's Soaring Popularity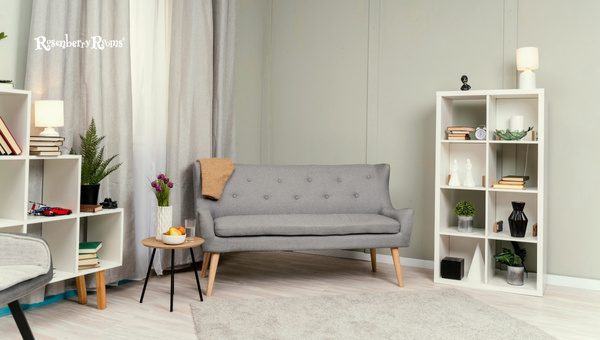 Benjamin Moore Rodeo 1534 enjoys immense popularity in the home décor due to its unmatched sophistication and versatility. Here are a few insights into why this unique shade has become a household name.
Neutral Undertones: Rodeo dances elegantly between cool and warm undertones, making it versatile enough to fit any room in your house.
Versatility: Given its neural character, Rodeo can bring harmony to virtually any style of decor, from modern minimalist to classic traditional.
Adaptable: This shade seamlessly fits different interior and exterior spaces, thus adding to its soaring popularity.
Coziness: Its warm beige undertones instill a sense of welcome and comfort into your living spaces.
Elegance: The silky cool gray undertones can infuse a serene sense of sophistication into your rooms.
Underscoring these qualities with stellar lighting conditions and complementing colors can help you get the most out of this exceptional paint color.
FAQs About Benjamin Moore Rodeo 1534
How does Benjamin Moore Rodeo 1534 look in different lighting conditions?
From under soft, cozy evening lights to the clear morning sun, it shows off an impressive play of undertones, often leaning toward a soothing gray or beige.
Can I use Rodeo 1534 in my kitchen?
Certainly! Its warm undertones would create an inviting atmosphere, excellent for a space where the family gathers.
What colors go well with Benjamin Moore Rodeo?
Since Rodeo leans neutral, earth tones, whites, and darker shades of gray tend to complement it seamlessly.
Does Rodeo 1534 work well for exteriors, too?
Absolutely! Its innate versatility makes it an ideal choice for both interiors and exteriors.
What finish would work best with Benjamin Moore's Rodeo 1534?
A matte or eggshell finish could accentuate its soothing vibes indoors, while a satin or semi-gloss finish is often recommended for exteriors.
Conclusion
To sum it up, Benjamin Moore Rodeo 1534 is an exceptional color choice worthy of consideration for those looking to revamp their home's aesthetics.
Its perfect balance of cool gray and warm beige undertones seamlessly matches any décor style while inducing a soothing ambiance.
Its incredible versatility allows it to perform exceptionally well, whether you're considering an interior overhaul or an exterior refresh.
Tuning your decor with Rodeo assures elegance and tranquility in every corner of your house. Let the magic of Rodeo 1534 transform your home into the serene sanctuary you have always desired.