In the world of paint colors, you can quickly feel overwhelmed with countless shades and hues to choose from.
But fear not; today's topic might be your perfect match! Welcome to our Benjamin Moore Iron Mountain 2134-30 color review. This incredibly versatile shade has gained massive popularity, and for good reason!
Many often choose This beautiful color due to its unique character and charm. Despite the saturated market of paint colors, Iron Mountain 2134-30 stands out like a hidden gem waiting to be discovered.
Not only does it showcase impressive versatility, but it also radiates a sense of timeless solidity brought about by its stunning iron-gray hue.
Stick around as we delve into why this Benjamin Moore masterpiece is praised by professionals and loved by homeowners alike.
Insight into Iron Mountain 2134-30
Iron Mountain 2134-30 by Benjamin Moore is an enchanting hue crafted with painted, iron-infused pigments. This versatile shade exhibits a depth and richness that separates it from other grey paints.
It stands out for its unrivaled combination of sophistication and coziness, encapsulating the mystery and allure of a cool mountain evening.
Its deep, earthy undertones are ideal for inviting ambiance within any home space. Embrace this classic color with a natural, warm charm to reinvigorate your surroundings.
LRV and What It Means
LRV (Light Reflectance Value) refers to the percentage of light a paint color reflects. The LRV scale is from 0, reflecting no light and absolute black, to 100, reflecting all light and pure white.
The LRV of Benjamin Moore Iron Mountain (2134-30) is 10.96. This indicates that it is a darker color as it falls on the lower end of the scale.
Benjamin Moore's Iron Mountain is primarily used for exteriors, doors, or shutters, but it can also be used indoors if you're aiming for a bold impact.
It's important to note that while LRV can help choose paint colors based on how much light they'll reflect in a room, individual perceptions of color will vary based on the lighting conditions and other colors in the surrounding environment. Therefore, test a color before finalizing it for your space.
Light Reflectance Value (LRV) measures the percentage of light that a color reflects. It's a standard rating system used in the paint industry.
The scale for LRV goes from 0 to 100. A score of 0 indicates absolute black, which absorbs all light and reflects none, while a score of 100 represents pure white, which reflects all light and absorbs none.
Thus, the higher the LRV of the paint or color, the more light it reflects. This value can be instrumental when designing spaces to ensure adequate lighting or create specific moods within rooms.
Explore More: Benjamin Moore White Dove OC-17 [Paint Color Review]
Applying Iron Mountain to Your Home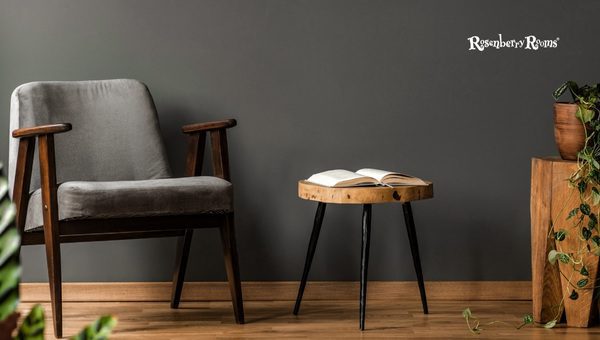 Deciding on a paint color that will set the tone for your home is a task that requires careful consideration. The right color can transform your space, while an ill-suited choice could let down the entire vibe you're trying to achieve.
Your quest for the perfect color may end here with Benjamin Moore's Iron Mountain 2134-30, as it blends seamlessly into any home interior.
Interior Use Cases
When it comes to incorporating Benjamin Moore's Iron Mountain inside your home, its versatility truly shines.
This hue can enhance every room in your house, grounding the space with its stable and calming presence. Let's explore how you can use Iron Mountain in different rooms:
Dining Room: Iron Mountain brings a tasteful sophistication to your dining area. Its depth and richness, harnessed with subtle lighting, can create an intimate atmosphere perfect for every meal.
Bedroom: With its relaxing and welcoming essence, letting Iron Mountain take over your bedroom walls might improve the quality of your sleep! Enhance this effect by pairing it with warm, wood accents.
Kitchen: As a backdrop to white cabinets or stainless steel appliances, Iron Mountain provides a modern and sleek aesthetic.
Bathroom: Create a spa-like retreat in your bathroom by applying Iron Mountain and soft lighting. It gives off an aura of serenity and luxury.
Hallway: This shade in hallways can make them appear longer and more distinguished. Complement it with gallery-style artwork or family photo frames for that added personal touch.
No matter where you use this color, reflect on complementary shades and lighting conditions relevant to each room.
Moving forward, remember that this intriguing shade of iron gray is only a brush stroke away from transforming your interiors into spaces filled with tranquility and charm!
Exterior Possibilities with Iron Mountain
In addition to transforming your home interiors, Benjamin Moore's Iron Mountain can work wonders on exteriors.
Its natural undertones and ability to adapt to different lighting conditions make it a great choice for outdoor applications. Let's review how it can enhance different elements of your home's exterior:
Trim: When applied to trims, Benjamin Moore Iron Mountain adds depth and sharpness, effectively outlining and highlighting your home's architectural details.
Front Door: Painting your door with this unique shade will draw the eye, making it a standout feature against the backdrop of your home. Not only does it harness curb appeal, but it also gives a taste of the stylish interiors that lie beyond.
Fence: A fence painted in Iron Mountain is a sturdy, anchored backdrop for colorful blooming flowers or lush green landscapes.
Deck: This color on an exterior deck can help create a sleek, neat appearance that blends effortlessly with most outdoor furniture or design themes.
Garage Door: Opting for Iron Mountain on garage doors sets off an urban loft vibe, adding an air of sophistication.
Outdoor Furniture: Applying Iron Mountain to outdoor furniture adds an unexpected pop of modern yet timeless color.
Iron Mountain 2134-30 doesn't fade into obscurity when used in exteriors; instead, its presence lends solidity and distinction—with its blend of warm and cool undertones rendering harmony to any outdoor space.
Whether in sunshine or shadow, you'll find that this shade maintains its stability beautifully while adding layers of depth and interest.
Is it Warm or Cool?
Benjamin Moore Iron Mountain (2134-30) is a unique color that can be characterized as warm and cool, depending on its surroundings and the elements it's paired with.
Iron Mountain can exhibit warmer brown tones in brighter environments with ample natural light. It pairs beautifully with warm neutrals or earthy hues for a cozy, inviting atmosphere.
This shade reveals cooler gray undertones in darker settings or when combined with cool colors. These make it an elegantly modern color choice that effortlessly complements stainless steel appliances in kitchens or contemporary furniture.
The perceived warmth or coolness of Benjamin Moore Iron Mountain largely depends on the room's lighting conditions and color scheme. It's versatile nature makes it a popular choice for various interior designs.
Read More: Benjamin Moore Swiss Coffee [Everyone's New Crush]
Impact of Lighting Directions on Iron Mountain 2134-30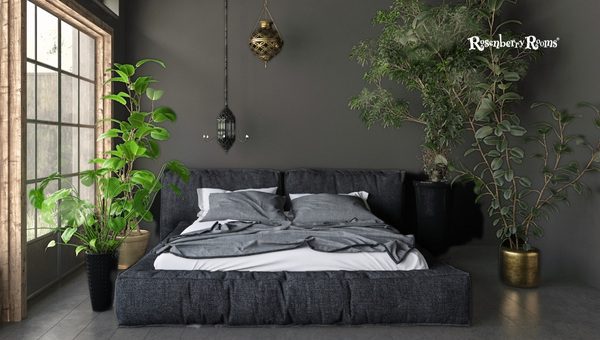 Given the transformative nature of paint colors, it's imperative to understand how different lighting directions can affect the appearance of Iron Mountain 2134-30 in your space. This section will explore how this unique hue responds to north, south, east, and west-facing light.
North-Facing Light
Rooms that face north tend to receive diffused natural light, which can cause colors to appear cooler and somewhat shadowy.
Benjamin Moore's Iron Mountain surprisingly allures with its warmth in these spaces. It maintains its elegance while enveloping the room in a peaceful ambiance.
If you're dealing with a north-facing room that lacks substantial natural light, enhancing it with additional warm artificial light can balance the chilliness.
South-Facing Light
On the contrary, rooms with south-facing windows enjoy ample sunlight throughout the day. The warm and bright light enchants Iron Mountain 2134-30 by brightening its tone while fully illuminating its earthy brown undertones. This results in the color being perceived as more warm grayish-brown than an outright gray.
East-Facing Light
You'll notice how mornings warmly greet this color's multifaceted character in spaces receiving east-facing light.
The initial sunrise imparts a soft glow to Iron Mountain but as daylight transitions, an exhibition of varying shades shifts subtly throughout the day.
West-Facing Light
As for west-facing light sources influenced by the golden afternoon sunsets, Iron Mountain 2134-30 shines differently yet again!
As daylight wanes and dusk approaches, this Benjamin Moore classic reveals increasingly intricate hues of deep browns intertwined with stormy greys.
Understanding how lighting directions interact with your chosen paint color is crucial for aesthetic purposes and setting up your desired atmosphere. Having a grasp of this can significantly influence your satisfaction with the color choice.
The Importance of Test Samples
Testing is a step you don't want to skip when it comes to painting. Swatches or test samples allow you to immerse yourself in what the shade will look like on your wall in your lighting conditions.
Benjamin Moore sells pint-sized samples of their colors, including Iron Mountain 2134-30, which let you test the color in different areas and under different lighting conditions before making your final decision. Trust us; this minor investment will save you from surprises once the brush hits the wall!
Complementing Trim Colors for Iron Mountain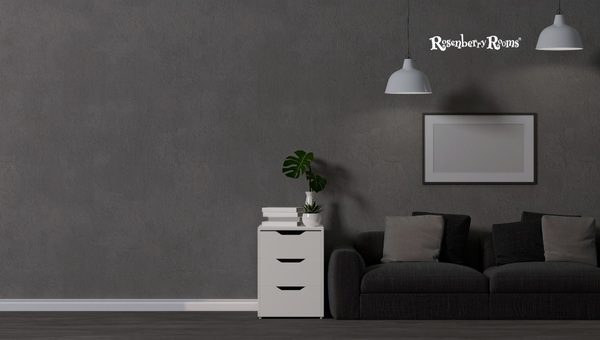 Let's move on to another pivotal element that significantly influences the overall look of your walls – the trim color. Trim colors can either contrast or blend in with the main wall color.
With Iron Mountain as your choice, there is a bouquet of gorgeous trim colors that you can pair it with to bring the depth and character of this hue to life.
Remember that choosing the right trim color is like picking out accessories for your favorite outfit; it should resonate well with your overall aesthetic yet have enough character to make its statement.
To find the perfect companion for Benjamin Moore's Iron Mountain, consider your home's architecture, existing furnishings, natural light levels, and other components that could influence how these colors interact with each other.
Seeing these colors in person or applying test samples on your wall is highly recommended before making final decisions.
Similar Shades to Benjamin Moore Iron Mountain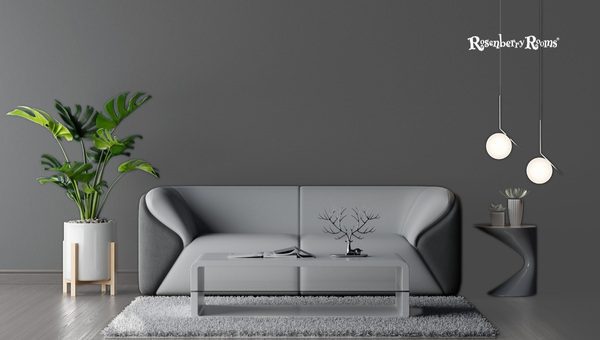 There are many captivating Benjamin Moore alternatives when exploring colors akin to Iron Mountain. Here are four potential matches sure to impress:
While these shades might resemble Iron Mountain in terms of depth and richness, each carries a unique vibe that adds a new dynamic to your space.
Thus, it's important not only to choose a color based on similarity but also on your room's lighting conditions and overall style decor.
Also Read About Benjamin Moore Revere Pewter HC-172 [Latest Color Review]
FAQs about Iron Mountain 2134-30
What is special about Benjamin Moore Iron Mountain 2134-30?
Iron Mountain stands out for its unique iron-gray hue, offering an earthy element to any space while beautifully complementing various color schemes.
Can Iron Mountain be a good choice for exteriors?
Absolutely! Its durability and adaptability make it great for outdoor painting projects.
Does Benjamin Moore's Iron Mountain tend to look darker or lighter once painted?
It depends on the lighting conditions, but typically, it leans more towards the darker side.
What color trim pairs well with Iron Mountain 2134-30?
Snowfall White OC-118 and White Dove OC-17 are trim colors that pair nicely with Iron Mountain.
Is Benjamin Moore's Iron Mountain considered a warm or cool color?
Interestingly, it can be both! While traditionally a cooler color, it can pull warmer undertones under certain lighting situations.
Conclusion
Every paint color brings a specific mood to a room, and choosing the right one can transform your space. Benjamin Moore's Iron Mountain 2134-30, with its rich gray hue and enticing undertones, has the potential to create a sophisticated look and captivate everyone entering the room.
Whether you apply it to your bedroom walls for a comfier ambiance or spruce up kitchen cabinets for an elegant touch, Iron Mountain will surely amaze you with its distinct appeal.
Explore this mesmerizing color and redefine your home's aesthetic appeal today! With Benjamin Moore Iron Mountain 2134-30 on board, painting your imagination into reality has never been so effortlessly chic.