Are you hunting for that perfect neutral shade to dress up your walls? Look no further! Our Benjamin Moore Gray Mist OC-30 color review is here to guide you.
This magnificent hue offers a soothing ambiance unlike any other, and it's no wonder that decor enthusiasts across the nation are gravitating toward it.
Being in the midst of a home makeover can be quite overwhelming. With countless color options, choosing the right one can seem like finding a needle in a haystack.
That's where we come in! Our comprehensive review of Benjamin Moore Gray Mist OC-30 will simplify your decision-making process and may tip the scales in favor of this versatile beauty.
Oh, and one more thing - forget about complicated terms. We're keeping things plain, simple, and user-friendly for you!
Benjamin Moore Gray Mist OC-30
(Also Known As - 962, CC-80)
Benjamin Moore Gray Mist OC-30 is a soft gray paint with remarkable green undertones that add complexity and depth to your space.
The LRV is 72.83, making it an ideal choice for areas you'd like to appear larger or brighter. Sharing the same color strip as 'Going to the Chapel 1527,' Gray Mist uses color codes 962 and CC-80 for reference, ranking among Benjamin Moore's neutral paint colors.
This well-balanced shade works beautifully on interior and exterior projects without overpowering, blending seamlessly with various design styles and color palettes.
Key Elements of Gray Mist OC-30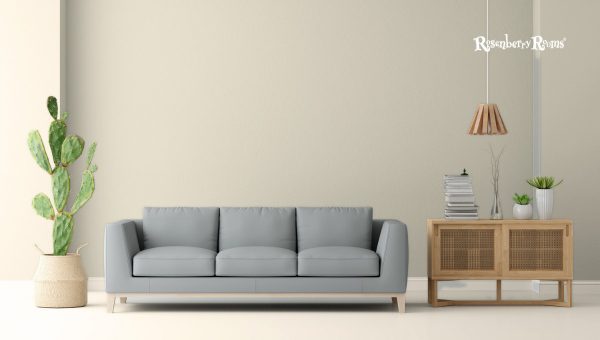 The secret behind the versatility of Benjamin Moore Gray Mist OC-30 lies in its key elements. It skillfully delivers soft gray hues with subtle green undertones, inviting warmth to any space it graces.
It's a neutral shade, which means it blends effortlessly with several different color themes and décor styles. Let's delve into its most remarkable characteristic - its Light Reflectance Value (LRV).
Explore More: Benjamin Moore Caldwell Green HC-124 [Paint Color Review]
Importance of LRV in Gray Mist OC-30
The LRV quantifies the amount of light reflected by a color; the higher the value, the more light it reflects. Gray Mist's impressive LRV score is 72.83, meaning this color can brighten spaces while maintaining a beautifully subdued ambiance.
Should you find your room lacking natural sunlight or you're dealing with a smaller area, you might want to consider Gray Mist. It's perfect for rooms that benefit from a little "visual expansion." By economizing sunlight or artificial illuminance, this color creates an illusion of a more spacious room.
Undertones - An essential aspect
Benjamin Moore's Gray Mist OC-30 is known for its soft green undertones. This means while the predominant color observed in Gray Mist is a neutral gray, a subtle hint of green becomes more apparent under certain light conditions or when paired with particular decorating elements.
These soft green undertones help inject warmth and natural serenity into the color profile, making spaces more comfortable and inviting.
Because Gray Mist has these undertones, it pairs very well with earthy decor elements and can perform differently based on exposure and other colors in the room.
Thus, Benjamin Moore Gray Mist OC-30 is perfect for bringing a slight touch of the outdoors to your home's aesthetic.
Matching Color Names and Codes
When contemplating Gray Mist OC-30, it can be helpful to understand a few complementing hues. These colors effortlessly blend with the primary shade, creating a well-balanced space. Here's a quick look:
You can maintain a cohesive yet richly nuanced color palette by thoughtfully integrating these shades into your design scheme.
This harmony enhances your room's aesthetic appeal and vibe, making it warmer, cozier, and more inviting.
Similar Color to Gray Mist OC-30
A comparable color to the Benjamin Moore Gray Mist OC-30 is the Going to the Chapel 1527. It's a beautiful pale gray that maintains a warm ambiance like Gray Mist.
Its sophisticated subtlety brings a comforting feel to any space, offering an ideal backdrop for various decor styles.
While similar, it has a unique charm that allows it to stand independently while complementing Gray Mist flawlessly.
Read More: Benjamin Moore Beach Glass 1564 [Paint Color Review]
Benjamin Moore Gray Mist: Interior and Exterior
The mellow ambiance of the Gray Mist makes it a quintessential choice for interior and exterior projects. Its high LRV brightens spaces and adds a touch of warmth, making your rooms look expansive and inviting.
Whether you're planning to give your living room walls a fresh coat or spruce up your front porch, this color is reliable, versatile, and aesthetically pleasing.
Interior
When implemented internally, Benjamin Moore Gray Mist OC-30 imparts each room a soothing yet sophisticated feel.
It harbors the potential to transform spaces—casting an effortless, breezy aura that mimics the elegant comfort of a coastal home or the minimalist grace of contemporary designs.
Living Room: A Gray Mist living room radiates polished tranquility—perfect for entertaining guests or enjoying quiet family nights.
Bedroom: In bedrooms, it soothes senses and encourages restfulness—an ideal color for creating your sanctuary.
Dining Room: If you're aiming for a chic dining space without going too bold—Gray Mist is an excellent choice.
Kitchen: This warm gray can open up small kitchens considerably while maintaining a stylish overall look. It works beautifully with stainless steel appliances and white cabinetry.
Bathroom: A Gray Mist bathroom exudes cleanliness and serenity; it's perfect if you fancy a spa-like environment right at home.
With suitable accent colors and thoughtful lighting, Benjamin Moore's Gray Mist OC-30 can bring out the best in any interior format.
Always do proper testing with lighting and different adjacent colors before committing entirely to this shade—and prepare yourself for some impressive results!
Benjamin Moore Gray Mist OC-30 in Exteriors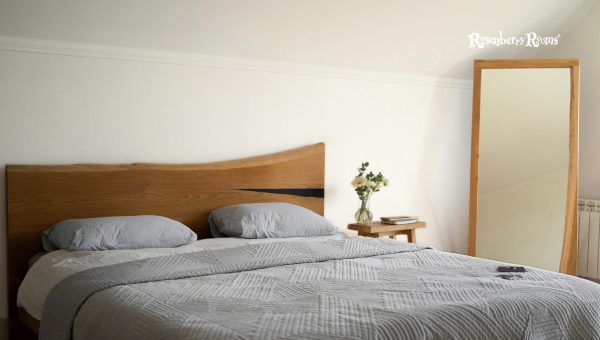 The versatile and beautiful attributes of Benjamin Moore Gray Mist OC-30 make this paint color a fantastic choice for exteriors.
Its warm, soft gray tone makes it an excellent backdrop to diverse architectural styles and outdoor environments.
The high LRV of Gray Mist helps to reflect light wonderfully, lending your exterior an inviting and spacious look.
Under varying natural light throughout the day, the color displays different hues that add character and visual appeal to your exteriors.
Consider these specific applications:
Trim: Complement the beauty of your exterior walls by using Gray Mist on trim work. It can be paired with darker shades on the main walls for a lovely contrast that subtly enhances architectural details.
Front door: Painting your front door with Gray Mist adds an inviting quality to your entryway while maintaining a sophisticated appeal.
Fence: Illuminate your garden or backyard with Gray Mist on fences. This warm neutral works harmoniously with natural greenery, making those hues pop.
Deck: Looking for a change from traditional brown decks? Consider using these neutral decks for an updated, clean, welcoming look.
Garage door: Go beyond generic white or beige garage doors. Paint yours in Gray Mist for a timeless style coordinating effortlessly with various exterior wall colors.
Regardless of how you incorporate Benjamin Moore's Gray Mist into your exterior design, sampling is crucial before full application — particularly due to the changeable lighting conditions, which can significantly affect the color's appearance.
Gray Mist: Warm or Cool?
Though a gray paint, Benjamin Moore Gray Mist OC-30 is regarded as a warm paint color due to its soft green undertones.
While gray is typically a cool-neutral color, the subtle green undertones can make the Gray Mist feel warmer depending on specific lighting conditions and surrounding decor.
It's this warmth that makes the Gray Mist OC-30 especially versatile. It can give an area a natural, relaxed ambiance but still maintain an air of sophistication and elegance. Contrasting cooler colors or metallic accents can further bring out its warmth.
So, while nominally placed in the 'gray' category, Benjamin Moore Gray Mist OC-30's warmth allows it to pair well with cool and warm color schemes while adding depth and richness to your design palette.
Why Sampling is Crucial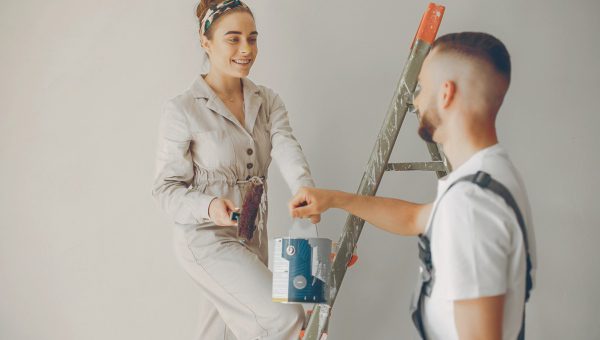 Sampling involves applying a small quantity of paint color to your desired area or on a test board. It is crucial as it provides the truest representation of how your selected shade will look under varying lighting conditions and blend with other colors in your space.
You can witness how Gray Mist OC-30's undertones and shades evolve throughout the day, allowing you to fully comprehend its impact before making a significant commitment. Therefore, sampling should be an integral part of your color selection process.
How Lighting Influences Grey Mist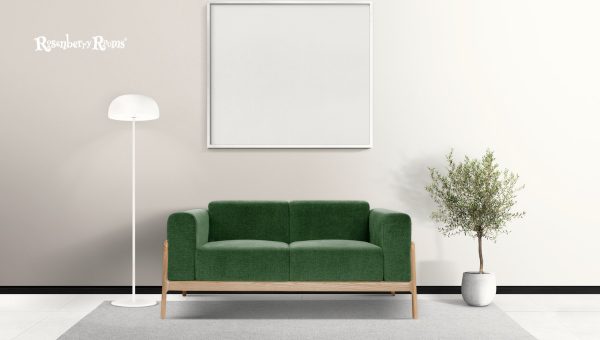 Lighting is pivotal in how a paint color manifests in your space. Depending on your room's direction, your selected shade could appear warmer or cooler, lighter or darker. Benjamin Moore Gray Mist OC-30 is no exception to this rule.
Interestingly, the subtle undertones and high LRV of Gray Mist allow it to adapt beautifully to various light environments. Let's explore how it wears each room depending on its exposure.
North-facing rooms with Gray Mist
North-facing rooms receive less direct sunlight throughout the day, so they usually experience cooler and softer lighting conditions.
The green undertones of Gray Mist tend to step forward in this setting, creating a sophisticated and serene backdrop that's perfect for studies or bedrooms. Its high LRV keeps the space bright while adding the right amount of warmth.
South Facing Rooms with Gray Mist
On the other side of the coin are rooms facing south, which garner generous portions of warm sunlight throughout the day.
This light brings out the best in Gray Mist OC-30 - its soft green undertones get muted while allowing gray hues to shine vibrantly.
Spaces like living rooms or kitchens can hugely benefit from this soothing play of color and light, assuring a welcoming feel round-the-clock.
East facing Rooms with Grey mist
East-facing rooms see the soft morning sun yielding cool daylight as noon approaches. Benjamin Moore's Grey Mist marvelously manages this fluent transition due to its inherent versatility and high LRV.
The result is an ever-changing ambiance flowing harmoniously from dawn to dusk, maintaining an inviting appearance regardless of time.
West facing Exposure featuring Grey mist
As you approach west-facing rooms in anticipation of a lovely sunset glow, be prepared for a beautiful surprise when witnessing how gracefully Grey mist interacts with warm evening light.
The setting sun enhances the gray while subduing the green undertones of the Grey mist OC-30. The end product is an ethereal diffusion of color that feels like a warm, cozy blanket after a long day.
Also Read About Benjamin Moore Hale Navy HC-154 [Paint Color Review]
FAQs About Gray Mist OC-30
What kind of undertone does Benjamin Moore Gray Mist OC-30 have?
Benjamin Moore Gray Mist OC-30 presents delicate green undertones that add unique depth to its neutral gray hue.
Is Gray Mist OC-30 appropriate for small spaces?
Yes, with a high LRV of 72.83, Gray Mist is excellent for visually expanding smaller rooms or spaces with limited natural light.
How does Gray Mist OC-30 change in a different light?
In lower light, the green undertones become more evident, while bright sunlight enhances the gray hues and mutes green undertones.
What colors coordinate well with Benjamin Moore's Gray Mist OC-30?
This shade pairs beautifully with other neutrals, such as White Dove OC-17, and complements darker hues like Flint AF-560.
Can I use Benjamin Moore's Gray Mist OC-30 on the exterior of my house?
Absolutely! With its versatility and high LRV, it works wonderfully for both interior and exterior projects.
Conclusion
As our comprehensive review shows, Benjamin Moore Gray Mist OC-30 truly poses impressive versatility, perfect for creating a serene and welcoming atmosphere.
Keeping its high LRV value, ability to adapt under different lighting conditions, and lovely green undertones in mind, this color could be the final piece of your home renovation puzzle.
Whether you're planning a comprehensive revamp or a subtle makeover - don't just take our word for it. Get a sample today and witness how Gray Mist OC-30 can beautifully transform your space with its soft elegance.