Looking out your window and longing for the calming serenity of the beach? Wishing you could bring some tranquil coastal charm into your home?
With Benjamin Moore Beach Glass 1564, you can do just that. With its soothing greenish-blue tint, this unique paint color has the remarkable charm to transport your senses straight to a sandy shoreline.
This isn't just any old seaside-inspired hue. Benjamin Moore Beach Glass 1564 effortlessly captures the essence of delicate sea glass along the coast.
Applying this paint to your living space gives an effervescent breezy ambiance reminiscent of a fantastic morning walk on a secluded beach.
The allure lies in its soft undertones and phenomenal ability to blend seamlessly with various other colors and textures, injecting a sense of peace and tranquility into your walls.
What Color Is Beach Glass 1564?
Benjamin Moore's Beach Glass 1564 is best described as a refreshing, calm, and muted tone. This magnificent hue splendidly carries the clarity of a glass bottle washed ashore on a sun-kissed beach.
An impressive fusion of soft sage green with subtle blue undertones, this color brings to mind an enticing hybrid of the sea and the sky on a crisp, clear day.
Let's dig into specifics:
Base Hue predominantly carries a soft green base that remains its core signature trait.
Color Impressions: From different perspectives or lighting conditions, it can express mellow hints of blue or grey.
Saturation: The color saturation is medium-light, making it an exceptional choice for creating soothing atmospheres.
Mood & Feel: BM Beach Glass 1564 can seamlessly convey calmness and tranquility in any setting.
This relaxed and inviting hue can smoothly blur the lines between indoor and outdoor spaces while maintaining its bright, airy charm.
Undertones and LRV of BM Beach Glass 1564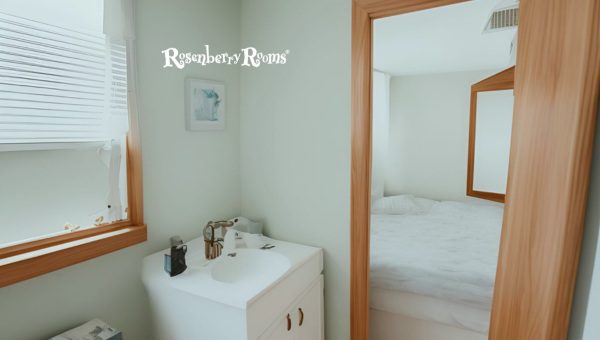 Understanding the undertones and Light Reflectance Value (LRV) is crucial when working with any paint, including Benjamin Moore's Beach Glass 1564.
Undertones
Beach Glass has a primarily tranquil green-blue undertone. This calming undercurrent sets the stage for fascinating interactions with various styles and elements.
Sometimes, it even hints at gray, creating an elusive chameleon effect based on lighting conditions or surrounding colors.
In particular, the understated cool tones help balance the warmth in textiles or furnishings within a room. This flexibility allows homeowners to harmonize new design ambitions effortlessly without drastically changing other aesthetic components.
Light Reflectance Value (LRV)
The LRV plays a significant role in how light or dark the color appears once applied. Paint shades with high LRV reflect more light and can illuminate a room, while those on the lower end absorb more light, providing depth and richness.
Benjamin Moore Beach Glass 1564 boasts an LRV of 49.7 – sitting comfortably within the middle spectrum.
This means it maintains a balanced act, creating a pleasantly lit space without making rooms feel stark or overly bright.
The excellent combination of soothing undertones and generous LRV ensures that BM Beach Glass succeeds in bestowing rooms with an elegant touch of coastal tranquility akin to its name's inspiration – beautifully polished fragments of sea glass shimmering under radiant sunlight.
Uncover More: Benjamin Moore Hale Navy HC-154
BM Beach Glass: Warm Or Cool?
Understanding the temperature of a paint color like Beach Glass 1564 is essential in creating harmonious color schemes and capturing the desired ambiance in your space. So, let's dive into it.
Warm
Although some green shades carry warmth due to underlying yellow undertones, they can't be categorized as warm in Benjamin Moore Beach Glass's case.
Its greener hints are predominantly excellent, veering more towards blue. Hence, it falls short on the generous side yet could evoke a gentle coziness when paired with warm neutrals or used in natural light.
Cool
By nature and temperament, BM Beach Glass 1564 falls definitively into the excellent end of the spectrum. This coolness becomes more apparent in natural daylight, where its subtler blue undertones tend to shine through.
The "cool" perhaps stems from this hue giving an impression of a tranquil sea under an open sky - invoking a feeling of freshness and spaciousness.
This coolness makes it a compelling choice for those looking to transform their homes into stress-free zones.
Moreover, its cooler undertones effortlessly contrast against warmer décor elements beautifully. For instance, when paired with rusty red accessories or honey-toned wood finishes.
Despite a touch of warmth due to its green tint, BM Beach Glass 1564 primarily operates within the realm of cool shades providing an exceptional crisp yet calm aesthetic. Thus making it so versatile and appealing to interior design enthusiasts globally.
Where You can use Beach Glass
When leveraging the eye-soothing Benjamin Moore Beach Glass 1564, endless possibilities abound. Amazingly agile, the hue adapts well to various settings and directions, creating a lively yet tranquil atmosphere. Let's delve into where this wistful shade could work its magic:
Living Room
Accent Walls: A Beach Glass accent wall offers a refreshing focal point that stands distinct yet blends seamlessly with other neutral shades.
Cabins & Bookshelves: A touch of Beach Glass on the back panels for deep-toned wooden fields elevates them into immediate attention-grabbers.
General Wall Paint: If an airy, nature-inspired ambiance is your goal, painting all walls in your living room with Beach Glass invites tranquility.
Dining Room
Chair Rails & Wainscoting: Luxurious white trims pair wonderfully with BM Beach Glass to lend an elegant coastal vibe.
Kitchen Islands
Island Base: Painting your kitchen island base with this hue adds freshness amid wooden elements.
Cabinetry: For those favoring the trend of two-tone cabinets, BM Beach Glass makes for a top-notch secondary color.
Exterior
BM Beach Glass 1564's unassuming appeal impressively adds curb appeal.
Front Doors/Entrances: As a welcoming invitation that resonates with calmness and charm.
Siding: Main house body color or for highlighting architectural features.
Bathroom
Benjamin Moore Beach Glass proves excellent for bathrooms craving serenity.
Wall paint: Making for enchanting wall paint, especially with white tiles and chrome or silver fixtures.
Vanity Units: For an instant uplift and to infuse breezy beach vibes
Entryway
Transform your entryways into soothing welcome arenas:
Wall Paint: The light reflectance value (LRV) of 48.15 makes it bright enough to illuminate entrance halls.
Bedroom
A perfect environment to enjoy homely warmth and cool relaxation simultaneously:]
​Main Wall Color​: Its serene visuals can cast an impressively calming effect conducive to restful sleep.
As you can see from the above rich details, Benjamin Moore's coveted beach-themed color offers incredible versatility.
Its superb adaptability makes it easy to incorporate into various home styles, from modern minimalism through rustic farmhouses and up to sleek contemporary designs. Harness its unique charm creatively.
BM Beach Glass: Interior and Exterior
Let's explore the versatility of Benjamin Moore's Beach Glass 1564 for both interior and exterior applications.
The versatility of this mesmerizing shade across various spaces can easily breathe life into your home, whether you apply it indoors or outdoors.
Interior
The tranquil Benjamin Moore Beach Glass can dramatically transform interior spaces. Its soft hues give any room a serene, inviting feel.
Here are some noteworthy details:
Living Room: Use BM Beach Glass as a backdrop for rooms with plenty of natural light to create a calm, airy experience.
Bedroom: This color wonders for bedrooms seeking a relaxing atmosphere paired with soft linens and natural textures.
Kitchen/Bathroom: In kitchens or bathrooms, staggering stainless steel appliances/fixtures against this color generate a uniquely refreshing elegance.
Home Office: To create a productive yet soothing workplace at home, consider this calming shade for partitions or accent walls.
Exterior
As an exterior paint color found on many coastal homes, Benjamin Moore's Beach Glass brings a crisp yet delicate charm reminiscent of seaside getaways.
Here's how it performs outdoors:
Main Walls: For the home's foundational walls, it injects fresh energy - complementing stonework and hardwood brown brilliantly.
Accent Trim: As an accent on trims or exteriors, accessories such as shutters can articulate architectural details splendidly.
Front Door: Painting your front door with Beach Glass is another creative approach – symbolizing tranquility at first sight.
When thoughtfully utilized indoors and outdoors, BM Beach Glass seamlessly mirrors the harmonious essence of nature – channeling the soothing rhythm of ocean waves crashing against sandy shores.
Witness how these muted coastal hues bring dimension and warmth to the often cold concrete structures we call "home." Apply BM Beach Glass in your favorite spaces today for that sought-after tranquil living.
Best trim colors with Beach Glass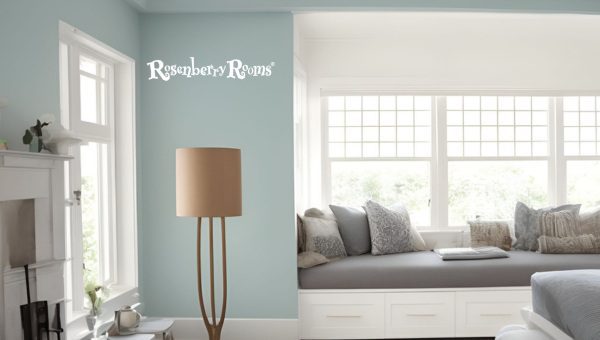 There's an unsung hero in our painted spaces: the trim. It frames our walls, adds depth and dimension, and can make a powerful design statement with the right wall color.
For Benjamin Moore Beach Glass 1564, several excellent trim color options will enhance its tranquility and lightness.
Simply White OC-117: Simply White is Benjamin Moore's purest white shade without being too stark. It beautifully highlights Beach Glass' calming nature and multi-dimensional properties.
Decorator's White CC-20: This off-white hue has a cool grey undertone that ties in perfectly with Beach Glass' extraordinary nuances.
Edgecomb Gray HC-173: A soft greige like Edgecomb Gray balances beautifully with BM Beach Glass to create an understated but elegant style.
Super White PM-1: Super White offers a crisp contrast, thus amplifying Beach Glass' brightness, making it feel even more serene.
Choosing the right trim color can turn your paint from ordinary to stunning by harmonizing all elements for a cohesive-style look.
Uncover More: 20 Best Paint Colors For Honey Oak
BM Beach Glass: Lighting And Directions
Understanding how lighting conditions and room orientations affect a paint color like Benjamin Moore's Beach Glass 1564 is crucial to achieving your desired aesthetic.
Let me guide you through how this wonderfully versatile hue behaves under different lighting directions.
North-facing Rooms
North-facing rooms get less sun, which could intensify Beach Glass's coolness.
It emphasizes the paint's blue notes, giving the room a calming and serene ambiance.
Pairing it with warm-toned furnishings or light fixtures can counterbalance the increased coolness, creating a balanced and inviting space.
South-facing Rooms
The abundant natural light in south-facing rooms could soften and warm up Beach Glass 1564.
Under direct sunlight, it appears somewhat lighter while still maintaining its signature tranquil charm.
Consider coordinating it with darker furnishings to contrast such well-lit rooms.
East-facing Rooms
In east-facing rooms, the cooler early morning light might bring out more of this color's subtle green undertones.
The variation in light throughout the day adds an engaging dimensionality to Beach Glass when used here.
Pair it with whites or other soothing colors to maintain a coastal vibe.
West-facing Rooms
The color profile of Beach Glass becomes nuanced thanks to the dynamic play of evening light.
During sunset, it should hold onto its cool sea-glass essence despite any warm tones that creep in from setting sun rays.
For the best effect within these conditions, accentuate with cool grays for an elegant finish.
BM Beach Glass 1564's flexibility (fluctuating from greyish-blue to soft sage depending on the time of day and room orientation) makes it so favorable.
This ability allows it to bring coastal serenity into any space regardless of its setting. However, consideration should be given to factors like natural light sources and other room decors when incorporating this hue into your home design project.
Coordinating Colors of Beach Glass 1564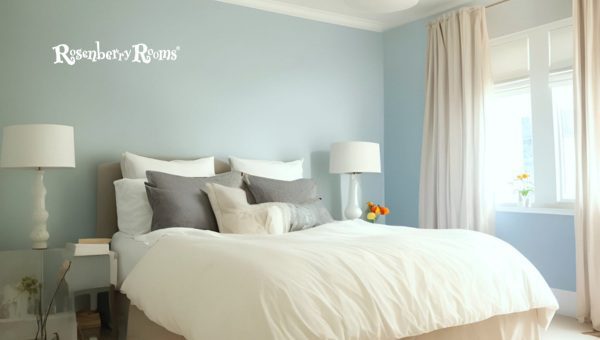 Finding the right colors to pair with Beach Glass 1564 can seem daunting. But not to worry, I've got you covered with a list of superb shades that coordinate incredibly well:
Benjamin Moore White Dove OC-17: An exceptionally versatile shade of white with a hint of off-white. This color pairs beautifully with trim work, offering clean contrast against Beach Glass.
Benjamin Moore Silver Satin OC-26: This soft tone of gray brings out the soothing tranquility of Beach Glass, creating a balanced and serene interior.
Benjamin Moore Classic Gray OC-23: An equally perfect complement for a more monochromatic pairing; its undertones harmonize perfectly with those in Beach Glass.
These coordinating colors enhance the beauty of Beach Glass 1564 and generate an appealing visual symphony across your space.
Remember, before deciding color coordination, paint test patches on different walls and watch how they interact under varying light conditions throughout the day.
Why Is a Sample Important Before Buying Full Paint Color?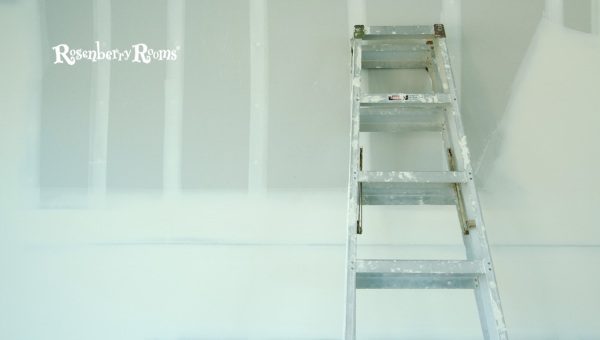 Before stepping into your local Benjamin Moore store and ordering gallons of Beach Glass 1564 to transform your living room, it's essential to sample the color first. You may ask why? Here are the reasons:
Incredibly Cost-Effective: By trying out a sample pot, you can save on potentially buying the wrong paint color in a significant quantity.
Unpredictable Lighting Conditions: A color on a screen may look entirely different in reality due to other lighting conditions. Your room's artificial and natural light will interact with the paint color differently during the day or night.
General Compatibility Check: A sample test run allows you to see how well your chosen paint interacts with existing home furnishings, floors, and other colors.
After picking up a Benjamin Moore sample pot, apply two coats of Beach Glass 1564 to a patch of wall or a white surface. Observe it at different times under varying light conditions.
This way, you can ensure that Beach Glass 1564 is the perfect match for your space before going all out on multiple gallons.
Remember there are no shortcuts when finding your perfect hue; skipping the sampling process can be expensive.
FAQs About Beach Glass 1564
What color is Benjamin Moore Beach Glass 1564?
Benjamin Moore Beach Glass 1564 is a mid-toned greenish-blue color, resembling the hue of delicate sea glass.
How does the BM Beach Glass 1564 shade work in different light conditions?
Under natural light, it is blue undertones and subtle gray shades become more apparent. Evening artificial lights amplify their green tone, adding warmth to indoor spaces.
Is Beach Glass considered a warm or cool color?
While it has a faint warmth due to its sage green base, Beach Glass predominantly resonates as a cooler hue because of its blue and gray undertones.
What kind of surfaces and rooms does Beach Glass look best?
Due to its versatile nature, BM Beach Glass performs exceptionally well in living rooms, dining areas, bedrooms, bathrooms, kitchen islands, and exterior walls.
What are some excellent coordinating colors for BM Beach Glass 1564?
BM White Dove (OC-17) for trim gives an airy feel, while hues like BM Silver Marlin (2139-50) or BM Saybrook Sage (HC-114) can complement the overall decor when paired with BM Beach Glass.
Conclusion
Benjamin Moore Beach Glass 1564 has the pleasing charm to capture the tranquil serenity of coastal aesthetics within your home decor.
It's unique greenish-blue hue and versatile nature have made it a much-loved choice among homeowners and interior designers.
The color's flexibility to adapt and complement other accent colors and unmatched ability to create a calm environment makes it an exceptional home enhancement choice.
So whether you're looking to spruce up your space or breathe new life into a dreary room, BM Beach Glass 1564 is undoubtedly worth considering.
A shade is strongly reminiscent of the soothing sea meeting the pristine sky - with this remarkable paint, you bring the beach into your own home!
Undeniably, this might be your perfect medium to transform your living space with elegance, tranquility, and an ever-so-subtle coastal flair.