As a homeowner or an interior designer, choosing the right wall color can feel like navigating through a maze. You're looking for something that complements your furniture and decor and reflects your personality.
So you scour through dozens of colors available on the market, and then it strikes you - the Fog Mist OC-31 color could perfectly match your needs!
This unique hue is making waves in the world of interior design, so it's high time we delved into an exhaustive Benjamin Moore Fog Mist OC-31 color review.
Backed by Benjamin Moore's reputation for exceptional quality and durability, it is no surprise that Fog Mist OC-31 draws rave reviews for its flexibility. This soft greyish-white hue exhibits a subtle sophistication that's neither overwhelming nor understated.
It seamlessly harmonizes with different types of decor while providing an inviting backdrop that influences the ambiance of any space. So, let's put this fan-favorite under the microscope and see just how well it measures up!
Fog Mist OC-31: A Comprehensive Overview
Belonging to Benjamin Moore's celebrated Off-White Collection and a preferred choice for vinyl colors, the Fog Mist OC-31 (also known by its code - 971) is an exceptional hue that exudes class and charm.
This subtle, slightly green-gray off-white borders on being a neutral color. This means it's conveniently versatile and fits snugly with many design styles, settings, and palettes.
It is a beautiful balance between brightness and softness, making it a timeless option for contemporary and traditional homes. Its adaptability also extends to different lighting conditions, whether daylight or artificial.
The various attributes of this exquisite hue make it a popular choice among homeowners and interior designers.
How Colors Influence Mood: Identifying Undertones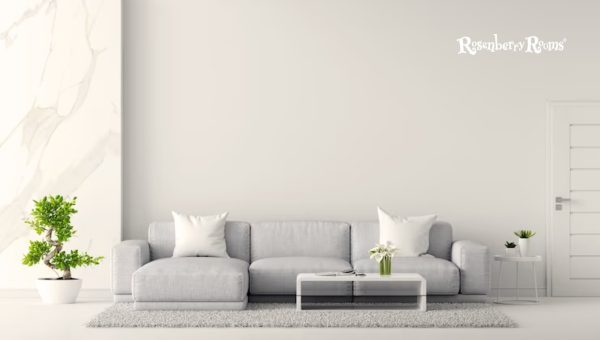 Benjamin Moore's Fog Mist OC-31 is a gorgeous off-white paint color with distinctive green undertones. This subtle hue shifts from a hint of green in natural daylight to a soft gray in artificial light.
It creates a serene and calming effect, making it a great choice for almost any space, including bedrooms and living rooms.
The slight green undertone adds depth and beautifully complements neutral decors and natural materials like wood or stone.
Read More: Benjamin Moore Shaker Beige HC-45 [Paint Color Review]
Influence of Lighting Directions on Fog Mist OC-31
Colors are not just static pigments; they respond to their environment and can drastically change in essence depending on the quality of light they're exposed to.
The effect of lighting from different directions can completely transform how Fog Mist OC-31 appears. This understanding is key when considering this color for your interiors or exteriors.
Lit-up North and the Color
Northern light is known for its soft, cool illumination with a bluish tint. In a room with windows facing north, Fog Mist OC-31 takes on a slightly cooler tone. The paint maintains its ethereal gray hue but feels a touch more crisp and cool.
This refreshing transformation makes it ideal for rooms you'd like to create a soothing and calm ambiance in - think bedrooms or mediation corners.
South Basking in Fog Mist
When you illuminate Benjamin Moore's Fog Mist with warm southern light, the green undertone shines through subtly, creating an inviting and warm feeling in the room.
Its inherent softness gets amplified further under this light direction that bestows a sun-kissed look on the walls painted in this color.
It frames living spaces delightfully, particularly rooms intended for daytime use like living rooms or kitchens.
Supple Shades in Eastern Light
Morning sunshine gives your space an illuminating glow, especially if your windows face east. Under eastern exposure, Fog Mist OC-31 reveals an intriguing blend of its understated green-gray tones and warm yellow morning light, creating a nearly neutral creaminess.
Spaces used frequently during the morning, such as breakfast nooks or home offices, will benefit greatly from these nuances.
Western Hue Swings
The western lighting shows off even more versatility of Benjamin Moore's Fog Mist. It evolves in the golden afternoon light, capturing radiant yellows effortlessly while keeping its timeless charm intact.
As evening falls, the color shifts again, becoming more muted and moody, creating a cozy and comfortable feeling. Spaces exposed to Western exposure will enjoy this dynamic change throughout the day, making it an excellent color for family rooms or reading nooks.
Benjamin Moore Fog Mist: Matching Colors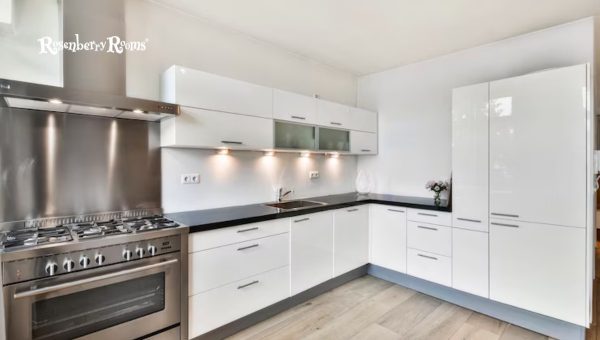 Choosing coordinating colors can be tricky, but when it comes to Benjamin Moore's Fog Mist OC-31, you're in luck with an array of beautiful options. Here are some fantastic hues that blend smoothly with Fog Mist's tranquil temperament:
Your choice should reflect the desired visual impact and your space's emotional resonance and functional needs.
Explore More: Benjamin Moore Lenox Tan HC-44 [Paint Color Review]
Benjamin Moore Fog Mist: Indoor and Outdoor
Benjamin Moore Fog Mist OC-31 is not just an 'interior color'; it holds a profound versatility that makes it compatible with indoor and outdoor applications.
With a beautiful play of light and a capability to transform with changing surroundings, it has cemented its position as an absolute go-to choice for designers who want to seamlessly tie together the interior and exterior of a home.
Indoor
Whether discussing high-traffic spaces like your living room or more private, intimate settings like the bedroom, Fog Mist OC-31 adds an air of sophistication that few colors can match. Let's delve into its applications in indoor spaces:
Living Room: An inviting backdrop for your couches, bookcases, and art pieces, Fog Mist champions a quiet elegance that does not upstage your decor but subtly enhances it.
Dining Room: The softness of this color encourages relaxed dining while achieving grace and charm.
Bedroom: Foster a peaceful retreat by introducing the calmness of this shade to your bedroom.
Kitchen: Fog Mist provides contrasting layers to enhance your culinary space for kitchens with white cupboards or stainless steel appliances.
Bathroom: The understated luxurious appeal of this shade lends well to bathrooms; couple it with opulent gold fixtures for true elegance!
Hallway: Hallways often set the tone for entire homes; enveloped in Fog Mist, they give a welcoming first impression.
Home Office: Maintain focus in your workspace with this subtle hue, creating soothing surroundings.
Nursery: Its calming aura creates an endearing ambiance perfect for newborn nurseries.
Foyer: Leave lasting first impressions; employ Fog Mist OC-31 in lobbies for an inviting entryway.
Den: Looking to cozy up in your reading nook? The subtle sophistication will complement your quiet reading times perfectly.
Consider pairing Fog Mist OC-31 with various wood and metal finishes for harmonious living spaces. Whether it's rich mahogany, modern birch, rustic reclaimed wood, glossy chrome, or brushed brass - this versatile coloration adjusts beautifully to complement its surroundings.
Outdoor
Have we mentioned that the beauty of the Fog Mist OC-31 paint color extends beyond indoor use? Yes, it's not restricted to interior walls by any means.
This paint's subdued and calming character resonates just as effectively when applied outdoors. Whether you are working with window trims or porch railings, here are a few areas where the Benjamin Moore Fog Mist can serve as an excellent color choice:
Window Trim: Enhance your home's curb appeal by painting your window trims with Fog Mist. It effortlessly adds a sleek touch to your windows. Combined with dark-toned walls, these stand out and add depth to your home's facade.
Shutters: Shutters painted in Fog mist provide an appealing contrast to homes painted in darker hues. In homes with lighter-colored walls, shutters bearing this color can complete a picturesque monochromatic look.
Garage Doors: Finding the perfect balance between standing out and blending in can be tricky for garage doors. Painting them in Fog Mist gives them a sophisticated edge, lending fine detailing to your home's exteriors.
Fences: Fences serve both functionality and aesthetic purposes. A well-chosen fence color like Fog Mist is an attractive backdrop for garden greens or colorful blooms.
Porch railings: Porches are where friends and families gather for quality time. Painting porch railings with Fog Mist adds freshness and clean aesthetics at the heart of family moments.
Outdoor Furniture: To achieve cohesion between structures and movable pieces like furniture, consider coating outdoor tables or chairs with this wonderfully versatile color.
Outdoor applications of Benjamin Moore's Fog Mist OC-31 are vast and offer surprisingly beautiful results.
Its ability to enhance exteriors while retaining subtle elegance resonates delightfully when appreciated under natural light conditions.
Why Sample Is Important Before Buying Full Paint Color?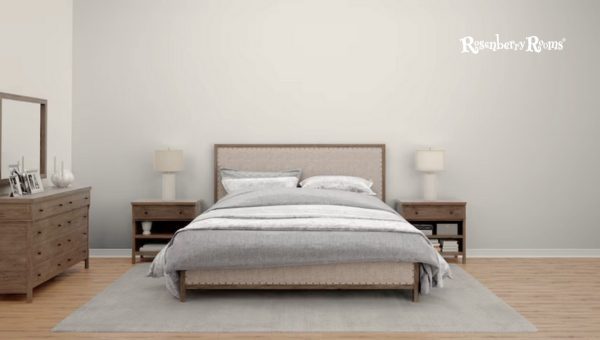 Choosing a color for your room is not solely about aesthetics; it's also an investment. Sampling the paint color before making the final purchase is advice you'll thank yourself for heeding.
A sample can give you a real-life look at how the paint interacts with your room's unique lighting conditions, furniture, decorations, and overall vibe.
Plus, it's not just about how the color looks on day one but tracking how the shade evolves throughout the day under different lighting. In short, it empowers you to make an informed decision and avoid unwanted surprises after painting the walls.
So, never skip that sampling step - consider it your sneak peek into what your revamped space will look like!
The LRV of Fog Mist OC-31
Benjamin Moore's Fog Mist OC-31 is a light, neutral paint color with a Light Reflectance Value (LRV) 70.15. The Light Reflectance Value indicates the percentage of light the color reflects.
With an LRV of 70.15, Fog Mist is considered a light paint color, making a space feel larger and brighter. It features soft green undertones that can shift toward gray in certain lighting conditions, creating a tranquil and sophisticated atmosphere in any room.
This versatility makes it excellent for various applications, including living rooms, kitchens, bedrooms, and bathrooms.
Also Read About Benjamin Moore Moonshine 2148-60 [Paint Color Review]
FAQs about Fog Mist OC-31
What kind of undertone does Benjamin Moore Fog Mist OC-31 have?
The Fog Mist OC-31 has a subtle green undertone that adds depth and soft sophistication to its neutral gray-white base.
Is Benjamin Moore Fog Mist OC-31 suitable for exteriors?
The Benjamin Moore Fog Mist OC-31 is great for indoor and outdoor use due to its adaptability to lighting conditions.
Which colors pair well with Fog Mist OC-31?
Numerous colors complement Fog Mist OC-31, including Dry Sage 2142-40, Glacier White OC-37, Whitall Brown HC-69, and Swiss Coffee OC-45.
What is the significance of LRV about Fog Mist OC-31?
The Light Reflectance Value (LRV) of a paint color measures the percentage of light it reflects. For Fog Mist OC-31, the LRV is 70.15, reflecting a good amount of light and making small spaces appear larger.
Why should I try a sample before buying the full paint color?
Sampling lets you observe how the color interacts with your room's lighting and decor at different times, ensuring you're happy with your choice before committing.
Conclusion
The Benjamin Moore Fog Mist OC-31 is a classic, versatile color. Its adeptness in blending with various decor styles, responsiveness to different light exposure from all directions, and subtle sophistication make it an extraordinary choice for your home decor plan.
Whether giving your space a complete makeover or just looking to change the vibe subtly, Fog Mist OC-31 could be your go-to color solution. Who knows? This might be the touch of luxe and comfort your space has been waiting for!