Painting your home is exciting, but choosing the right color scheme can sometimes be challenging. Enter the Benjamin Moore Ballet White OC-9 color.
This understated yet charming shade has become quite the popular choice among homeowners and interior decorators alike- for good reason, too! Say hello to our comprehensive Benjamin Moore Ballet White OC-9 color review.
Ever wondered how you could achieve a stunning, timeless, and chic home aesthetic without having to swap between new trends constantly? Your answer lies in one brilliant shade – Ballet White OC-9 by Benjamin Moore.
This versatile paint color promises a beautiful balance of warmth and brightness that effortlessly transitions across different styles and spaces. Let's take a closer look at why this hue could be your perfect match!
What is the LRV of Ballet White OC-9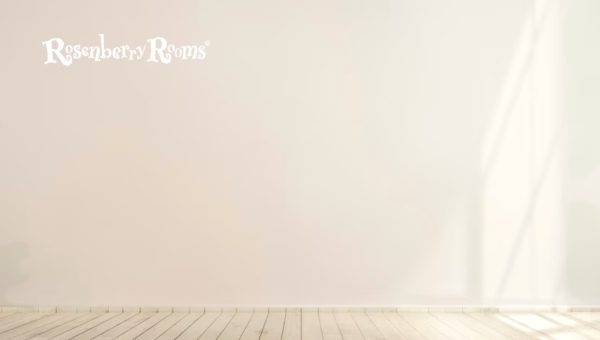 The Light Reflectance Value (LRV) of Ballet White OC-9 is 71.97. LRV represents the percentage of light that a particular color reflects.
This metric can be quite helpful when planning the paint scheme for your home or any room. Higher LRV values indicate that the color will reflect more light, making a space appear larger and brighter.
With an LRV of 71.97, Ballet White OC-9 is a relatively bright paint color that can enhance the brightness of your space significantly. While choosing paints for your spaces, consider other factors like undertones, room lighting, and LRV.
The Role Light Reflectance Value Plays in Color
The Light Reflectance Value (LRV) plays a significant role in determining the brightness of a color. It indicates the percentage of light that a particular color will reflect. LRV ranges from 0% (absolute black) to 100% (perfectly reflective white).
A lower LRV means the color absorbs more light, making a space look darker, while a higher LRV means the color reflects more light, making the room appear brighter and larger.
This is particularly useful when planning for spaces like small rooms or rooms without much natural sunlight, where colors with high LRV can help create an illusion of more space.
Understanding LRV can help you choose colors that match your aesthetic preferences and enhance a room's perceived size and brightness.
The Undertones of Ballet White OC-9
Benjamin Moore Ballet White OC-9's undertone is greige, a blend of gray and beige. The beauty of greige as an undertone is its unique versatility.
Despite its name, Ballet White OC-9 isn't a typical bright white—a soft, warm white harbors these subtle greige undertones.
These understated, greige tones allow Ballet White OC-9 to exhibit a neutral character that can splendidly complement nearly any decor.
Whether your style leans towards warm or cool color palettes, this paint color can easily harmonize due to the balance between beige's warmth and gray's coolness.
Ballet White OC-9's greige undertones make it adaptable under different lighting situations—it can seem warmer or cooler depending on the room's amount and type of light.
Read More: Benjamin Moore Linen White OC-146 [Paint Color Review]
Warm or Cool: Classifying Ballet White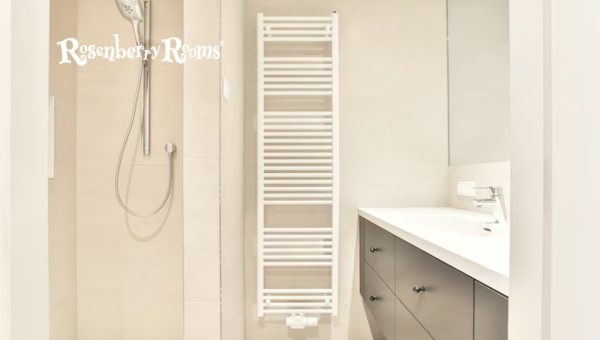 While the name might suggest a stark or cool tone, Benjamin Moore Ballet White OC-9 is a warm paint color. This is primarily due to its greige (gray and beige blend) undertones, which lend a pleasing warmth.
This warm quality makes it an excellent choice for creating a comforting and inviting atmosphere in any room.
Despite being warm, it retains a lot of neutrality due to the balance between the gray and beige undertones.
This balance allows Ballet White OC-9 to pair wonderfully with various color schemes, whether warm, cool, or neutral.
It's also adaptable under different lighting conditions; while retaining its overall warmth, Ballet White OC-9 may come off as slightly more beige or grey in some lights.
Benjamin Moore Ballet White: Interior Design
The adaptability of Benjamin Moore's Ballet White allows it to be used across your home, bringing class and elegance wherever it appears.
One doesn't typically associate subtlety with head-turning beauty, but Ballet White OC-9 defies the norm while it radiates solitude and timeless grace.
Whether you're looking for a backdrop for your enchanting living room statement pieces or seeking to create a warm, inviting dining space, this hue works surprisingly well.
Blending seamlessly with mid-century modern elements or contemporary minimalism lines, it captures natural light beautifully, enhancing the overall atmosphere.
In your kitchen, accentuate Ballet White cabinets with hardware in oil-rubbed bronze for a vintage touch or stainless steel for modern vibrancy. Against this backdrop, your colorful dishes or produce are sure to pop.
Paired with crisp white trims at the baseboards and crown moldings in more traditional spaces like your bedroom, this color brings a soothing rhythm perfect for relaxation. Bathrooms wall coated in Ballet White and gold fixtures exude subtle elegance that remains vivid over time.
And wait, there's more! It is an excellent color choice for open floor plans or larger spaces like your hallway due to its ability to reflect abundant light without ever seeming overpowering.
Don't overlook its potential in smaller areas of your home, like your home office or walk-in closets – there is no area too big or small that Ballet White can't elevate! Versatility is key here; this poised shade can effortlessly help unify wide-ranging decor styles and architectural elements under one roof.
Complementing Lighting Conditions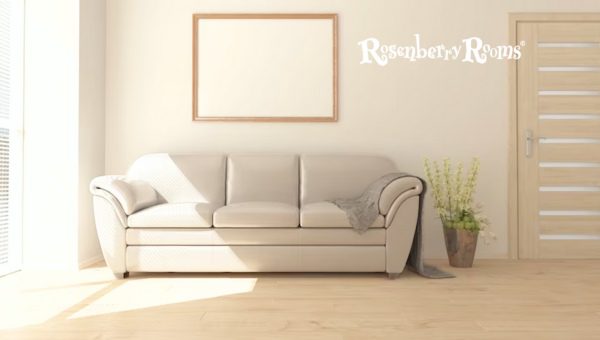 Lighting conditions in a room significantly affect the appearance of paint colors. Depending on whether your room faces north, south, east, or west, Benjamin Moore's Ballet White OC-9 could look different. Here are some insights into how this beautiful color behaves under various lighting conditions.
North-Facing Rooms
In these typically cooler and somewhat dimly lit rooms, Ballet White tends to display a warm undertone. You might notice shades of gray and beige gently showing through.
The room's inherent coolness perfectly contrasts with Ballet White OC-9's inherently warm undertone, creating a harmonious ambiance that is as soothing as it is captivating.
South-Facing Rooms
South-facing rooms revel in the abundance of warm natural light throughout the day. In these sun-drenched spaces, Ballet White OC-9 truly shines.
The paint color turns into a radiant hue with a rich depth that isn't too overwhelming but is adequately vibrant.
In south-facing rooms during the daytime, you are likely to observe subtle beige appearances that create an inviting and open ambiance.
East-Facing Rooms
Rooms facing east get lots of morning sunlight which gradually fades throughout the day. During peak sun hours in the morning, Ballet White OC-9 comes off as bright yet cozy due to its inherent warmth that complements the early rays of sun quite well.
As daylight wanes and gives way to artificial lighting, you might notice hints of beige and gray emitting an air of subdued elegance in your space.
West-Facing Rooms
West-facing rooms receive strong afternoon sunlight which can change perceived color dramatically over the course of a few hours.
When exposed to this kind of light environment, Ballet White OC-9 transforms from feeling bright during midday to possessing warm undertones by late afternoon followed by softer grey-like nuances after dusk under artificial light.
Benjamin Moore Ballet White: Exterior Uses
When it comes to painting exteriors, Benjamin Moore's Ballet White OC-9 has been steadily rising in popularity due to its chameleon-like qualities.
Its neutral undertones can highlight various architectural details without overwhelming them and is a fantastic choice for lending an air of timeless sophistication to your home's outward appearance.
House Facades
A worthy contender on many must-have paint lists, the subdued elegance of Ballet White OC-9 is often favored for the primary color of house facades.
This shade pairs fabulously with a multitude of trims and door colors, providing a warm yet bright backdrop to those details. Whether your exterior is stucco or siding, this versatile hue enhances your home's unique charm.
Exterior Doors
Ballet White OC-9 can also work as an understated alternative for painted exterior doors. If you are not looking for a bold impact with bright colors but yearn for a subtle warm touch instead, Ballet White is your ideal pick.
Deck or Patio
When you want that seemingly effortless chic aesthetic on your exterior walls and furniture staining, consider using this color on your outdoor deck or patio spaces.
It works wonders to create a peaceful and welcoming atmosphere that beckons for relaxation and fun gatherings.
Applications Beyond Residential Spaces
It's not just residential exteriors where this wonderful hue shines. Even in commercial settings like coffee shops, boutiques, or offices where first impressions matter a lot - the inviting warmth of Ballet White OC-9 impresses every time!
Explore More: Benjamin Moore Gentle Cream OC-96 [Paint Color Review]
Why a Sample Can Make a Big Difference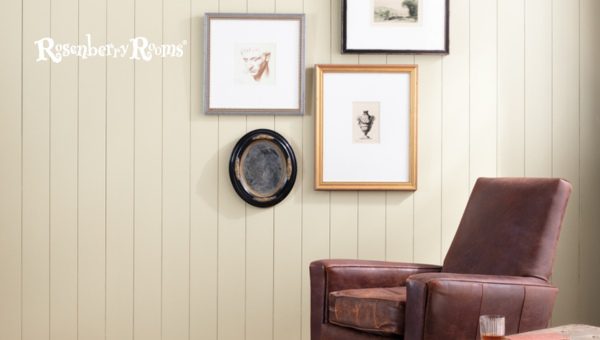 Testing a paint sample before fully committing to a color can save you time and money. Lighting conditions, room size, and room design can greatly influence how a paint color appears. By using Benjamin Moore's Ballet White OC-9 as a sample, you get to see firsthand how this color interacts with your specific home conditions.
This enables you to confidently make an informed decision based on actual visualization rather than just an assumption or description. When it comes to achieving that perfect home aesthetic, every detail counts!
Best Matching Color with Ballet White
Ballet White OC-9 is an incredibly versatile hue that works well with many color schemes, complementing them instead of overwhelming. Here are some colors that pair exceptionally well with Ballet White:
Remember that your choice should depend on your personal preferences and the kind of vibe you're trying to achieve in your space.
Whichever paint you choose to pair with your Ballet White walls, rest assured it will serve as the perfect canvas for your décor.
Best Similar Colors of Ballet White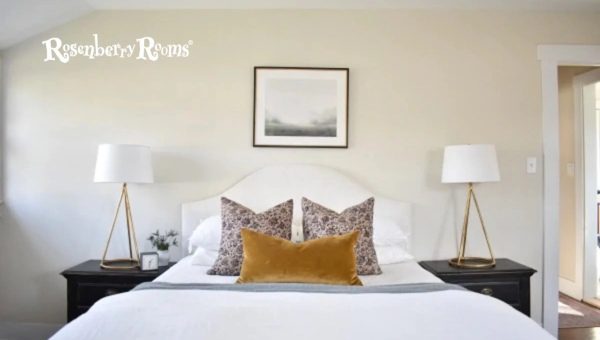 Looking for colors similar to Ballet White? One great option is Feather Down 953 by Benjamin Moore. This creamy, off-white tone is similar to Ballet White but leans towards an earthier beige undertone.
While it doesn't possess the greige nuance of Ballet White, Feather Down 953 exudes a gentle warmth that complements a wide range of decors and styles.
When deciding between Ballet White and similar hues like Feather Down 953, consider factors such as your room's natural light conditions and your personal aesthetic preferences.
Also Read About Benjamin Moore Trout Gray 2124-20 [Paint Color Review]
FAQs About Ballet White OC-9
Is Benjamin Moore Ballet White OC-9 more beige or white?
Ballet White OC-9 leans towards beige while maintaining a white, neutral aesthetic that works well in most spaces.
How does Ballet White OC-9 pair with other colors?
Ballet White OC-9 pairs beautifully with a variety of colors thanks to its neutral undertones. From vibrant hues to subtle shades, it takes on an elegant look.
Can Ballet White OC-9 be used in a kitchen?
Absolutely! Ballet White OC-9's warm and inviting tone complements the warmth of the kitchen making it feel homely.
Does Benjamin Moore's Ballet White work well in low light spaces?
Yes, Ballet White works especially well in low-light spaces as it reflects light beautifully, keeping the room bright throughout the day.
How would Benjamin Moore Ballet White appear in exterior applications, say on home siding or exterior trims?
On exteriors, such as home siding or trims, Benjamin Moore's Ballet White offers a subtle elegance and relaxed vibe that blends seamlessly with different architectural styles and natural surroundings.
Conclusion
Benjamin Moore Ballet White OC-9 is a versatile and timeless paint color that fits effortlessly into any design plan.
Its gentle beige undertones bring warmth to your space while maintaining a crisp, neutral aesthetic. Whether you're renovating an entire home or refreshing a single room, consider Ballet White for a modern yet lasting appeal.
From its flexibility under different lighting conditions to how it pairs perfectly with various colors and décor styles - Ballet White OC-9 is a true champion amongst neutrals. Don't hesitate to bring this color home and let it transform your living space with its sophisticated charm.