To infuse your living space with calmness and tranquility, look no further than Benjamin Moore's Gentle Cream OC-96.
This Benjamin Moore Gentle Cream OC-96 color review will showcase how this versatile color can transform your space in the most subtle but impactful ways. The elegance and warmth of the Gentle Cream OC-96 can envelop your room in a blanket of comfort.
This soft hue proves you don't need to make a statement boldly. Its sophisticated simplicity speaks volumes, adding a refreshing vibe all while maintaining an inviting coziness that's hard to resist.
Color Details of Benjamin Moore Gentle Cream OC-96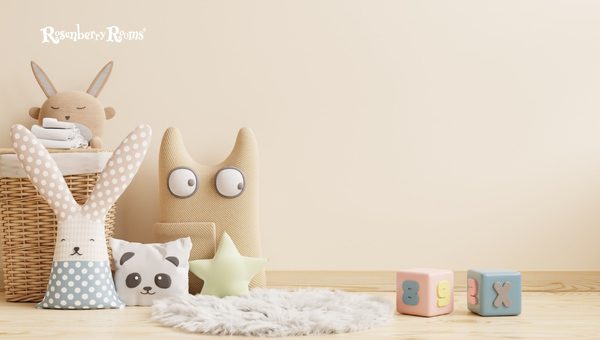 Belonging to the properties of Benjamin Moore's revered Off-White collection, Gentle Cream OC-96 beautifully represents the creamier, softer side of white.
Familiar to some under the alternate names 1066 or CC-140, this shade asserts its distinct identity in many ways.
Here are the key features that make Gentle Cream OC-96 exceptional:
Collection: Off-White Collection, a medley of soft hues that lend a classic touch to any backdrop.
Also Known As: 1066, CC-140 — a synonym for the same profound appeal cloaked in soft elegance.
Finish: Best used with Eggshell and Satin finishes for an exquisite feel.
RGB Values: R: 231 G: 221 B: 203 - indicating its red-green-blue constitution.
Hex Value: #e7ddcb - useful if you're looking for an exact digital color match.
Gentle Cream OC-96 effortlessly imparts an air of finesse and sophistication while retaining a welcoming warmth, setting it apart from many other off-white shades.
The softly muted cream shade can blend flawlessly into any style or design palette owing to its versatile nature.
Whether your preference is a Scandinavian-inspired minimalism or a homely farmhouse vibe, Gentle Cream OC-96 fits in seamlessly while amplifying the overall aesthetic appeal.
Unraveling LRV and Undertones
Benjamin Moore Gentle Cream OC-96 has a Light Reflectance Value (LRV) of 71.32. The LRV indicates the percentage of light a paint color reflects; the higher the LRV, the more light it reflects.
With an LRV of 71.32, Gentle Cream OC-96 is considered a light paint color, and it's perfect for spaces where you want to enhance natural lighting.
This versatile shade of cream blends beautifully with various decor styles, offering a warm and welcoming ambiance in any home setting.
Benjamin Moore Gentle Cream OC-96 comes with subtle yellow and orange undertones. Though not overly pronounced, these undertones imbue this paint color with a warm and comforting feel, making it perfect for creating a cozy and inviting atmosphere.
The orange undertone adds a touch of richness and depth. Despite its warmth, Gentle Cream OC-96's yellow and orange undertones are soft enough to make the color highly versatile, meaning it can blend seamlessly into rooms with different lighting conditions and alongside various color schemes.
Identifying Mood: Warm or Cool
Benjamin Moore Gentle Cream OC-96 is a warm paint color. This classification is based on its undertones with soft yellow and orange hues.
Warm colors like the Gentle Cream OC-96 can create a cozy, inviting, and comforting ambiance in space due to their association with elements such as sunlight and heat.
Being on the warmer end of the color spectrum means it works splendidly in living rooms, bedrooms, and spaces where a certain level of comfort and tranquility is desired.
This creamy hue blends seamlessly with various color schemes and finishes, making it an adaptable choice for different styles.
Read More: Benjamin Moore Edgecomb Gray HC-173 [Gray or Beige?]
Application of Benjamin Moore Gentle Cream OC-96
Transform your living space into something truly special with the unpretentious sophistication of the Benjamin Moore Gentle Cream OC-96.
This shade is all about versatility; whether lighting up your interiors or lending a unique appeal to your exteriors, the touch of Gentle Cream OC-96 results in a noticeable uplift in overall ambiance. The color speaks its language of elegance and subtlety, creating an irresistible charm.
Exemplary Interior Usage
The buttery, soft hue of Benjamin Moore's Gentle Cream OC-96 makes it an exceptional choice for interiors.
Esteemed for its ability to emanate a soothing vibe, the tone has been seen to work brilliantly in living rooms, bedrooms, and even kitchens or offices.
Living Room: Enhance spaciousness while retaining warmth.
Bedroom: Provide a relaxing and soothing environment for a peaceful rest.
Kitchen: Complement wood and granite surfaces beautifully.
Office: Instill a sense of calm productivity.
The adaptability extends beyond residential uses, though. Owing to its restrained grandeur, Gentle Cream OC-96 also finds residential use in commercial spaces like restaurants, hotels, or modern offices.
Brilliant Exterior Adaptations
While inherently subtle, you'd be surprised at how well Gentle Cream can hold its own on home exteriors against more powerful surroundings.
The pale, creamy shade delicately balances light while exuding an organic charm that resonates with its environment.
Home Siding: Lend a contemporary classic feel with stylized neutrality.
Outdoor Walls: Contrast beautifully against green landscapes.
Porch and Patio: Infuse understated elegance in outdoor spaces.
Whether indoors or outdoors, this versatile cream belongs anywhere where warm undertones are sought to craft an ambiance that's comforting yet modernly fresh.
Be it wood or marble surfaces, beige carpets, or gray furniture - the Gentle Cream OC-96 can significantly elevate your space's charm factor.
Impact of Cardinal Lighting Directions on Gentle Cream OC-96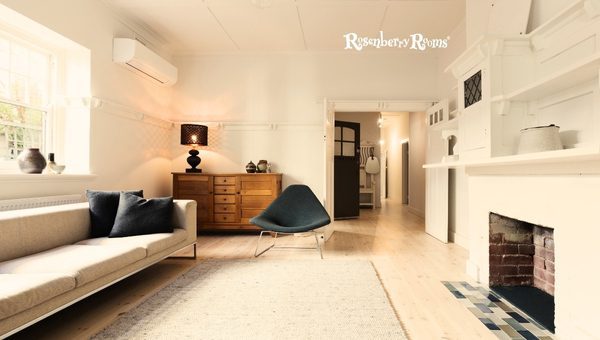 It would be best to consider how daylight can affect the appearance of paint colors before making your final selection. The quality of light changes throughout the day and can considerably impact how your paint color looks. T
his is where the concept of cardinal lighting direction comes into play. Here's a detailed view of how different directions of light influence Gentle Cream OC-96.
How Light from the North Affects This Color
Rooms with northern exposure have soft and cool illumination. As such, north-facing rooms bathed in Gentle Cream OC-96 can take on an alluring, soft, and subtle look.
The color never appears stark due to subdued daylight temperatures, even though it has warm undertones in its base color that slightly shine through in these cooler lighting conditions.
This shade achieves a delicate balance between looking neither frosty nor creamy, created by perfect harmony between its inherent warmth and cool natural light from the north.
Impact of East-side Light on the Hue
When applied to east-facing walls, Benjamin Moore's Gentle Cream takes on a mellow version of its initial shade from sunrise until late morning because east-facing rooms are graced with warm yellow-toned light at these hours.
The golden tinge of sunlight compliments the hue beautifully by exaggerating its warmer tones and lending an inviting richness that's hard to resist.
The color might lean towards a more neutral tone as daylight fades away due to indirect lighting conditions, yet maintaining consistent creaminess throughout the day.
How West-side Light Interacts with the Color
Regarding west-facing rooms, shade transformation under varied lighting conditions throughout the day takes a dramatically different turn.
During the early to middle of the day, because of indirect lighting, Gentle Cream OC-96 appears relatively neutral, which is true to its base color.
As sunset draws near and west-facing rooms receive intense warm light, Gentle Cream gracefully turns into a richer and deeper version of itself. The warm tones get enhanced beautifully, giving walls a distinct glow that's both welcoming and comforting.
Effects of South-side Illumination on Gentle Cream
South-facing rooms are known for their vibrant and bright light, which remains consistent throughout most parts of the day.
When kissed by south-side lighting, Gentle Cream OC-96 radiates a sunny warmth while retaining its soothing undertones.
This elegant paint color thrives under the south side's abundant natural light by heightening its inherent warmth without appearing too buttery or yellowish. Its balanced creaminess shines perfectly in such spaces, giving your rooms a delightfully cheerful aura while offering an overall serene décor.
It's noteworthy that ample southern exposure allows Gentle Cream OC-96 to work its charmed aesthetics undilutedly.
Explore More: 20 Best Benjamin Moore Gray Paint Colors In [Top Picks]
Why Sampling Gentle Cream OC-96 is Crucial
Sampling the Gentle Cream OC-96 is vital in understanding how this mystical color will react in your space. Lighting, space proportions, and other colors in the room can greatly influence its appearance.
By obtaining a sample of Benjamin Moore's Gentle Cream OC-96, you can test various applications and view the color under different lighting conditions.
Thus helping you to make a confident decision that this subtle creamy shade complements your aesthetic vision perfectly.
Optimal Locations in the House for Gentle Cream OC-96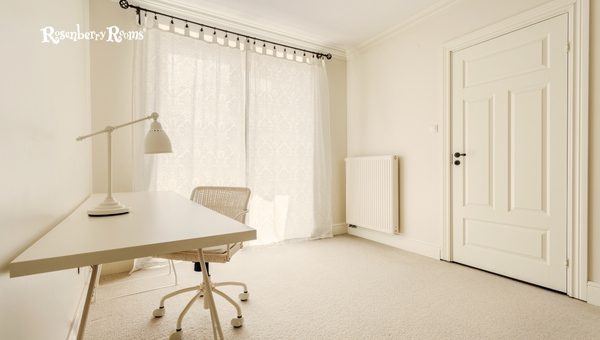 In your quest for the perfect spot to apply the Gentle Cream OC-96, let's break down which areas of your house can benefit from this color the most.
Living Room: One of the prime locations to apply Benjamin Moore Gentle Cream is the living room. This shade will make your space feel open, cozy, and inviting. It creates a great backdrop for wall art or framed photos.
Kitchen: A kitchen painted with this neutral hue becomes an attractive area where everyone in the family would love to gather. Against this lovely soft beige backdrop, every dish you create seems more delicious.
Hallways: Hallways painted with Gentle Cream look longer, more open, and inviting. It's a great tone when you want to lighten up the often ignored areas of your home.
Regardless of where you apply it, Benjamin Moore Gentle Cream OC-96 brings unparalleled warmth and sophistication without overwhelming an area.
Its versatility can fit any room and serve as a beautiful canvas for any design elements or furnishings you might add.
Complementary Trim Colors to Enhance Gentle Cream OC-96
Choosing the right trim color is often as crucial as your wall color. The right contrasting trim can elevate the overall tone of your room and highlight the aesthetic charm of Gentle Cream OC-96 even more effectively. Consider these suitable recommendations.
Keep in mind that these options are not one-size-fits-all solutions. Observing how these combinations react under different lighting conditions in your space is essential.
Personal preference and style play significant roles in choosing color palettes, so don't be afraid to experiment with various hues until you find the perfect fit.
Similar Shades to Benjamin Moore Gentle Cream OC-96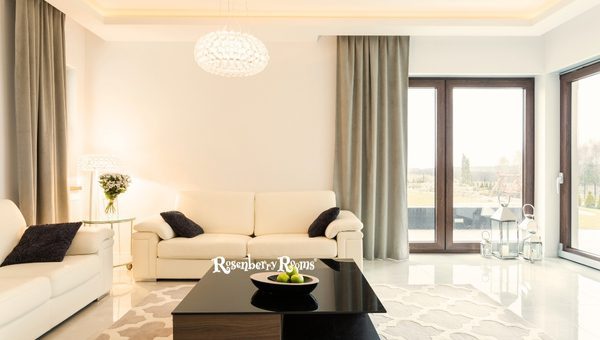 If you adore the appeal of Gentle Cream OC-96 but want to explore similar hues, consider giving a Barbados Sand 1094.
Emanating from the same color family as Gentle Cream OC-96, Barbados Sand 1094 shares largely complementary attributes.
Though it leans more towards a classic beige than off-white, it still graciously contributes tranquility and warmth akin to Gentle Cream but with a slightly more distinctive presence.
You might find this shade better suited for spaces bigger in size or those demanding an added touch of gravitas. You can easily coordinate it with wood tones ranging from light pine to rich mahogany.
Absorbing and reflecting light subtly, Barbados Sand 1094 enhances the overall space while catering brilliantly to casual and formal interiors.
Also Read About Benjamin Moore Revere Pewter HC-172 [Latest Color Review]
FAQs About Gentle Cream OC-96
How does the Benjamin Moore Gentle Cream OC-96 hold up in various lighting conditions?
Depending on the direction of light entering your space, Gentle Cream OC-96 can appear slightly warmer or cooler but always maintain its creamy undertone.
Is Gentle Cream OC-96 suitable for smaller rooms?
Yes, its high Light Reflectance Value (LRV) makes it an ideal choice for smaller rooms as it brightens the space.
Can I use Gentle Cream OC-96 in my kid's room?
Absolutely! Its soft, soothing hue fits a serene and comforting nursery or kid's room.
What are some good accent colors to use with Gentle Cream OC-96?
It pairs well with earthy hues like browns and greens but also complements blues and greys for a more modern look.
Can I use Gentle Cream OC-96 on exterior surfaces as well?
Certainly! Like interior applications, it holds up wonderfully on external walls, offering a sophisticated neutral canvas.
Conclusion
Benjamin Moore's Gentle Cream OC-96 is a timeless color boasting sophistication and warmth. Its adaptability for interiors and exteriors alike sets this shade a class apart.
Whether you're after a neutral backdrop that effortlessly complements every style or you are seeking to make a subtle statement while maintaining an inviting ambiance, Gentle Cream OC-96 ticks all the right boxes.
This review should help illuminate why so many homeowners and interior design enthusiasts invariably sing praises of Gentle Cream OC-96. But don't just take our word for it - experience this beautiful shade for yourself!