If you're considering a refresh for your home, choosing the perfect paint color is likely at the top of your list. You've probably heard of the popular Benjamin Moore Balboa Mist OC-27 and are eager to know if this hue lives up to the hype.
Well, you've landed in the right place because today, we're doing an in-depth Benjamin Moore Balboa Mist OC-27 color review. Picking a paint color can sometimes be daunting for your living room, bedroom, or kitchen.
But don't worry! We will walk you through all the details about this trendy color – its undertones, its appearance under different lighting conditions, and what colors it pairs best with.
We aim to help you make an informed decision so that adding that splash of style to your space is just a brushstroke away.
Implementing Balboa Mist OC-27 in Home Interiors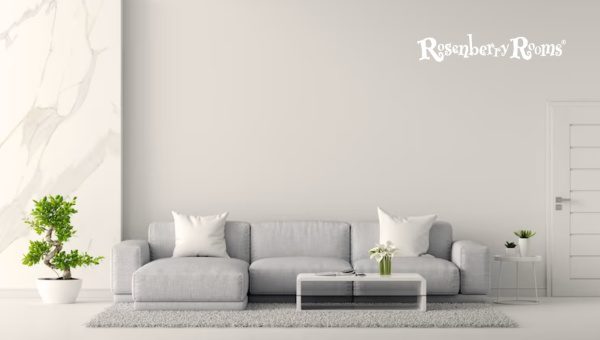 Balboa Mist OC-27 is one of those chameleon neutrals that can find its place in almost any room in your home due to its adaptability and sophisticated appeal.
Are you contemplating giving your Living Room a neutral makeover? Consider Balboa Mist OC-27! The soft, warm gray tones perfectly counterbalance bolder accents, creating an intimate and welcoming space.
This shade proves to be friendly for Kitchens, too. Pair it with white subway tiles or marble countertops for a chic, minimalist design.
How about in your tranquil Bedroom spaces? Indeed, the calming undertones of this color will stir feelings of comfort and relaxation, optimizing your room for peace and rest.
Sprucing up a Home Office or a Dining Room, you can also count on Balboa Mist OC-27. This color's soft yet invigorating characteristics create an engaging environment that fosters creativity and sparks lively conversations when entertaining guests.
The Perfect Trim to Complement Balboa Mist OC-27
Settling on the perfect trim color to complement your primary paint is just as crucial as choosing the paint color itself. Fortunately, with a versatile shade like Balboa Mist OC-27, you have many great options.
Barista AF-175: This rich, dark brown shade stands strikingly against the soft undertones of Balboa Mist. It's an excellent choice for wooden finishes and trims to instill a vintage elegance in your interiors.
Flint AF-560: If you prefer a cooler tone that complements the slight purple undertones in Balboa Mist OC-27 while contrastingly standing out, Flint AF-560 is your hue!
Rock Gray 1615: Keeping up with modern trends? Pairing Rock Gray 1615 with Balboa Mist creates an ultra-modern appeal — maintaining a monochromatic scheme but providing just enough contrast to make the room interesting.
Cloud Cover OC-25: This creamy white balances with Balboa Mist, creating a soothing ambiance. Whether on window or door trims – this pairing adds light and airiness without unnecessarily drawing attention.
Remember that allocating some time to check out actual swatches will help you see these colors true-to-life — lighting conditions can make huge differences!
Simulate Before You Paint with a Sample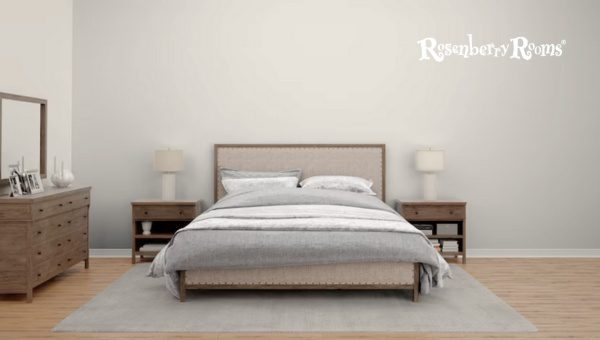 Stepping into a room painted with Benjamin Moore's Balboa Mist OC-27 is a sight to behold! But before you commit an entire room, it's always smart to try a sample first. Test strips are affordable and available at most home improvement stores.
This process lets you experience the shade firsthand, under various lighting conditions, without making an expensive commitment.
We strongly advise this approach because paint colors can change significantly based on the time of day and the direction your room faces. Ultimately, this preliminary step allows you to visualize the transformation and avoid potential regrets.
Read More: Benjamin Moore Muslin OC-12 [Paint Color Review]
Breaking down the LRV of Benjamin Moore Balboa Mist OC-27
The Light Reflectance Value (LRV) of Benjamin Moore Balboa Mist OC-27 is 65.53. The LRV stands for how much light a particular paint color reflects.
It ranges from 0% to 100%, with zero indicating the absolute black or absence of light and 100% representing pure white or highly reflective colors.
With an LRV of 65.53, Balboa Mist is considered a light color but falls into the mild category, not too bright and not too dark, making it an ideal soothing neutral paint color for your space.
Summarizing Warm and Cool Components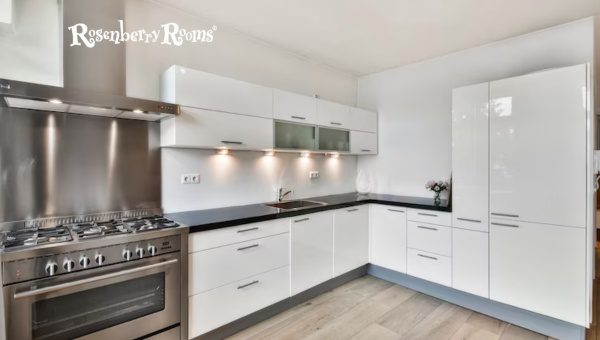 Benjamin Moore Balboa Mist OC-27 is often described as a warm gray paint color. Though it is a gray shade, it has warm undertones that give it a softer and warmer appearance than some other grays. This makes it a versatile and neutral choice for various spaces.
The warmth of Balboa Mist OC-27 helps create an inviting ambiance, making this color suitable for living rooms, bedrooms, and other areas where comfort is key. The warm gray hue blends seamlessly with different color schemes and complements modern and traditional decors.
Its adaptability to lighting changes further adds to its warm-gray categorization, as it presents a slightly different hue under different light settings but maintains its comforting warmth throughout.
The Undertones of Balboa Mist OC-27
Benjamin Moore Balboa Mist OC-27 has a slight purple undertone, giving it a soft, warm, and calming effect. Despite its light gray appearance, the blend of this paint contains hints of purple that become apparent when applied to walls or facades.
The soothing quality of the undertone provides a subtle depth and richness to the shade, making it more than just another plain gray.
Its versatility makes it a popular choice for adding elegance and tranquility to any room, pairing exceptionally well with neutral or white decors.
Explore More: Benjamin Moore Nimbus 1465 [Paint Color Review]
Exploring Exterior Applications
Choosing the right exterior paint color is thrilling yet a little daunting. However, with Balboa Mist OC-27, all your worries melt away.
This delicate gray hue precisely balances warm and cool undertones, making it an ideal option for your home exteriors — be it a traditional or contemporary home!
Embrace this modern classic in your Home Exterior. Painted against bricks, woods, or even concrete, the Balboa Mist OC-27 melds wonderfully — making your house easily noticeable from the street but without overwhelming passersby.
Details matter! Use Balboa Mist on architectural features such as Exterior trim, Window Sashes, or even the Gutters. The color will captivate visitors with its elegant ambiance while subtly highlighting these detailed areas of your facade.
It isn't uncommon to spot this beautiful hue on Patio Walls and Garden Sheds for an artistically cohesive look. Paint your outdoor spaces with Balboa Mist for a fresh yet serene outlook!
Similar Paint Colors to Balboa Mist OC-27
Looking for an alternative to Balboa Mist OC-27? Let's introduce you to Athena 858. This color is another fabulous neutral choice from Benjamin Moore's collection and is often compared with Balboa Mist.
With a slightly warmer undertone, Athena 858 presents an earthier aesthetic and can charm your spaces drastically.
It carries an LRV of 68.64, which means it might appear slightly darker than Balboa Mist in some lighting, so be mindful of the lighting conditions of your spaces before choosing this hue.
Also Read About Benjamin Moore Lenox Tan HC-44 [Paint Color Review]
FAQs About Benjamin Moore Balboa Mist OC-27
How does Balboa Mist OC-27 differ from traditional grays?
Balboa Mist OC-27 offers a more soothing and inviting feel with its warmer undertones, compared to traditional grays, which often carry more cool or blue undertones.
Is Balboa Mist OC-27 suitable for a nursery?
Absolutely! Its soft, muted hues create a comforting environment, making it ideal for a peaceful nursery.
Can Balboa Mist OC-27 work well in smaller spaces?
Due to its high LRV (65.53), Balboa Mist can reflect sufficient light to keep small spaces feeling open and breathable.
What color should the cabinets be in a kitchen painted with Balboa Mist OC-27?
White cabinetry pairs beautifully with Balboa Mist, creating a sleek, clean look! It also harmonizes well with darker wood tones for a richer feel.
Does Balboa Mist OC-27 work well in exteriors?
Certainly! Its neutral nature is adaptable for exteriors as it beautifully complements natural elements like stone and greenery while providing an elegant backdrop.
Conclusion
So, after our deep dive into the versatile world of Benjamin Moore Balboa Mist OC-27, we hope you've gained plenty of insights into implementing it in your home.
Remember, from room to room, lighting changes and pairing options can create diverse presentations for Balboa Mist.
It stands as a firm testament that neutrals are never boring. Whether crafting cozy ambiances indoors or a timeless look outdoors, Balboa Mist has the flexibility to adapt and enhance your spaces with just the right amount of warmth and chic sophistication.