When I first began my hunt for the perfect sofa, I had no idea how overwhelming the search could be. Finding the ideal blend of comfort, style, and longevity is not an easy feat.
But if you're looking for that balance, then allow me to share my Allform sofa review with you as it has all those features and more.
I know what you're thinking - it's just another piece of furniture! However, let me tell you - my experience using the Allform Sofa has been nothing short of exceptional. From the delivery process to relaxing on its comfortable, yet stylish design, this sofa truly went beyond my expectations.
So grab a cup of coffee (or tea if you please), settle in, and let me tell you all about the Allform Sofa that has forever changed my perception of what a sofa should be.
Unboxing and Assembly: My Personal Experience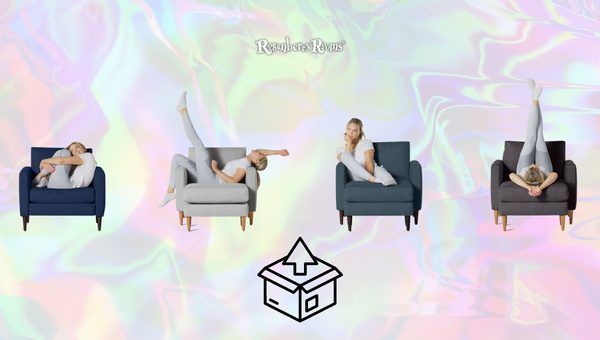 When my Allform Sofa arrived, I must admit, I was a little apprehensive about the assembly process. After all, in the past, I've had experiences with other pieces of furniture that left me fumbling through confusing instructions.
However, to my pleasant surprise, the unboxing and assembly process turned out to be a breeze with all the necessary tools provided!
Ease of unpacking
Upon receiving the delivery of my sofa, I carefully assessed the packaging. The Allform Sofa came in several well-packed boxes that were clearly labeled with their contents and order of assembly.
Careful thought had gone into making sure every component was protected during transit - from the sturdy outer box material to layers of protective plastic wrap covering delicate parts like cushions and upholstery.
I must mention that Allform packed everything so efficiently that there was minimal waste generated during unpacking.
Furthermore, each part was conveniently organized according to its respective assembly sequence which made it easier for me to figure out where to start once I had everything laid out on my living room floor.
Clear instructions provided by Allform
Once I began assembling my new sofa, I found myself referring repeatedly to the clear and concise step-by-step instructions provided by Allform.
In addition to printed detailed guidelines sent along with the packing materials, Allform offers handy online video tutorials that cover different aspects of assembly including attaching legs and slipcovers. These visual resources definitely helped me visualize the overall process better.
I also appreciated how Allform took care to label each component clearly which made it almost impossible for me to mix them up! The tools required for assembly were also enclosed within one package that significantly expedited the entire process.
When seeking assistance or advice during assembly, their friendly customer support team went above and beyond to provide guidance on specific questions when needed.
Time taken for the complete assembly process
To give you an idea of just how quick and easy it is to put together an Allform Sofa, I've decided to outline the main steps for a standard assembly process:
Assemble leg frames: Begin by attaching the brackets to the leg frames using screws. Make sure the brackets are correctly oriented as instructed.
Attach leg frames to seat modules: Line up each seat module with its respective leg frame and secure them together by tightly fastening bolts in place.
Connect seat modules: Using connective clamp pieces, join multiple seat modules when necessary to create your desired sofa arrangement.
Add armrests: If applicable, attach armrests to either end of your sofa - note that some configurations have armless sides.
Attach back cushions: For each corresponding seat module, insert cushion clips into slots on the frame ensuring they clip securely in position.
Add slipcovers (optional): If you opted for slipcovers, be sure to slot them onto cushions and frame parts before attaching any cushions permanently.
Altogether, it took me less than an hour and a half from start to finish as I swiftly followed these steps all by myself. The whole experience was not only enjoyable but also easy for anyone even with minimal DIY skills.
As an attentive consumer who has dealt with more than their fair share of troublesome furniture assemblies, I can't recommend Allform Sofa enough for its hassle-free unboxing and assembly! The approachability of this process earned five stars out of five from me!
Aesthetics: The Perfect Blend of Style and Comfort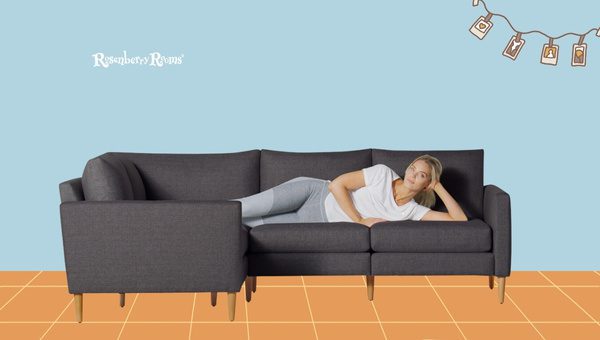 One of the most striking features of the Allform Sofa is its aesthetic appeal. It manages to find the sweet spot between style and comfort, making it perfect for any living space. Let's dive deeper into its various customizable options for fabric, color, and configuration.
We'll also discuss how I incorporated the sofa into my living room and the sleek, modern design that makes it so visually appealing.
Various Customizable Options for Fabric, Color, and Configuration
With the Allform Sofa, gone are the days where you're just picking out a standard sofa with limited options. Allform gives you complete control over how your sofa looks by allowing you to customize various elements:
Fabric Options: Choose from a range of durable and high-quality fabrics including performance linen, performance velvet, or recycled fabric. This gives you added flexibility to match your sofa with your existing home décor.
Color Palette: The sofa comes in an array of beautiful colors that cater to different tastes. From classic neutrals like cream or charcoal gray to more vibrant hues like navy blue or forest green – there's something for everyone.
Configuration Choices: Whether you want a simple 3-seater sofa or an elaborate sectional with chaise lounge – Allform has got you covered! With various configurations available, including loved seats with three cushions or sectionals with a bumper on either side – there's something to fit every living room layout.
Incorporating the New Sofa into My Living Space
When my Allform Sofa arrived at my doorsteps, I was thrilled but slightly anxious about incorporating it into my existing living room setup. However, I followed these steps below to make this process much smoother:
Measure your space: Before selecting my sofa configuration, I made sure to measure my living room space accurately so that I chose the right size comfortably fitting without disrupting the room's flow.
Consider your lifestyle: As a pet owner, I opted for a scratch-resistant recycled fabric to ensure my sofa's longevity while keeping it looking pristine.
Create a focal point: To draw attention to my new sofa, I placed it against the living room's longest wall and accentuated it with throw pillows and a soft, cozy blanket.
Make use of accessories: Adding an area rug beneath the sofa or placing a floor lamp in a corner nearby helps tie everything together while providing ample light for reading or relaxing on the sofa.
Sleek and Modern Design that is Visually Appealing
The Allform Sofa boasts a modern design that effortlessly fits into any living space style - be it minimalist, contemporary, or even rustic! Here are some standout design elements that make this sofa visually appealing:
Clean lines: The simple silhouette of the Allform Sofa is characterized by its straight edges and clean lines – giving it a sophisticated look without being overly ornate.
Sturdy wooden legs: Each modular piece rests on solidly-built wooden legs which not only provide excellent support but also add visual interest to the overall design.
Tailored upholstery: The high-quality fabric used for the sofa has been expertly tailored to create smooth surfaces and seamless edges that ensure a polished appearance from every angle.
Comfort Level: The Epitome of Relaxation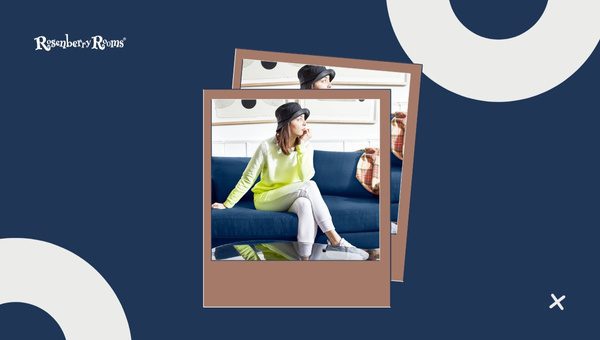 When it comes to investing in a sofa, comfort is arguably one of the most crucial aspects to consider. After all, nobody wants to spend their hard-earned money on a beautiful piece of furniture that feels like you're sitting on a bed of nails.
So, let me delve into how my Allform Sofa has managed to provide optimal comfort and become the most relaxing spot in my home.
Seat cushions, back support, and overall feel of the sofa
The moment I first sat on my Allform Sofa, I was blown away by its unparalleled level of comfort. From the seat cushions to the back support, every aspect seemed carefully designed for maximum indulgence.
Seat Cushions: Allform uses high-density foam for their cushions which ensures both durability and a consistent plush feel. Moreover, these cushioned pockets are wrapped in down-like poly fiber which ups the ante when it comes to comfort.
Back Support: One thing that struck me about the back cushions was how well they conformed to my back's natural curvature – offering me lumbar support without feeling too rigid.
Overall feel: Soft yet supportive. This perfectly balanced combination guarantees optimum relaxation without any discomfort from sinking too much into the couch.
Ideal dimensions for a comfortable seating experience
Allform's sofas come in various sizes and configurations, accommodating different preferences and lifestyles. As someone who enjoys lounging with friends or curling up with a good book on lazy days, I appreciate how their dimensions catered perfectly to my needs.
To find your ideal Allform Sofa:
Explore their range of pre-configured modular layouts or mix-and-match individual pieces according to your requirements.
Choose your preferred cushion firmness based on whether you like sitting more upright (firmer) or sinking further (softer).
Assess your room size and account for personal preference before selecting suitable dimensions (width, depth, and height).
By thoughtfully considering the space and comfort requirements, you'll be well on your way to a truly delightful seating experience.
My favorite spot for unwinding after a long day
After having spent ample time lounging on my Allform Sofa, I must say it has become the place to unwind. Whether I'm binge-watching TV shows after a hectic day at work or hosting movie nights with friends, the sofa effortlessly accommodates all kinds of relaxation in different situations:
Solo-Chill: Curling up with a blanket in my favorite corner is simply heavenly. The cushioned armrests make for great headrests as I delve into new worlds through the pages of a book.
Socializing: Having friends over for game nights proved just how well my Allform Sofa caters to multiple people. Despite everyone sitting together, we never felt cramped or experienced discomfort during long periods of seating.
After-Work Lounging: At the end of a tiring day, all I want is to stretch out and give my body some much-needed rest. With its luxurious comfort and ample space, the Allform Sofa has proven stellar at providing me refuge to recharge.
Durability: Built to Stand the Test of Time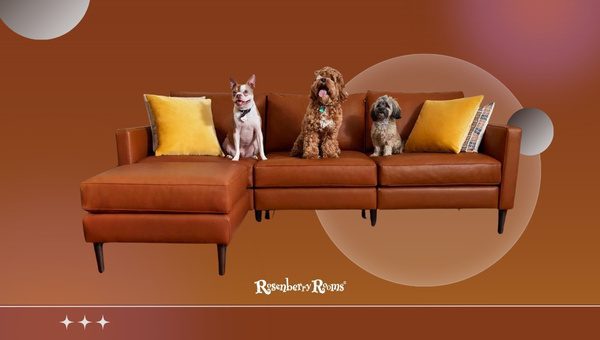 When it comes to investing in a sofa, one of the most crucial aspects that I considered was durability. As a furniture enthusiast, I've seen many sofas wear and tear over time due to subpar construction materials and weak frames. This is why I want to share my experience with the Allform Sofa as it truly stands the test of time.
High-quality materials used in construction
One of the notable aspects that sets Allform apart from many other furniture companies is their focus on using high-quality materials. The sofa frame, for instance, is built using kiln-dried hardwood which adds an extra level of sturdiness and resistance against warping or cracking. This immediately caught my eye as it demonstrates Allform's commitment to creating products that last.
The cushions are another aspect where Allform excels in material quality. They use a blend of high-density foam and down-like polyester fibers wrapped in premium fabric upholstery designed for long-lasting support.
Moreover, all fabrics used by Allform undergo double rub testing. This technique tests the fabric's performance when subjected to continuous abrasion - just like everyday use on a sofa would cause.
As a result, you can trust that your Allform Sofa is built with materials that resist wear and damage even after years of everyday use.
Sturdy build that supports long-term usage
In addition to high-quality materials, the way the sofa is constructed plays a significant role in its overall durability. I found out that each Allform Sofa comes with reinforced corner blocks and sinuous springs which are evenly spaced across the seats.
This provides consistent weight distribution throughout the frame while preventing any sagging or weak spots over time.
When assembling my own Allform Sofa, I noticed how precisely all parts fit together during assembly process - illustrating attention to detail at every step of production.
Tips on how I maintain my Allform Sofa to ensure longevity
To keep my Allform Sofa in the best possible condition and extend its lifespan, there are a few maintenance and cleaning tips that I follow:
Regularly vacuum the sofa: To remove any buildup of dust, dirt, pet hair, or other debris from the fabric surface and crevices, I vacuum my Allform Sofa weekly with a soft brush attachment.
Rotate seat cushions: Every month or so, I rotate and flip the seat cushions to ensure even wear and to prevent any indentations from forming.
Spot cleaning for spills: Accidents happen! When my sofa is stained, I use a mild detergent solution (following manufacturer's instructions) to spot clean the affected area with a damp cloth.
Annual deep cleaning: Every 12-18 months, I get my Allform Sofa professionally cleaned using a certified upholstery cleaner to ensure my sofa remains fresh and damage-free.
Avoid direct sunlight: Since direct sunlight might fade or damage the fabric over time, I position my Allform Sofa away from windows where intense sunlight exposure can be avoided.
By following these tips religiously, I've been able to maintain my Allform Sofa in pristine condition while ensuring it lasts for years to come.
Sustainability: An Environmentally-Conscious Investment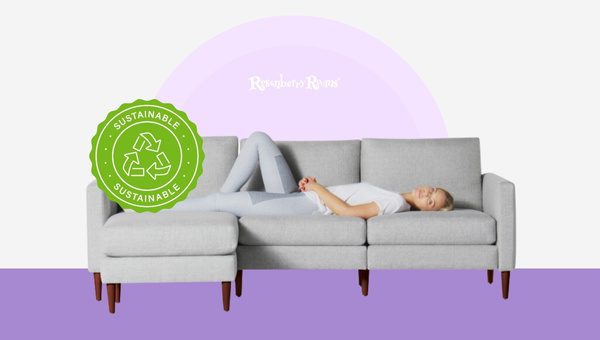 In today's world, more and more consumers are becoming aware of the impact their purchases have on the environment, and I am no exception. That's why when it came to choosing a sofa, sustainability was a major factor in my decision-making process.
As part of my Allform Sofa review, let me dive deep into the various aspects that make these sofas an environmentally-conscious investment.
Eco-friendly production practices adopted by Allform
One of the first things I discovered about Allform was their commitment to the environment. The company utilizes eco-friendly production practices, which help minimize their carbon footprint and overall environmental impact.
Made in the USA: By manufacturing their products domestically (the sofas are made in North Carolina), Allform reduces its carbon emissions that would arise from international transportation.
Recycled Materials: The use of recycled materials is another integral part of their philosophy. They make use of recycled polyester fibers for cushion filling and recycled steel for internal frames.
Low-VOC Stains: To ensure better air quality, Allform uses low VOC (Volatile Organic Compounds) stains for all wooden components, which helps reduce off-gassing pollutants inside your home.
Sustainable Forestry Initiative: The wood used in constructing the frame is sourced from sustainably managed forests under the Sustainable Forestry Initiative Certification program.
Sustainable materials used in crafting the sofa
Another aspect that caught my attention while reviewing the Allform Sofa is the usage of sustainable materials in crafting various parts of the sofa.
Performance Fabric: Allform's upholstery fabric options include high-quality performance fabrics with excellent durability and stain resistance, ensuring less waste over time due to replacements or extensive cleaning needs.
Responsibly-sourced Hardwood: As mentioned earlier, these sofas utilize hardwood sourced from sustainably managed forests under the Sustainable Forestry Initiative Certification program, promoting responsible stewardship of our world's natural resources.
Recycled Steel and Polyester: By using recycled steel for sofa frames and recycled polyester fibers for filling, Allform reduces waste and the need for new raw materials, contributing to a greener planet.
My impact on the environment through this purchase
After researching and eventually purchasing my Allform Sofa, I stand by my decision as it aligns with my goal of reducing my carbon footprint. Here are a few ways that my Allform Sofa purchase has had a positive impact on the environment:
Reduced emission: With the sofas being made in the USA, the emissions associated with international transportation were significantly reduced.
Supporting sustainable forestry: My purchase contributed to sustainable lumber practices and responsible forest management to preserve future resources.
Promoting recycling: By choosing a product that uses recycled materials in its construction, I played a small part in reducing landfill waste and conserving precious resources.
Decreased indoor pollutants: The use of low-VOC stains means that I've brought cleaner air quality into my home, thus creating a healthier living space.
After researching and experiencing first-hand the sustainability aspects of Allform Sofas — from their eco-friendly production practices and sustainable materials used to construct them — I feel confident in saying that this investment aligns with my environmentally-conscious values.
It's always rewarding to find a company whose philosophies echo your own beliefs, making me feel secure knowing that my positive Allform Sofa review is due not only to an exceptional product but also to their commitment to making the world around us a better place one sofa at a time.
Customer Support: Stellar Service Throughout My Journey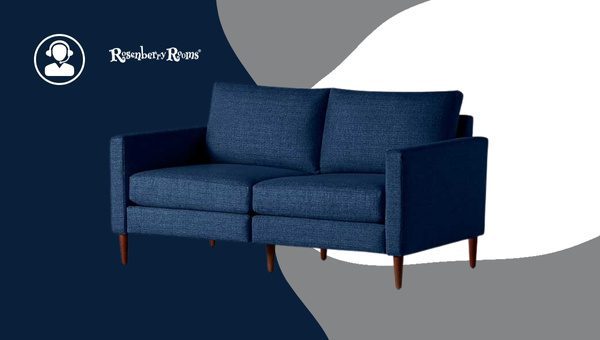 One of the most crucial aspects when purchasing a high-end sofa is having reliable customer support that can answer your questions and address any concerns. In my Allform Sofa review, I wanted to shine a light on the importance of customer support and how Allform left a lasting impression with their stellar service.
My interaction with the customer support team before and after the purchase
From the moment I began researching to buy an Allform Sofa, I was met with a responsive and knowledgeable customer support team that was genuinely eager to guide me through the process. Before making my purchase, I had several queries ranging from customization options to warranty details.
The team at Allform made it extremely easy to get in touch with them via their website's live chat feature, email, or phone number. I personally opted for live chat where an agent guided me through all of my questions, some of which are highlighted below:
Fabric Types: The agent took time out to explain different fabric types, as well as their textures and durability.
Customization: They walked me through all configuration options available for the sofa that best matched my space.
Warranty: The agent assured me of Allform's lifetime warranty on frames and materials which gave me confidence in making this investment.
Even after receiving my sofa, I had reached out to customer support regarding maintenance tips. Their enthusiasm remained consistent as they provided practical advice on cleaning methods and suggested vacuuming habits that would help keep my sofa in tip-top shape.
Swift responses to all queries and concerns
While conducting this Allform Sofa review, it's important to mention how rapid their response times were throughout my journey. Every time I needed assistance or encountered a concern, they were quick on their feet both pre- and post-purchase:
Live Chat: Each chat session started within minutes with little-to-no wait time; I had direct access to knowledgeable representatives who could troubleshoot and provide guidance.
Email Support: When I opted to send an email, their dedicated support team responded within a couple of hours, ensuring any concerns were promptly addressed.
Phone Support: Calling Allform directly was a seamless experience; their expert team professionally handled all inquiries, leaving no stone unturned.
The efficiency and dedication of the customer support were very much appreciated in this day and age. Quickly realizing that Allform Sofa's customer support valued my time, I felt reassured about making my purchase.
Remember, you should never underestimate the importance of exceptional customer service when investing in big-ticket items like a high-end sofa. In this Allform Sofa review, it is imperative to emphasize that their attentive approach throughout my experience has played a significant role in my satisfaction.
Choosing the right sofa can be stressful at times; having a dedicated team in your corner makes all the difference. With outstanding customer support from Allform, I couldn't be happier with my decision to invest in their product.
Pricing & Delivery: The Cost Factor and Convenience
One significant factor that often influences our decision to buy furniture is the cost. The price of a sofa varies greatly depending on the brand, quality, style, size, and other factors like materials used.
Allform offers a great balance between pricing and quality compared to other high-end sofas in the market.
How Allform's pricing compares to other high-end sofas in the market
In my quest for the perfect sofa, I did some research on different brands and their offerings. Some high-end sofas can range from around $3,000 to over $5,000 or more.
Allform's price tags begin at around $1,145 for their loveseat and go up from there based on your customization choices.
While it's true that you could find cheaper options elsewhere, with Allform you're getting:
Customization: A wide variety of fabrics (including stain-resistant options), colors, leg finishes, and additional configurations ensure your sofa is tailor-made for you.
Quality materials: Only eco-friendly materials like high-resilience foam cushions and kiln-dried hardwood are used in constructing your sofa.
Durability: Allform sofas come with performance-tested upholstery that is easy to clean and maintain while providing unmatched longevity.
Considering these points, I believe that Allform's prices are justified in comparison to its competitors.
Delivery options available
When purchasing an Allform sofa online, there are two main delivery options:
Standard Delivery: This option includes shipping directly to your door without any additional charges.
White Glove Delivery: For an extra fee (usually around $100), this service involves having a team unpack and assemble your new sofa precisely where you want it in your home.
As someone who prefers doing things myself (and also looking to save some bucks), I opted for the standard delivery option when purchasing my Allform Sofa.
Customization timeframes
Customization typically takes time, so you may expect a slightly delayed delivery compared to non-customizable sofas. In my experience, here are the steps involved:
Submit your order with your chosen customization options on the Allform website.
Allform will send you an email confirmation, typically within 24 hours.
Your custom sofa will usually take between 2-4 weeks to manufacture.
Expect a call from the shipping provider to schedule the delivery date and window (usually within a week of completion).
In total, it took around 30 days for me to receive my Allform Sofa from placing my order to arranging the delivery - but I must say it was well worth the wait.
It is crucial to note that delivery timelines might fluctuate depending on factors like product demand or geographical location.
I believe that the cost and convenience offered by Allform are hard to challenge in comparison to other high-end sofa brands. The availability of customization options ensures that you own a unique piece of furniture without breaking your budget.
Additionally, their promptness in manufacturing and delivering your custom sofa ensures that you can start enjoying your new sofa as soon as possible.
Why I Stand By My Allform Sofa Review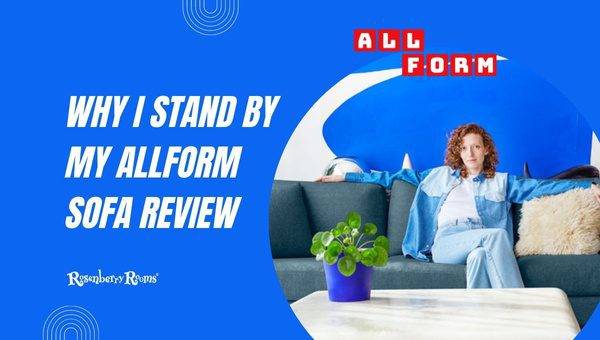 After spending considerable time using the Allform Sofa and reflecting on my experience, I can confidently say that it is an outstanding piece of furniture that checks all the boxes for style, comfort, and durability.
Now I'll delve into some of the pros and cons encountered throughout my journey with the Allform Sofa and discuss why I wholeheartedly recommend it to friends and family.
Weighing the Pros and Cons from My Experience
As with any purchase decision in life, there are pros and cons to every product. Below is a summary table of pros and cons based on my own experience with the Allform Sofa.
Pros
Elegant design
Customizable options
High-quality materials for durability
Exceptional level of comfort
Environmentally sustainable manufacturing
Quick delivery and hassle-free assembly
Excellent customer support
CONS
Pricing might be higher for some budgets
Limited showroom locations
Starting with the pros, there is no denying that the Allform Sofa's elegance comes from its minimalistic design that adds a contemporary touch to any space.
The customizable options enable customers to choose from various fabric types, colors, leg finishes, and configurations catering to individual preferences - a feature that enhances one's creative ability in personalizing their space.
In terms of construction, high-quality materials are used to ensure superior durability, making it ideal for daily use without worrying about wear-and-tear issues in a short period. The comfort level provided by this sofa is truly unparalleled - perfect for lounging, reading books or binge-watching your favorite shows.
Moreover, Allform's commitment to environmentally sustainable manufacturing practices adds great value for those who are trying to make responsible purchase choices. Last but not least, the quick delivery timescale and hassle-free assembly process make the entire experience less daunting.
On the flip side, one potential con might be the pricing associated with this high-end sofa. The price range could be at the upper end for some budget constraints; however, considering all the benefits and premium features of this sofa, I wholeheartedly believe it to be a worthy investment.
Confidence in Recommending Allform Sofa to Friends and Family
After experiencing what Allform Sofa has to offer first-hand, I am left with no doubts in my mind that it is a worthy investment for anyone seeking comfort, style, and durability rolled into one package.
In fact, I not only stand by my review but have even encouraged friends and family members in search of a new sofa to consider opting for an Allform creation.
My reasons behind recommending an Allform Sofa stem from a few essential takeaways:
Consistency - The seamless experience from start to finish - right from pre-purchase discussions with customer support representatives up until enjoying my time on my new sofa - has been nothing short of exceptional.
Long-term Benefits - It provides an outstanding long-term investment that can withstand regular use thanks to its high-quality construction.
Personal Touch - It enables customers to bring their personal touch into their homes by offering customizable options.
Peace of Mind - Consciousness about purchasing eco-friendly products helps contribute positively towards protecting our environment and global heritage.
Social Proof - There's a multitude of positive reviews out there from satisfied customers sharing similar experiences as mine.
FAQs About Allform Sofa Review
Is the Allform Sofa easy to assemble?
Yes, the assembly process is quite simple with clear instructions, and it takes less than an hour to complete.
How comfortable is the Allform Sofa?
The Allform Sofa offers exceptional comfort, thanks to its perfect balance of supportive cushions and soft fabric.
Are the materials used in the Allform Sofa durable?
The sofa is made with high-quality materials and construction for long-lasting durability.
Can I customize my Allform Sofa to match my personal style?
Absolutely! Allform offers various customizable options such as fabric choices, colors, and configurations to suit your preferences.
What kind of customer support does Allform offer?
Allform provides stellar customer support. Their team quickly responds to any concerns or queries before and after purchase, ensuring a smooth experience throughout your journey.
Conclusion
In closing, when it comes to purchasing a sofa that ticks all the right boxes - aesthetics, comfort, durability, and environmental sustainability - Allform Sofa truly stands out as a clear winner.
I hope my review has shed some light on why it might be the perfect choice for your home. May you enjoy many memorable moments with your new Allform Sofa!