As you embark on the exciting journey of revamping your living space, the decision can often get overwhelming. There are countless options, styles, themes, and color palettes to consider.
That's when tapping into trusted brands like West Elm and Pottery Barn can be a game-changer. But between West Elm vs Pottery Barn, which one should you go for?
Understanding the nuances of both West Elm and Pottery Barn can equip you to make a choice that best reflects your style and meets your needs.
Each brand carries its strengths and unique selling points. So please pull up a chair, grab your cup of coffee, and let's unwrap this comparison thoughtfully to shape your dream abode.
Overview of West Elm
Born in the heart of San Francisco in 2002, West Elm quickly established itself as a go-to destination for those looking for unique, modern pieces for their homes.
Now based in Brooklyn, NY, under the leadership of President Day Kornbluth, the brand continues to influence home styling trends across the country and globally.
Renowned for its clean lines and mid-century modern aesthetic, West Elm aims to strike a balance between standout style and pure functionality.
Whether you're seeking furniture classics or looking to jazz up your space with quirky accessories, West Elm probably has something that'll catch your eye.
West Elm appeals to those who appreciate a contemporary vibe in home decor. It's not just about how a piece looks but also about how it fits into your space and lifestyle.
Sustainability is core to their mission; they are known for using organic cotton and reclaimed wood in their furniture, earning them a top spot on Barron's list of sustainable companies.
From crafting adaptable furniture perfect for urban city dwellers to designing gorgeous pieces that work equally well in spacious suburban homes.
All About Pottery Barn
Pottery Barn, a celebrated name in home furnishings, traces its origins back to 1949. Founded by Paul and Morris Secon, this brand has flourished over seven decades to become an acclaimed upscale furnishing store chain.
Nestled in the heart of San Francisco, California, it extends its presence through 184 locations and a robust ecommerce platform.
Known for its distinctive charm and elegant craftsmanship, Pottery Barn infuses the warmth of tradition with contemporary demands.
It offers an expansive inventory spanning various categories, from bespoke furniture to chic décor items. If you are seeking time-tested quality paired with timeless aesthetics, Pottery Barn can be your go-to hub for conceptualizing your dream living space.
Not just limited to adults, Pottery Barn also caters to the little ones through its specific 'Pottery Barn Kids' segment. Offering everything from quirky bedding to engaging toys, it ensures your kids' room is as stylish as the rest of your house.
This brand understands the importance of sustainability. They adopt eco-friendly practices throughout their production process, from sourcing sustainable wood to minimizing waste generation.
Pottery Barn's success story highlights its commitment to creating thoughtfully crafted items that are as sustainable as they're beautiful.
The Differences Between West Elm Vs Pottery Barn
When you're looking to redefine your living space, understanding what makes each brand stand out can set the stage for making an informed choice.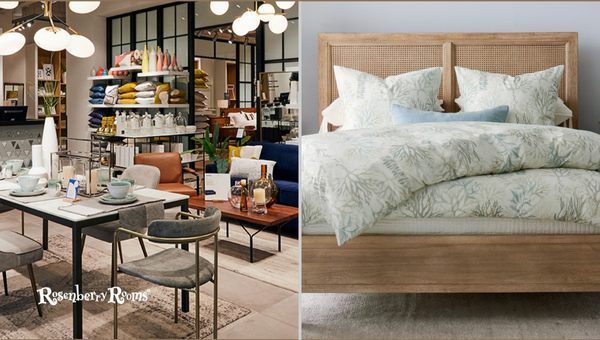 West Elm
West Elm heralds a fresh, modern retelling of home furnishing concepts. This brand is all about injecting your space with contemporary chic.
With a modern and trendy design philosophy, West Elm brings a breath of fresh air to furniture aesthetics. This means you'll see plenty of clean lines, brighter colors, and innovative shapes.
If you love the elegance of mid-century style, then West Elm is your go-to. Their pieces draw plenty from this era while adding their special touch of 21st-century flair.
West Elm has expertly honed its offerings toward a younger demographic. They've accomplished this by featuring hip and stylish furnishings that can easily be imagined within urban lofts or modernist suburban homes.
In terms of pricing - while not cheap, West Elm prices skew lower in the high-end market compared to other similar brands.
Pottery Barn
Moving on to Pottery Barn, this is where classical meets cozy in-home décor.
Diverse styles are at play here, from cozy and rustic to refined and stylish; every piece tells a story.
The characteristic comfort associated with all things Pottery Barn draws from its focus on creating a cozy ambiance in your living space.
True to its name, expect plenty of woodwork inspired by traditional barns spiced up by plush upholstery and fabrics, rendering that warm rustic charm.
With an extensive collection catering to varied tastes, what sets Pottery Barn apart is the globally-inspired aesthetic seen across its products. Think French farmhouse dining tables and English country bookcases – each evoking an invitingly traditional style.
Lastly, Pottery Barn's inspirations are global. Whether it's the beautiful simplicity of French cabinetry, the sturdy elegance of English country, or the rustic charm of the American farmhouse, Pottery Barn draws creatively from every corner.
If a modern and trendy mid-century-styled home is what you desire, West Elm should resonate with your aesthetic leanings.
If your heart beats for traditional styles with diverse and cozy selections inspired by classic French, English, and American themes, Pottery Barn is more your speed.
Also Read: Ashley Furniture Review 2023 [Assessing Their Quality & Value]
West Elm and Pottery Barn: Their Product Offerings
The beauty of shopping with brands like West Elm and Pottery Barn is the range they offer. They have a deep emphasis on providing you with an array of options to furnish every room in your house, catering to every style preference, need, and budget.
No matter what your aesthetic inclination is, be it modern minimalism or country chic - you can count on these brands for variety. Here's a detailed look at what you can expect:
Kids Furniture: Both stores offer a selection of furniture for children's rooms. You can find everything from cribs and toddler beds to desks, dressers, bookcases, and play tables.
Bedding: Comforters, duvets, quilts, sheets; you name it, they've got it. West Elm favors more contemporary designs, while Pottery Barn caters to varied tastes with an extensive range.
Flatware and Dishes: Set up your table elegantly with their assortment of dining ware ranging from casual to formal looks.
Home accessories: Jazz up any room with vases for fresh flowers or bookends for your library shelf. Think picture frames, wall decor, and more.
Living Room Furniture: This is where both brands truly shine through. Meet your exact needs with their versatile coffee tables, sleek sofas, or cushy armchairs that define relaxation.
Holiday Decor: Celebrate any festivity in style with unique decorative pieces that add character to your home.
Art & Mirrors: Make any wall come alive with thoughtfully curated art pieces or mirrors that help expand spaces visually.
Throws and Pillows: Add those finishing touches that pull together the aesthetic of a room.
Dining Room Furniture: From grand dining tables to chic bar stools and serving carts, you'll find it all here.
Area Rugs: Choose from a bevy of plush area rugs that will add warmth and comfort to your spaces.
Storage Furniture: Practicality meets style in their clever storage solutions.
Bedroom Furniture: Create your cozy retreat with elements ranging from side tables and beds to dressers and wardrobes.
Kitchen and Bathroom Decor/Accessories: Stylish canisters, soap dispensers, or kitchen linens; these little details make all the difference.
Lighting: Illuminate your homes with lighting fixtures that aren't just about utility but also form an important part of the decor narrative.
Towels: Freshen up your bathing experience with West Elm's organic cotton or Pottery Barn's ultra-absorbent Hydrocotton towels.
Also Read: 19 Best Places To Buy Kids Furniture Online In 2023 [Trustworthy Stores]
West Elm Vs Pottery Barn: Sustainability
When it comes to furniture shopping, you're not only investing in items that you'll use daily but also making choices that leave an environmental footprint.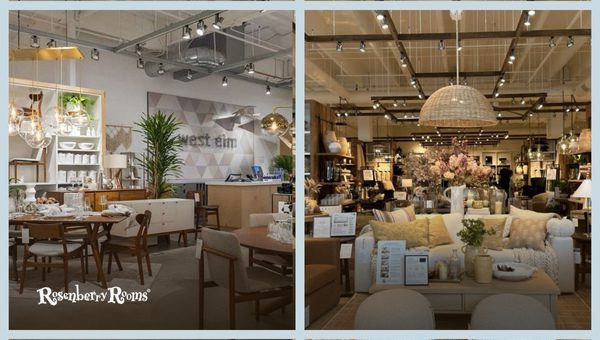 Understanding the sustainability efforts of your preferred brands can assist you in making thoughtful and eco-friendly decisions.
Let's look at how West Elm and Pottery Barn fare when it comes to promoting sustainable practices.
West Elm
With a commitment to cause no unnecessary harm and inspire solutions to the environmental crisis, West Elm takes sustainability seriously. How do they manifest this commitment through their products?
Sustainable bedding and towels: West Elm provides a range of bedding and towel options consciously made from organic cotton. This production process conserves water and uses fewer chemicals, siding with Mother Earth.
52% of wood furniture sourced sustainably: More than 50% of the wood used for their furniture is sustainably sourced. This means they are responsible while maintaining their supply chain and preserving our natural resources.
West Elm on Barron's top 100 sustainable list: This accolade testifies to their efforts in green production methods and utilizing recycled materials wherever possible.
Pottery Barn
Pottery Barn strides towards a healthier planet without compromising style - marrying the best of both worlds. Their steps towards creating an eco-conscious living space include:
Commitment to plant 6M trees by 2023: They aim to mitigate their carbon footprint by planting millions of trees around the world by 2023 as part of "The Canopy Project."
Aiming for carbon neutrality by 2025: Pottery Barn has set its sights on significantly reducing greenhouse gas emissions from their operations in the very near future.
Use of FSC wood, organic cotton, and recycled fibers: From Forest Stewardship Council-certified (FSC) wood to organic cotton and recycled fibers, Pottery Barn prioritizes sustainable materials.
Both West Elm and Pottery Barn have shown a dedicated commitment to sustainability by incorporating environmentally friendly practices into their operations.
The choice between the brands now rests on your personal style preferences and specific product needs.
Purchasing sustainably produced items not only brings elegance to your home but also backs causes that keep our planet greener.
Read More: Futon Vs Sofa Beds 2023 [Is It OK To Sleep On A Futon?]
West Elm Vs Pottery Barn: Pricing
One of the main considerations while shopping for new furniture has to be the price point. West Elm typically offers a more affordable range than Pottery Barn.
If we consider chair prices, at West Elm, you're looking into a chair priced between $799-$950. On the other hand, Pottery Barn caters to a higher-end market - their chairs usually range between $1,900-$3,300.
While price is critical, remember it's equally essential to consider value for money and longevity. Both brands commit to high-quality products that promise durability, notwithstanding the apparent difference in cost.
Looking deeper will reveal that each brand's pricing strategy aligns with its overall offering and target demographic.
You can get additional information regarding prices and offers by visiting West Elm or Pottery Barn's official websites directly.
Pros and cons of West Elm
West Elm is a favorite amongst those searching for an aesthetic mix of luxurious and minimalistic designs. Its extensive catalog certainly offers many benefits, but there are also a few caveats to consider.
Pros
In-store or online shopping
Extensive product choices
Premium delivery service
Expert design advice
Generous 30-day return policy
Fixed-rate shipping (non-parcel items)
CONS
No trial period
Limited return window
No advertised warranties
No free shipping
Pros and cons of Pottery Barn
When talking about Pros and Cons, we often find ourselves weighing the scales of the good against the not-so-good.
It's exactly how we can assess the real value of a brand. So, let's take a deeper look into the merits and demerits of Pottery Barn to gain a holistic understanding.
Pros
Expert design advice
In-store or online shopping
30-day return guarantee
Fixed-rate shipping (non-parcel)
Wide product variety
Premium delivery service
CONS
No advertised warranties
Limited return window
No free shipping
No trial period
West Elm Vs Pottery Barn: Which is better
Choosing between West Elm and Pottery Barn ultimately depends on your individual preference for furniture styles.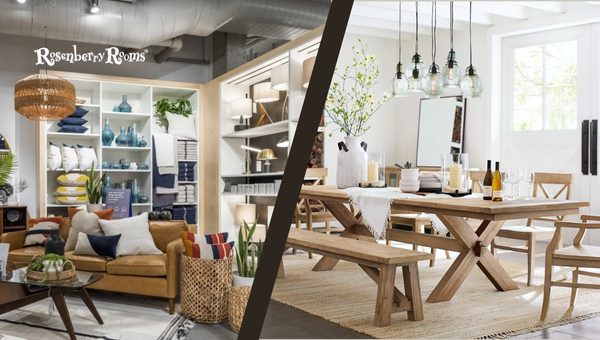 If modern aesthetics appeal to you, then West Elm would be a better choice as it offers contemporary-styled furniture.
If traditional designs resonate more with your taste, then Pottery Barn, known for its classic-style furniture, would be the preferred choice.
Explore More: Platform Bed Vs Box Spring [Which Is Better In 2023?]
FAQs About West Elm Vs Pottery Barn
What is the main style difference between West Elm and Pottery Barn?
West Elm offers a modern, mid-century style, while Pottery Barn is known for its diverse, cozy, and traditional styles.
Which store is more affordable, West Elm or Pottery Barn?
Generally speaking, West Elm offers high-end products at a slightly lower price point than Pottery Barn.
Is sustainability a focus for both West Elm and Pottery Barn?
Yes, both companies are committed to sustainable production with initiatives in place, such as responsibly sourced materials and carbon neutrality goals.
Who is the target market for each store?
While both stores cater to a broad audience, West Elm often targets a younger demographic in comparison to Pottery Barn.
Which store offers broader decor options - West Elm or Pottery Barn?
Both stores offer extensive decor options; however, due to their varied styling, Pottery Barn may have a wider selection.
Conclusion
Choosing the perfect furniture store for your home ultimately comes down to your unique personal style, budget, and design preferences.
Whether you're drawn more toward the modern, trendy appeal of West Elm or the traditional, cozy charm of Pottery Barn, you now have insights to guide your decision-making process.
Remember, what truly defines your living space is not solely the brand you shop from but the care and thought that goes into each selection.