Welcome back, fellow home enthusiasts! Today, I am super excited to share my experience with the Maiden Home Varick Sofa. If you've been on the hunt for a stylish, comfortable, and high-quality sofa for your living space, then look no further.
In this maiden home Varick Sofa review, I'll delve into all you need to know about this fantastic piece of furniture that has truly transformed my space.
From durability to design, functionality to style - there is so much that sets this sofa apart from the rest. As a proud owner of the Varick Sofa for a few months now, I can't wait to share my first-hand experience and provide an unbiased perspective on why it just might be your perfect couch match.
So sit back and relax as we dig deep into the world of this luxurious and practical living room staple.
Unboxing and First Impressions
When it comes to the first interaction with a product, unboxing and initial impressions set the tone for what to expect. So let's dive into my experience when I welcomed the Maiden Home Varick Sofa into my living space.
How It Arrived
I was extremely impressed with the delivery process. The Varick Sofa was delivered by Maiden Home's white-glove service.
In essence, it was brought right to my doorstep, carefully wrapped in eco-friendly packaging materials. The delivery team did an excellent job ensuring that each component of the sofa was handled with care.
Assembly Made Easy
Once I got my hands on the well-packed sofa components, I was relieved to discover how easy it is to assemble the Varick Sofa. The sofa came in four parts - two seat sections, one backrest, and one box with legs and hardware. Let's break down the assembly process step by step:
Step One: Start by unwrapping all components and removing protective covers from each piece.
Step Two: Identify four legs (one for each corner) and corresponding hardware - you'll find screws and washers for attaching them.
Step Three: Position the sofa upside down on a clean surface so that you can locate pre-drilled holes under each corner.
Step Four: Place a washer on top of each screw, then attach screws through pre-drilled holes using a manual or electric screwdriver.
Step Five: Attach both seat sections together using provided metal brackets - they easily slide into place without any special tools needed!
Step Six: Finally, slide in the backrest section onto metal brackets located at the rear ends of seat sections - you will hear a click when it attaches securely.
The assembly took roughly 20-30 minutes without any complications - simple enough for anyone (even if you're not particularly handy).
Initial Thoughts on Design
From the very moment, I first laid eyes on my assembled Varick Sofa, I knew it was love at first sight. The sofa boasts a stylish design with clean lines and a contemporary silhouette that easily blends with any décor style, be it minimalist or maximalist.
The sofa's seat and back cushions have removable covers that are meticulously tailored, which adds an air of sophistication to its overall design. The bolster pillows (which come included) have buttons that match their fabric - a subtle yet thoughtful detail.
An interesting feature to note is the hidden compartment beneath the chaise section. This space is perfect for storing extra cushions or throws while keeping them out of sight! Aside from this practical addition, the chaise offers plenty of space and comfort - immediately becoming my go-to spot for lounging or watching movies.
One aspect I appreciated is how Maiden Home offers various sizes to choose from - including a 96" length option that fits perfectly within my living room layout. Additionally, you can opt for left or right-facing orientations for sectional configurations – ensuring a custom fit tailored to your needs.
Maiden Home has truly impressed me with its attention to detail and commitment to quality through well-thought-out design elements.
With the unboxing now thoroughly explored in this Varick Sofa Review, you should have a strong initial understanding of why this sofa is worth considering as your next investment.
Evaluating the Maiden Home Varick Sofa's Comfort
Of course, when it comes to sofas, one of the top factors to consider is comfort. In my experience, the Varick Sofa exceeds expectations in this department. I'll break down its most significant selling points in terms of comfort for you below:
Seat Depth and Cushioning
One crucial feature of the Varick Sofa that contributes to its comfort is its seat depth and cushioning. Before purchasing a sofa, it's essential to consider your preferred sitting style, as this will determine your level of satisfaction with your choice.
Seat depth: The Varick Sofa has a dimensional range for seat depth, with options including standard and extra-deep seating (between 24" to 30").
Having the freedom to choose between these measurements ensures that no matter how you like to sit on your sofa - whether you prefer sitting upright or lounging around - you'll find an option that provides optimal relaxation.
Cushioning: When I first sat on my Varick Sofa, I noticed immediately just how plush and cloud-like the cushions felt. Maiden Home achieves this sensational cushioning through their use of high-resiliency, CertiPUR-US certified foam wrapped in a soft layer of down feathers (which are ethically sourced). This perfect pairing of materials provides excellent support without compromising on softness.
As someone who cares about long-term durability and preventing sagging cushions over time, I found it reassuring that Maiden Home also offers a unique supportive foam core made from high-density materials.
Lumbar Support
In addition to having luxurious cushioning and seat depth options tailored for different preferences, another essential factor contributing to comfort is lumbar support. The critical features impacting lumbar support include backrest height and angle:
Backrest height: The Varick Sofa features a backrest height suited for providing proper support without sacrificing style or aesthetics.
If you're someone who often works from their couch (guilty!) or binge-watches your favorite shows, adequate backrest height ensures healthy posture and prevents stiffness from prolonged sitting.
Backrest angle: A seat's backrest angle is crucial in providing adequate lumbar support. Luckily, the Varick Sofa hits the sweet spot there, maintaining an ideal balance between being too straight (which can be uncomfortable) and too reclined (which can compromise posture).
Head and Neck Comfort
Lastly, let's touch on head and neck comfort. Even high-quality sofas can sometimes miss the mark when it comes to proper support for your head and neck. However, with the Varick Sofa, this is yet another area where they excel.
Head Support: The Varick Sofa's elevated backrest height works in conjunction with its many customizable seat depth options to maintain a superior level of head support irrespective of your sitting posture.
This thoughtfully designed feature proved a game-changer for my relaxation sessions - gone are the days of using makeshift pillows for additional head support!
Neck Comfort: Additionally, Maiden Home consistently goes the extra mile by offering a range of aesthetically pleasing and functional toss cushions that work seamlessly with the sofa design to provide neck comfort.
These optional cushions come in various fabrics to ensure they suit all decor styles while alleviating any potential issues with neck strain or discomfort during extended seating periods.
Maiden Home Varick Sofa Material and Construction
When browsing for the perfect sofa, material, and construction are two key factors to consider. Comfort and style are important, but having a sofa that will last for years is essential. In this section, we'll discuss the fabric quality, frame durability, and customization options of the Maiden Home Varick Sofa.
Fabric Quality
One of the first things that struck me when I laid my eyes on the Varick Sofa was the fabric quality. Maiden Home offers a variety of fabric options, including Performance Linen, Performance Tweed, Performance Velvet, Performance Washed Linen, and Leather.
All of their fabrics are designed to be durable and easy to maintain while maintaining an elegant appearance.
I personally went with the Performance Washed Linen in Mist – a beautiful light gray tone. It turned out to be incredibly soft yet sturdy.
The texture is luxurious and has certainly held up well under daily use. Even with spills (yes, it happens), I found that it was effortless in cleaning by simply blotting away any mess with a damp cloth.
Maiden Home also provides a fabric swatch kit so you can feel each fabric option before making your purchase decision if you're unsure about which one to choose.
Frame Durability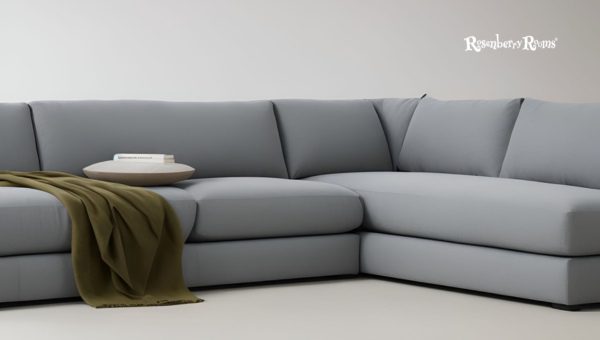 Now let's talk about the construction that lies beneath those beautiful fabrics – the frame itself! The Maiden Home Varick Sofa boasts a kiln-dried hardwood frame made from domestic solid maple.
This means that it's designed to be sturdy and resist warping from moisture or temperature changes over time.
In addition to using top-quality wood materials for durability, each joint on the frame is also double-dowelled and reinforced with corner blocks for extra stability – definitely delivering a sense of security in knowing that my beloved sofa is built to last.
Customization Options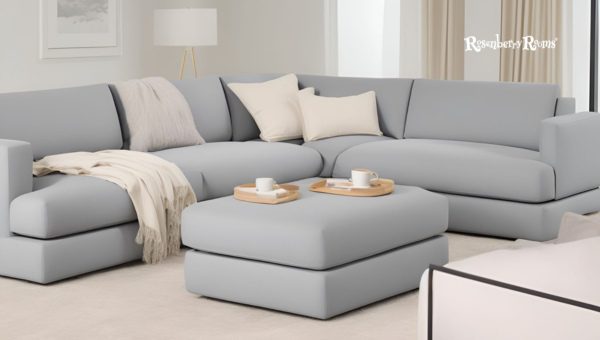 What makes Maiden Home stand out among other furniture companies is its dedication to offering an extensive range of customization options.
With the Varick Sofa, you get to choose from four distinct leg finishes – natural, espresso, black, and white. To create a cohesive look within my living space, I went with the black leg finish, which nicely complements my other furniture pieces.
The Varick Sofa also comes with various size configurations - from a petite 74-inch classic sofa all the way up to expansive 110-inch sectional options that can cater to any family's seating needs or tight apartment living spaces.
To top it all off, they even offer the choice between two cushion styles - back cushions filled with either an eco-friendly down alternative or a cloud-like blend of feathers and down (which is what I chose!) – providing optimal support for your back ensuring maximum comfort tailored to your preference!
As someone who has already experienced the Maiden Home Varick Sofa's materials and construction firsthand, I can vouch for their commitment to using high-quality materials designed for durability.
Their wide range of customization options lets you easily integrate this sofa into your living space seamlessly while adhering to your personal style and preferences. The result? A beautiful, comfortable piece of furniture that doesn't compromise on quality or design.
Style Versatility and Aesthetics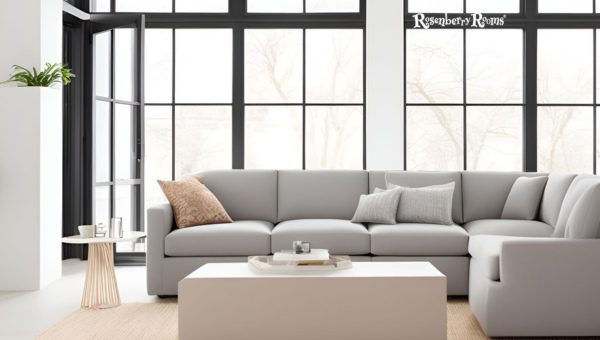 When considering a new piece of furniture, one crucial factor is its ability to seamlessly blend in with your home's existing décor. The Maiden Home Varick Sofa is not only a versatile piece when it comes to aesthetics.
But it also offers several options that can be easily adapted to your style preferences. Let's dive into three main aspects: the color selections, design elements, and how to effortlessly pair your Varick Sofa with your home's unique décor.
Color Selections
One of the things I adore about my Varick Sofa is that it comes in various color options that are perfect for any living space. You can choose from a selection of over 40 different high-quality fabrics and leathers that vary in their shades and textures.
My favorite option is the performance fabric in Anthracite, which adds an extra layer of modern sophistication to my living room. However, if you prefer lighter colors or even prints and patterns, you'll also find plenty of choices at Maiden Home.
They offer an excellent range of performance fabrics tailored for households with kids or pets because they are stain-resistant and easy to clean. Even amidst spills or dirty paws, these materials maintain their vibrant colors – making them both stylish and practical.
Design Elements
On top of its diverse color options, the Varick Sofa is characterized by clean lines resulting from contemporary design elements that elevate its entire look:
Two Back Cushion Styles: The Varick Sofa has two back cushion style options: Boxed or Knife-Edge. Boxed cushions have a snugger fit and add structure to the sofa's overall appearance, while knife-edge cushions have a more relaxed look.
Customizable Legs: The sofa features customizable legs crafted from solid wood - ensuring stability and upholding aesthetic appeal - available in four distinct finishes: Natural Walnut, Chestnut, Espresso, and Blackened Oak for both 2" block legs or 5" turned legs.
Size Options: With a choice between three different sizes (63 inches, 81 inches, or 89 inches), you can pick the most suitable fit for your living space.
Matching Throw Pillows: The Varick Sofa includes two throw pillows (in any fabric) to harmonize with the sofa's design and offers customizable comfort.
These design elements contribute to the Varick Sofa's timeless appearance that can be easily tailored to suit various design styles - from classic to contemporary - without sacrificing comfort or quality.
How to Effortlessly Pair Your Varick Sofa with Décor
To ensure the best visual impact, you'll want to consider some tips on how to easily style your new Varick Sofa with another décor in your living space:
Utilize Accent Colors: If you prefer a more neutral fabric color for your Varick Sofa, use vibrant accent colors in nearby décor items such as pillows, throws, and artwork. This approach adds an extra touch of personality to your space while maintaining a cohesive look.
Embrace Layering: Layering textures and patterns can create a visually stimulating space while still preserving harmony throughout the room. Keep in mind that sticking to a consistent color palette when layering is essential.
Incorporate Versatile Furniture Items: Look for accent furniture items made from wood or metal materials that complement your sofa's finish while adding visual interest – think coffee tables, bookshelves, or sideboards with similar tones or finishes.
Experiment with Area Rugs: Choose an area rug that contrasts with the color of your sofa - creating an element of cohesion between different seating pieces throughout the room will make everything seem well-knit together.
Maiden Home's Varick Sofa is more than just an elegant piece of furniture; it offers versatile style options that can be easily adapted to your home.
Daily Use Practicality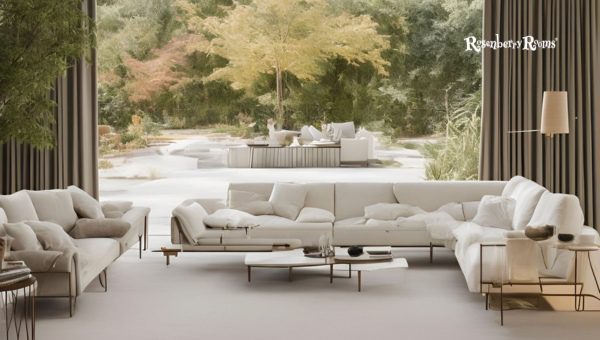 When it comes to investing in a new sofa, practicality is just as important as comfort and style. After all, a great couch should effortlessly fit into your daily life without causing any inconvenience.
With the Maiden Home Varick Sofa, I found that its practical features were well thought out, making my day-to-day experience with the sofa an absolute breeze.
Easy Maintenance and Cleaning
As someone who doesn't have the luxury of time for regular deep cleaning sessions, I appreciate how low-maintenance the Varick Sofa is. The sofa comes with removable cushion covers which can be easily unzipped and thrown in the washing machine for hassle-free cleaning.
Since choosing the right fabric is crucial for easy maintenance, I opted for a performance fabric that is both stain-resistant and durable. To my delight, this fabric not only feels luxurious but has also held up well against spills and daily wear and tear.
Another plus is that my Varick Sofa has a clean-lined design with no tufting or folds - this makes it even simpler to access those hard-to-reach nooks and crannies while cleaning!
Spot-cleaning minor stains or spills proved easy as well: simply blotting them with a damp cloth effectively removed any marks without leaving any residue behind.
Compatibility with Households with Kids and Pets
As an avid pet lover – this was one point where I had high expectations from the Varick Sofa! Thankfully, it did not disappoint in terms of compatibility with households with kids or pets running around.
Here's what truly worked well for me in this regard:
Wide variety of performance fabrics: They offer an extensive range of pet and kid-friendly fabric options like Sunbrella, Crypton Home, and more. These stain-resistant materials are ideal for busy homes.
Dark-colored fabric choices: With darker upholstery colors, any accidental spills or stains aren't as easily noticeable. This is perfect for spaces frequented by kids or pets.
Well-crafted cushion construction: The sofa's down-alternative cushions maintain their shape well despite continuous use – be it sitting, jumping, or lounging around.
Sturdy and Durable Frame: With a kiln-dried hardwood frame reinforced with corner blocking, the Varick Sofa is built to withstand the test of energetic little ones or playful pets.
However, if shedding pets are a concern for you as they were for me:
Opting for a tight-weave fabric can help reduce fur build-up on the cushions and backrest.
By choosing the right fabric type and color combined with quality construction that doesn't easily give in to wear and tear under daily use, I found that my Maiden Home Varick Sofa has become an integral part of my home – seamlessly handling kids' playtime antics and offering a comfy spot for my furry friends to snuggle too!
The Price Point - Is It Worth The Investment?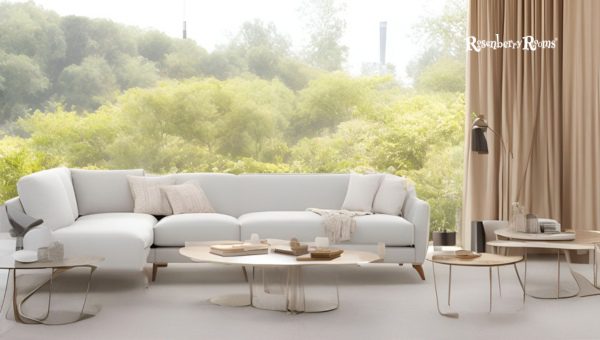 As we continue through this Maiden Home Varick Sofa review, it's essential to address the financial investment involved. So let's cut to the chase and explore the price point while examining its worth.
Pricing Breakdown of the Varick Sofa
First and foremost, it is vital to understand Maiden Home's range of sofas starts at $2000+. This might increase depending on customizations such as size, fabric choice, leg finishes, cushion fill options, and other stylistic elements.
Consequently, for any prospective buyer with budget considerations or those seeking a more wallet-friendly piece of furniture, this factor is crucial.
For my Varick sofa, I opted for a standard size at 84 inches in width, featured with performance fabric upholstery that landed me in the ballpark of $2400. This price includes white glove delivery which is free across all states in the contiguous U.S.
Maiden Home's inventory falls within what most would consider higher-end prices. Yet it still boasts a more moderate tier in comparison to some luxury furniture designs.
That being said when examining what you're gaining from this sofa - including its innovative design aesthetics and impressive build quality – there's no doubt that you're paying for comfort and durability that will most certainly stand the test of time.
The Value of Customization
A key aspect setting Maiden Home apart from other home furniture companies is their inherent emphasis on customization.
By offering clients an unmatched scope for flexibility and personalization during their shopping journey, they create an experience one would typically expect from high-end luxury items but at an accessible price point.
To give you a clearer example:
Fabric Selection: Maiden Home offers over 40 diverse fabrics and leathers to choose from for your Varick sofa. Whether you desire lush velvet or sturdy performance linen – meeting your aesthetic vision has never been simpler.
Size Variability: The Varick sofa can be easily ordered in various sizes to accommodate any living space – from a snug reading nook to a grand living area.
Cushion Options: Maiden Home understands the significance of comfort and presents clients with three seat cushion fill options: Pure Poly Fill (standard), Down Feather Blend, or Ultra Plush Down.
Leg Finishes & Arm Styles: Depending on your preferred design, you may select from two arm styles (Slim or Wide Track) and five leg finishes delivered in various wood tones.
Additional Enhancements: Further customization comes in the form of optional storage ottoman and plush throw pillows offered in the same fabric selection as the sofa.
In my opinion, the degree of customization available undoubtedly adds value to your investment. By tailoring your Varick sofa to suit your discerning tastes, you'll own a one-of-a-kind piece crafted with care completed by skilled artisans.
While there is no denying that Maiden Home's Varick Sofa holds a lofty price tag, I truly believe that every dollar is justified given its quality construction, design versatility, elevated comfort levels, and unparalleled customization offerings.
With all these factors combined - the Varick Sofa transitions from an ordinary household item into an art piece that mirrors its owner's distinct tastes.
Maiden Home's Positive Impact on the Environment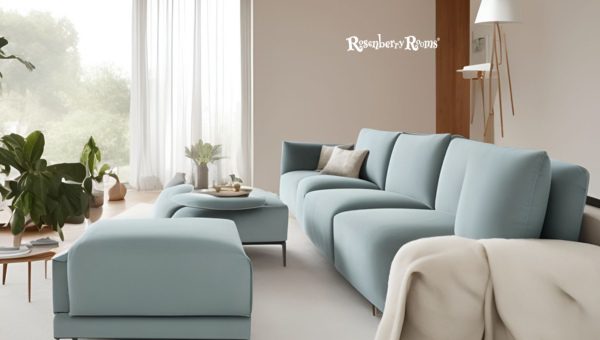 One substantial factor that drew me to the Maiden Home Varick Sofa was the brand's commitment to environmental sustainability. As an eco-conscious consumer, it was important for me to choose a piece of furniture made with sustainable materials and produced with green practices in mind.
In this section, we'll explore the sustainable materials used in the construction of the Varick Sofa and its eco-friendly packaging.
Sustainable Materials Used in Construction
Maiden Home is dedicated to creating high-quality furniture while minimizing its environmental impact. Their focus on sustainability is evident in every part of the Varick Sofa construction.
Frame: The frame of the Varick Sofa is built using kiln-dried hardwood - sourced from responsibly managed forests in North Carolina. This fact means that for every tree cut down, another one is planted, ensuring a continuous supply without harming natural resources.
Cushions: The comfort you experience when sitting on a Varick Sofa is partly due to their premium cushion fill, which consists of 50% recycled materials. This unique blend combines high-resiliency foam covered with down feathers, ensuring longevity and reduced waste going into landfills.
Fabrics: Maiden Home offers a selection of performance fabrics for your sofa that are sustainably made without harmful chemicals. These GREENGUARD Gold Certified fabrics are not only safer for you and your family but also contribute less to air pollution compared to non-certified fabrics.
Glues & Finishes: Even behind-the-scenes elements such as glues and finishes have environment-friendly alternatives! Maiden Home uses water-based adhesives and low-VOC finishes throughout their process, meaning fewer harmful emissions make it into your home or our atmosphere.
Eco-friendly Packaging
One often overlooked aspect when considering environmentally sustainable products is the packaging they come with.
Many times we receive our deliveries only to be distraught over an overwhelming amount of plastic and waste. Thankfully, Maiden Home is working to reduce that feeling of guilt by choosing eco-conscious packaging materials.
Cardboard Boxes: The Varick Sofa is shipped in cardboard boxes made from 80% recycled fibers and designed with an innovative pattern, which eliminates the need for additional supporting elements like foam or polystyrene inserts.
Plastic-Free Packaging: There's no single-use plastic in the packaging! Furniture protection is instead provided by a recyclable polyethylene film which outperforms bubble wrap.
I was highly impressed with not only how comfortable and stylish my Maiden Home Varick Sofa was but also the brand's dedication to sustainable practices. From responsible sourcing to eco-friendly materials, every detail of the design focuses on reducing its environmental impact.
This sofa's combination of style, comfort, and sustainability makes it an ideal choice for those seeking a guilt-free addition to their home decor.
By choosing a Maiden Home Varick Sofa for your living space, you're not only investing in a high-quality piece of furniture but also supporting a company making conscious efforts to minimize its environmental footprint.
If you're an environmentally aware consumer like myself, consider giving the Varick Sofa a try! Its marriage of style and sustainability may have you falling in love at first sight!
The Shopping Experience at Maiden Home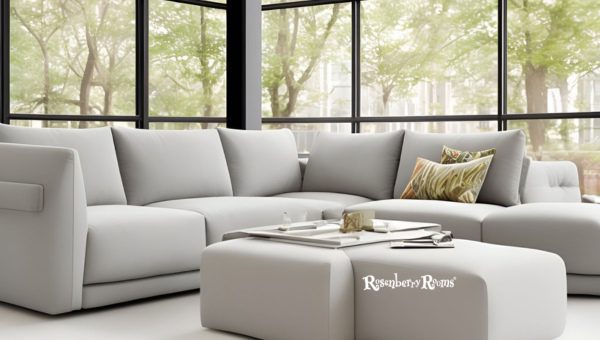 Let's be honest - shopping online for furniture can sometimes be overwhelming, which is why I desire a user-friendly experience. Maiden Home surely delivers in that department!
Your entire shopping excursion is structured effortlessly, from navigating the website to their customer support and ultimately, the checkout process. Join me as I elaborate on my personal experience with their platform.
A User-friendly Website Experience
First and foremost, I loved how simple and straightforward the Maiden Home website is from the moment it loads.
The clean layout with appealing visuals instantly grabbed my attention and built an urge to explore further. The navigation bar is intuitive and allows visitors to effortlessly locate specific items or information they're after.
The Varick Sofa product page itself was quite informative, including details on customization options, dimensions, construction material, as well as styling advice. I found this level of detail helpful in making an informed decision before purchasing.
Navigating through Size & Fabric Options Online
In terms of size options for the Varick Sofa, there are three available - Loveseat (63"), Standard (81"), and XL (91"). It's convenient that each size comes with an image showcasing dimensions so you know exactly what to expect before finalizing your order.
As for fabric options, there are ample choices available ranging from sprightly linen weaves to stain-resistant performance fabrics like velvet or wool blends. Each material has a carefully-curated selection of colors to match different styles.
One thing that truly set it apart was the ability to order free swatches directly on its site! This allowed me to examine the fabric quality firsthand and select a perfect color scheme for my living space.
Easily Accessible Customer Support
While browsing sofa options online can seem daunting, Maiden Home's customer service team was just a click away during my exploration. Their live chat feature provided a convenient opportunity for real-time assistance in case I hit a roadblock or simply needed some advice in choosing the right fabric.
What I appreciated most was that they didn't come off as pushy sales agents but rather, genuine helpers who genuinely had my back.
Additionally, they also offer "Design Advising," a free service connecting you with their in-house design experts to assist with styling advice, product queries, and order assistance. I found this particularly beneficial for those who require expert guidance before making their investment.
A Seamless Checkout Process
Once I had taken my pick concerning size and fabric, moving on to place the order was a breeze. Their checkout process is as seamless as can be. Just add your sofa to the cart, choose optional add-ons like toss pillows or protection plans if you wish, input your basic information (including shipping address), and select your preferred payment method.
Maiden Home offers multiple payment options such as all major credit cards and even has PayBright for monthly installments. They also have robust security measures ensuring privacy for customers throughout the transaction process which made me feel comfortable when providing sensitive information.
The Shopping Experience at Maiden Home truly speaks to a well-structured platform designed with the customer's ease in mind. From browsing the site to making a confident purchase decision based on accurate product information plus stellar customer support - Maiden Home successfully ticks all the boxes!
As someone who meticulously compares online experiences across retailers, I must say Maiden Home excelled both aesthetically and functionally - leaving me absolutely delighted with my Varick Sofa purchase journey!
A Look at Maiden Home's Warranty & Return Policy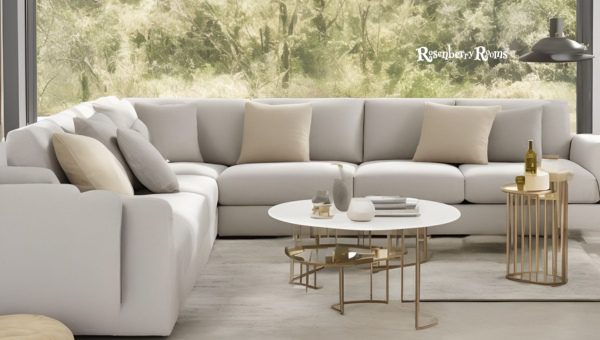 When investing in a quality piece of furniture like the Varick Sofa from Maiden Home, it's essential to understand their warranty and return policy.
Having a good grasp of these policies ensures you can shop with confidence and trust that you're covered if any issues arise. In this section, let me lay out all the vital details regarding Maiden Home's warranty and return policy.
Warranty Details
First and foremost, Maiden Home offers a lifetime warranty on the kiln-dried hardwood frame, making it an incredible investment for decades to come. The cushions, springs, and fabric each come with their respective warranties as well:
Cushions: 10-year warranty
Springs: 10-year warranty
Fabric: One-year warranty
What This Warranty Covers
Maiden Home covers any defects in materials or craftsmanship under normal residential use during the stated warranty period. It's reassuring to know your sofa is backed by such great coverage.
Return Policy
Maiden Home's return policy is equally consumer-friendly. Should you be dissatisfied with your Varick Sofa purchase for any reason, there is a 30-day return window where you can:
Request for a full refund – No questions asked.
Exchange for another style or size within their lineup.
Keep in mind that all returns must be in new condition and free from wear and tear to be eligible. To initiate a return or exchange process, simply contact Maiden Home's customer support on their website.
Having such comprehensive warranty coverage and a flexible return policy demonstrates that Maiden Home stands behind its product quality and aims for complete customer satisfaction in every aspect. With such peace of mind, diving into the Varick Sofa experience certainly feels like the right choice!
Should You Get Your Own Varick Sofa?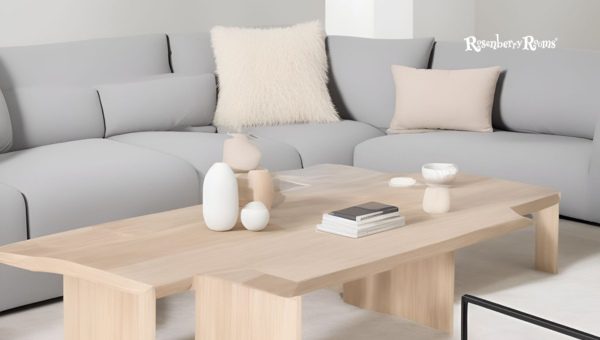 After spending ample time with my Varick Sofa and weighing its pros and cons thoroughly, I am here to help you decide if it is the right choice for your home. There are several factors that you might want to consider before taking the plunge.
Personal Comfort Preferences
If you value comfort and support in a sofa, the Varick might just be a perfect fit for you. With thoughtful lumbar support and comfortable cushioning, many people find this sofa ideal for a long lounging session.
However, others may prefer an even softer design or a different type of cushioning. Take note of your requirements and compare them against the features offered by the Varick Sofa.
Living Space & Lifestyle
Consider your [living space]() as well as your lifestyle. The Varick Sofa comes in various sizes (apartment size, standard, and sectional) which cater to different room sizes and decors. Think about whether its design would seamlessly blend into your own personal style.
Also, keep practicality in mind - if you have kids or pets, evaluate how well it would hold up against daily wear and tear.
Budget Constraints
While Maiden Home offers competitive prices in the market compared to other high-end furniture brands, purchasing a Varick Sofa still requires a significant investment. Make sure it aligns with your budgetary constraints without causing long-term financial strain.
FAQs About Maiden Home Varick Sofa Review
What size options are available for the Varick Sofa?
The Varick Sofa offers multiple size options, including an apartment size, standard size, and a sectional configuration to fit various living spaces.
How durable is the fabric on the Maiden Home Varick Sofa?
The fabrics used for Maiden Home sofas, including the Varick Sofa, are rigorously tested for durability and longevity. They offer both high-quality textiles and performance fabrics to suit your lifestyle needs.
Is the Maiden Home Varick Sofa easy to clean?
Yes, maintenance and cleaning are made simple with removable cushion covers that can be spot cleaned or dry-cleaned depending on the chosen fabric type.
Does Maiden Home offer a warranty for their Varick Sofa?
Maiden Home provides a lifetime warranty on its frames and suspension system. Fabrics and cushions also come with a comprehensive protection plan.
Is it possible to customize my Varick Sofa?
Absolutely! Maiden Home offers a wide array of customization options, including fabric choices, cushion fill types, leg materials, and finishes, as well as sizing configurations.
Conclusion
The Maiden Home Varick Sofa offers an exceptional blend of style, comfort, and quality. With diverse customization options and a commitment to sustainability and ethically sourced materials, this sofa truly stands out among the competition.
Ultimately, the decision should align with your personal preferences, living space requirements, and budget constraints. I hope my candid review has provided valuable insights to help you make an informed choice for your living space.
Whichever option you go with, remember that investing in high-quality furniture contributes towards creating a cozy and inviting environment for years to come.