Imagine entering your bedroom after a long, tiring day. The sight of a well-coordinated, stylish bed that screams comfort awaits you.
A king-size bed is more than just a place to sleep; it's a statement of luxury, comfort, and style. But, something is missing - something that can enhance the elegance and sophistication of this cozy spot: king-size bed skirts.
A king-size bed skirt is more than just an accessory; it serves practical purposes by hiding under-bed storage and disguising unsightly bed frames. It adds an extra layer of style, complementing your carefully chosen bedding and blankets.
Do you want to know more about these bedroom game-changers? Stick around as we delve into the world of king size bed skirts.
The Top 5 King Size Bed Skirts
When it comes to enhancing the visual appeal of your king-size bed, nothing does better than stylish bed skirts. Here's our pick for the five best king-size bed skirts on the market.
Utopia Bedding King Bed Skirt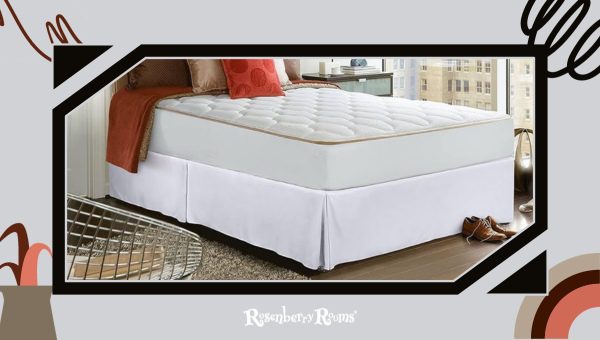 The Utopia Bedding King Bed Skirt is a masterpiece that perfectly blends functionality, quality, and affordability. For as low as $12, Utopia offers this incredible product in 10 different colors.
Whether you are a fanatic of bold colors or into more settled hues, they've got you covered. Measuring 78 x 80 inches with a drop of 16 inches, it will perfectly fit and drape well on your king-size bed.
Constructed using soft brushed microfiber material, we commit to offering you a comfortable resting place after your long day.
And not only comfort; this high-quality fabric has remarkable longevity and pleasant aesthetics that effortlessly blend with any decor theme in your bedroom.
Every inch of this king-size bed skirt reveals an elegant design that stands out from ordinary bed skirts thanks to the quadruple pleating at both the front corners and sides.
This feature gives it sophistication while presenting an exquisite look to complement your overall bedroom design - whether it's modern or classic.
Functionality-wise, this bed skirt serves more than just decorative purposes. Its perfect fit is concealed under bed storage, ensuring a tidy look around your sleep sanctuary.
Pros
Blends functionality and affordability
10 color options
Soft brushed microfiber material
Provides appealing aesthetics
Pleated design for sophistication
Covers under bed storage
CONS
Require ironing post-wash
Fade with multiple cleanses
Limited designs and patterns
Requires accurate measurement for fit
MIYE Wrap Around Ruffled Lace Bed Skirt
Are you keen on adding a little extra elegance to your bedroom? If so, the MIYE Wrap Around Ruffled Lace Bed Skirt might just be what you're searching for.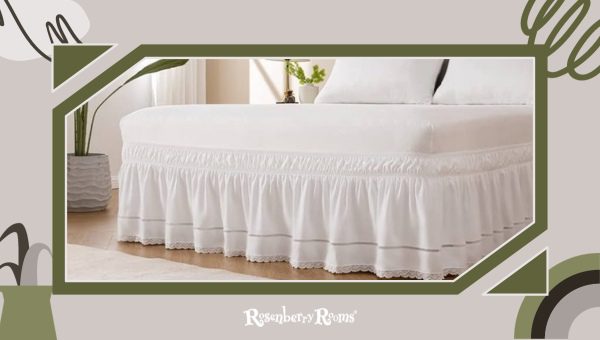 Available in two understated, easy-to-coordinate hues, this bed skirt could be the deal-maker in any room's overall aesthetic. This selection is suitable not only for king-size beds but also for queen-size ones perfectly.
This bed skirt comes with an eye-catching, elegant eyelet embroidery design that serves as the perfect touch of refinement for your bedding setup.
It oozes neutrality due to its solid color scheme, thus easily coordinating with most bedding decors.
Made from 100% polyester and brushed microfiber fabric, the MIYE bed skirt is all about providing an incredibly soft and smooth surface that aids in ensuring a good night's sleep while simultaneously being extra sturdy and long-lasting.
A distinguishing feature of this bed skirt is the 15-inch drop. The item measures ideally for Queen beds (60x80 inches), King beds (76x80 inches), and even Cal King beds (72x84 inches).
Rest assured, whatever commonly-sized mattress you own, there's likely a MIYE wrap-around bed skirt option that matches perfectly.
One undeniable asset of this sleek piece of mesh fabric lies within its elastic buckle design - no more worries about lift-overs.
This easy-to-wear design aid guarantees the application process to be hassle-free: Wrap it around your mattress with ease.
Pros
Wide color selection
Suits various bed sizes
Features elegant embroidery design
Constructed from durable polyester
15-inch drop feature
Easy-to-wear elastic buckle design
CONS
Need ironing pre-use
Limited pattern selection
Sizing inaccuracies
Elastic attachment slips over time
Also Read: What Is The Size Of A Bunk Bed? 2023 [Twin, XL, Queen & King]
The Maker Shop Wrap Around Bed Skirt
Lifting a mattress can be an uphill task. But what if you could embellish your bed in just a matter of seconds without ever having to lift the mattress? The Maker Shop Wrap-Around Bed Skirt offers just that!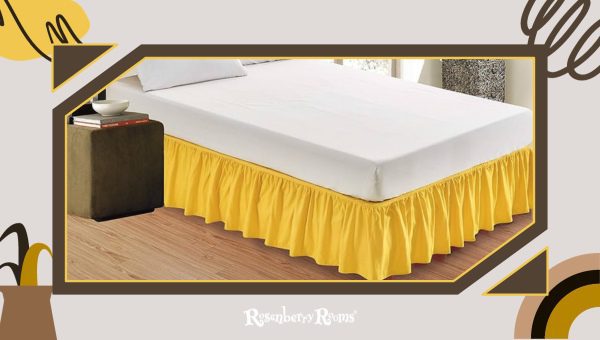 Priced reasonably at $22, this king-size bed skirt features a patented design that allows for easy installation and removal. Oh, and did I mention it comes in seven beautiful colors for you to choose from?
The key is the sturdiness of the elasticized strips and mitered corners, which work together to ensure your bed skirt stays put without sagging or shifting over time.
You'd think such an innovative feature would leave room for compromise on other aspects, but not with this one! Despite its unique design that eliminates the need for traditional fabric platforms beneath mattresses, it does not lose any aesthetic appeal or function.
In terms of specifications, this piece of beauty measures 80" x 78" and gracefully touches the floor with a classic 14" drop. Moreover, it embraces pre-split corners that accommodate footboards and 4-post beds easily, lending comprehensive coverage.
The style doesn't stop there; a tailored design featuring contemporary aesthetics with five box pleats and two split corners accords seamless integration with your existing bedding decor.
Created from 100% semi-sheer microfiber polyester fabric, it excels in durability while offering wrinkle-resistant properties. It is machine-washable – all while maintaining its color vibrancy.
Pros
Easy installation and removal
Affordably priced
7 beautiful colors
Patented design ensures stability
Compatible with footboards and 4-post beds
Machine-washable, wrinkle-resistant fabric
CONS
Not fully opaque material
Elastic strips might wear over time
Requires careful handling when washing
TSUTOMI King Size Bed Skirt
If you're seeking a chic and functional enhancement for your king-size bed, the TSUTOMI King Size Bed Skirt is the piece you've been dreaming of.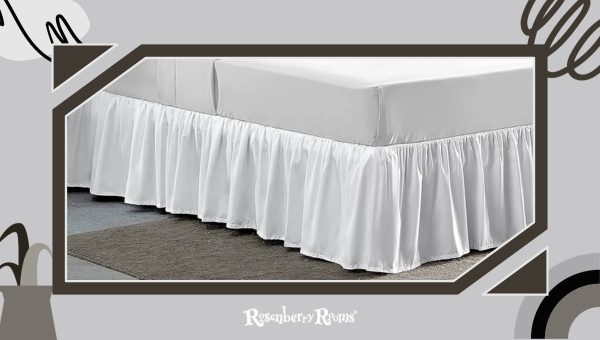 Priced at $25, this premium bed accessory is available in five distinct colors to match any bedroom decor.
Constructed with a 90gsm brushed microfiber material, it ensures delightfully soft comfort while maintaining unquestionable durability. Not every bed skirt offers such resilience and comfort together.
Size-wise, this king-size bed skirt measures an adequate 78 x 80 inches. More impressively, it boasts a generous 14-inch drop, providing ample space for under-bed storage – quite a practical perk for any bedroom.
With its design scheme centered around simplicity and functionality, this gray king bed skirt features a platform that perfectly fits between your mattress and box spring.
The ruffles around it beautify three sides of the bed while maintaining an overtone of modest elegance.
The split-corner design makes it ideal not just for regular king beds but also for ones with footboards or bedposts. Its broad compatibility and ease of use ensure a perfect fit every time.
Pros
Soft, durable material
Ample under-bed storage
Simple and sophisticated design
Easy maintenance
Value for money
CONS
Color may not fit all decors
Might seem basic to some users
Read More: Queen Air Mattress Dimensions 2023 [Twin, Full, Queen & King]
FreshCulture King Bed Skirt
We are introducing the FreshCulture King Bed Skirt, an equity of comfort, design, and affordability. Available in 13 stunning colors and priced at just $9, this product caters to widely varying aesthetic preferences without breaking the bank.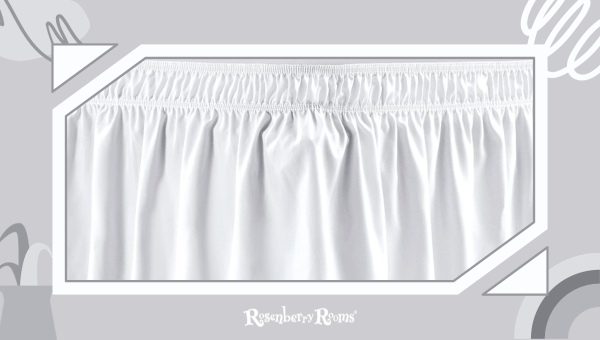 Who said kings have to stick to a boring palette? With 13 different hues ranging from calming pastels to bold tones, you are spoilt for choice.
Regardless of your existing décor theme, there's always a color available for your king-size bed (measuring 78"W x 80"L).
This bed skirt owes its exquisite softness and breathability to 100% polyester microfiber fabric. This durable material guarantees not only an indulgent feel but also a stain-resistant attribute, keeping it smooth and wrinkle-free even after extended use.
The generous drop length of 15 inches easily reaches the floor, providing an elegant finish while hiding unsightly frames, box springs, platforms, mattresses, or any sub-bed storage.
This product embraces simplicity and user-friendliness during installation. Thanks to the adjustable elastic band, wrapping around your bed is quick and straightforward. You don't even need to lift the mattress!
A bonus is the easy care instruction that guarantees improved color retention. Simply machine wash in either cold or warm water, then dry on low heat settings. Optionally, you can hang dry it too.
The FreshCulture King Bed Skirt assures transformational aesthetics complimented by practicality, a must-have for your king-size bed.
Pros
High-quality microfiber material
Easy fit elastic ruffled bed skirt
Suitable for most types of beds
Easily conceals under-bed clutter
Machine washable
CONS
Limited to king-size beds only
Color tones may vary from pictures
Elastic band lose elasticity over time
Explore More: 8 Best Egg Crate Mattress Toppers Of 2023 [Expert's Choice]
FAQs about king size bed skirts
What is a king size bed skirt?
A king size bed skirt is a decorative piece of fabric that goes between the mattress and box springs or bed frame to conceal the space underneath your bed.
Why do I need a king size bed skirt?
Aside from its cosmetic appeal, a bed skirt can hide under-bed storage, shield dust accumulation, and conceal an unsightly mattress or bed frame.
How do I choose the right size for my king size bed skirt?
You'll need to measure the width and length of your bed, as well as the height from the top of your box spring to the floor to ensure you get a perfect fit.
Can I wash my king-size bed skirt in a washing machine?
Yes, most king-size bed skirts are machine-washable, but always check care labels for specific instructions.
Does a king-size bed skirt fit on any bedframe?
Yes, as long as it's designed for a king-sized mattress. It should be adjustable to accommodate most types of frames, including box springs, platforms, or legs.
Conclusion
Incorporating a king-size bed skirt into your bedroom decor is such an effortless way to bring up aesthetic appeal while also keeping your under-bed storage hidden.
They come in different colors, materials, and styles, enabling you to find the perfect one to compliment your room's decor.
By considering key attributes like fabric quality, design, size, and ease of installation, you can transform your bedroom into a styled sanctuary.
With the right bed skirt, your king-size bed becomes more than just a place to sleep; it becomes a statement piece that defines your space.