If you've been on the hunt for the perfect addition to your living space, look no further than this Floyd Sofa review. Having tried and tested a multitude of sectional sofas in an attempt to find the ultimate one that strikes the perfect balance between comfort, durability, and style, I am excited to share my findings about this trendy piece of furniture.
Join me in uncovering all there is to know about the Floyd Sofa—its features, benefits, and how it stacks up against other similar products on the market. They say the ideal sofa is like a giant hug for your home, so read on and find out if it's true!
The Floyd Sofa: What Sets It Apart?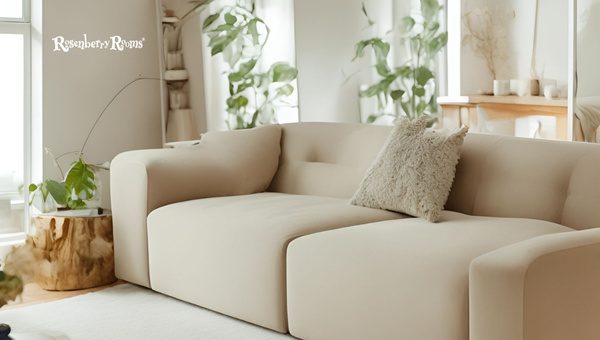 The Floyd Sofa has quickly become a popular choice among those looking for a comfortable, stylish, and customizable piece of furniture for their living space. There are numerous factors that make this sofa stand out from the rest.
From its unique design and aesthetic to its customizable options and high-quality materials, the Floyd Sofa provides an unparalleled experience for users. Let's delve into these aspects in more detail.
Design and Aesthetic
One of the main selling points of the Floyd Sofa is its sleek design and aesthetic appeal. The sofa exudes a minimalist, mid-century modern vibe that blends seamlessly with various interior designs.
Its clean lines, slim metal legs, and subtle stitching details give it a sophisticated look without compromising on comfort.
The Floyd Sofa is available in several colors—birch wood or walnut for the base, and upholstery options like Lunar Gray, Oat, and Mist Blue. These versatile shades make it easy to incorporate the sofa into any living space decor scheme.
Customizability Options
What makes the Floyd Sofa truly unique is the level of customization it offers. Users can choose between two distinct sizes: The three-seater sofa or the two-seater loveseat. This already gives homeowners some flexibility when selecting just the right size for their area.
Additionally, users can opt for chaise attachments on either end or both if they so desire. The modular nature of the sofa means that customers can even add a corner module to create a cozy L-shaped sectional.
If, at any point, you decide that you want to switch up the design, you're in luck—Floyd also offers various separate modules that can be easily added to your existing sofa structure. This allows users to modify their Floyd Sofa over time to better accommodate their evolving needs and space.
High-Quality Materials
The Floyd Sofa stands out for its use of high-quality materials—the brand is committed to providing a durable and comfortable product that stands the test of time.
Frame and Supports
The frame is constructed from sturdy steel supports and responsibly-sourced Baltic Birch plywood, lending the Floyd Sofa its notable robustness. With its solid foundation, it is built to last for years on end.
Cushions
Floyd's cushions are made from CertiPUR-US-certified foam: an eco-friendly option that is free of harmful chemicals and flame retardants. Customers can rest easy knowing they are sitting on safe, environmentally-conscious materials.
Upholstery
For added durability, the sofa's fabric upholstery is abrasion-resistant and rated 30,000 double rubs on the Wyzenbeek & Martindale Abrasion Test. This translates to impressive longevity for your sofa's appearance. The covers are also removable and machine-washable—making cleaning up spills a breeze!
What sets the Floyd Sofa apart lies in its distinct design—a blend of modern simplicity with a mid-century feel—combined with customizable features tailored to fit individual preferences and spaces.
Together with its use of high-quality materials such as steel supports, Baltic Birch plywood frames, CertiPUR-US foam cushions, and abrasion-resistant fabric upholstery; it offers durability as well as environmental protection efforts all bundled into one stylish package.
The end product is not just an elegant piece of furniture but one you can depend on for years while feeling good about your contribution towards sustainability.
Assembling the Floyd Sofa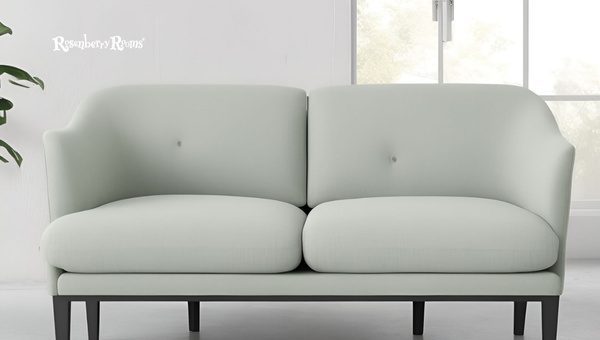 One outstanding aspect of the Floyd Sofa that sets it apart from other similar products on the market is the ease with which it can be assembled. The brand has put significant effort into ensuring a smooth and stress-free experience for customers when it comes to putting together their new sofa.
From its simplified setup process to its tool-free assembly experience, the Floyd Sofa takes away the hassle that typically plagues those moments after unboxing a new piece of furniture.
Simplified Setup Process
The simplified setup process starts straight from the point of purchase with how your Floyd Sofa is packaged and shipped to you. Every part arrives neatly organized, and easy-to-follow instructions are included right in the box.
This allows you to jump right into assembling your new sofa without having to decipher complicated manuals or hunt for missing components.
Step-by-Step Assembly Instructions
Carefully remove each component from its packaging.
Begin by joining the base sections together, using the provided connectors.
Attach legs (if necessary) to the specified slots on each corner of your base section.
Lock each leg into place by applying gentle downward pressure until they audibly click.
Place seat pads and backrest cushions onto your assembled base in their designated locations.
Prefer visuals? Floyd also provides assembly videos on their website, making it even easier for you to follow along and successfully put together your new sofa within minutes.
Tool-Free Assembly Experience
It's not often that furniture assembly is a breeze and doesn't require additional tools or equipment. The thoughtfully designed, tool-free assembly process offered by Floyd eliminates those common frustrations many faces when struggling with nuts, bolts, or—let's not forget—missing Allen keys that are synonymous with conventional furniture setups.
Unique Features Contributing to a Tool-Free Assembly:
Color-coded connectors: Each connector on the Floyd Sofa is color-coded according to the section it belongs to, helping you quickly identify the correct points of connection.
No-tool-required fastenings: In place of traditional screws and bolts are user-friendly connectors specifically designed for the easy, tool-free assembly of each component.
Uncomplicated design: The simplistic modular design ensures you won't be spending hours trying to figure out how each part connects. Assembly is intuitive even for those who don't consider themselves handy.
Thanks to its simplified setup process and tool-free assembly experience, the Floyd Sofa can save you precious time and significant effort when piecing together your new furniture. Say goodbye to navigating ambiguous manuals or hunting down elusive tools to assemble your couch.
Floyd has made it its mission to simplify your life by providing a modern, comfortable sofa that doesn't require a professional setup—or an all-afternoon time commitment.
From carefully thought-out packaging and instructions, down to the very design of the connectors themselves, assembling your new Floyd Sofa will likely be one of the most enjoyable and satisfying parts of furnishing your living space.
Once you've sat down in satisfaction on your newly assembled sofa, you'll wonder how it was ever a daunting task in the first place!
Comfort Factor of the Floyd Sofa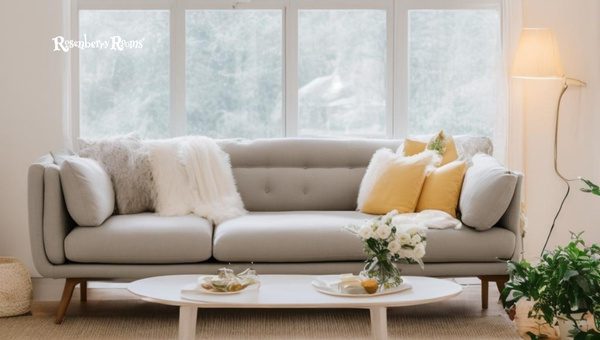 When discussing the Floyd Sofa, it's important to deeply analyze its comfort aspect. After all, a sofa may be beautiful and thoughtfully designed, but if it's not comfortable, it doesn't serve its primary purpose. With that in mind, let's dive into the two main aspects of comfort: cushions and upholstery, and ergonomic support.
Cushions and Upholstery
One of the first things I noticed when I sat on the Floyd Sofa was how incredibly comfortable it felt. The cushions are thick and plush, offering a supportive yet cozy seating experience.
They have layered poly foam filling which provides that ideal balance between support and softness - truly a cushion that easily adapts to your body shape.
The fabric on those soft cushions is a stain-resistant fabric with a resilient weave, creating an additional layer of stress-free convenience for everyday wear and tear.
One of the unique features of this sofa is its tactile upholstered elements. The removable cushion covers are composed of high-quality 100% polyester fabric that has been pill-preventing tested to ensure long-lasting luxury even after extended use. For extra ease, they're completely machine washable for worry-free maintenance.
Ergonomic Support
Now let's talk about why we all crave comfort: ergonomic support. No one wants to suffer from sore muscles or have aches after binge-watching their favorite series or enjoying family game night. Fortunately for us, the Floyd Sofa not only looks visually appealing but offers excellent ergonomic support as well.
Floyd has paid close attention to every detail in designing this sofa. Its seat cushions are filled with three layers of different density foams—ensuring maximum contouring ability while maintaining structure and support throughout the time spent lounging.
In terms of backrests, these feature highly resilient foam placed in individually quilted pockets within each cushion cover. This structure allows each cushion to provide individualized support based on your unique body shape.
Moreover, the Floyd Sofa rests on a convenient elevated Birch frame, which contributes to ergonomic support by maintaining a healthy angle for the seated position.
Here is a quick breakdown of Floyd Sofa's construction details that enhance its ergonomic comfort:
Thick and plush cushions: these have layered poly foam filling for the perfect balance of comfort.
Stain-resistant fabric: highly resilient and durable fabric to withstand regular use.
Tactile upholstered elements: Removable cushion covers made from 100% polyester fabric.
Elevated Birch frame: Ergonomically-designed support system.
Supportive and comfortable seating is vital when choosing a sofa for your home. The Floyd Sofa manages to deliver on both fronts—cushions filled with layered poly foam that is covered in high-quality polyester upholstery materials, as well as an elevated Birch frame that provides utmost ergonomic support.
Some other sofas might boast stylish appearances but fail to deliver comfort, while others promise ergonomics but compromise on visual appeal. In my experience testing out various sofas, it's hard to find one that maintains this perfect combination—yet the Floyd Sofa succeeds in doing just that.
I can confidently say that the Floyd Sofa left me deeply satisfied with its inviting comfort factor and highly personalized ergonomic support system—a perfect sanctuary for relaxation.
Durability and Longevity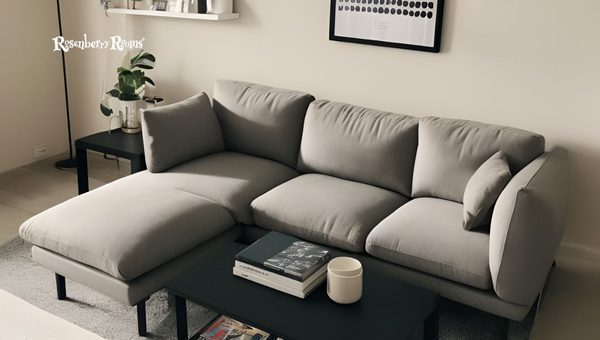 When it comes to investing in a sofa, we all seek a piece that stands the test of time. Floyd Sofa's durability and longevity features take center stage in not only providing comfort but also ensuring the sofa endures years of use.
In this section, let's delve deeper into the construction quality and maintenance tips essential for preserving your Floyd Sofa.
Construction Quality
The framework of the Floyd Sofa is carefully engineered using robust materials to ensure stability and strength. Birchwood forms the core structure, which is renowned for its hardness, resiliency, and extraordinary shock resistance qualities.
This choice of wood ensures a sturdy foundation capable of supporting significant weight without buckling or breaking.
Floyd also prioritizes ease of use in sofa construction. The modular design allows you to add or remove sections as needed, giving you flexibility when it comes to rearranging your living room or moving houses. Reinforced steel fastenings ensure each module fits securely together without compromising structural integrity.
The upholstery used on the Floyd Sofa comprises high-quality fabric designed for everyday use. It's tear-resistant with impeccable tensile strength, which reduces wear and tear over time while maintaining its visual appeal.
The cushions' high-density foam core provides both coziness and support, ensuring they retain their shape even after prolonged use.
Maintenance Tips
Proper care contributes significantly to extending your Floyd Sofa's lifespan while maintaining its optimal appearance and function. Here are some essential maintenance tips to help you make the most out of your investment:
Regular Cleaning: Vacuum your sofa weekly using an upholstery attachment to remove dust particles, pet hair, or other debris that may embed into the fabric over time. This routine upkeep prevents rapid deterioration due to dirt build-up.
Addressing Spills: Accidents do happen! Address spills immediately by gently dabbing at them with a clean cloth, rather than rubbing, to avoid setting the stain. For a deeper clean or persistent stains, consider using upholstery cleaners specifically designed for fabric sofas.
Avoid Direct Sunlight: Fabric might fade when exposed to direct sunlight for extended periods. Whenever possible, position your sofa in an area that doesn't receive intense sunlight or use window treatments such as blinds or curtains to reduce direct exposure.
Rotate Cushions: Regularly rotating your cushions promotes even wear, prolonging their structural integrity and maintaining visual appeal over time.
Keep Pets Off: As much as we love our furry companions, it's essential to keep them off the sofa to prevent potential damage caused by claws or pet hair accumulation.
Professional Cleaning: It's worth engaging professional furniture cleaning services every 12-18 months for a thorough deep clean that helps preserve your sofa's longevity beyond regular home maintenance efforts.
Floyd Sofa's remarkable durability stems from its exceptional construction quality. The framework's core structure uses resilient birch wood coupled with sturdy steel fastenings and high-quality fabric upholstery proven to withstand daily wear and tear.
Invest time in maintaining your sofa according to the recommended guidelines for optimal longevity and satisfaction with your purchase!
How Does the Floyd Sofa Measure Up?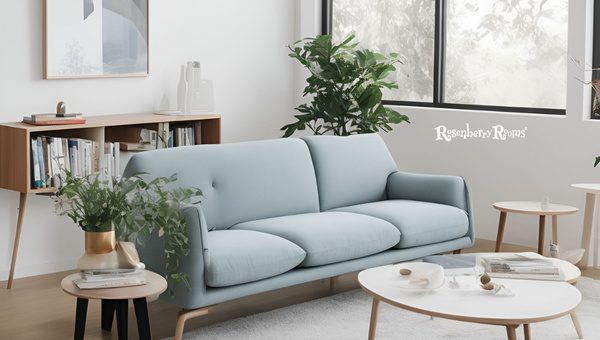 A critical aspect of any piece of furniture is its ability to seamlessly fit within your living space, taking into account room size and placement. Let's dive into the dimensions and sizing options of the Floyd Sofa and examine how it stacks up against the competition.
Dimensions and Sizing Options
One of the best features of the Floyd Sofa is its modular design, which allows you to optimize the configuration to fit your specific needs. The sofa comes in two primary sizes—The Two-Seater, also known as The Loveseat and The Three-Seater.
It's important to note that these sizes are just a starting point since you can extend them with additional sections to create a customized layout. Detailed dimensions for each option are provided below:
The Loveseat (Two-Seater): 60 inches wide, 32 inches deep, and 32 inches tall.
The Three-Seater: A larger option at 87 inches wide, 32 inches deep, and 32 inches tall.
Additional pieces that can be purchased separately include:
Chaise Add-On: Extends from either side with its size at 25-inch width
Armless Section: Provides extra seating without additional armrests.
I found that even after adding more sections, the sofa's proportions still felt balanced. That allowed me greater flexibility in arranging it within my living room without compromising on aesthetics or comfort.
Comparing to Competitors
Floyd has undoubtedly created a high-quality product with its modular sofa design; however, it is essential to assess how the Floyd Sofa measures up against some competitors in terms of comfort, durability, functionality, price-point, and customization options offered by other well-known brands like West Elm or Crate & Barrel.
In terms of comfort, I found both West Elm's "Andes" sectional sofa and Crate & Barrel's "Lounge II" sectional sofa to be quite comfortable and plush, similar to the Floyd Sofa. However, the ergonomics of Floyd's Sofa provided better long-term comfort, which is essential for extended periods of sitting or lounging.
When it comes to durability and construction, the Floyd Sofa is well-built with its steel frame and wooden legs. While other competitors may offer a slightly sturdier frame, I found that the Floyd Sofa's construction was more than adequate for daily use. Its inclusion of a 10-year warranty also provides peace of mind in case of any potential issues.
Functionality is another area where the Floyd Sofa shines. Its modular design allows users to change their seating arrangement without having to buy an entirely new sofa. In comparison, West Elm does provide modularity in their Andes line while Crate & Barrel offers fewer modular options.
The price point for the Floyd Sofa positions it as a mid-range option coming in between more budget-friendly competitors like IKEA and higher-end brands such as Pottery Barn and Restoration Hardware. While pricier than some alternatives, I believe its added benefits justify the expense.
When assessing customization options, I found Crate & Barrel provided extensive fabric choices while West Elm limited them similar to Floyd. Comparatively, Floyd's textiles are carefully curated with sustainability, and found that the Floyd Sofa holds its ground against well-known competitors available on the market.
Its modular design combined with customizable sizing options allows greater flexibility within various living spaces without compromising durability or comfort.
Moreover, its eco-friendly initiatives contribute positively to sustainable living practices—an aspect often neglected by other furniture brands—making it an excellent choice for environmentally conscious individuals looking for both style and functionality in their home furnishings.
Floyd Sofa Price Point Explained
When it comes to investing in a quality sofa, price is often one of the major factors that we need to consider. So, let's dive into the world of Floyd Sofa pricing and see if it's worth the investment.
Is It Worth the Investment?
One thing we all fear when making a big purchase is whether or not we'll regret it afterward. The good news is that, as far as sofas go, the Floyd Sofa seems to have established itself as a wise investment in both style and comfort.
Having been made with high-quality materials and designed with longevity in mind, it certainly holds up well against everyday wear and tear.
The affordability aspect of the Floyd Sofa comes into play because, unlike most high-end sofa brands that can break your bank, this one doesn't go overboard on pricing. Ranging from $1,195 to $2,975 (depending on the size and material), it manages to stand out while providing top-notch features and durability.
Here is a link to their official website for more details about pricing.
Key Points:
High-quality materials ensure lasting durability
Doesn't compromise on comfort
Comparatively well-priced for its perks
The Perfect Blend of Affordability and Luxury
Finding the right balance between affordability and luxury can be tough. However, I believe that this is where the Floyd Sofa truly shines. Made using materials like ethically sourced hardwood frames and recycled polyester fillings in their cushions makes it is both eco-friendly and plush!
Moreover, apart from the immaculate craftsmanship evident in each unit produced, Floyd also offers ample customization options without jacking up the cost too much.
You get to choose between velvet or fabric upholstery according to your personal preference (the latter being slightly cheaper) while still maintaining an affordable price range.
In addition to its focus on affordability and luxury, Floyd also offers a unique "buy now, pay later" option through their finance partner.
This means you can own your perfect sofa without having to wait for months to save up for the full amount, which is definitely a lifesaver for those who want to transform their living spaces sooner rather than later!
Key Points:
Eco-friendly materials make it luxurious and environmentally responsible
Customization options available for velvet and fabric upholstery
The "Buy now, pay later" option eases the financial burden
The Floyd Sofa delivers on many levels with its beautiful design, comfortable feel, outstanding durability, and sustainable manufacturing – all at a pretty reasonable price point.
With various customization choices that don't affect pricing too significantly and an innovative payment scheme through their finance partner (in case you prefer paying in installments), I would say it's an investment worth considering.
If affordability combined with luxury is your ultimate goal when choosing a new sofa, why not give the Floyd Sofa some serious thought? There are certainly plenty of reasons to fall in love with this exceptional piece of furniture!
Eco-Friendly Furniture Choice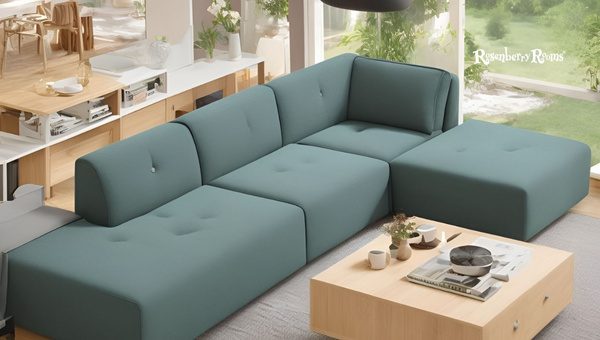 In today's world, it's essential to make conscious decisions about the products we consume, ensuring they not only look great and serve their purpose but are also kind to the environment.
The Floyd Sofa distinguishes itself as an eco-friendly furniture choice, raising the bar in the industry with its sustainable manufacturing processes and commitment to a greener future.
Sustainable Manufacturing Processes
One of the critical factors that contribute to making the Floyd Sofa an eco-friendly choice is its sustainable production. The company takes a thoughtful approach throughout its entire manufacturing process:
Locally Sourced Materials: The wood, fabric, and cushion materials used in making their sofas are primarily sourced from local suppliers. This practice reduces the carbon footprint associated with transportation.
FSC-Certified Wood: Floyd uses Forest Stewardship Council-certified birch wood for its sofa frames. This certification guarantees that the wood comes from responsibly managed forests that provide environmental, social, and economic benefits.
Recyclable Steel Legs: The sofa legs are made of recyclable powder-coated steel – which is not only long-lasting but also contributes to reducing waste in landfills.
Eco-Friendly Packaging: Even their packaging materials deserve recognition! They use 100% post-consumer recycled content cardboard for a guilt-free unboxing experience.
Floyd's Commitment to a Green Future
It's not just about what's within; at Floyd, sustainability is an ongoing commitment that spans all aspects of their business operations.
Responsible Waste Disposal: Floyd ensures responsible waste disposal during its manufacturing process by diverting waste from landfills wherever possible towards recycling or composting programs.
LEED-Certified Facilities: The brand houses its primary operations in highly energy-efficient spaces certified by Leadership in Energy and Environment Design Platinum (LEED) Green Building Rating System. This certification is an internationally recognized recommendation for constructing energy-efficient and environmentally friendly buildings.
Green Shipping Practices: Floyd partners with UPS's Carbon Neutral Program, which actively supports projects that prevent, reduce, or remove greenhouse gas emissions from the atmosphere.
Transparent Supply Chain: Last but not least, the company maintains a transparent supply chain by providing insight into materials sourcing and their production process in an effort to promote sustainability.
When you bring a Floyd Sofa into your home, you're not only investing in a comfortable and stylish piece of furniture; you are also showing your commitment towards a greener planet. Several factors — from locally sourced materials to LEED-certified facilities — highlight how seriously Floyd takes its sustainability pledges.
The opportunity to make eco-friendly choices while furnishing our homes is crucial for creating a better future. It's comforting knowing that brands like Floyd have dedicated themselves to aligning with these values in manufacturing and operation practices.
Floyd Sofa – The Verdict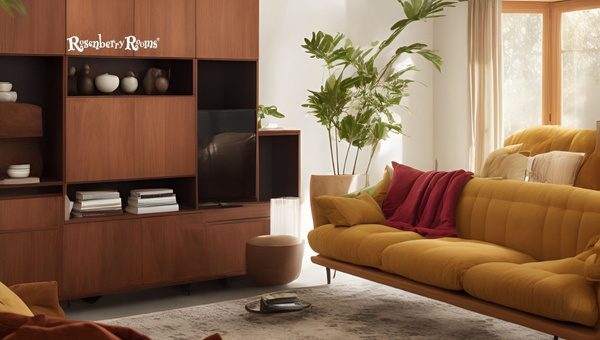 After using the Floyd sofa for some time and thoroughly evaluating its various features, it's time to share my overall verdict. Below is a comprehensive analysis of the benefits and drawbacks of owning a Floyd Sofa, as well as guidance in determining if it's the perfect fit for your home.
The Pros and Cons of Owning a Floyd Sofa
Pros:
Aesthetics: Truth be told, I found the contemporary and minimalist design appealing. Its clean lines, stylish silhouette, and choice of understated shades blend seamlessly with just about any type of décor.
Comfort: As an owner of this comfortable piece of heaven, I can attest to its ergonomic design that offers excellent support while being cozy enough for long hours spent lounging on it.
Customizability: Having various options to choose from, you can easily customize your Floyd sofa according to size requirements or even individual preferences in style.
Easy Assembly: This sofa arrives flat-packed but don't let that intimidate you—it truly is simple to put together without needing any special tools or professional help.
Durability: With high-quality materials and construction methods that prioritize longevity, you can rest assured knowing that this furniture investment will last for years to come.
Eco-friendly: Environmentally-conscious shoppers will appreciate Floyd's commitment to sustainability in using sustainable manufacturing processes across their product line.
Cons:
Price Point: Be warned—it might come at a slightly higher price tag compared with similar products on the market; however, considering its durability and quality, this could still be seen as a valuable investment over time.
Limited Availability: It's important to note that Floyd is based in Detroit and delivers only within the United States; thus international customers won't have access to their range of furniture options.
Lack of Showrooms: Although they offer a 30-day return policy, with only a few major cities having Floyd stores or showrooms, many customers will have to rely on online shopping instead of getting the chance to test it firsthand.
Is It the Right Fit for Your Home?
Now that we've covered the pros and cons let's discuss whether the Floyd Sofa is an appropriate choice for your living space or not. Here are some noteworthy factors to keep in mind while making a final decision:
Style: If you appreciate modern aesthetics and minimalism, this sofa would be an excellent fit. On the other hand, if you prefer intricate patterns or more classical designs, then this is probably not for you.
Functionality: The Floyd Sofa comes with perks like removable cushions and easy assembly suitable for those who like to rearrange their living spaces often or move from one location to another.
Size: Their line includes both two-seater and three-seater versions; hence, it's essential to make sure that you adequately assess the available space in your home before purchasing.
Budget: Keep in mind that high-quality goods come with a higher price tag; nonetheless, investing in a long-lasting piece may help save money in the long run.
Taking everything into account—style preferences, budget constraints, and practical needs—I believe the Floyd Sofa could indeed be an excellent fit for most homes as it offers outstanding quality and charming aesthetics.
It's perfect for those who have an eye for detail and craftsmanship while also prioritizing sustainability; it checks all boxes without compromising style or comfort!
So before taking any hasty decisions, consider each pro and con discussed above - because ultimately, your choice should bring joy and relaxation every time you sink into its inviting embrace!
FAQ About Floyd Sofa Review
Is the Floyd Sofa easy to assemble?
Yes, the Floyd Sofa is designed for a simple and tool-free assembly experience.
How comfortable is the Floyd Sofa?
The Floyd Sofa offers excellent comfort with high-quality cushions, upholstery, and ergonomic support.
What are the customization options for the Floyd Sofa?
You can customize your Floyd Sofa by choosing different colors, fabrics, and sectional configurations.
Is the Floyd Sofa an eco-friendly furniture choice?
Yes, Floyd prioritizes sustainable manufacturing processes and is committed to a green future.
How does the price of the Floyd Sofa compare to its competitors?
While not the cheapest option on the market, the quality and features of a Floyd Sofa make it worth considering for those seeking both affordability and luxury.
Conclusion
The Floyd Sofa is an excellent choice for those seeking comfort, style, and durability in a customizable and eco-friendly piece of furniture. With its simplified assembly process and a variety of options to suit your individual needs, it undoubtedly stands out among its competitors.
Through this review, I hope you've gained valuable insight into the various aspects of this trendy sofa and whether it aligns with your specific requirements for a perfect living space.
As you ponder over whether the Floyd Sofa is the right addition to your home, keep in mind the key factors discussed earlier in this review: design, comfort, durability, affordability, customization options, and eco-friendliness.
While no sofa will ever be truly perfect for every individual or home setting, Floyd's reputation and commitment to quality make it a fantastic option worth considering. So go ahead—take a chance on embracing that coveted "giant hug" sensation for your home!