Are you planning to give your living space a refresh? You might want to consider the classic yet undeniably charming Benjamin Moore Stone House CC-120 color.
An elegant, versatile, and warm color is an optimal choice whether you want your room to channel the tranquility of a countryside estate or the fresh vibe of a sophisticated urban loft.
This Benjamin Moore Stone House CC-120 Color Review color review will examine this fascinating shade in depth. We'll also provide ideas on how it could transform your space.
You've probably spent quite some time searching for that perfect hue - something that complements your interiors and embodies your style. With its rich undertones and quiet sophistication, Stone House might be the one you're looking for.
Benjamin Moore Stone House CC-120: LRV & Undertones
The Stone House CC-120, also called 1039 in some color charts, is a medium-light shade of brown from the Benjamin Moore color palette.
This warm beige hue epitomizes a serene and earthy quality that sets the foundation for any interior design style.
The color presents an impeccable balance of sophistication and comfort, effectively enhancing your space with elegance and tranquility.
Light Reflectance Value of Stone House CC-120
The Light Reflectance Value (LRV) of Benjamin Moore Stone House CC-120 is 49.42. This mid-range LRV indicates that Stone House is neither too light nor too dark and will reflect a moderate amount of light into the room.
The LRV is a measurement used by paint manufacturers to indicate how much light a paint color will reflect or absorb.
It ranges from 0, which represents absolute black and absorbs all light, to 100, which represents pure white and reflects all light.
Benjamin Moore's Stone House, with an LRV of 49.42, can be categorized as a medium paint color. This means it has a good balance between providing enough brightness without being too overwhelming.
Therefore, its adaptability makes it suitable for any large or small space without making the room feel closed in or overly bright.
It is an excellent choice for creating warm and inviting spaces in your home while still keeping things relatively neutral and versatile.
The Undertones of Stone House
Benjamin Moore Stone House CC-120 is characterized by a very slight yellow/orange undertone. This understated undertone subtly infuses warmth into the paint color, lending a pleasant and inviting feel to any painted space.
Despite its warm-toned undercurrent, Stone House maintains a level of neutrality that allows it to pair well with a wide array of colors and design elements.
Therefore, even though the undertone is warmer, this versatile color can seamlessly integrate into numerous home design styles.
Is Stone House Warm or Cool?
Benjamin Moore Stone House CC-120 is considered a warm beige color. The term "warm" in color theory refers to colors that have undertones of red, orange, yellow, or brown. In the case of Stone House CC-120, its light reflectance value (LRV) of 49.42, alongside the slightly yellow/orange undertone, contributes to its classification in the warm spectrum.
This warm beige color creates an inviting ambiance and can help to make a space feel cozy and comfortable.
Warm tones like this often work well in living areas, bedrooms, and other spaces where comfort and relaxation are key.
Despite its warmth, Stone House maintains enough neutrality due to its balanced saturation level. This makes it exceptionally versatile in complementing various interior elements, including furniture and decor pieces of different colors and materials.
Also Read About Benjamin Moore Anchor Gray 2126-30 [Paint Color Review]
Suggested Applications for Interior Walls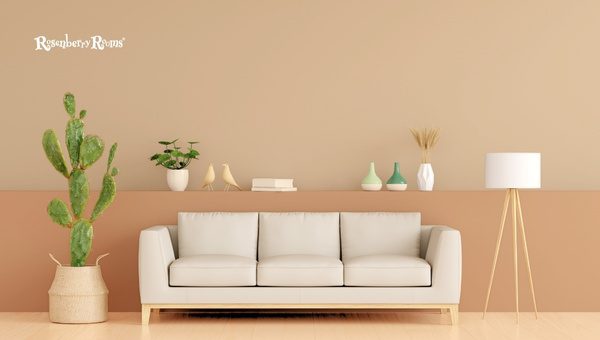 One of the many strengths of Benjamin Moore's Stone House CC-120 is its versatility. This amicable color works well in a variety of living spaces. Let's delve deeper into some specific interior applications:
Living Room: Stone House is an excellent choice for your walls. Its warm beige color promotes a cozy and welcoming ambiance, perfect for entertaining guests or winding down after a long day.
Kitchen: Have you ever considered bringing this enchanting hue to your Kitchen? The timeless appeal of Stone House creates a pleasing aesthetic backdrop, ideal for heartfelt meal preparations and casual family meals.
Home Office: Using Stone House in your Home Office might be an out-of-the-box idea, but it is one you won't regret. It helps create a calm environment that subtly encourages productivity and reduces stress.
Bedroom: In the Bedroom, Stone House lends itself to creating a restful retreat, setting the stage for peaceful nights and refreshing mornings.
Bathroom: Taking Stone House CC-120 into your Bathroom can add character to the space, creating a soothing spa-like atmosphere perfect for unwinding at the end of the day.
Benjamin Moore's Stone House CC-120 is a versatile paint color that works effortlessly on any wall in your home.
We highly recommend using large patches of sample paint in those areas where you're considering this hue.
Natural and artificial light from windows could project differently on this particular shade; thus, it's essential to see how it reacts to the unique conditions within each room.
Making an Impact with Exterior Use
The advantages of Benjamin Moore's Stone House CC-120 don't stop at your interior walls. This versatile color can make a significant impact on the exterior of your home as well.
Front Door: Set a welcoming tone for your visitors right from the start with a Stone House painted Front Door. Its warm, inviting persuasion provides an appealing contrast to crisper white or off-white exteriors.
Siding: Indeed, redundancy isn't part of the Stone House vocabulary. Apply this color to the Siding of your house and witness how it adds an elegant grace to the overall structure. The warm beige perfectly complements natural elements such as stone or wood, ideal for a grounded and serene organic aesthetic.
Garage: You can extend this rich beige hue to your Garage, ensuring cohesion across all aspects of your home's exterior facade. The hue will keep the façade plain yet stylish.
Garden Boundary Walls: Bring life to those often-overlooked garden spaces by painting Garden Boundary Walls in Stone House CC-120. This will not only help accentuate any greenery but also create a backdrop that appeals to the senses all year round.
An important tip: while finalizing your paint choice based on those adorable little paint chips you hang onto dearly, remember that outdoor colors may appear lighter than indoor ones due to increased sunlight exposure.
Always paint a small trial section before commissioning the entire job, just like you would for any indoor room.
Why Sampling is Essential Before Committing to Full Purchase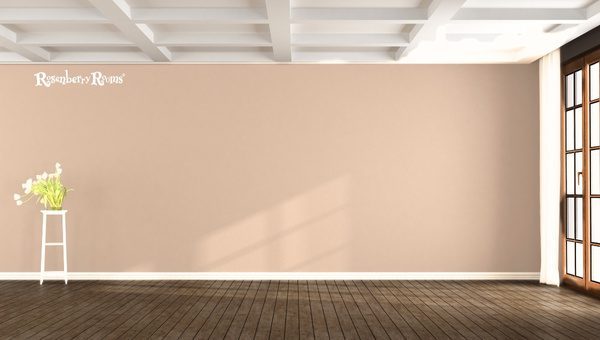 Purchasing paint for your home is a significant investment. Therefore, it's crucial to conduct color sampling before committing fully.
Samples allow you to observe how the color interacts with your room's lighting condition and harmonizes with your existing décor. Doing this will prevent unexpected surprises after application that might dampen your paint project.
In short, sampling gives you a real-life preview of what your room will look like and enables an informed purchase decision.
Perfect Pairings - Coordinating Trim Colors for Stone House
When aiming for an impeccable room aesthetic, it's important to choose a stunning wall color and find the perfect trim colors that can subtly elevate its beauty.
If you've decided on Benjamin Moore Stone House CC-120 as your base color, here are some elegant trim suggestions:
Can't quite decide from these options? Testing these pairings on small sections of your wall is always beneficial before fully committing to any trim color.
Explore More: Benjamin Moore Classic Gray OC-23 [Review: Warm or Cool?]
Similar Shade to Stone House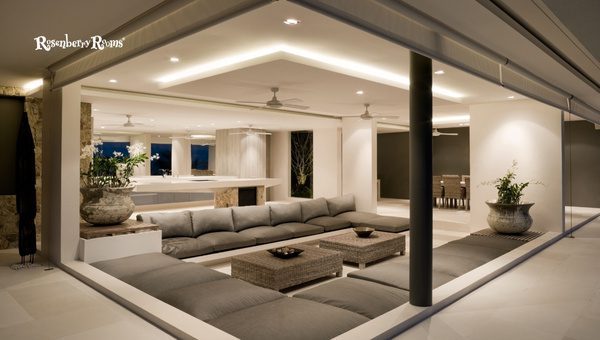 If you love the look of Stone House but are leaning towards a slightly different tone, you might want to consider Sierra Hills 1053.
Falling in the same color family, this elegant beige has a warmth and softness that closely mirrors what we love about Stone House. However, Sierra Hills offers a hint of a muted peach undertone that brings a welcoming warmth to spaces.
Both hues have a unique and calming charm that could be ideal for your living space. Offering exceptional flexibility, Sierra Hills is certainly worth considering as an alternative option.
How Different Lighting Directions Affect the Appearance of Stone House
Remember that even the most perfectly chosen paint color can look different under varying lighting conditions when aiming for a cozy, well-designed home ambiance.
The natural light direction - whether it's north-, south-, east- or west-facing - greatly influences how the color appears on your walls during different times of the day. Based on these factors, paint can appear cooler or warmer, lighter or darker than expected.
Let's specifically delve into how cardinal directions alter the appearance of Benjamin Moore's Stone House CC-120.
North or South
North-facing rooms receive less direct sunlight and tend to cast a cool blue light. In such spaces, Stone House can potentially exhibit deeper undertones and look slightly darker due to less light exposure.
This creates a cozy atmosphere that can add richness and depth to spaces like bedrooms or reading nooks.
On the other hand, south-facing rooms are bright and naturally full of warm light throughout most daylight hours.
Stone House may appear lighter, with its warm undertones appearing more clearly. It's worth exploring if you want to infuse a sense of airy comfort into your living room, kitchen, or dining areas.
East and West
Morning sunlight diffuses gentle, warm tones in east-facing rooms – colors might appear warmer with increased illumination.
Thus, when exposed to morning light, Stone House may seem more golden-toned and radiant, which would make an excellent choice for spaces specifically used during morning hours, like your breakfast nook or home office.
West-facing rooms bask in the strong afternoon and evening light that exudes warmth – attracting warmer yellow-orange tones toward sundown.
In these spaces, Benjamin Moore's Stone House generates a warm, enveloping hue that can transform rooms into cozy areas in the fading twilight, perfect for living spaces or dining rooms where people usually gather during this time.
Explore More: Benjamin Moore Thunder AF-685 [Review: Warm or Cool]
FAQs About Stone House CC-120
What is Benjamin Moore Stone House CC-120?
Benjamin Moore Stone House CC-120, also known as 1039, is a warm beige hue perfect for imparting a cozy, tranquil ambiance to any room, thanks to its rich undertones and elegance.
Where can I use Stone House CC-120 in my home?
Stone House's versatile nature suits every room—living room, kitchen, home office, bedroom, or bathroom. Its adaptable qualities can match various interior styles and personal tastes.
Does the appearance of Stone House CC-120 change with different lighting?
Yes! The perceived color of Stone House varies with the changing light direction throughout the day - its tone can appear darker in north-facing rooms and lighter in south-facing rooms.
Is Benjamin Moore's Stone House warm or cool?
Stone House CC-120 is a warm beige color. The slightly yellow/orange undertones give it a comforting and inviting appeal that enables it to enhance both modern and traditional interior designs.
What trim colors pair well with Benjamin Moore's Stone House?
Trim colors that beautifully complement the earthy warmth of Stone House include Incense Stick 2115-20, White Dove OC-17, Barely Beige CC-140, and Chantilly Lace OC-65.
Conclusion
Benjamin Moore's Stone House CC-120 is an incredibly functional and charming shade that brings warmth and sophistication to your home.
Its versatility across various locations and compatibility with different interior styles make it a wise choice for those willing to create a tranquil, inviting ambiance within their space.
Whether revamping your entire house or just refreshing a single room, we hope this in-depth color review provides valuable insight and makes your decision-making process more manageable. It's always best to test the paint in multiple lighting situations before making the final call.