When I first started on my search for the perfect sofa, I stumbled upon numerous brands, but none of them seemed quite right. It was only when I came across the Albany Park Sofa that my quest finally ended.
In this Albany Park Sofa review, I want to share all that I've learned and experienced about this marvelous piece of furniture and why it should be a serious contender for your living room.
As someone who had never really explored the world of luxury sofas before, it took me a while to navigate through countless options until I could find the one that not only offered impeccable style complementing my living space but also provided utmost comfort for those long movie nights or mid-day naps.
Allow me to introduce you to my newfound love - the Albany Park Sofa - and here's all you need to know about it!
Albany Park and the Sofa's Features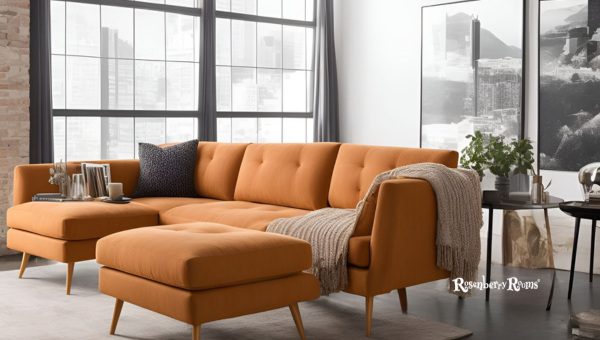 Let's dive into the exciting journey that is the Albany Park Sofa Experience. In this section, I'll be discussing the history of Albany Park as a brand and giving you an overview of the sofa's endless design possibilities, focusing on fabric options, styles, and customization.
Trust me, by the end of it, you'll be as excited about your dream sofa as I was when I found mine!
A brief history of Albany Park as a Brand
Albany Park is a relatively new furniture brand that has quickly gained popularity among modern homeowners due to its blend of comfort, style, and affordability.
Founded by a husband-and-wife duo with over 35 years of experience in interior design and home furnishings, their mission was to simplify the process of shopping for sofas.
Their vision translated into creating high-quality sofas with a user-friendly assembly that works well with contemporary living spaces.
Keeping in mind both aesthetics and practicality, they offer three best-selling models: The Albany sectional sofa, The Kova modular sofa, and The Alula feather blend sofa for maximum comfort and style.
Overview of the Sofa's Design
One thing that sets Albany Park apart from other brands is that each of its designs comes in multiple layouts to easily accommodate different room sizes and shapes. For instance:
The Albany Sectional:
Also available as an armchair or loveseat
Choose between regular-length 3-seater (87" W x 36" D x 33" H) or apartment-size 2-seater (62" W x 36" D x 33" H)
Right-arm-facing (RAF) or Left-arm-facing (LAF) configurations available
The Kova Modular:
Build any configuration your heart desires with individual components
Add various modules like corner pieces or armless chaises
End pieces double as handy storage slots
The Alula Feather Blend:
Offered in sectional, armchair, and loveseat options
Cushions filled with a luxurious blend of CEKA foam and feathers for ultra-soft comfort
Fabric options and customization
Now let's talk about what makes each Albany Park sofa truly unique: fabric choices. All their sofas are available in three different fabrics - velvet, boucle, and performance.
Velvet is plush and luxurious with a smooth touch, while the boucle has that nice nubby texture that adds visual interest. Performance fabric provides durability with extra resistance to stains, moisture, and wear.
But it doesn't stop there! Albany Park offers an extensive color range to match your living room's aesthetic. Depending on the chosen fabric type, I was able to pick from:
Velvet: Midnight Blue, Forest Green, Deep Red
Boucle: Onyx Black or Light Grey
Performance: Ivory or Light Gray
After selecting a model layout and fabric option that worked best for me, I could further customize the legs - either choosing between walnut or black oak-finished solid wood legs.
The cherry on top was the complimentary assistance provided by their design specialists. They helped me make informed decisions to turn my dream sofa into reality.
So far so good? But don't just take my word for it! In the next section, I'll be sharing my own unboxing experience when my lovely new Albany Park Sofa arrived at my doorstep.
Unboxing and Assembly Experience
One of the most crucial aspects of buying a new piece of furniture, especially a sofa, is the unboxing and assembly experience.
After all, you wouldn't want to spend hours trying to put together a complicated piece when you're eagerly waiting to sit back and relax on it.
Now, I'll share my Albany Park Sofa experience regarding packaging, delivery, and assembly.
Share how the sofa was packaged and delivered
My Albany Park Sofa arrived in three sleekly designed boxes that perfectly protected the components inside. The largest box contained the main seating area and one arm; the second box stored the other arm along with cushions; whereas, the third box held all essential hardware, such as legs and support brackets.
Before I proceed further, let me highlight that Albany Park offers free shipping for all their sofas!
It's also important to mention their impeccable delivery service here—quick, efficient, and extremely courteous. As soon as my order was placed, I received an email confirmation with an estimated date for delivery.
Albany Park's team ensured that they adhered to the promised date! Their logistics partner was quite responsive too—from tracking updates to making sure no damages occurred during transit.
Describe the ease (or difficulty) of assembling the sofa
Once my sofa arrived and its packaging was ready to be unwrapped, I got to experience how easily Albany Park made their product assembly.
First of all – there were no tools required! Yes – you read that right! This came as a pleasant surprise because many other brands often require a toolbox full of equipment just for putting together a simple sofa.
Every component of the sofa is smartly designed with user convenience in mind—their unique Albany Connect system ensures a seamless assembly process. Beginning with attaching legs to seating units – each leg had easy-to-screw threads allowing me to screw by hand without any hassles.
Next, aligning and connecting the arms was a no-brainer – brackets on either side created a secure attachment providing enhanced stability.
After assembling the basic structure, I arranged the cushions provided by Albany Park. They offer two types of cushions: seat cushions, crafted from a high-resiliency foam core, and back cushions filled with premium polyester fibers. Both types are enveloped in water-resistant casings; ensuring durability with comfort.
The assembly process was quick and painless—it took me just under 45 minutes to complete the setup! So far, the Albany Park sofa has been an absolute breeze—be it unboxing or bringing it to life in my living room! What really made this experience stand out was having everything designed thoughtfully and leaving no room for confusion or frustration.
The Albany Park Sofa offers a 'build-it-yourself' approach without any of the cumbersome efforts that usually accompany furniture assembly—a boon for buyers who wish to skip waiting for professional help or tangled toolsets whilst setting up their new couch!
Comfort and Support of the Sofa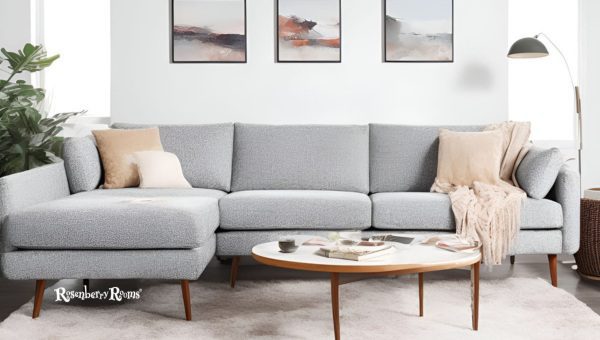 One of the most important aspects I considered while purchasing the Albany Park Sofa was the level of comfort it offered.
A luxurious and stylish sofa might look great in your living room, but if it's not comfortable and supportive enough for everyday use, then it would ultimately fail to serve its purpose.
I am glad to report that Albany Park delivers on both comfort and support, which I will explain more about in detail below.
Discuss the quality of the cushions and their comfort level
When I first unboxed my new Albany Park Sofa, one feature that instantly caught my attention was the high-quality cushions that came with it.
These cushions are made from a blend of fiber-wrapped, high-resiliency foam, and down feathers. This unique combination ensures that the sofa maintains its shape while providing outstanding comfort.
As someone who is mindful when picking homeware products, especially considering allergies or sensitivities to certain materials, I was pleased to learn that Albany Park offers hypoallergenic options for their cushion fills as well.
I have spent countless hours seated or lying down on this sofa and have never felt any discomfort or lack of support. The cushions conform perfectly to your body's contours without losing their original form.
Another aspect worth mentioning is how easy these cushions are to maintain; a quick fluff here and there will keep them looking plush and feeling cozy for years.
Evaluate how supportive the sofa is for different seating positions
As someone who often finds themselves alternating between various seating positions while lounging or working from home on occasion inevitably calls for an adaptable piece of furniture like Albany Park Sofa.
Upright seated position: When sitting upright, be it for conversations with friends or completing some tasks from home, this sofa provided ample back support while keeping my posture in check. The plush seat cushions comfortably held me in place without causing any discomfort.
Laying down: As a perfect spot for power naps or settling in for a movie marathon, I found that this sofa delivered remarkable comfort while lying down as well. The generous seating proportions accommodate anyone trying to stretch out and relax after a long day.
Corner spot: One of my favorite seating positions is to curl up in the corner of the sofa with my legs crossed. I found that Albany Park Sofa offered excellent support for those lazy moments when all I wanted was to sink into the sofa and immerse myself in a good book.
Cross-legged sitting: Surprisingly accommodating, even for cross-legged sitting, Albany Park contributes immensely to an environment where one could linger with their mobile devices, or gaming console, or just spend some time reflecting on life.
All in all, when it comes to comfort and support, the Albany Park Sofa emerges as a clear winner. With its high-quality cushion construction and the ability to cater to various seating positions, this sofa ensures maximum relaxation while being gentle on your body's pressure points.
If you are looking for a luxurious piece of furniture that ticks all the boxes without compromising on quality or aesthetics, it's hard not to fall head over heels in love with Albany Park Sofa.
Aesthetic Appeal and Interior Design Possibilities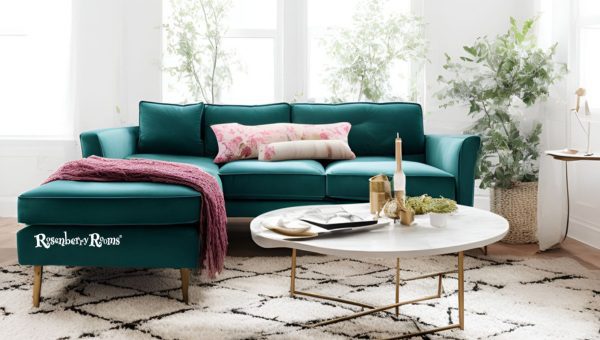 No matter how comfortable a sofa may be, if it doesn't gel with the overall theme of your living room or home, it can be quite an eyesore.
That's precisely why finding a sofa with aesthetic appeal that complements your personal interior design preferences is crucial. With Albany Park Sofa, I found this to be one less thing to worry about.
Share how the Albany Park Sofa complements various interior design styles
One of the reasons I fell in love with the Albany Park Sofa was its versatility. It seamlessly manages to blend into a variety of interior design styles such as contemporary, mid-century modern, minimalist, or even traditional spaces.
The sleek lines, tapered legs, and sophisticated fabric options make it suitable for almost any home decor aesthetic.
The Albany Park Sofa comes in three distinct models: Albany Park, Kova, and Dune. Each model boasts its own style and charm:
Albany Park: Features a classic yet modern design that caters easily to different tastes.
Kova: Showcases a mid-century charm with wide arms creating an element of boldness and character.
Dune: A more relaxed and cozy option for those who enjoy casual lounging without sacrificing style.
There are various upholstery options available in their collection ranging from refined neutrals to warm earthy tones.
These fabric choices cater to diverse color palettes and help achieve cohesive coordination with other furniture pieces within your living space.
The ability to customize not only the fabric but also the leg finishes allows for an unparalleled level of design flexibility.
Mention additional accessories or coordinating pieces available from Albany Park
Another thing I appreciate about Albany Park is that they don't just stop at sofas – they offer an entire range of coordinated products designed to help create a visually harmonious space.
Acquiring additional pieces such as accent chairs or ottomans is an excellent way to further elevate the look and feel of your living room area.
Some of the pieces available from Albany Park include:
Armchairs: The brand offers matching armchairs for each sofa model (Albany Park, Kova, and Dune). These chairs carry the same aesthetic appeal as their sofa counterparts while providing separate seating options.
Ottomans: Albany Park offers a versatile range of ottomans for each sofa style. The ottomans can serve as footrests or even double up as extra seating arrangements when you have guests over.
Pillows: To tie everything together, Albany Park has a collection of elegant throw pillows that add texture and character to your setup.
Beyond these accessories and coordinated pieces, the brand also provides helpful interior design tips to create a cohesive space around its products. By visiting their website, you can explore various room design inspirations featuring their furniture line which could spark ideas when customizing your own space.
Owning an Albany Park Sofa brings with it numerous benefits that extend beyond comfort; it's all about achieving a well-designed aesthetic that reflects your taste and style.
No matter your preferred color scheme or architectural elements within your home, it's likely that an Albany Park sofa will blend in harmoniously while adding its own unique flair to the area.
Plus, with the availability of additional coordinating pieces such as armchairs and ottomans, you can create a perfectly synchronized living space that feels like home.
Durability and Maintenance Aspects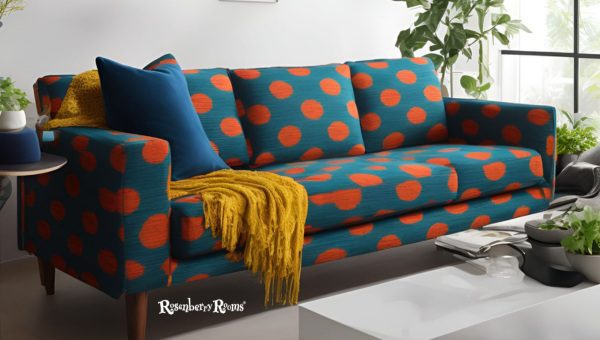 When it comes to making a significant investment in furniture, such as a sofa, durability, and ease of maintenance are critical factors that can't be overlooked.
After all, no one wants their hard-earned money going down the drain due to wear, tear, or fading over time. Having used the Albany Park Sofa for some time now, here's my rundown on its durability and maintenance aspects.
Observations related to wear, tear, or fading over time
From the very beginning, one thing that caught my eye was the quality of materials used in the construction of the Albany Park Sofa.
The frame is crafted with kiln-dried hardwood for optimum stability and durability. I quickly noticed that this choice of material allows the sofa to maintain its shape even after continuous use without showing signs of sagging or structural changes.
The upholstery fabric is also quite impressive regarding resistance to wear and tear. No matter how much my family members take turns lounging on this sofa throughout the day (not to mention the occasional spill) it has not shown any fraying or pilling so far.
This durability extends even to the color of the fabric - there is no observable fading from exposure to sunlight or regular usage.
In addition to these observations:
Cushions: Filled with foam high-density cushions, they have maintained their plushness and support without any hollow spots emerging.
Seams: Stitching remains intact even in areas that see lots of movement from sitting or lying down regularly.
Legs: Sturdy construction supports weight effectively without any wobbling or loosening.
Insights about cleaning routines and potential maintenance challenges
Cleaning Routine:
Given today's fast-paced lifestyle where housekeeping chores often take a backseat amidst all other responsibilities, having a low-maintenance sofa like Albany Park is a godsend! Here are some tips based on my personal cleaning routine:
Vacuuming: I make it a point to vacuum the sofa regularly, ideally on a weekly basis, to prevent dirt and dust accumulation. This simple act significantly extends the life of the upholstery.
Spot Cleaning: Whenever spills or stains occur, quickly attending to them with a damp cloth and mild soap & water solution can effectively mitigate their impact.
Protective Measures: Though not mandatory, using throws or slipcovers can be beneficial in maintaining your sofa's pristine condition.
Potential Maintenance Challenges:
No product is perfect and that applies to Albany Park Sofa as well. While its durability and maintenance aspects are largely commendable, here are a few points you need to be mindful of:
Reversible cushions: Although these tend to last longer by distributing wear evenly, they would require flipping at regular intervals.
Non-removable cushion covers: Due to the absence of removable cushion covers, getting rid of persistent stains might prove challenging as it rules out machine washing.
Upholstery limitations: Albany Park offers two primary fabric options- polyester weave and performance velvet. While aesthetically pleasing, these may not suit everyone's tastes or lifestyles (especially when considering pet owners or families with young children). In such cases, exploring additional fabric protection services is advisable.
I've found my Albany Park Sofa quite satisfactory both regarding durability and ease of maintenance. Despite minor obstacles like non-removable cushion covers that could have potentially hampered my experience with upkeep, its overall sturdy construction ensures long-standing comfort for years to come!
Assessing Value for Money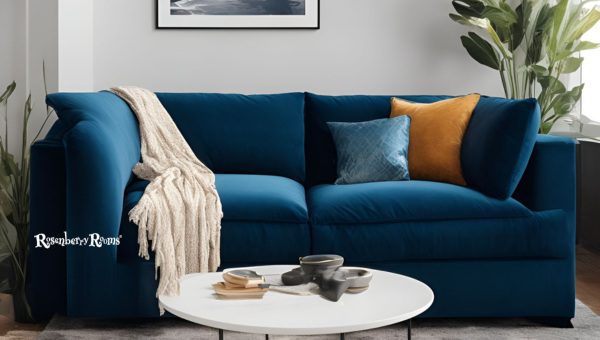 When purchasing a sofa, one of the primary concerns many people have is whether or not they are getting value for their hard-earned money.
After extensive research and, most importantly, my personal experience with the Albany Park Sofa, I can confidently say that this particular piece of furniture hits the mark.
Discuss overall satisfaction with the purchase
From day one, I have been extremely satisfied with my Albany Park Sofa purchase. Here are some key factors that contribute to my overall satisfaction:
Quality Material
Albany Park uses premium materials to craft their sofas. For example, the cushions are filled with high-density foam which ensures comfort and durability.
The fabric options, such as performance velvet and linen-like fabrics, provide a luxurious feel while maintaining resistance against wear and tear.
Customizable Design
One significant advantage of choosing an Albany Park Sofa is the level of customization available. With a variety of colors and fabric options to choose from – including kid-friendly and pet-friendly options – I could tailor my sofa to match my specific preferences without worrying about spills or fur.
Comfort Factor
The ultimate test for a sofa lies in its comfort. Thankfully, my Albany Park Sofa did not disappoint! The high-density foam cushions provided excellent support when sitting down or stretching out for a nap. It equally caters to various sitting positions making it perfect for everyone in the family.
Assembly Ease
The thought of assembling a piece of furniture can be overwhelming for some; however, Albany Park's easy-to-follow instructions simplified this process greatly! Their unique 'tool-free' assembly design was quick and fuss-free allowing me to enjoy my new sofa in no time.
Recommend Albany Park sofas to prospective purchasers
If you're considering purchasing an Albany Park Sofa yourself, I wholeheartedly recommend it! This decision is based on several points:
Superb Quality: The sofas are built using only top-notch materials ensuring their resilience and longevity. My own experience with the sofa so far confirms that it still looks and feels brand new despite daily usage.
Comfortable and Supportive: Albany Park sofas offer the utmost comfort, whether you're sitting down to unwind after a long day or lying down for a nap. The cushions maintain their shape while offering adequate support to make every moment a pleasure.
Stylish Design: These sofas are designed to suit contemporary living spaces, adding an air of sophistication to your home. No matter your personal style preferences, there's an Albany Park Sofa that will enhance your interior design vision.
Customer Support: Albany Park also has an excellent customer care team making the entire shopping experience more enjoyable and hassle-free. They assist you in solving potential issues or answering any questions you may have about the product.
My Albany Park Sofa is one of the best investments I've made for my home. I couldn't be happier with its look, feel, durability, and comfort level – all factors that prove it's a worthwhile purchase for those seeking value for money in their furnishing choices.
So go ahead, explore their range of stylish options, and welcome home the perfect Albany Park sofa tailored just for you!
FAQs About Albany Park Sofa Review
What is the price range of the Albany Park Sofas?
The price range varies depending on the model and fabric choice, but generally falls between $900 - $1800.
Are Albany Park Sofas customizable to fit different room sizes?
Yes, Albany Park offers a modular design that can be easily configured to fit your space perfectly.
Is there a return policy or warranty for Albany Park Sofas?
Yes, they offer a 30-day risk-free trial period, lifetime frame warranty, and a one year cushion warranty.
How easy is it to assemble an Albany Park Sofa?
Assembly is simple and quick, with no tools required and easy-to-follow instructions.
Are there any upholstery options available for those with kids or pets?
Absolutely! There are pet-friendly and stain-resistant fabric options available to withstand daily use.
Conclusion
My experience with the Albany Park Sofa has been nothing short of amazing. From its stylish design and wide range of customization options to its exceptional comfort, it has genuinely transformed my living space.
The ability to choose from various fabric options, create a layout that suits my room size, and assemble it with ease makes this sofa a must-have for anyone in search of a high-end piece without breaking the bank.
So, if you're in the market for a new sofa that checks all the boxes, I would unequivocally recommend giving Albany Park a chance. Their commitment to quality and customer satisfaction truly sets them apart from other brands.
Don't just take my word for it - go ahead and experience the luxury and comfort of an Albany Park Sofa for yourself!