Whenever I'm on the hunt for a new piece of furniture, I always make sure to do my due diligence and research all my options. That's why, when I came across the Albany Park Kova sofa, I knew it deserved a spot on my list of contenders.
In this Albany Park Kova sofa review, I'll take you through my personal experience with this chic and comfy piece of furniture that has become an essential addition to my living room.
As someone who appreciates both style and comfort when picking the perfect sofa, discovering Albany Park's Kova sofa seemed like a match made in heaven. But would it live up to its claims, or would it be just another fleeting infatuation? Stay with me as I review the ins and outs of this fabulous find.
A Closer Look at the Albany Park Kova Sofa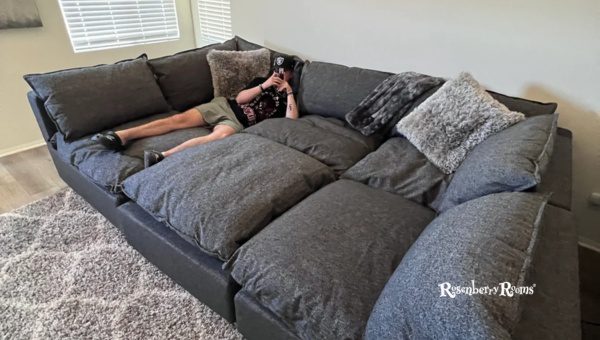 Before diving into the specifics, I feel that it's essential to provide a comprehensive overview of the Kova sofa's design features, dimensions, and customization options that make it stand out from the rest.
Design Overview
When I first saw the Albany Park Kova Sofa, I was immediately drawn to its sleek and modern minimalist design. The clean lines and button-tufted back cushions exude sophistication while also ensuring a timeless appeal that can easily blend in with any living space.
Dimensions
One of the aspects of this sofa that genuinely impressed me was its size. The Kova sofa's overall dimensions are 85" L x 34" D x 33" H, making it an excellent choice, especially if you're tight on space. Thanks to these dimensions, this sofa is perfectly suited for small apartments or homes where space optimization is key.
| Measurements | Dimensions |
| --- | --- |
| Length | 85 inches |
| Depth | 34 inches |
| Height | 33 inches |
Available Colors and Fabrics
A key selling point for me was the diverse fabric and color choices available. Before purchasing my Kova sofa, I browsed through Albany Park's website to explore all available options. They offer three fabric choices: performance fabrics (Tathlina) - stain-resistant polyester-Acrylic blend; bouclé - a luxurious textured weave; and cozy velvet.
My favorite part was deciding which fabric and color to choose for my own Kova sofa:
Tathlina (Performance Fabrics): Ash Grey or Navy Blue
Bouclé: Ivory White or Twillstone (a beautiful earth tone)
Velvet: Dark Forest Green or Dusty Rose
I settled on the cozy velvet in Dark Forest Green for a touch of sophistication and color in my living room.
The Albany Park Kova Sofa not only boasts a stylish and minimalist design but also caters to diverse preferences and needs by offering multiple fabric and color choices.
The sofa's dimensions ensure it is a great fit for small spaces, making it an excellent option for modern city living.
Sleek and Minimalist Design
The Albany Park Kova sofa, with its clean lines and modern silhouette, effortlessly balances style and comfort.
From the boxy frame to the stylish metal legs, this sofa perfectly captures a sleek and minimalist design aesthetic. The sofa's low profile design means that it never looks bulky or oversized when placed in any space.
One of my favorite features is the tufted detail on the back cushions. This touch adds an element of sophistication - a small but impactful design decision that really elevates the piece.
Additionally, the slightly inclined armrests give it a relaxed yet inviting vibe, perfect for lounging after a long day.
Perfect Dimensions for Small Spaces
Measuring 82" in width, 34" in depth, and 33" in height, the Albany Park Kova sofa strikes an ideal balance between providing ample seating area without overwhelming your living space.
I find these dimensions to be just perfect for my cozy apartment since it gives enough room for comfortable lounging without eating up too much floor space.
Even if you have a more expansive living area, the Kova sofa still works great as an accent piece or additional seating option without dominating the room's visual flow.
Moreover, with its easy assembly process (more on this later) and lightweight construction, you can move it around with little fuss if you ever need to rearrange your room.
Options to Suit Your Style
One thing I love about Albany Park is its attention to detail when it comes to providing customization options. The Kova sofa is available in three different fabric choices - velvet, performance weave or boucle.
Velvet: For those who prefer a touch of luxury (like myself), their soft velvet fabrics offer both elegance and comfort. With seven color options including green velvet (my personal favorite), navy blue, or blush pink velvet (hello, statement piece!), there's something for everyone.
Performance Weave: If you're looking for something practical, yet stylish, then the performance weave option might be for you. It's easy to clean, which makes it perfect for households with pets or children. The available colors include textured charcoal grey, light grey, and beige.
Boucle: For those seeking an au naturel vibe, the boucle fabric has a nice nubby texture and comes in an ivory color.
With these diverse options for fabric and colors, I'm sure you will find the combination that perfectly suits your personality and home décor preferences.
There is a choice of metal leg finishes - either matte black or polished brass - allowing you to truly customize your Kova sofa to match your interior design style.
The Albany Park Kova Sofa not only boasts a sleek and minimalist design but also provides versatile dimensions that cater to various living spaces. With a wide array of fabric and color choices on offer, you're guaranteed to find the perfect fit for your individual taste and requirements.
Assembling the Kova Sofa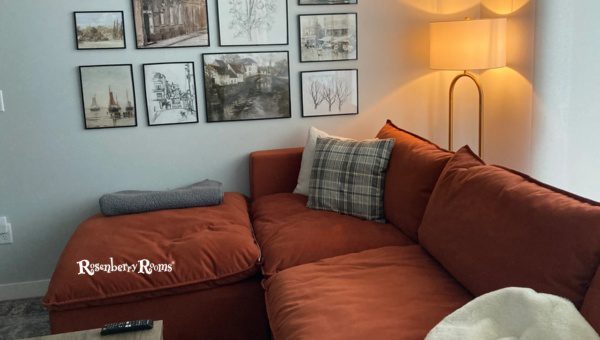 One of the main concerns when buying new furniture is often the assembly process. Will it be a headache or a walk in the park? Fortunately, with the Albany Park Kova Sofa, I found that setup was surprisingly simple and hassle-free.
In this section, I'll walk you through my own experience, from unboxing the sofa to enjoying its comfort in no time.
Unboxing My Kova Sofa
The moment the delivery truck pulled up to my home with my new Albany Park sofa, I couldn't help but feel excited and curious about what would be inside. The packaging was neat and compact – a good first impression.
Once I started unboxing the Kova Sofa, I appreciated how well-protected each component was inside the box. All parts were individually wrapped; cushions were sealed in plastic and even had corner protectors.
This care ensured there was no damage or dirt on any parts upon arrival. The package also included all necessary hardware and an instruction manual.
My initial impression of the sofa's quality was highly positive - just by feeling the fabric and looking at how well-constructed each part was. Now that everything was unboxed, it was time for assembly.
Easy Assembly Process
Assembling furniture can sometimes be intimidating, especially when you see pages of instructions or multiple tiny parts that need to go together just right. But putting together my Albany Park Kova Sofa turned out to be easier than expected:
Find a clear space to assemble your sofa comfortably – ideally close to where you plan to have it set up in your living room.
Unwrap all of your individual components – this includes legs for your sofa, your seat frame pieces (left, right, and center sections), backrests (which include pre-installed brackets), seat cushions, back cushions, arm pillows/throws (depending on your choice when ordering), and small hardware (screws for legs).
Attach the legs to the seat frame sections. The legs are packaged separately, so simply screw them into place on each section using the included screws. This process is tool-free, and I found it easy to do by hand.
Connect the seat frame sections together. All Albany Park sofas use a simple clip system for this, so you can connect each piece with ease. Align the brackets on each section and use gentle force to push them together until they are securely connected.
Install the backrests. Each backrest has built-in brackets that slide into corresponding grooves on the seat frame sections. Position them correctly and apply slight downward pressure until they click into place securely.
Place your seat cushions on top of the sofa frame, ensuring they fit snugly in place.
Add your back cushions and arm pillows/throws, making sure they look nice and cozy.
And there you have it! Your Albany Park Kova Sofa is now fully assembled and ready for you to enjoy. In my experience, what really stood out with assembling this sofa was the user-friendly guide, tool-free setup, and how quickly it all came together - a breath of fresh air in terms of furniture assembly!
After going through this simple process myself, I can confidently say that anyone with minimal DIY skills can easily put their Kova Sofa together without any stress or headaches along the way.
My Experience with Albany Park Customer Service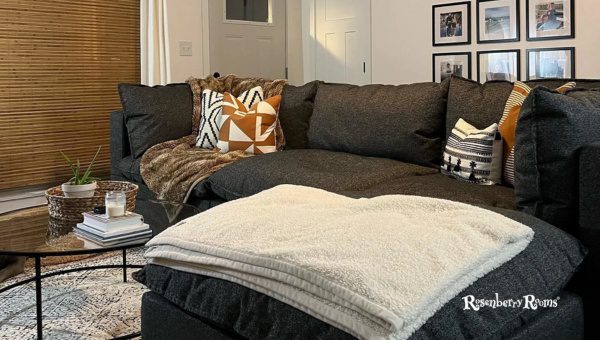 At the heart of any great customer experience is responsive and helpful customer service. I found Albany Park's team to be not only friendly and polite but also attentive to my needs as a buyer.
Hassle-free Order Placement
To give you an idea of how smooth the ordering process was, let me walk you through the simple steps I took while placing an order on Albany Park's user-friendly platform.
Browsing Through Options: First, I browsed their website to explore the various models and designs of sofas they offer.
Selecting the Kova Sofa: After evaluating all available options, I chose the Albany Park Kova Sofa, which suited my needs and preferences perfectly.
Choosing Color and Fabric: Albany Park offers various fabric options for customizing your sofa: several gorgeous velvet colors caught my eye! Ultimately, I made my selection, based on how it would complement the theme of my living room.
Adding to Cart: Once satisfied with my choice, I added it to the cart by clicking on "Add to Cart."
Entering Shipping & Billing Details: Proceeding to checkout, I provided my shipping address and billing information.
Completing Payment: After carefully reviewing all details in my order summary, I completed payment through a secure gateway.
Throughout this hassle-free process, I found myself impressed not just with the ease of navigation but also with how transparent each step was — from pricing and customization details, down to shipping costs.
Following my order placement, I received email updates keeping me informed about shipping estimates and other important information pertaining to my delivery. This level of email communication added a sense of security in knowing that Kova Sofa was well on its way.
Although no issues occurred during my purchasing journey that required contacting customer service directly (which speaks volumes about their seamless platform), their team's swift and comprehensive email responses solidified my impression of Albany Park's exceptional customer support.
So, if you're like me and value top-notch service when investing in new furniture, rest assured that the Albany Park experience is setting the standard when it comes to customer satisfaction.
Comfort and Quality Evaluation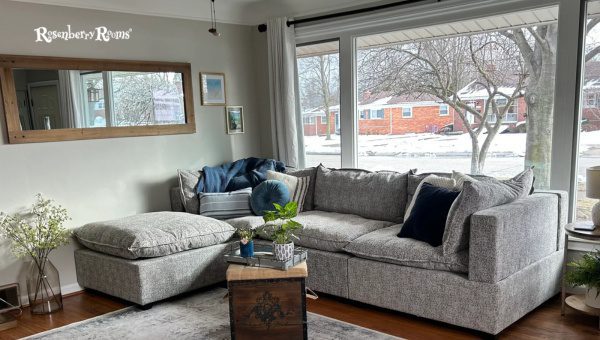 The comfort and overall quality of a sofa can make or break our at-home lounging experiences. After spending a considerable amount of time putting the Albany Park Kova Sofa to the test, it became clear that this piece effortlessly delivers on both fronts.
Cushion Comfort for Lounging Moments
When it comes down to cushion comfort, I couldn't be more impressed with the Kova Sofa. The seat cushions are filled with high-resiliency foam that has just the right amount of firmness and support, without succumbing to discomfort.
The back cushions, on the other hand, exude indulgence – they are made from a combination of down feathers and foam, providing an excellent balance between softness and shape retention.
During my time spent relaxing on this sofa, not only did I find it comfortable for sitting upright but also enjoyed lounging in various positions. Whether I was watching a movie marathon or reading my favorite book, I felt like I was being enveloped in a cloud.
High-Quality Materials that Stand the Test of Time
A comfortable sofa is great, but what about durability? Allow me to put your worries at ease – Albany Park has made sure that their Kova Sofa can effortlessly withstand daily wear and tear.
To begin with, its construction, let's see how Albany Park ensures longevity:
Durable frame: The sofa features a solid hardwood frame constructed using kiln-dried wood. This makes it resistant to warping.
Corner blocking: Both front and back corners are reinforced, increasing stability by preventing joint separations.
Strong suspension: Heavy-duty sinuous steel springs are used for support which reduces sagging over time.
Secure fastenings: All connections are securely fastened using screws and heavy-duty brackets.
As far as materials go, Kova comes in an array of enticing upholstery options including luxurious performance velvet that attracts an ample number of buyers.
This top-of-the-line fabric adds another layer of durability due to its tightly woven construction, and also boasts the added benefits of being soil and stain-resistant, making it easier to maintain over time.
For those who might worry about materials losing their look as time passes, fear not - the cushions are reversible and made with a feather-proof casement, ensuring no feathers can escape. This enhances longevity while upholding the sofa's pristine appearance.
In my own experience, I have found the Kova Sofa to be unwavering in quality. From its robust frame construction to the premium upholstery choices, Albany Park has left no stone unturned in creating a lasting investment for your home.
If you're searching for a sofa that brings together comfort, durability, and style in equal measure, look no further than Albany Park's Kova Sofa.
By understanding exactly what customers are seeking in their ideal lounging experience and valuing quality materials that stand the test of time, they have designed a piece of furniture that truly stands out from the competition.
Comparing The Kova Sofa to Other Models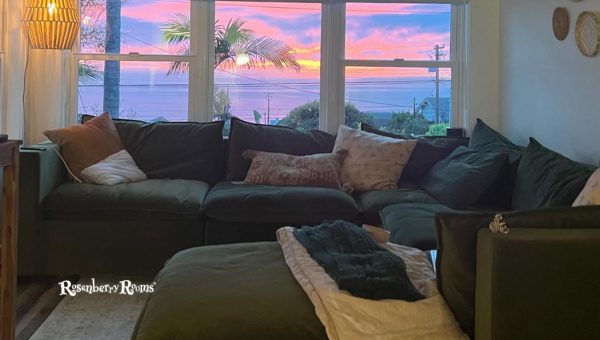 When shopping for a sofa, it's crucial to compare various models and consider their features, styles, and price ranges before making a decision. In this section, I'll take you through a detailed comparison of the Albany Park Kova sofa with some similar options in the market.
The Kova Sofa vs Competitors
Here are some models that can compete with the Kova sofa in terms of style and/or price:
Ikea Klippan Sofa
West Elm Andes Sofa
Article Sven Sofa
CB2 Club 3-Seater Sofa
Design Aesthetics
The Kova sofa boasts a sleek and minimalist profile with clean lines that ooze elegance. It truly stands out due to its timeless design and flexibility to blend effortlessly into various living spaces.
On the other hand, the Ikea Klippan sofa presents a more basic look with somewhat bulkier proportions, while the West Elm Andes sofa exhibits an edgy design featuring an angular shape with metal legs. The Article Sven sofa, although still minimalistic, offers a mid-century modern flair with its tufted back cushions and slightly angled legs. Lastly, the CB2 Club 3-Seater Sofa has a similar streamlined form as Kova but with flared arms for added flair.
Sizing
Surprisingly compact yet spacious enough for comfortable seating sessions, the Kova sofa is designed to save space in smaller homes. It measures 84" W x 35" H x 34" D.
In contrast, both Ikea's Klippan (71" W x 34" H x 34" D) and Article's Sven (80" W x 34" H x 28-32" D) offer slimmer widths, making them suitable for even smaller areas. However, West Elm's Andes (86.5" W x 32" H x 42" D) and CB2's Club 3-Seater (96" W x 35" H x 34" D) are both significantly larger, demanding more floor space.
Customization Options
One of the major selling points of the Kova sofa is its wide array of customization options, including fabric choice, leg color, and cushion configurations. This ensures you can find the perfect combination to match your home's aesthetic.
On the flip side, most competitors aren't as generous with customization options. The Ikea Klippan, for example, offers limited color and fabric choices.
Price Range
Price-wise, the Kova sofa sits comfortably in the middle ground compared to its competitors. While it's more expensive than budget-friendly options like Ikea's Klippan, it still comes in cheaper than high-end models such as West Elm's Andes or CB2's Club 3-Seater.
For those leaning towards a cost-effective yet stylish option without compromising on quality and flexibility, the Kova sofa seems like a wise choice indeed.
Is the Albany Park Kova Sofa Worth Your Investment?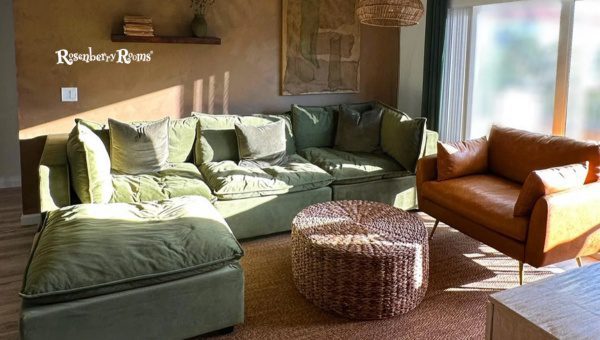 Now that we have discussed the Kova Sofa's design, assembly, and customer service experience let us dive into one of the most important factors when making a purchase decision: is it worth the investment?
In this section, I will cover pricing, share my personal opinions, and evaluate whether the Albany Park Kova Sofa provides value for money.
Pricing
The Albany Park Kova Sofa's price is relatively reasonable considering its modern design, quality materials, and overall comfort. The total cost can depend on various factors like shipping location, fabric choice (velvet has an extra cost), and additional add-ons like matching pillows.
You can check their official store for current prices and promotions. Keep in mind that furniture is a long-term investment, so it's crucial to strike a balance between price and quality.
In comparing similar sofas from competitors of equal quality, I found that the Kova Sofa's pricing is quite competitive. Often you'll find that other brands may charge more for less or compromise on quality to meet lower price points.
Personal Opinions and Value for Money
In terms of value for money, as related to my personal opinions and experience with the Kova Sofa, I'd certainly say it's worth every dollar spent! Here's why:
Versatility: This elegant piece of furniture offers versatility in various settings from small apartments to upscale homes. The minimalist style allows it to adapt effortlessly to any living room theme.
Comfort: The frame is sturdy yet comfortable enough for extended lounging sessions with friends or family.
Quality Materials: High-quality materials ensure long-lasting durability which means your investment will stand the test of time.
Ease of Assembly: Quick assembly ensures buyers can enjoy their new sofa shortly after unboxing.
Making a Decision
Before investing in the Albany Park Kova Sofa, weigh the pros and cons to ensure it matches your personal needs and preferences. Here's a quick rundown:
Pros
Easy assembly process

Solid construction for durability

Stylish design with multiple fabric choices
CONS
May be slightly costly due to fabric selections or extras

Limited cushion configuration - fixed seat and back cushions
FAQs About Albany Park Kova Sofa Review
How easy is it to assemble the Albany Park Kova sofa?
The assembly process for the Kova sofa is quite easy. The sofa comes with clear instructions and doesn't require any additional tools, making it simple even for those who aren't experienced with furniture assembly.
Will the Kova sofa fit in small living spaces?
Yes, the Kova sofa has a sleek and minimalist design, along with dimensions that make it suitable for smaller living spaces. It offers both style and comfort without overwhelming smaller rooms.
What are the available color and fabric options for the Albany Park Kova Sofa?
The Albany Park Kova sofa comes in a variety of colors and fabric choices to suit various styles and preferences. You can choose from different luxurious velvet options to find one that will seamlessly blend with your existing decor.
How does Albany Park's customer service compare to other furniture companies?
In my experience, Albany Park offers exceptional customer service, from their platform's easy ordering process to their prompt response times. They address any concerns efficiently and work towards your satisfaction through issue resolutions.
Is investing in the Albany Park Kova sofa worth it when compared to other models or competitors?
Based on personal experience and considering factors such as comfort, quality materials, design aesthetics, pricing, and value for money, I would say that investing in an Albany Park Kova sofa is worth it when compared to other similar models or competitors. As always, weighing out your specific needs is essential when deciding which sofa suits you best.
Conclusion
My experience with the Albany Park Kova Sofa has been nothing short of exceptional. Its sleek, minimalist design elevates the aesthetics of my living space while providing optimal comfort for my lounging sessions.
The ease of assembly and the top-notch customer service provided by Albany Park only added to the positive experience. While it may be a bit of an investment, I firmly believe that it is worth every penny due to its durability and high-quality materials.
If you're in search of a stylish, comfortable, and easily assembled sofa for your home, I wholeheartedly recommend considering the Albany Park Kova Sofa. It caters to various preferences thanks to its wide range of colors and fabric options available.
As someone who has experienced firsthand how this sofa can elevate your living space both in looks and functionality, I can confidently vouch for its value as an excellent addition to any home. Don't hesitate to give this showstopper a try—you won't be disappointed!