Let me begin with a little home truth - like you, I too have been on the never-ending chase for the perfect area rug.
Something that looks stylish, feels plush underfoot, and most importantly, is easy to clean. Against this backdrop, let's delve into my Ruggable review.
This unique rug system couldn't be more of a contrast to the traditional textiles we're used to seeing under coffee tables and beneath beds.
I'm going to explore its design, durability, and ease of cleaning - hoping it would be an eye-opening journey for you as well.
Over time, as well-worn paths start appearing around your living space or pet hair accumulates seemingly out of nowhere, we all yearn for that ideal balance of elegance and practicality in our area rugs.
Enter Ruggable's claim to fame- washable rugs that offer a neat solution to these common household woes.
Let's take a closer look at what makes them stand out from their competitors in this detailed love letter of sorts - heartfelt from my personal journey with Ruggable.
Unboxing the Ruggable Experience
My initial rendezvous with Ruggable began with its arrival at my doorstep crisply packed, far more compact than I had ever anticipated for a rug. The packaging was straightforward and minimalistic, mirroring the ethos of the brand.
First Impressions and Aesthetics
On unrolling it, I found the rug as enticing as portrayed on their website (For some stellar visuals yourself, visit Ruggable!). There were vivid colors and intricate patterns beautifully printed on the top layer.
The aesthetics of Ruggable's rugs are indeed a blend of contemporary and classic. But remember that beauty lies in its beholder - so do explore their myriad pattern and color options to match your home décor.
Ruggable carries rugs of different shapes and sizes too; from runners to round rugs to large area rugs. This makes them hugely adaptable to various living spaces - be it under your dining table or adding warmth to your bedroom floor.
Quality and Material Analysis
The true distinction of a Ruggable rug lies in its unique patent-pending two-part Rug System; an upper Rug Cover and a non-slip Rug Pad underneath. Here's an interesting observation; the Rug Cover felt lighter than traditional ones yet promised durability with its tightly woven polyester-chenille blend.
Meanwhile, the Rug Pad is made from 100% recycled polyester — kudos to that! It has a velcro-like quality that clings securely onto its companion Rug Cover providing a steady grip on hardwood floors or tiles (Say goodbye to tripping over sliding area rugs!).
Its sublime cushioning added a comforting cozy factor too. Do note though, this is not your plush foam pad but rather designed for paramount functionality - grip & longevity.
The material passed my informal 'sturdiness test' with flying colors (no pun intended). Both components seemed high-quality built, designed for optimal performance even under constant foot traffic or adoring pet paws.
I also appreciated their pursuit of eco-friendliness; sparing unnecessary wastage in packaging while also incorporating sustainable materials such as recycled polyester.
The Ruggable Design - a Unique Concept
If you're like me, you probably raised your eyebrows a bit at the idea of a washable rug. It's almost like an oxymoron, isn't it? Well, allow me to demystify this innovative rug system that sets Ruggable apart.
Understanding the Two-Part Rug System
Ruggable rugs are structured on a two-part system that includes a rug cover and a non-slip rug pad. They function together in harmony to give you the complete Ruggable experience.
The Rug Cover is essentially the top layer–the part with all the pretty patterns or solid colors–your first interaction with the product.
It is made of 100% polyester chenille but don't be fooled by its lightness and flexibility, it's durable enough to stand up to most day-to-day wear and tear.
The bottom layer or Non-Slip Rug Pad is what keeps everything in place. Made from 100% polyurethane foam and latex, it maintains a grip on all types of flooring without causing any damage or leaving behind annoying marks.
To assemble, you simply lay out the rug pad first and then attach the rug cover on top. The entire thing stays put remarkably well, even in high-traffic areas!
To clean? All you do is peel off the rug cover from the pad and toss it into your washing machine (on cold). Yes, you heard that right! Once clean, dry it flat so it retains its shape and then reassemble. Easy peasy!
Variety of Styles and Sizes Available
One aspect I absolutely love about Ruggable is that they offer distinct collections with diverse styles ranging from traditional patterns to modern abstracts to minimalistic solids. You can explore different styles here: Ruggable Collections
Each design comes in various shapes including rectangular (ranging from 3'x5' to 9'x12'), runners (2.5' x 7'), and round (options range between 6 and 8' diameter).
Being someone who craves variety, let me tell you - having plenty of choices makes things so much better!
So whether your decor style leans towards bohemian vibes or industrial chic or cozy minimalism; or if you need something for your hallway entrance, large living room space, or even an outdoor area - there usually lies a perfect Ruggable fit waiting for you!
I encourage everyone grappling with home aesthetics challenges to delve into this innovative design meets convenience concept.
In fact, one may argue there's never been such an interesting time (or offerings!) in the world of rugs until Ruggable came along.
Putting Ruggable to the Test – How Durable Is It?
Beyond its aesthetics, the beauty of a good rug lies in its durability. As a cornerstone of your home decor, it must withstand life's busyness and remain resilient under everyday wear and tear.
So let's delve into understanding the durability quotient of Ruggable.
Everyday Wear and Tear
My first interaction with a Ruggable product brought me face-to-face with an interesting two-part system—an upper decorative layer that adheres to a non-slip lower pad. Here's what I've noted during my use:
Upper Layer Resilience: The upper layer has short, tight fibers resistant to snags or pulling.
Lower Pad Grip: The bottom pad gripping technology is remarkable—it doesn't let the rug slide around even with heavy foot traffic or vigorous vacuuming.
Color Fading: Despite regular cleaning and sun exposure, no noticeable color has faded in my rug—a testament to the quality of the dye.
Shape Retention: The product does an excellent job keeping in great shape over time—I haven't experienced unsightly bunching up or corners folding over.
Ruggable under Pet Paws
Another real test for any rug in pet-inhabited homes is seeing how well it stands up to our furry friends' activities. Luckily, I've put this one through its paces as a pet parent.
Withstanding Claws: My cats have taken plenty of whacks at my Ruggable rug—yet it remarkably shows no sign of loose threads or pullings—a big win for pet owners!
Stain Resistance: Good news! Ruggable rugs live up to their claim concerning pet accidents—my vinegar-water solution easily removes spot stains from accidental spills and pet mishaps.
Pet Hair Removal: On shedding days (which feels like every day), vacuuming goes smoothly on these low-pile rugs—it seems easier than traditional carpeted counterparts!
My noteworthy observations so far have been promising from a longevity perspective considering everyday use and interaction with pets around my home spaces.
In essence, Ruggable does an admirable job standing up against the usual wear-and-tear that most floor coverings succumb to over time while being a solid contender in pet-friendly home textiles.
Ease of Cleaning – The True Selling Point
We all know the struggle of dealing with stained or dirty rugs, and it can feel like a Sisyphean task to keep them looking fresh and clean.
The traditional methods involve bringing in professionals with their bulky machines or struggling with rented rug-cleaning systems.
That's not to mention the worries about the chemicals they use or the time taken for your rug to dry! Enter Ruggable, a breath of fresh air in this department!
Ruggable rugs essentially consist of two parts- a non-slip rug pad, and a lightweight, removable rug cover.
The genius is in the simplicity; when it is time for cleaning, separate the cover from the pad, roll it up, and toss it into your washing machine. Easy as pie! The covers are designed to weather numerous wash cycles, maintaining their vibrant colors and structure.
I've tested this myself; you should have seen my rug after a particularly messy taco night! But true to its promise, my Ruggable cleaned up beautifully in the standard cold wash cycle. It came out looking almost as good as new!
They do recommend air drying rather than tumble drying. While this might take some time depending on where you live and what weather you're experiencing, I found that laying it flat or hanging vertically rendered great results.
Spot Cleaning and Maintenance Tips
Sometimes an entire wash might not be needed, your rug could use quick maintenance or spot cleaning. Here are some tips I found helpful:
For minor everyday debris like pet hair or crumbs, vacuuming the Ruggable is simple enough, considering that they're relatively light compared to traditional heavy wool blends.
For minor spills or stains (yes, even red wine!), start by blotting away as much of the spill as possible with a paper towel without rubbing it into your rug.
Follow this by dabbing gently at the stain using a cloth dampened with dish soap mixed in warm water.
Maintaining your Ruggable's lifespan extends beyond cleaning too:
Rotate regularly: This helps prevent uneven wear especially if one side is exposed more to foot traffic or sunlight.
Avoid harsh chemicals: Stick to mild detergents for spot cleaning.
Rolled storage: If storing away for any period of time, roll it up around an inner tube for form maintenance.
To sum up, Ruggable's easy cleanability is indeed its biggest draw card complemented by easy spot treatment tactics for minor everyday messes.
Comfort Level – How does it feel underfoot?
One of the critical factors we look for in rugs, beyond aesthetics and practicality, is comfort. Ruggable claims to have that aspect covered with its unique two-part system consisting of a decorative cover and a non-slip pad. But does it successfully deliver that plush underfoot sensation? Let's dive a bit deeper.
Softness and Cushioning
The Ruggable rug covers, constructed from 100% polyester chenille, carry a pleasant soft texture under bare feet. Though they might not be as plush as some traditional wool rugs, they definitely do not feel threadbare or cheap.
The real gamechanger comes with the brand's optional rug pads which add an extra layer of cushioning for ultimate comfort.
Why optional? Ruggable offers two types of pads- the standard rug pad is thinner while the cushioned variant is thicker and provides added comfort, albeit at an additional cost.
Whether you choose to upgrade depends largely on where you plan to place your rug and your preference for the level of cushioning desired.
Note: If you're placing this in an area where your family spends copious amounts of time seated on the floor (like a playroom or media room), I'd recommend springing for the thicker pad - Trust me on this!
Warming Factor during chilly seasons
With dropping temperatures, rugs often serve as more than just floor decoration — providing warmth and insulation from cold floors.
Ruggable rugs due to their tightly woven design tend to be effective at retaining heat reasonably well. Especially if you opt for the thicker rug pad, your toes are sure to thank you during those chilly winter mornings.
On a side note, Ruggable's designs range from light pastels great for summer stylings all the way through to darker tones perfect for creating a cozy nook lending itself splendidly well into colder seasons.
So, while "comfort level" may seem secondary when looking at Ruggable's killer feature – its machine washability – rest assured that it doesn't disappoint in keeping your feet happy too.
It may be trading off super plush softness for durability and practicality but without discounting comfort altogether - something I find plenty fair considering that busy life demands where cleanliness sadly cannot be compromised over coziness - lessons learned!
Priced Fairly or Not? – Cost Versus Longevity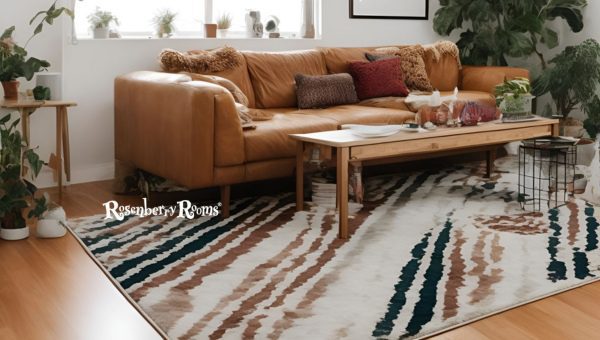 Ruggable offers an innovative solution to the often pricey and maintenance-heavy world of area rugs, but understandably you may want to know, "Is it worth it?" Therefore, let's break down the costs and look at longevity to determine their true value.
Costs Involved, Product Range, Discounts & Deals
Like most products on the market, Ruggable Rugs come in a broad price range. Their pricing greatly depends on sizes and designs - varying from simple solid colors to intricate patterns.
When you access Ruggable's official site, you can sort by price - which starts from around $100 for a 3x5 rug and reaches about $1000 for a large rug (around 9x12) with a more complex design. Considering the functionality and quality of these rugs, I would state that these prices are quite competitive when compared to traditional non-washable alternatives with similar aesthetic appeal.
It's important to note that Ruggable often offers discounts and sales, so watch for those! They usually offer seasonal discounts as well as special event sales, which can save customers significant dollars.
Moreover, they maintain a clearance section where last-chance styles are available for less. Worthwhile savings can also be made through referral codes or simply subscribing to their email list!
Is it Worth Investing in a Ruggable Rug?
To conclude whether investing in a Ruggable rug is worth it, we will need to examine its longevity and the benefits offered.
Durability: From what I've experienced myself along with numerous customer accounts, these rugs stand up really well against wear and tear. As advertised, spills clean up easily without leaving permanent stains even on lighter color options - this is something invaluable if you have kids or pets.
Ease of Cleaning: This is where your investment truly pays off! For anyone who has tried scrubbing a stain off traditional carpets knows what I'm talking about here – convenience is priceless. The fact that you can throw these into your washing machine saves enormous time and cleaning costs over time (and frustration!).
Versatility: Last but not least – being able to change up your interiors every now just by swapping out the top layer makes redecorating exciting yet hassle-free!
Surely there might be cheaper alternatives available in the market but none would offer as much versatility combined with ease of maintenance as Ruggable does!
To sum it up: taking everything into account – despite its cost investment initially – my verdict points toward 'yes', Ruggables are worth the investment.
Comparing Ruggable with Traditional Rugs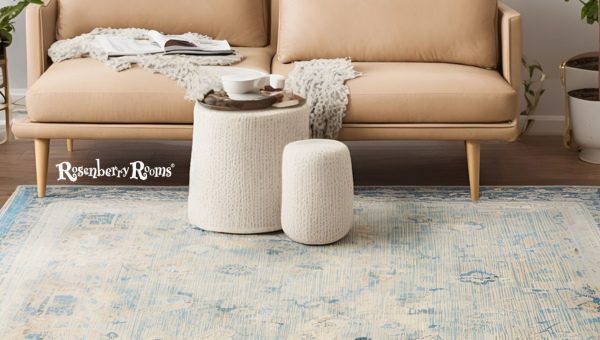 Rugs are often the go-to choice when it comes to giving your space a quick decor update or adding warmth to your home.
Here we're about to compare Ruggable's innovative rugs with traditional ones so you can make a smart decision according to your own lifestyle and needs.
Traditional Rugs
Traditional rugs are beautiful and long-lasting, but they often come with a powerful triple threat: heavyweight, primary sensitive materials, and professional cleaning fees.
Wool or oriental rugs, for example, require conscientious maintenance which could be a major disadvantage in high-traffic areas or homes with pets and kids. They're also generally adhered directly to the floor making rearrangements difficult.
Ruggable Rugs
On the other hand, what distinguishes Ruggable is their pioneering two-piece system – specifically designed to facilitate convenient cleaning and moving around your home.
They might not be as plushy as their traditional counterparts yet their cleanability is an undeniable boom for modish families who juggle between style and functionality.
Pros and Cons to Consider
Before deciding whether a Ruggable or a traditional rug better suits your lifestyle, weighing the pros and cons of both options is important.
Ruggable
Pros
Machine washable for easy cleaning
Two-part system makes rearranging simple
Pet-friendly design is excellent for families
CONS
Not as plush or thick as some traditional rugs
Some designs may fade over time
Tends not to lay flat immediately after washing
Traditional rugs
Pros
Often handmade using high-quality materials
Provides an element of luxury
Can come in very unique patterns & designs
CONS
Needs professional cleaning services
Generally heavier than other rug types
Difficult to move around
Whether you prioritize luxury and longevity (traditional rugs) or convenience and practicality (Ruggable), this comparison should guide you when looking for that perfect rug fit for your space.
Armed with this knowledge, now it's up to you to decide which rug ticks all the right boxes in complementing not just your home decor but also your everyday lifestyle demands.
No matter what type of rug you choose, remember that our homes are an evolving canvas - unique tokens of our personality bundled within these cozy corners that warmly welcome us daily.
My Final Thoughts On Ruggable Review?
After spending considerable time interacting with the product and putting it to the test, I can safely say that yes, I would indeed recommend a Ruggable rug.
The seamless blend of style, convenience, and innovation surpasses expectations. Before you start shopping though, keeping a few key details in mind is crucial.
Tips for Potential Rugabble Purchasers
Your Home Environment: Consider where you plan to place your Ruggable. Thanks to its cleaning ease, it's best suited in a high-traffic, spill-prone locale like the living room or dining area.
Size and Design Selection: Ruggable offers a bastion of styles ranging from traditional, geometric, and florals to something more modern and minimalist. Equally vast are its size variants. Make sure you measure your space and pick accordingly.
Feel Underfoot: While adding charm to your place, these rugs might not be plush like their wool counterparts. You can, however, opt for their cushioned pads for an additional layer of comfort.
The table below should act as a quick guide when considering purchasing any Rugabble products:
| Ruggable Product Details | Consideration Factors |
| --- | --- |
| Style Options | Over 1000 styles suitable for various spaces |
| Size Variants | From small runner rugs (2.5'x7') to large area rugs (9'x12') |
| Cleaning | Machine washable/Dry clean at home |
| Durability | Built to withstand high-traffic areas |
| Underfoot Comfort | Less plush than traditional rugs |
While ruminating on buying my own Ruggable rug, I was initially drawn in by the striking designs but what made me stay was definitely the ease this product brings into our homes - wave goodbye to expensive professional carpet cleanings!
What's more - even if they're not as plush as some might prefer - they perform admirably against busy family life whilst keeping homes stylish!
If practicality strikes higher on your list than sheer luxury underfoot feel - hit that purchase button for Ruggable.
As an added benefit – it also helps to know that this route is better for those who are prone to allergies or sensitivities since their rugs are made from hypoallergenic materials.
And there go my two cents on this ingeniously devised product named 'Ruggable'. I believe now you're equipped with adequate insider knowledge about Rugabble products before reaching into your pocket.
FAQs About Ruggable
Is Ruggable worth the price?
Yes, given its durable quality and machine-wash capability, a Ruggable rug is a long-term investment that pays off in the convenience it offers.
How easy is it to clean a Ruggable Rug?
Very easy! The rug cover detaches from its pad and can be tossed into your washing machine - no professional cleaning is required.
Does Ruggable offer a variety of designs?
Absolutely! With over 1000 design options available, users are spoiled for choice when selecting the perfect addition to their interior décor.
Is there a comfort trade-off with Ruggable Rugs?
Some may find them less plush than traditional rugs. However, opting for the cushioned pad variant can add an extra layer of comfort beneath your feet.
Are Ruggables suitable for homes with pets and kids?
Indeed! Known for their durability in high-traffic areas and super easy cleaning routine, they're perfect for households with pets or children.
Conclusion
I've become quite the fan after spending some quality time with my Ruggable rug! Durability and washability are clear standouts regarding the benefits of these rugs.
The range of stylish designs and sizes comes as an additional perk. However, if you're looking for a super plush underfoot feel, you may want to explore their comfort pads or look elsewhere.
But, for those busy households seeking functionality blended with style, Ruggable offers a unique solving point.
If you're after simplicity and convenience - especially if you have kids or pets adding to the everyday mess - investing in a Ruggable product could change your rug-owning game!
However, it's essential to consider all factors before purchasing - from comfort preference to home environment - and ensure that Ruggable is indeed the perfect fit for your home.