You might assume that having a room with low ceilings means giving up on being creative and compromising on space.
How wrong you are! Redefining the way space is used is a wonderful game of imagination, especially when it comes to "loft bed ideas for low ceiling" rooms.
Loft beds provide an innovative solution to compact space issues by utilizing the vertical dimension of your room, freeing up floor area while simultaneously offering cozy, tucked-away sleeping quarters.
Loft beds aren't only meant for lush lofts and apartments having tall fancy ceilings. On the contrary, they can be employed just as creatively in rooms with low ceilings, turning a seemingly small area into a comfortable nook full of functionality.
What's required isn't extra space but some ingenious planning and creative ideas to optimize your existing space to its maximum potential.
15 Loft Bed Ideas For Low Ceiling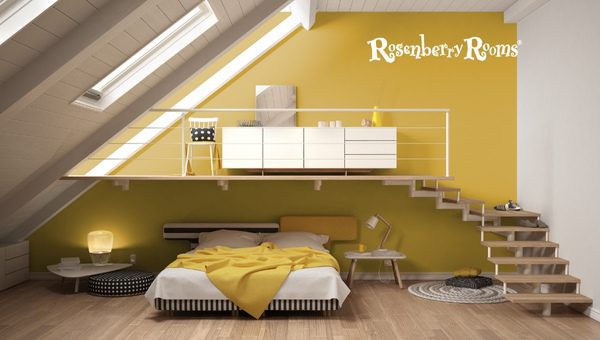 Having a room with a low ceiling doesn't necessarily mean you have to compromise on style and comfort. In fact, this can become an opportunity for you to be more creative in designing the space.
Below, we share fifteen practical yet stylish loft bed ideas for rooms with low ceilings that not only maximize your floor space but also make your room more appealing.
Also Read: How To Loft A Dorm Bed In 2023? [5 Simple Ways]
Low-Profile Loft Bed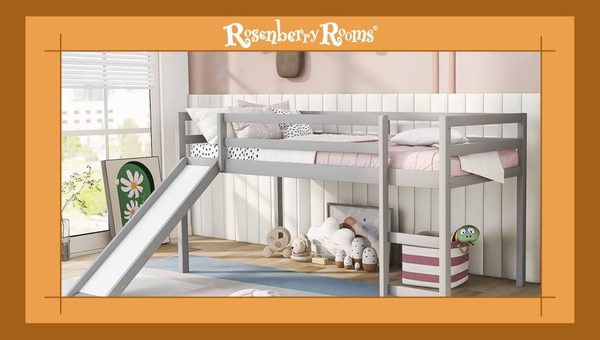 The low-profile loft bed is an ideal solution for rooms with an unusually low ceiling. As the name suggests, these beds are lower than average loft beds yet still provide ample clearance underneath for storage or even a mini workspace.
The area underneath can comfortably house everything from a dresser to stacks of books. Although this design is relatively simple, it can be highly functional if organized well.
You can add a small ladder or, even better—a short flight of stairs - to climb up to the bed without feeling cramped.
Corner Loft Bed
The corner loft bed—is a greatly underrated space saver! By positioning your bed in the corner, you're elegantly maximizing every inch of that floor space.
Better yet, use two perpendicular walls as support to eliminate awkward corner spaces and boost functionality beneath the bed. This could include anything from a study desk to comfy bean bags for lounging around with friends!
Add some shelves on the adjacent walls – think vertical storage above your new desk area - and you've got yourself a surprisingly spacious and versatile zone within your room, all thanks to one savvy design maneuver.
Custom-Built Loft with Storage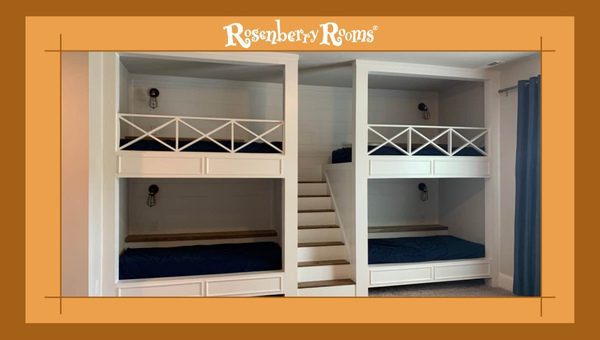 A custom-built loft bed is, hands down, a godsend for rooms with low ceilings. These are not your average store-bought versions; instead, these lofts are designed to fit the specific dimensions of your room, including the ceiling height.
So you can kiss clunky and unfit beds goodbye. What's more, they come equipped with built-in storage solutions that will have Marie Kondo swooning in delight.
From clothes drawers to bookshelves, you name it - everything can be organized without overcrowding your room's valuable floor space.
Trundle-Style Loft Bed
Looking for an innovative way to accommodate guests? Say hello to trundle-style loft beds! Here's how it works: the primary bed sits atop a wheeled secondary bed, which can be rolled out when needed and tucked away when not in use.
They're ideal for sleepovers or families with multiple kids. The trick is to keep the bottom bed low profile so that it seamlessly disappears under the loft bed during the day - smart and efficient!
Explore More: Trundle Beds 101 Guide 2023 [Tips For Your Trundle Beds]
Horizontal Loft Bed
Consider horizontal loft beds as one of your finest options if you have a long wall space but a low ceiling. Yes, these beds work in harmony with your room dynamics rather than against them!
Placing the mattress horizontally instead of vertically doesn't just open up floor space but also gives an illusion of having more space than you actually do.
Ideal workspace or reading nook underneath? Absolutely yes! Complement this design with some stylish curtains for privacy during sleep time, and voila – snug and functional becomes your new root mantra.
Suspended Loft Bed
A suspended loft bed truly epitomizes ingenuity as it uses the ceiling, not the floor, for support. These loft beds are anchored into the ceiling joists, providing a magical illusion of floating in mid-air.
By incorporating this idea into your room with a low ceiling, you create ample space underneath—perfect for study spaces, storage, or lounging areas.
Don't forget to ensure that the structural stability of your ceiling can handle this particular design. Once safely installed, add a sturdy staircase or rope ladder to complete the innovative look.
Loft Bed with Built-In Furniture
Maximize storage without compromising on space with a loft bed having built-in furniture. This idea allows you to use every inch of otherwise wasted space efficiently. You can incorporate built-in drawers into your bed's stairs or add a full-size cabinet at one end of the bed frame itself.
Your options are limitless! You can even nip clutter in the bud by integrating study desks and bookshelves beneath your high-rise haven. Remember, smart design leads to endless organizational outcomes.
Foldable Loft Bed
If you're looking for flexibility coupled with convenience, foldable loft beds might be just what you need. These ingenious creations effortlessly fold up against the wall when not required — liberating your floor space during daytime use.
This is an incredibly practical solution if your bedroom doubles as an office or living area during the daytime hours.
These beds come in varied designs; their mechanism can range from straightforward folding versions to swanky Murphy beds that disappear into stylish wall cabinets when closed.
Split-Level Loft Bed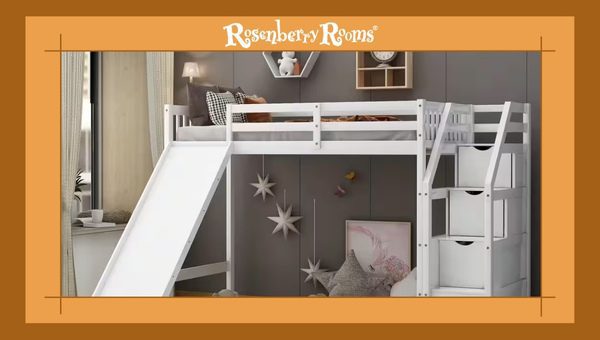 Talk about ultimate space optimization, and a split-level loft bed is the way to go, even for low ceilings. This three-dimensional design involves creating a mezzanine level within your loft space, with the bed on one level and maybe a cozy study or leisure area on the other.
Split-level designs are surprisingly versatile, allowing you to experiment according to your room's specific dimensions and your personal needs.
Pro tip: use light-colored drapes or screens to define areas without blocking natural light, keeping the room airy and bright.
Loft Bed with Slanted Ceiling Adaptation
A unique yet practical idea is adapting your loft bed to comply with a slanted ceiling. It not only makes optimal use of available space but offers a quaint charm to your room—the secret lies in customizing the bed height according to the roofline.
Position the sleeping area where the ceiling is highest and utilize the lower side for storage, seating, or even your study desk. This eccentric adaptation can effectively change potential hurdles into an aesthetic focal point in your bedroom.
Minimalist Loft Bed Design
Embracing minimalism helps immensely when dealing with limited vertical space. A minimalist loft bed design focuses on bare essentials - efficient use of space without overcrowding the area - thus providing ample room despite low ceilings.
This could be as simple as a basic frame-and-mattress layout with under-bed open storage or possibly a fold-away desk for added functionality.
Use neutral colors for furniture and decor to emphasize simplicity and maintain an illusion of spaciousness. Minimalism doesn't mean boring – it's all about clever design tactics that merge functionality with style!
Loft Bed with Retractable Desk
The loft bed with a retractable desk is an excellent option that marries functionality with space-saving. This ingenious design includes a workspace that can tuck away when not in use, enabling you to manage and multi-purpose your space effectively.
A word of advice: opt for streamlined, slimline furniture that won't obstruct the flow of your room. With this solution, your daytime study area easily converts into additional floor space for nightly activities.
Modular Loft Bed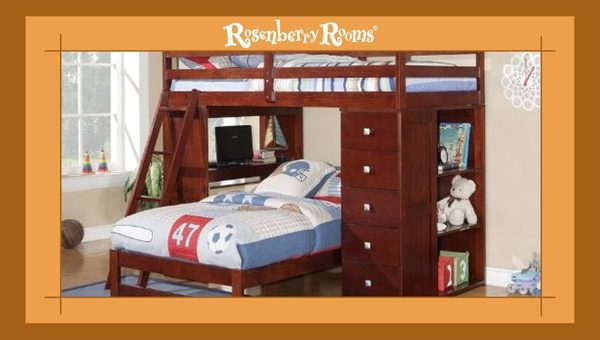 If versatility is on top of your list, then consider opting for a modular loft bed. This allows you to reconfigure the furniture based on your current needs and room availability—a true game-changer for small spaces!
You can even separate the pieces as your child grows or as your living situation changes. The flexibility offered by a modular loft bed makes it an ideal choice for adapting to different room arrangements over time.
Loft Bed with Stair Storage
For those who need extra storage without compromising floor space, a loft bed with stair storage is an astute pick.
Here, each step leading up to the loft bed doubles as a drawer or cubby hole. These steps not only offer secure and safe access to the bed but also provide valuable storage areas—ideal for stashing away anything from clothes and linens to toys and books.
Wall-Mounted Loft Bed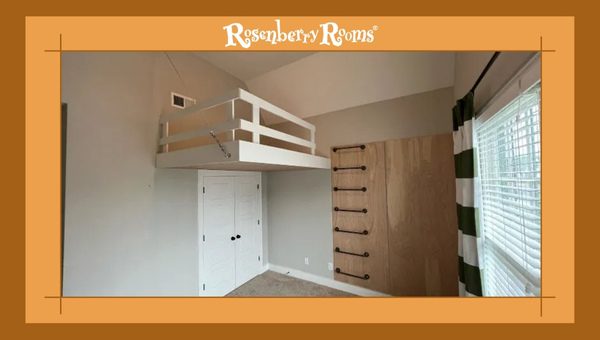 The wall-mounted loft bed brings in a touch of modernity while outsmarting spatial limitations presented by low ceilings. Fixed onto the wall without any support from below, these beds truly maximize your floor area underneath, freeing it up completely for unrestricted use.
Notice how the lack of vertical supports paves the way for more open and breathable space? As an added benefit, this style inherently echoes freedom, openness, and airiness – ideal prerequisites in creating an illusion of more space in rooms sporting lower ceilings.
Read More: Platform Bed Vs Box Spring [Which Is Better In 2023?]
FAQs about Loft Bed Ideas For Low Ceiling
What's the ideal ceiling height for a loft bed?
Typically, a minimum of 30 to 36 inches of clearance between the top of the mattress and the ceiling ensures a comfortable sleeping area.
Can adults use loft beds in rooms with low ceilings?
Yes, they can! There are several stylish adult loft beds on the market designed specifically for lower ceilings.
Will a loft bed fit in a room with an 8-foot ceiling?
Yes, many loft beds can fit into rooms with 8-foot ceilings. Units such as low-profile or wall-mounted loft beds are specifically designed for these environments.
What can I put under my loft bed in a room with low ceilings?
Space can be utilized for storage bins, desks, dressers, lounging areas or even additional bedtime accommodations like a futon.
Are there any safety considerations when choosing a loft bed for a low-ceiling room?
Ensure there's ample space between the bed and ceiling to avoid head injuries. Additionally, sturdy guardrails and secure ladders or stairs are essential.
Conclusion
Optimizing a low-ceiling room doesn't mean you have to compromise on style, elegance, or practicality. With the right loft bed set-up, you can truly make the most out of your available space, creating a room that is functional and appealing.
Whether you opt for a wall-mounted loft bed to maximize your floor area or a low-profile loft with lots of storage space trailing up the stairs, there's always a way to transform your less-than-ordinary height ceiling into an extraordinary living space.
Every challenge in design presents an opportunity for innovation. And turning your low-ceiling room from a potential disaster to a spatial masterpiece is just that – an exciting step towards ingenious creativity and well-thought-out planning!
So go ahead and explore these loft bed ideas for your low-ceiling room. You'll be surprised at how much more spacious it can feel!