Have you ever wondered how to attach a headboard to a bed frame? Many of us tend to feel a bit intimidated when it comes to DIY home projects, especially ones that seem as substantial as assembling furniture. But let me tell you, attaching a headboard is one project that's easier than you might think.
There is no need for professional carpenter skills or expensive tools here. With your head screwed on straight and a bit of can-do attitude, in no time at all - you'll have your new bed looking like it was delivered straight from the showroom. So, ready for the challenge? Then, let's get down to the nuts and bolts of this surprisingly doable task.
Why Headboard is important to attach?
A headboard is an important piece of furniture that's attached to the head of a bed for several key reasons. Firstly, it provides support while sitting up in bed and acts as a cushion. Secondly, it protects the wall against scratches.
The headboard also adds aesthetic appeal to the bedroom, making it look more elegant and stylish; you can choose from different designs and materials to match your room's decor. Lastly, a headboard can also serve as a storage space, with some designs offering shelves or drawers.
Investing in a good-quality headboard can enhance your comfort, protect your walls, beautify your room, and provide additional storage.
What are the types of Headboards?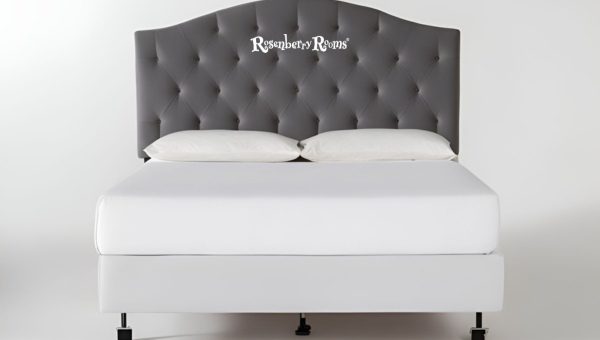 Deciding to add a headboard to your bed frame may seem like a simple decision at first. However, once you've made that choice, you're immediately faced with a wide array of options.
What type of headboard would best suit your needs and style? Here, we will delve into three popular headboard categories: upholstered, metal, and wooden headboards.
This guide is designed to make your decision process smoother and help you find the perfect match for enhancing your sleep space.
Upholstered Headboard
Stylish, cozy, and versatile is how one might describe an upholstered headboard. As the name implies, these types of headboards are padded and frequently covered in various kinds of fabric, such as leather, suede, or linen.
They come in a broad range of colors and designs that span from traditional button tufting to more modern geometric patterns.
If you want to create an ambiance that screams comfort while also injecting some elegance into your bedroom design, an upholstered headboard might be the way to go. Additionally, their plush nature provides a soft backrest for those who enjoy reading or watching TV in bed.
Metal Headboard
For those looking to inject some vintage charm or industrial chic into their bedrooms - metal headboards are an excellent choice.
Incredibly durable and sparkling with character, metal headboards often showcase intricate scrollwork or unique geometric designs that can act as a fantastic focal point in any bedroom.
Appropriate for any bed size from twin to California king with many color options like black, white, or bronze; they may be flat or arched, offering a timelessly elegant silhouette.
Wooden Headboard
A perennial favorite amongst homeowners is the wooden headboard, offering beauty through its simplicity and naturalistic charm.
Wood imparts warmth and coziness, creating an inviting nook perfect for sweet dreams. From sturdy oak slats or cherry panels to rustic reclaimed wood or sleek, mid-century modern walnut designs – they span the style spectrum.
Wooden headboards can come painted, stained natural, or even distressed, depending on your particular taste. They can be ornate with detailed carvings or minimalist and bare for a more contemporary touch. Stout and durable wooden headboards are designed to last for years to come.
Also Read: How To Decoupage On Wood Furniture 2023 [A Step-by-Step Guide]
How To Attach A Headboard To A Bed Frame?
Tweaking your bedroom setup with a brand-new headboard? Fantastic! Whether you're adding a classy wooden piece, a vintage metal framework, or a comforting upholstered model, headboards not only add aesthetic appeal but also contribute to your comfort as you lean back and delve into a fascinating book. The essential part is how to attach it correctly to your bed frame for stability and safety.
Here's the step-by-step guide you'll need. We'll break down this process into manageable chunks, covering the basics from connecting the legs of the headboard right through to fastening it securely onto the bed frame itself.
Connect the Legs to The Headboard
To begin the process, you'll need to connect the legs to your headboard. Most headboards come with detached legs for easier transport and storage.
Connecting these is pretty straightforward. Typically, you will find pre-drilled holes on either side of the headboard, where the legs are meant to be attached. Usually, screws or bolts are included with your purchase for this purpose.
Place the leg over the holes and align them perfectly before you start screwing or bolting tightly into place. Using a manual or power tool like a screwdriver will make this task simple and quick.
Locate The Pre-existing Holes in The Bed Base
The next step involves a little bit of detective work - locating the holes in your bed base where your headboard will be attached.
Some bed frames may have more than one pair of holes; these are designed to allow for versatility in positioning your headboard - high for a commanding presence or low for a minimalist aesthetic.
When identifying these holes, check both ends of your bed frame, as some may be obscured by brackets or other hardware.
Create Openings in The Fabric of The Bed Base
After locating holes in your bed frame, you may need to create openings if they're covered by fabric. This is usually applicable if you're using an upholstered bed base or any design that incorporates padding and textile covering over the metal frame.
To do this, carefully feel through the fabric where those holes might be underneath and mark them with a pen or tailor's chalk for visual aid. Then use something sharp like a seam ripper or craft knife to cut small slits just big enough for a bolt to thread through.
Tighten the Bolt Securely into The Hole
Now it's time to secure that headboard onto your bed base by tightening bolts into those pre-made holes we found earlier using a wrench until they're nice and snug (keep in mind not to over-tighten as that could damage the thread).
Line up the holes in the headboard or its legs with the holes in your bed frame and thread your bolts through.
Continue tightening until there is a firm connection between these two pieces - this will ensure stability and safety in use.
Slip The Headboard onto The Bolt Screws
Based on certain headboard designs, you may need to attach it by slipping it onto bolt screws already positioned on your bed frame.
The bolt sticks out from the bed frame, and you align this with the holes in your headboard's legs before sliding it into position. Then, secure it further with washers and nuts if they are provided.
Set The Headboard to The Desired Height
One great feature of installing your headboard is customizing its height to your absolute preference. If there are multiple holes on your bed base (usually bracket-style bed frames have these), you're able to adjust accordingly.
Settling for a lower height can give off a modern, subtle feel while elevating it provides an eye-catching bedroom centerpiece.
Once you've decided what suits you best, make sure all bolts or screws are properly tightened for utmost sturdiness.
Installation Options of Headboard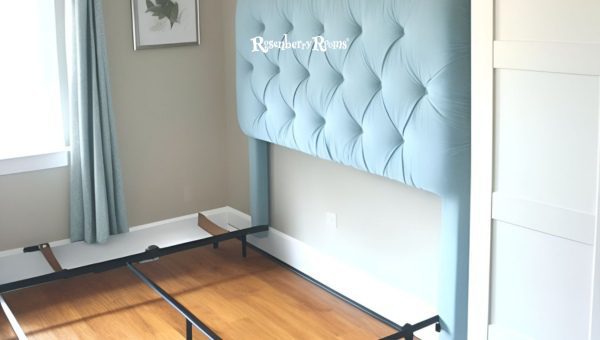 Choosing the right headboard can provide an instant upgrade to your room, elevating its style and improving your comfort as you lounge or sleep.
But the critical part of this process is installing the headboard correctly. There are two common methods - wall-mounted and free-standing.
Both techniques offer their unique advantages, depending on your space limitations, aesthetic preferences, and general needs. Determining which method to use is a key step in successful headboard installation.
Also Read: Can I Use Plywood Instead Of A Bunkie Board? [2023 Guide]
Wall-Mounted Headboards
A popular option for local design enthusiasts and small space dwellers is the wall-mounted headboards. These tall (65-70 inches) and wide (95-100 inches) statements of style not only bring a touch of grandeur to your bedroom but also help save considerable floor space.
It's also worth noting that they are compatible with queen, king, or Cal king-sized platform beds. To mount a headboard on the wall successfully, follow these steps:
Decide the mounting height: This will be based on personal preference and any limitations enforced by the room or furniture layout.
Mark where the top and bottom edges should be: These markings on your wall will serve as visual aids during installation.
Identify secure points on wall studs using a stud finder: Wall studs create secure points that can handle the weight of your heavy headboard.
Drill holes and use fitting elements provided or purchase French cleats/Z-clips: Depending on what's provided with your specific headboard, you may need to secure additional hardware from a home improvement store.
Mount the headboard- Attach it correctly can improve both the look of the bedroom as well as potential damage from incorrect installation.
Other Benefits Of Wall-Mounted Headboards:
It is useful for small spaces as it does not take up any floor area.
The stability of the structure is guaranteed due to firm fixing on the wall.
Provides opportunities to create drama with oversized or unusually shaped headboards
As you can see, installing a wall-mounted headboard might seem like a daunting task at first, but it's actually very doable.
Following these steps while always keeping an eye on the integrity and secureness of your installation is key.
With a little patience and preparation, you'll have a stunning headboard that not only complements your bed frame but transforms your entire bedroom space.
The Free-Standing Headboard
A free-standing headboard is a versatile option when you want to refresh your bedroom interior. Namely, because these headboards stand independently, they range approximately between 10-12 inches thick.
This thickness makes for a sturdy backrest that uplifts your room's ambiance, leading to a cozy space conducive to relaxation.
These types of headboards usually don't come with attachment hardware, so it's up to you to secure them and ensure their stability.
Let's get into the details of assembly and installation:
Unifying Look with Ease
One unique aspect of freestanding headboards is how easily they can be incorporated into any bedroom setup. All you need to do is position your bed frame against the headboard.
This simple step ensures that the headboard stays in place while also creating a unified and streamlined look without any complicated installation processes.
Frame Mounting for Stability
Though freestanding headboards can lean against the wall or bed frame, some folks prefer securing it for stability or long-term use. To do this, you can drill holes in the legs of your freestanding headboard to correspond with those in the bed frame. Then, align these holes and secure them together using screws.
If your bed frame doesn't have pre-existing holes aligning with the ones on your headboard, or if it doesn't have holes at all, using adapter plates can be an excellent solution. These plates act as intermediaries between the bed frame and the headboard, allowing easy attachment via bolt-on or hook-on methods.
Wall-Mounting Option
Securing your freestanding headboard directly onto the wall is another viable option that offers stellar stability and opens up floor space underneath it.
First things first, locate studs behind your drywall as they provide the most secure points where you can mount heavy objects like a sizable wooden or upholstered headboard.
Then, mark the points on your headboard's legs that align with the studs. Drill holes into these marked areas and then fasten the headboard to the wall using sturdy screws.
Make sure these screws are long enough to go through your headboard and deep into the wall stud for a secure fit.
Freestanding headboards offer a non-committal way to update your bedroom decor, as they can be easily replaced without affecting your entire bed setup. They also prove convenient for renters who cannot drill holes into their walls.
Different Designs of Headboard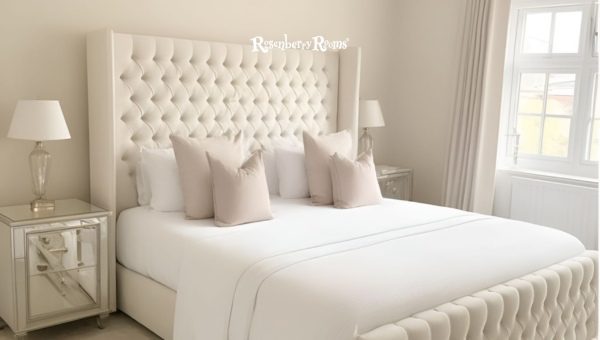 Adding a headboard to your bed can truly transform the look and feel of your bedroom. In fact, headboards can be a showstopping centerpiece or serve as a means to blend seamlessly with your room's decor.
There is an expansive multitude of designs available, each with unique attributes that cater to different aesthetic preferences and functionality needs.
In this guide, you'll find detailed descriptions of three popular designs - slat, modern, and traditional headboards. Not only will these help highlight your style personality, but they also ensure comfort and convenience.
Slat Headboard
A slatted headboard is an excellent way to introduce some clean lines and minimalist flair into your sleeping space. The design features - as its name implies - an arrangement of vertical or horizontal slats. This style is sleek yet maintains its character that can complement both modern and traditional decor.
While commonly crafted from wood for a rustic touch, metal versions are also available for those seeking an industrial edge. Due to its open frame structure, it allows more natural light to filter through its spaces.
Depending on the width between the slats you choose, they could offer varying levels of privacy and visibility, making them versatile in function.
Modern Headboard
When we talk about modern headboards, we're referring to designs that stand out with their simplicity while carrying an air of sophistication.
With sharp lines combined with bold use of color or material like leather, faux leather, or even acrylics - these headboards are designed to create an impact in the room.
Modern headboards often break away from convention by incorporating unique shapes or patterns in their design, such as splayed corners or wave-like curves, giving off a dynamic visual appeal.
If you appreciate functional art pieces that capture attention without overwhelming the space – then modern-style headboards might be right up your alley.
Explore More: Do You Need A Mattress Protector In 2023? [Factors To Consider]
Traditional Headboard
If you desire a sense of familiar comfort and timeless class, traditional headboards may satiate your décor preferences. Crafted intricately with wood or elegantly upholstered with aesthetically pleasing button tufts or nailhead trimmings, these headboards can lend an air of luxury and charm to any bedroom.
Often coming in muted tones and covered by plush fabrics like velvet or prestigious materials like leather, they provide maximum comfort for bedtime reading or lounging.
The most common designs include decorative patterns inspired by classical motifs, evoking a cozy, nostalgic feeling that can transport you back to times of yore.
Different Types of Headboard Size Options
When it comes to selecting the perfect headboard for your bed, one of the critical factors to consider is size.
The dimensions of a headboard can significantly impact the overall aesthetic and functionality of your bedroom.
While trends in headboard heights may change over time, it is crucial to understand which options align with your needs and space availability.
Single: A single bed, also known as a twin bed, typically measures 38 x 75 inches. If you're looking for a headboard for this kind of bed, the width should be about the same as the mattress width to maintain an even look.
Full: This type corresponds with double bed sizes, usually measuring at 54 x 75 inches. Like Singles, Full headboards ideally match or exceed bed width slightly.
Queen: Queen mattresses generally measure about 60 x 80 inches. The beauty of queen-size beds is that you can opt for a full-width headboard or choose one that extends beyond the width of the bed frame, offering a dramatic statement piece.
King: A king-size bed measures roughly 76 x 80 inches and usually sits beneath an equally impressive headboard! It's ideal if you have ample space and want to create a truly luxurious feel in your bedroom.
California King: This large style measures around 72 x 84 inches. Due to its length, California Kings often benefit from taller, statement-making headboards.
Now, knowing these fundamental size specifications should help give you a starting point in your quest to find a suitable headboard.
While these are common measurements based on mattress sizes - remember that they don't necessarily have set-in-stone rules. Depending on your personal style or room design, you may opt for wider or taller designs, making sure they don't overwhelm your space or else seem too underwhelming in grand rooms.
And don't forget to consider the height of your headboard as well. A taller headboard can be a dramatic statement, while a shorter one may make a room feel more spacious.
Read More: How To Build A DIY Murphy Bed In 2023 [Step-by-Step Guide]
FAQs about attaching a headboard to a bed frame?
Do all headboards fit all bed frames?
Not necessarily; it is important to make sure the dimensions and attachment points of your headboard match with your bed frame.
How hard is it to attach a headboard to a bed frame?
With a bit of patience and following the right instructions, it's generally an easy task that can be done in under an hour.
Could I use a headboard without a bed frame?
Definitely! Headboards can be wall-mounted or freestanding, depending entirely on your preference.
Will attaching a headboard damage my wall or floor?
Properly installed, a headboard should not cause damage; however, protection like wall anchors or felt pads for the legs should help avoid potential marks.
Does adding a headboard have any real benefits?
Absolutely! Apart from aesthetic appeal, it provides support for sitting up in bed and can also help protect your wall behind the bed from wear.
Conclusion
Attaching a headboard to a bed frame can be pretty straightforward, a task that adds functionality and aesthetic appeal to your bedroom.
With careful measurements, the right equipment, and diligent attention to instructions, it can turn into an engaging DIY project.
The headboard you choose is not merely about function; it's an expression of your personal style and comfort preferences.
So take your time exploring the various styles and sizes that are available to create that perfect retreat you call "bedroom."