Finding the best pump for your air mattress can sometimes feel like solving a complex puzzle. Though it may seem impossible, rest assured, with the right information and a little patience, you'll be on your way to making your purchase.
This indispensable tool is more crucial than you might think, as the quality of the pump can directly impact your comfort and convenience.
Picking out the best pumps for air mattress can greatly enhance those backyard camping experiences and make those surprise guest situations nothing to stress over.
But with so many pumps on today's market varying in types and features, how exactly do you determine which one is perfect for you?
Don't worry; we're here to assist you as you navigate these waters. By the end of this article, not only will you be well-equipped with knowledge but also confident in finding a pump that best fits your needs.
How Do I Choose the Best Air Mattress Pump?
Before anything else, it's critical to understand the rudimentary of choosing the best air mattress pump.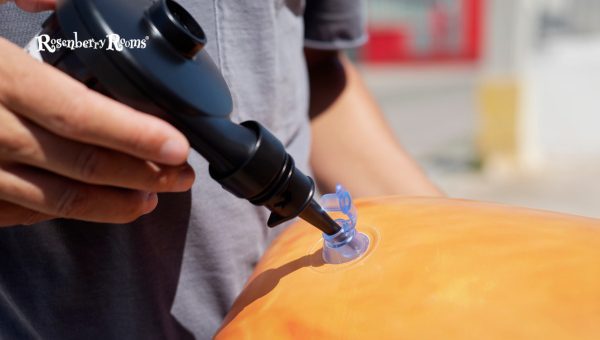 This is key in ensuring you don't just land any product but one that ideally matches your required specifications and meets your particular needs.
Type of Pump
When it comes to the types of pumps available, it's not just about picking any pump that catches your eye on the shelf. It involves more detail and precision because each type has its pros and cons.
Manual Pump: As the name suggests, these pumps require manual effort to inflate your air mattress. Ideal for people who have time on their side and wish to do a bit of exercise. On the downside, they tend to take a longer time and can be tiring.
Electric Pump: They are fast, effortless, and efficient. All you need is a power source to plug in, turn them on, and let them do their magic. Just be cautious as they are noisy and can lead to high electricity consumption.
Battery-operated Pump: These pumps are portable powerhouses suited for camping trips or places without easy access to electricity. However, always bear in mind batteries can die out any time, so additional batteries or charging opportunities should be readily available.
Purpose & Frequency
How often will you use your air mattress? The answer will help guide which type of pump is best for you.
Occasional Use: If you only need an air bed for unexpected guests or occasional camping trips, then a manual or battery-operated pump may suffice.
Frequent Use: If you use your air mattress regularly (perhaps as makeshift bedding), investing in an electric pump might be ideal because of its speed and efficiency.
Power Source
The power source for your pump is another factor worth considering. This largely depends on where you'll frequently be using the air mattress.
Mains Electric: If you mostly use your airbed indoors or in a place with an accessible power supply, an electric pump is recommendable.
Car Adapter: For campers and those fond of road trips, a pump with a car adapter power source is very fitting. You can inflate your bed right from the backseat of your car!
Batteries: A battery-operated pump offers convenience in places with limited or no access to electricity - think camping in the great outdoors or even during power blackouts at home.
Nozzle Variety
Now, let's talk about nozzles. When it comes to air mattress pumps, multi-purpose is the name of the game.
Choosing a model that comes with different nozzle sizes can be a lifesaver. This variety offers versatility and allows you to use one pump for inflating different types of items like pool floats, balloons, or inflatable toys.
So be sure to check out if your desired pump comes with nozzle attachments before making the final decision.
Air Flow Rate (CFM)
The rate at which your pump pushes air into your mattress, known as Cubic Feet per Minute (CFM), can dramatically influence the inflation time.
Fast isn't always best - rapid inflation might lead to unnecessary tear and wear on your mattress over time.
Ideally, look for an option that boasts substantial power but also offers controls to adjust the airflow rate.
Portability
If you're an adventurer at heart or frequently on the move, portability is a significant factor when selecting an air mattress pump.
A compact design with lighter weight is more comfortable for transport and storage in backpacks or luggage.
Do remember that portability often comes with the trade-off of increased noise levels or reduced power compared to larger models.
Noise Level
In quiet environments or during late-night inflations, going for a quieter pump could save you from waking up everyone in your vicinity.
But don't forget noise often correlates inversely with power; quieter units may take longer to inflate your mattress completely. It's all about balancing between these factors based on their importance to you.
Auto Shut-off
Consider purchasing pumps that come equipped with an auto shut-off feature- they automatically turn off when your air bed reaches optimal firmness level.
This feature not only spares you from monitoring the inflation process but also prevents over-inflation, which could damage your air mattress over time.
Also Read: How To Fix An Air Bed Keeps Losing Air Or Deflates 2023
6 Best Pumps for Air Mattress
Ready to dive into the range of the best air mattress pumps available? These top six picks have been carefully selected for their standout features, durability, and performance.
Each offers unique benefits designed to suit various needs and budgets.
Etekcity Electric Air Pump
This Etekcity electric air pump is an excellent choice for those searching for efficiency and reliability and is priced between $17.99 to $43.95.
A sleek black design weighing just 476 grams, it's easily portable and perfect for home or travel use.
Dimensions of 4.7 x 3.7 x 4.5 inches ensure that this pump won't take up unnecessary space in your storage or travel bag.
The Etekcity Electric Air Pump stands out thanks to its superior functionality and compact design, ideal for small storage spaces or travel bags.
Durability is something you must consider when purchasing this product due to its ABS material construction, which may not be as strong compared to other pumps made from materials like metal or heavy-duty plastic.
Remember that the perfect air mattress pump combines power and convenience while suiting your specific needs.
Keep a lookout on features such as portability, power source (manual, battery-powered, or electric), the time it takes for inflation/deflation, any additional features like automatic shutoff or multiple nozzles, and of course – price.
Pros
Available at an affordable price range
Lightweight and easy to carry
High-quality performance
CONS
Size might be too compact for some
Price varies based on sellers
Intex AC Electric Pump
The Intex AC Electric Pump is a game-changer when it comes to inflating your air mattress. This pump is available at an affordable price-point of $20 and sports a new and improved shape, making it easier to handle and operate.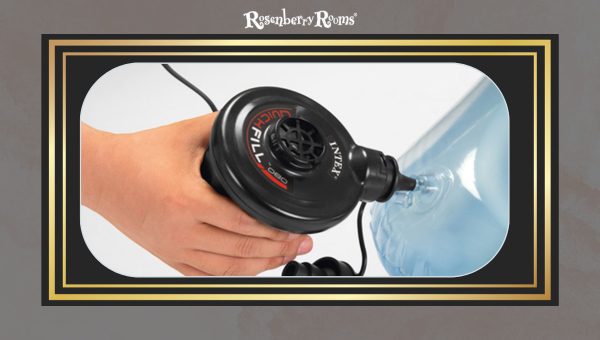 It weighs around 0.1 kilograms, making it one of the lightest models on the market. The pump's dimensions (LxWxH) are 10.4 x 5.6 x 6.1 inches so it won't take up much storage space at all!
What sets this pump apart is its three interconnecting nozzles that provide flexibility for various inflatable items. The maximum airflow capacity is a robust 1100 L/min, which ensures quick and efficient inflation.
This pump plugs easily into a standard 110-120V wall electrical outlet - perfect for home use or for locations where an electric supply is handy.
Pros
Versatile Nozzle Design
Efficiency
Ease of Use
CONS
Electricity Dependency
Not Suitable for Large Inflatables
The Intex AC Electric Pump ensures that prepping your air mattress or other inflatables doesn't have to be an exhausting task.
This is a cost-effective and sensible choice for most of your inflation needs. With some considerations about where and how you'll be using this pump, it can be a fantastic addition to your equipment list.
Read More: My Air Bed Is Not Inflating 20232023 [Common Signs of Deflation]
AGPTEK Electric Air Pump
Embrace the convenience of effortless mattress inflation with the AGPTEK Electric Air Pump.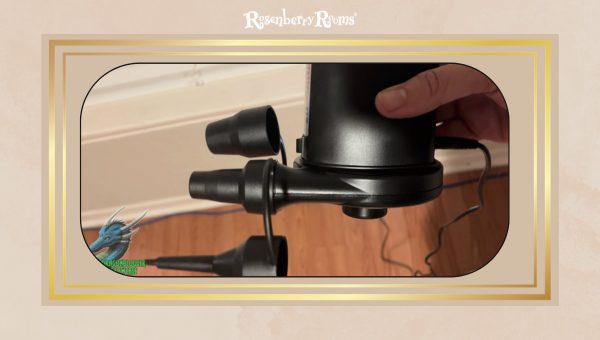 This pump, built with cutting-edge technology, offers an efficient and time-saving method to inflate your air mattress. With a sleek black design, it's not only practical but stylish.
Measuring just 13.3 x 11 x 12 inches and weighing a mere 0.48 kilograms, this compact accessory is portable and easy to handle. It's not going to take up much space in your backpack or storage cupboard.
Designed to be user-friendly, the AGPTEK pump doesn't require any special skills to use. Just connect the appropriate nozzle, switch on the power, and watch your air mattress come to life within minutes.
The unique aspect of this electric air pump lies in its multi-purpose functionality. It's paired with three different nozzles, which allows it to cater to a wide variety of inflatables beyond just mattresses.
Pros
User-friendly
Multipurpose
Portable
CONS
Dependent on power availability
Limited capacity
It is found that customers appreciate its powerful electric performance, which ensures rapid inflation and deflation of their items.
Suppose you are seeking an easy solution for inflating your air mattress while also maintaining flexibility for other uses. In that case, the AGPTEK Electric Air Pump might be what you've been searching for all along.
BOMPOW Electric Air Pump for Inflatables Air Mattress
The BOMPOW Electric Air Pump is a versatile tool for inflating and deflating your air mattress, making it an ideal companion for outdoor activities and sudden guest sleepovers.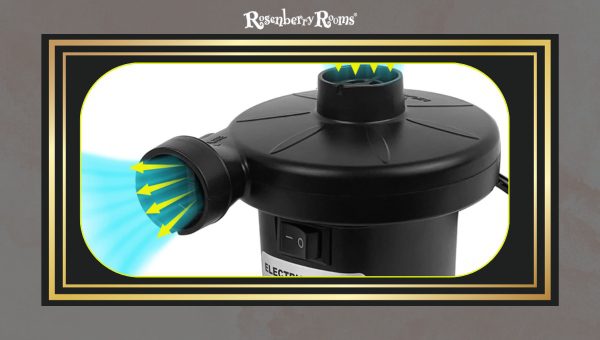 The BOMPOW pump is priced at an affordable $11, offering value for money without compromising on its functions or performance.
This pump's compact yet powerful design doesn't skimp on functionality. It measures 6.2 x 4.8 x 4.4 inches and weighs just 0.55 kilograms.
This lightweight pump is easy to carry around and store, making it perfect for transporting between locations or packing away when not in use.
The BOMPOW pump comes with three detachable nozzles, which you can easily switch depending upon the size of your inflatable item.
This flexibility makes it a universal solution, not limited to air mattresses but stretching to various other inflatables as well.
One admirable feature of this pump is its pressure capacity – operating at 0.58psi/4000pa, it effectively fills up your inflatables within minutes.
With the BOMPOW, you gain access to their dedicated customer service, available around the clock to cater to your needs and resolve any issues you may face.
Pros
Compact and easily portable
Versatile with three detachable nozzles
Excellent customer service
CONS
Relatively short cord length
Slightly noisy
The BOMPOW Electric Air Pump seems nothing short of promising, offering portability combined with power-packed speed alongside efficient inflation-deflation capabilities.
Explore More: How To Blow Up An Air Mattress Without A Pump? [2023 Tips]
Sweet Alice Electric Air Pump
If you're on the lookout for an electric air pump with a compact design and affordable price, you can't go wrong with the Sweet Alice Electric Air Pump.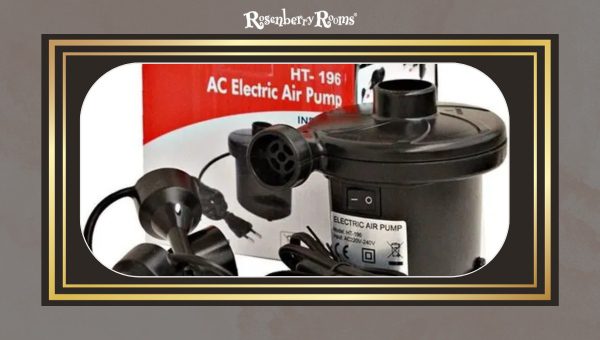 Priced at just $15, this manual-operation air pump strikes a perfect balance between performance and budget.
The Sweet Alice Electric Air Pump comes in an appealing black color, making it ideal for users who prefer a sleek and modern design. With an item weight of just 15.8 ounces, it's a lightweight champion that won't add unnecessary bulk to your camping gear.
The operation mode of this pump is manual - powering it up is as simple as plugging the electric cord into an outlet.
This eliminates the need to constantly buy or recharge batteries, which can be inconvenient and not very environmentally friendly.
Despite its moderate size, this little powerhouse might surprise you with its performance. Its compact nature does not compromise its efficiency or its reliability.
Pros
Electric power source
Lightweight
Affordable Price
CONS
No Battery Option
Manual Operation
The Sweet Alice Electric Air Pump serves as a spectacular choice for those who need efficiency at a pocket-friendly price point without requiring much storage room either.
Coleman air mattress Quick pump
The Coleman air mattress Quick pump stands out with its multi-color design and is lauded for the efficiency it brings to your camping trips or overnight guest scenarios.
Priced between $29.13 - $44.99, this pump is worth every penny for the comfort and convenience it guarantees.
The pump measures 15.75 x 9.5 x 1, weighing a mere 12.8 ounces, which makes it compact and comfortable for regular use.
Made from a premium blend of materials, this pump is not just about looks; its durability vouches for long-term use.
The defining feature of this product is its 'Fast Inflate' and 'Fast Deflate' technology that aids in the quick set-up of single-high airbeds or other inflatables, saving you valuable time and effort.
Adding to its versatility, the Coleman Quick Pump includes a Double Lock/Boston valve adapter, allowing for a hassle-free setup process for various inflatables.
Despite being lightweight, don't underestimate its power. This product runs on four D-cell batteries (not included), providing you ample power for the inflation process wherever you go - be it at home or on your outdoor adventures.
Your purchase is secured with a one-year limited warranty that gives you peace of mind about the quality and performance of the product.
Pros
Fast Inflate/Deflate Function
Lightweight & Portable
Versatile valve adapter
CONS
One Year Warranty
Batteries Not Included
If you're looking for a reliable, efficient, yet budget-friendly option to revive your deflated mattresses or other such inflatables around your house or during camping trips.
Coleman's Air Mattress Quick Pump could be an excellent choice for you! You'd also love how easily it can be stored and transported, making it a fantastic accessory for all your inflation needs.
Read More: Air Bed Alternatives 2023 [These 14 Things Replace Air Beds]
FAQs about the Best Pump For Air Mattress
What is the easiest way to inflate an air mattress?
The most convenient way to inflate an air mattress is by using an electric pump. They are fast, require minimal effort, and most plug directly into a typical electrical outlet.
Can an air pump for an air mattress also deflate it?
Yes, many air pumps for mattresses are equipped with a deflate option, which hastens the process of packing up your inflatables.
Is it possible to use a bike pump to inflate my air mattress?
Although possible, using a bike pump to inflate your air mattress would be quite labor-intensive and time-consuming. An electric or battery-operated pump will get the job done more efficiently.
How long does it typically take to inflate an air mattress with an electric pump?
Depending on the size of your mattress and the power of your air pump, it usually takes between 2 to 5 minutes to fully inflate an air mattress with an electric pump.
Will any type of pump be suitable for my specific brand of air mattress?
Not necessarily; while most pumps are built to suit various brands, ensure you check whether your particular brand requires a specific connector or adapter.
Conclusion
Discovering the best pump for your air mattress can greatly influence your comfort and the convenience of setting up.
By understanding different brands like Coleman and their unique features, you can make an informed purchase that meets your specific needs.
A good air pump is not just about inflation and deflation; consider aspects like size, weight, speed, power source, pricing, and warranty to ensure you get the best product for your money. Sleep easy, knowing that your perfect air mattress setup is just a pump away.